A new poll licensed by LendEDU revealed 40 percent of millennials use Facebook as their news source, the same percentage as those who use other news sites for saying up-to-date.
Recently, Mark Zuckerberg has been on a crusade to eliminate fake news stories from his $60 billion social networking site, Facebook.
For quite some time now, phony news articles have the capability to go viral on Facebook, reaching billions of users in a matter of a hours.
It started in 2016, when Zuckerberg denied fake news stories on Facebook were having an impact on the 2016 U.S. presidential election. Then, Facebook took out an ad in U.K. newspapers explaining how to spot fraudulent news.
In December 2016, Facebook outlined a new strategy to combat the spread of fake news. By simply clicking on the upper right-hand corner of a post, users were given an easier way to report hoaxes to the social media company. Furthermore, possible fake news articles were flagged and users were issued a warning if they were about to share the article. Additionally, Facebook modified their algorithms so that phony stories appeared lower in news feed and could not be promoted or turned into an ad. During this same time, the ability for sites to "spoof" domain names to look like legitimate publishers was eliminated.
How was Facebook spotting fake news stories?
The social media giant entered into a partnership with third-party fact checking organizations, like the AP, who have signed a code of principles with a nonprofit journalism institute. If the fact-checking organizations recognize a story as fake, that piece is flagged and a link is inserted below the phony story that explains why the item is fake.
Now, a new report from The Guardian claims that Facebook's fake news safeguards are not working, but are actually counterproductive. Believing the social network is trying to censor the news, the fact-checking system is fostering defiance and people are sharing and spreading false articles even more.
It appears fake news on Facebook is here to stay for the foreseeable future. But, just how many people are getting their current events from the social media site?
To find this out, LendEDU has licensed data that reveals how the largest living generation and the most active group on Facebook, millennials, get their news.
Facebook the Leading News Source for Millennials
In total, 5,958 millennials were asked to answer the following question: "What do you use for your news source?"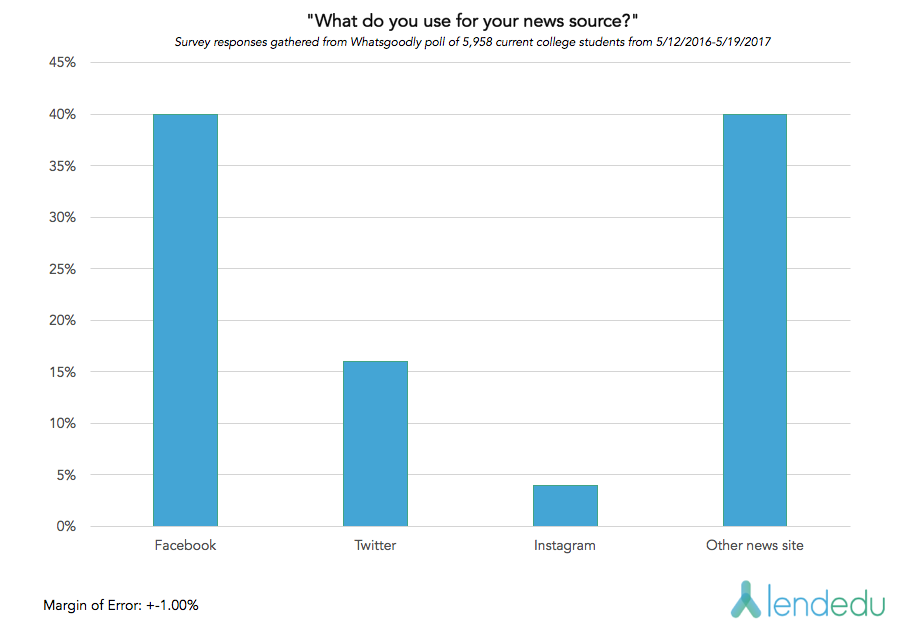 As a sole choice, "Facebook" led the way with 40 percent millennials saying they get their news from the social media site.
"Other news site" also garnered 40 percent of the vote. 16 percent of millennials use Twitter as their news source, while a mere 4 percent said they used Instagram.
These numbers are quite concerning when you consider how many millennials are using Facebook. According to Pew, 88 percent of Americans ages 18 to 29 use Facebook. 84 percent of Americans ages 30-49 use the site. For reference, millennials are ages 13 to 35.
While there is no way of discovering just how much fake news is being digested by millennials, we can make reasonable conjectures. Nearly half of all millennials are using Facebook as their go-to news source, and Facebook is flooded with fraudulent stories. When considering fake news has become more rampant after Zuckerberg's "crackdown," a healthy portion of millennials must be reading phony articles daily.
The numbers from this poll seem to indicate a growing polarity between the millennial generation. The two leading vote getters were "Facebook" and "other news site," both registering 40 percent of the vote.
In many cases, Facebook's fake news articles either totally slant to one side of the ideological spectrum, or unfairly bash the opposing side. By answering "other news sites," the respondents are saying they go to specific outlets that may possibly be telling them what they want to hear. In total, 80 percent of millennials could be subjected to fake content on Facebook or possibly going to a partial news site, a deadly combination that will further divide the generation and discourage objective political behavior.
This data takes on a wholly new perspective when it is broken down by political affiliation. In total, 42 percent of Hillary Clinton voters used Facebook as their news source and 44 percent of that same group used other news sites. Meanwhile, 37 percent of Donald Trump voters answered "Facebook," while 43 percent said "other news site." Interestingly, 54 percent of Jill Stein voters got their news from Facebook and 29 percent got it from other news sites. Finally, 49 percent of those who wrote in Bernie Sanders responded "Facebook" and 35 percent answered "other news site."
Going further, of those who identified as conservative, only 35 percent used Facebook for news, and 47 percent went to other news sites. When it came to those who said they were liberal, 41 percent stated "Facebook" and 43 percent replied "other news site."
Who Did You Vote for?
​

What is Your Leaning?

The trend that can be seen is that as Facebook users went further left, they were more prone to use Facebook as their news source. Jill Stein voters used Facebook as their news source the most, then those who wrote in Bernie Sanders, then Hillary Clinton supporters, and finally those who voted for Donald Trump.
Contrarily, as respondents went more to the right, they were more likely to use other news sites. Stein voters used other news sites the least, followed by Bernie Sanders backers. The only exception being that Hillary Clinton voters used other news sites by one percent more than Donald Trump supporters. Overall, left-leaning individuals used Facebook as their news source six percent more than right-leaning individuals, while the latter used other news sites four percent more than the former. Both hold true to the greater trend.
Despite the lack of validation, conservative voters have been adamant in claiming that Facebook has been used by left-leaning individuals to garner support for their views amongst the social networking site's users. So, right-leaning constituents may have a trust issue with Facebook that drives them away from the site for news and towards sites that may very well be right-leaning. Our data shows that left-leaning individuals are more likely to stay on Facebook, which may leave them more vulnerable to fake news.
Methodology
LendEDU has gathered this data under license from polling company Whatsgoodly. In total, 5,958 current college students were polled from May 12th, 2016 to May 19th, 2017. The National Center of Education statistics estimates that there are 20.5 million current college students in the United States. We estimate that our sample is representative of the population of college students within a margin of error of +-1.00%. Respondents were asked to answer the following question truthfully: "What do you use for your news source?"
Author: Mike Brown
In his role at LendEDU, Mike uses data, usually from surveys and publicly-available resources, to identify emerging personal finance trends and tell unique stories. Mike's work, featured in major outlets like The Wall Street Journal and The Washington Post, provides consumers with a personal finance measuring stick and can help them make informed finance decisions.