There used to be a time when online dating was stigmatized as a last ditch effort from lonely, socially awkward people seeking romance, but that is no longer the case in 2017.
According to a study done by Pew Research Center in 2015, 15 percent of American adults have used online dating sites and/or dating apps. While this figure seems low, consider this: dating app participation by those aged 18 to 24 has nearly tripled since 2013. On top of this, this method of meeting a companion has also exploded amongst baby boomers. Finally and above all else, a Consumer Reports study showed that a staggering 44 percent of respondents were in a serious long-term relationship or married because of online dating.
Online dating sites like Match.com, eHarmony, Zoosk, and OkCupid have become commonplace, especially amongst millennials. However, no online dating platform has caused more of a stir recently than Tinder.
Tinder, a mobile location-based smartphone app, allows users to decide on potential romantic matches based on a few pictures and a short, self-written description. If two users swipe yes on each other, than they are deemed a match and are able to strike up a conversation.
The most basic Tinder version is free to use and has earned a reputation as a facilitator of no-strings attached hook-ups between strangers. It has become extremely popular amongst millennials who are not looking for the more serious relationship that traditional dating sites like eHarmony and Match.com tend to offer.
But, how successful is Tinder in connecting people that are seeking affinity? According to new data gathered by LendEDU, Tinder has modest success in fostering relationships despite most users not even using the app for that purpose.
Tinder Users are Rarely Getting Lucky
LendEDU recently licensed data that asked college students a few questions regarding their use of Tinder. Since 80 percent of Tinder users are millennials, college students offer a fair representation of how the mobile dating app is performing.
The first question asked 3,852 millennial college students the following: "Have you ever met up with someone off Tinder?"
29.2 percent of Tinder users said that they have met up with someone through the app, compared to 70.8 percent who answered that they have not. For reference, 72 percent of millennial college students said they have used the location based app.
Simply put, these numbers are not good for Tinder. In fact, they pale in comparison to online dating sites' success rate. Recent statistics have shown that an estimated 66 percent of online dating members have gone on at least one date with someone they matched with.
The second question asked 9,761 millennial college students this: "Why do you use Tinder?"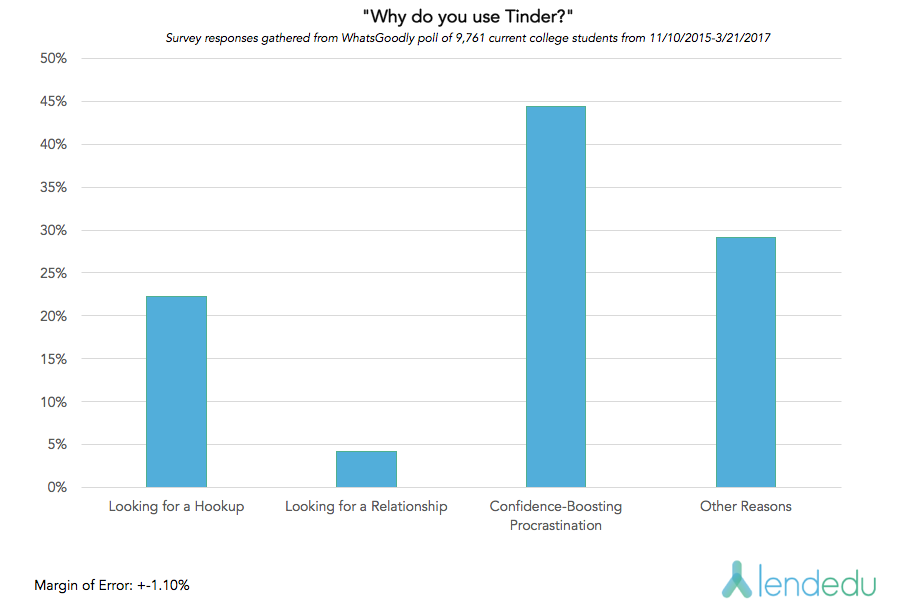 22.22 percent of Tinder users surveyed answered that they are "looking for a hookup," 4.16 percent said they are "looking for a relationship," 44.44 percent said they use it for "confidence-boosting procrastination," and 29.16 percent answered that they use the app for other reasons.
Note: the calculations were performed using the data above: 72 percent of millennial college students have used Tinder.
The results to this question can explain Tinder's role in the online/mobile dating world. If people are seeking a serious relationship, then they are most likely not going to use Tinder. Online sites like Match.com or OkCupid are more conducive to finding a long-term relationship because of the older demographics they attract. Additionally, even though more people use Tinder to find a hookup over a serious relationship, most of the app's users are not even genuine about that. Many people on Tinder are only looking to boost their confidence by racking up matches with no real intention of meeting that person.
For the time being, it appears that Tinder will remain an app that almost entirely produces random hookups and will never even scrape the niche that sites like Match.com and eHarmony have carved out.
Methodology
LendEDU has gathered this data under license from polling company whatsgoodly. In total, 3,852 current college students were polled from September 2nd, 2015 to March 21st, 2017 for the first question. For the second question, 9,761 current college students were polled from November 10th, 2015 to March 21st, 2017. The National Center for Education Statistics estimates that there are 20.5 million current college students in the United States. We estimate that our sample is representative of the population of college students with a margin of error of +-1.10% and +-1.40% respectively. Respondents were asked to answer each of the following questions truthfully: "Have you ever met up with someone off Tinder?" and "Why do you use Tinder?"
See more of LendEDU's Research