With just a few filters, a little saturation, and a clever caption, social media can make even the most average joe look like an esteemed socialite.
Social media applications have become wildly effective tools for users that seek to enhance their public persona, regardless of if that portrayal is accurate or not. But, which platform has become the biggest ego-booster?
According to new data gathered by LendEDU, Instagram has become the clear leader in a crowded field of social media apps fueled by narcissistic posters.
Millennials Say Instagram Fuels Narcissism
Social media applications have created an interesting dynamic. Users, especially millennials, have seemingly become self-aware of the ridiculous reasons they use social media for.
Young people will not beat around the bush as to why they use social media sites like Instagram, Facebook, Snapchat, or Twitter. They use these platforms to boast of their daily tidings, carefully craft their public image, and feed their egos in this interconnected digital age. All it takes is a two-minute scroll through any social media feed and you will see that a large portion of the posts are jokes about the absurdity of social media.
Ironic, isn't it?
Since millennials can agree that their usage of social media is for confidence boosting reasons, it is not surprising to find that they overwhelmingly agree on what the most narcissistic social media application is: Instagram.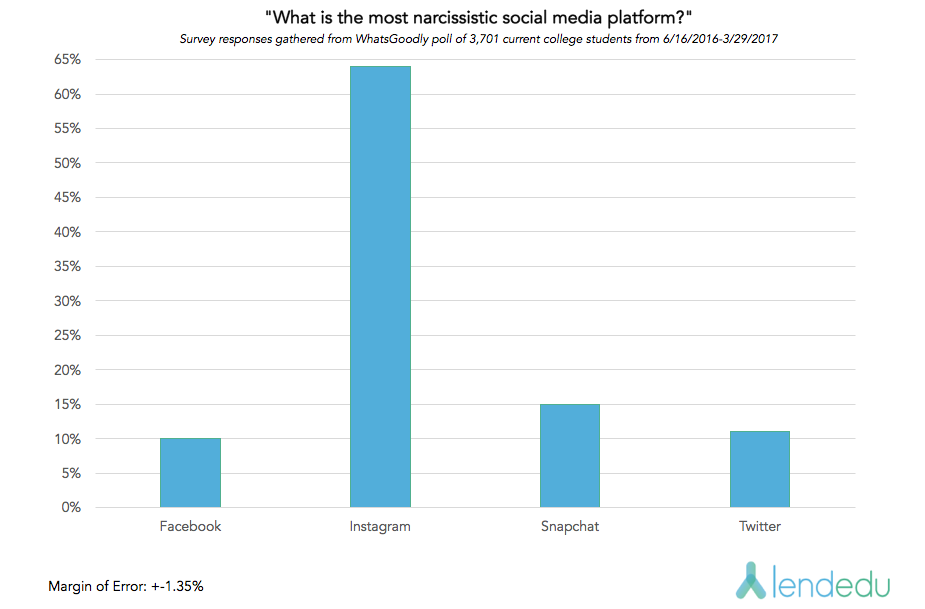 LendEDU found that 64 percent of millennials believe Instagram, a mobile photo-sharing application, is the most narcissistic social media platform. In fact, Instagram received more votes as the most vain social media app than Facebook (10%), Snapchat (15%), and Twitter (11%) combined.
Instagram enables users to post pictures and videos, usually of themselves, to a direct and constantly updating feed that other users can scroll through. Users that post on Instagram are fueled by one thing: likes.
Likes, Likes, Likes!
The world of social media has become so expansive and diverse that its original intent has become convoluted. Most likely, it was for users to give updates, both positive and negative, on their lives to friends that have become harder to catch up with as schedules become busier and distances become further.
However, today's social media has a much different purpose, especially for millennials. For most of this demographic, social media is a powerful tool with the ability to create an entirely new persona, void of reality.
The formula is quite simple. If you post enough artsy, chic pictures of yourself that rack up plenty of "likes," then real life accomplishments will not matter because the popularity of your social media accounts will determine your status on the social hierarchy.
This is especially true with Instagram, where "likes" are the main way of interacting with pictures and videos that are posted by users. And, the data licensed by LendEDU has produced two points that reaffirm this position.
3,689 millennials were asked the following question: "Do you make an intentional effort to like people's Instagram posts who like yours?"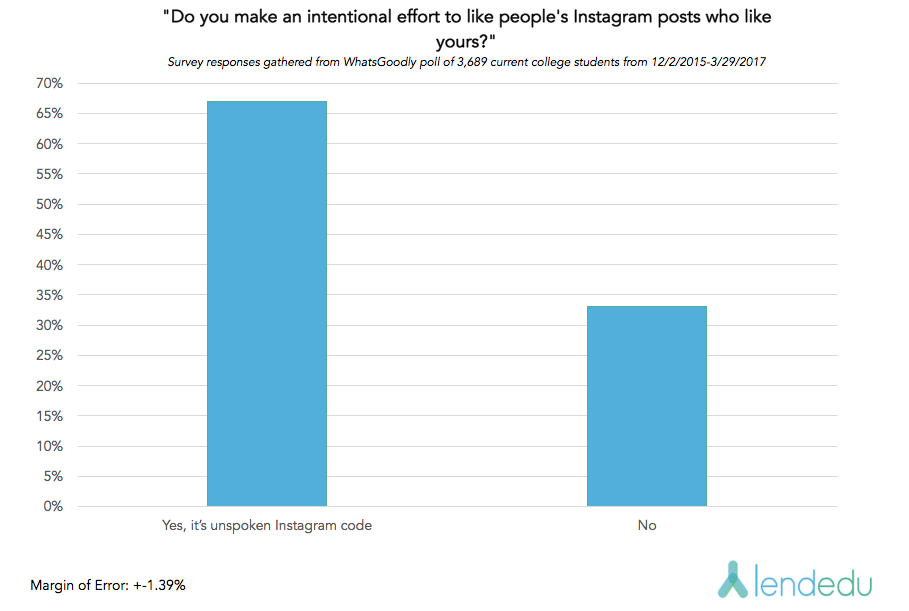 67 percent of respondents answered "Yes, it's unspoken Instagram code." In comparison, 33 percent answered "No."
The large majority of Instagram users have formed unspoken alliances with each other to ensure they each tally enough "likes" to make their posts stand out. It does not matter if Instagram users genuinely enjoy other Instagrammers posts; the only thing that matters is that each insincere expression of emotion from you will lead to your own Instagram page gaining more status.
In another question, 9,477 millennials were asked, "Do you know someone who deletes Facebook or Instagram posts if they don't get enough likes?"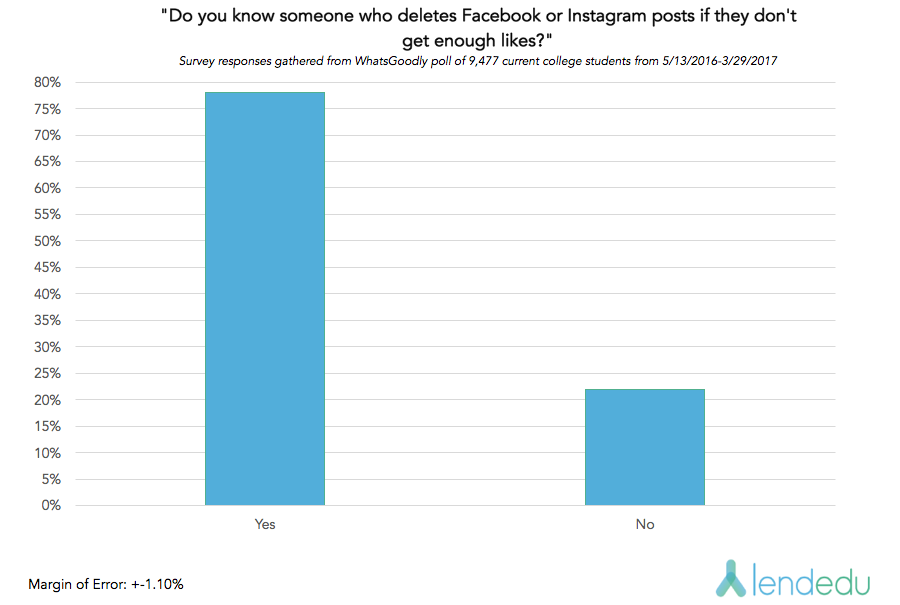 In total, 78 percent of participants answered they know someone who has done that or they themselves have deleted posts that did not get enough likes. Only 22% of millennials did not know someone who had done this.
The results of this question prove that the overwhelming majority of social media users do not post pictures to genuinely share their experiences with others. Rather, the only reason behind posting is to rack up a sufficient amount of "likes." Millennials would rather hide their lives from the public than live with the agony of having an unpopular post on their profile.
Methodology
LendEDU has gathered this data under license from polling company Whatsgoodly. In total, 3,701 current college students were polled from June 6th, 2016 to March 29th, 2017 for the first question. For the second question, 3,689 current college students were polled from December 2nd, 2015 to March 29th, 2017. For the third question, 9,477 current college students were polled from May 13th, 2016 to March 29th, 2017. The National Center for Education Statistics estimates that there are 20.5 million current college students in the United States. We estimate that our sample is representative of the population of college students with a margin of error of +-1.35%, +-1.39%, and +-1.10% respectively. Respondents were asked to answer each of the following questions truthfully: "What is the most narcissistic social media platform?" "Do you make an intentional effort to like people's Instagram posts who like yours?" and "Do you know someone who deletes Facebook or Instagram posts if they don't get enough likes?"
See more of LendEDU's Research

In his role at LendEDU, Mike uses data, usually from surveys and publicly-available resources, to identify emerging personal finance trends and tell unique stories. Mike's work, featured in major outlets like The Wall Street Journal and The Washington Post, provides consumers with a personal finance measuring stick and can help them make informed finance decisions.