Best Pet Insurance – Comprehensive Reviews for 2020
Compare reviews of the best pet insurance companies rated by LendEDU's Editorial Team to make sure your pet is covered for future accidents and illnesses.
In order to ensure you and your pet are covered for future vet bills, our team decided to find the best pet insurance companies available today.
After 50+ hours of research, we found the 11 best pet insurance companies located in the list of reviews below. Pet insurance is not standardized, so be sure to compare multiple policies before making a decision.
On this page:
Compare Pet Insurance Companies
All companies seen in the table below are LendEDU
partners
who provide compensation to LendEDU. This compensation impacts where products appear within the table below.
Advertisement
Find a Pet Insurance Policy
Reviews of the Best Pet Insurance Companies
Here are LendEDU's choices for the 11 best pet insurance companies based on our Editorial Ratings. Click a company to jump down to its full review:
1. Embrace

Embrace doesn't offer the cheapest premiums, but its coverage is broad and its flexibility allows customers to more easily tailor benefits to their needs and budget. Embrace policies are underwritten by American Modern Insurance Group and it is rated A+ by the Better Business Bureau (BBB).
Coverage
Embrace offers a standard plan that covers the typical accident and illness conditions, as well as alternative treatments, behavioral therapy, and prosthetic limbs. Coverage for wellness plans and prescription drugs are included in all policies.
You can also add a Wellness Rewards account, which acts a lot like a flexible spending account. It can give you cash rewards that can be used on dental cleanings, nail trimmings, flea prevention, spaying or neutering, and routine vet visits.
Benefit Limits
Although Embrace plans do not offer unlimited benefits, they offer a range of annual benefit limits, from $5,000 to $30,000. This gives customers room to customize their options and lower their premiums.
Deductibles
The availability of a wide range of annual deductible options — $100, $200, $300, $500, $750, and $1,000 — gives customers even more flexibility in designing a policy that fits their budget. Customers can also save with Embrace's Healthy Pet Deductible program, which decreases their deductible by $50 every year they don't receive a claim reimbursement.
Reimbursement
Embrace offers a range of reimbursement options from 70% to 90%.
Claims and Services
Embrace excels in all areas of customer service, including claims processing. Claim forms can be downloaded from the website and, after the vet completes page two of the form, can be mailed, emailed, faxed, or uploaded online, along with relevant invoices and receipts. Embrace speeds up reimbursement by offering a direct deposit to your bank account.
Premiums
Generally, Embrace's premiums are a little pricier than average; however, you do get broader coverage with the standard plan. Because of the wide range of options available, policies are more customizable, enabling you to keep premiums as low as you need. A discount is available to those with spayed or neutered pets, for those with multiple pets, for those making annual payments, and for members of the military.
Note: Geico Pet Insurance is also administered by Embrace.
---
2. Pets Best

Of all the pet insurers, Pets Best Pet Insurance may offer the best pet insurance plans for the overall well-being of your furry friends. Pets Best policies are underwritten by American Pet Insurance Company and it has an A+ rating from the BBB.
Coverage
All of Pets Best's plans include standard coverage for accidents, illnesses, emergency care, and hereditary conditions that are not pre-existing. They also include coverage for prescription drugs, which is not found in most other policies. Its top two plans, Elite and Plus, include coverage for exam fees, chiropractic treatment, rehabilitation therapies, and acupuncture.
Benefit Limits
There is not a lot of room for maneuvering when it comes to Pets Best's annual limits. Pets Best only offers unlimited benefits on its top-tier Elite plan; the other plans have annual benefit limits of just $5,000.
Deductibles
There is customization available with Pets Best's deductibles, which can range from $50 to $1,000.
Reimbursement
Pets Best's reimbursement percentages are fairly standard at 70%, 80%, and 90%. These reimbursements are paid on the actual amount billed by your veterinarian instead of a pre-determined schedule of benefits.
Claims and Service
Pets Best boasts of unusually fast claims processing, often paying claims within a week. Customers can accelerate claims by submitting them electronically and setting up direct deposit. Also, Pets Best won't increase your premium based on the number or types of claims you make during the year.
Premiums
Pets Best's lower-tiered plans are competitively priced, while its comprehensive Elite plan can be a bit more expensive.
---
3. Nationwide

Nationwide Insurance started the pet insurance movement when it issued the first policy on the world's most famous canine, Lassie, in 1981. Since then, Nationwide Pet Insurance (formerly VPI) has become the country's largest pet insurer and is the only insurer in the U.S. that offers coverage for exotic pets such as birds, iguanas, rodents, tortoises, and pot-bellied pigs.
Policies are underwritten by Nationwide Casualty Co. and the company is A+ rated by A.M. Best.
Coverage
Nationwide's Whole Pet with Wellness plan is one of the most comprehensive policies available. Although it does cost more than most other standard pet insurance plans, it covers nearly everything, from accident and illness conditions to physical exams, vaccinations, and flea and heartworm prevention.
You can purchase a Major Medical plan without the wellness or purchase a Wellness plan separately.* If you want hip dysplasia coverage, you will have to purchase the Whole Pet with Wellness plan.
Whole Pet with Wellness coverage is also available for exotic pets and covers accidents, illnesses, hospitalization, exams, prescriptions, and more.
*Wellness plans are not available in all states.
Benefit Limits
If you want unlimited annual benefits, you will have to purchase the Whole Pet plan. Nationwide's lower-tier plans don't offer unlimited benefits; these plans limit the dollar amount that can be spent on conditions and services based on a benefit schedule.
Deductibles
Nationwide offers just one annual deductible, which is $250. Without any additional options, you have no opportunity to lower your premium by choosing a higher deductible.
Reimbursement
With Nationwide's top-tier plan, you get 90% reimbursement of the actual veterinary expenses paid. Again, you will pay a higher premium because there is no option for choosing a lower reimbursement. Lower-tier plans reimburse based on a benefits schedule, including individual payout caps for each condition or service — not good if your pet's breed is susceptible to certain conditions that have low coverage limits.
Claims and Service
Nationwide offers a standard procedure for filing a claim: pay the vet bill, download a claim form, and submit it via email, mail, or fax with invoices and receipts. Nationwide states that claims are paid within 14 days.
Premiums
If you get Whole Pet with Wellness coverage, you get one of the best pet insurance plans on the market — but you will pay for the privilege. Whole Pet plans currently start around $60 depending on your pet. The Major Medical plan currently starts around $22.
Note: MetLife Pet Insurance is also administered by Nationwide.
---
4. Allstate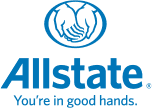 Allstate is one of the most well-known insurance companies and offers a variety of insurance, including pet insurance. Allstate has an A+ rating with the BBB and is available in all 50 states.
Allstate offers comprehensive pet health insurance through the American Modern Insurance Group for animals with no minimum age requirement; however, it does not insure pets over 14 years old.
Coverage
Allstate's pet insurance covers treatment for accidents and illnesses, cancer treatment, surgeries, lab work and diagnostic tests, medications, and more. It will typically not cover cosmetic and elective procedures, vet fees for breeding or pregnancy, orthodontic or endodontic procedures, treatment for pre-existing conditions or behavioral problems, or pet food or supplements.
Benefit Limits
Allstate has no benefits limit. There is a 14-day waiting period for illnesses and surgery and a two-day waiting period for accidents.
Deductibles
Although Allstate's site does not give a specific deductible range, the higher your deductible amount, the lower your premiums will be, and vice-versa.
Reimbursement
Although Allstate's site does not provide a specific reimbursement rate, most pet insurance providers offer reimbursement rates ranging from 70% to 90% depending on the policy you select.
Claims and Service
Because Allstate pet insurance is not actually an Allstate product, you'll need to contact the American Modern Insurance Group to fill out a claim.
Premiums
Allstate recommends contacting a local Allstate insurance agent to obtain a comprehensive quote for coverage, as online quotes for pet insurance are not available. However, according to the American Modern Insurance Group website, you can expect to pay around $35/month for dogs and $15/month for cats.
---
5. Figo

Figo Pet Insurance might appeal to tech-savvy pet owners. It was founded in 2012 as part of Google's Tech Hub Network with a focus on innovation and technology in bringing pet insurance to more pet owners. Its policies are underwritten by the Markel American Insurance Company and it has an A+ rating from the BBB.
Coverage
All three of Figo's plans provide broad coverage at a reasonable price. The lowest-tier plan has standard coverage for accidents and illnesses, alternative treatments, behavioral problems, prescriptions, hip dysplasia, as well as optional coverage for exam fees. Upper-tier plans add coverage for tracking down a lost pet.
Pets can be eligible for coverage with curable pre-existing conditions that show no signs or symptoms for 18 months following the date of treatment.
Benefit Limits
Figo benefit limits range between $10,000, $14,000, or unlimited.
Deductibles
Figo offers a range of annual deductibles between $50 and $500. If your pet requires lifesaving care, Figo will waive the deductible.
Reimbursement
Figo offers reimbursement options of 70% (options offered are based on the pet's age and location). Figo reimburses based on the actual vet bill.
Claims and Service
Figo prides itself on its completely paperless claims process via Pet Cloud. With Pet Cloud, policyholders will be offered:
An online portal and mobile app for filing claims, searching for a lost pet, uploading medical records, and communicating with customer service
Ability to video chat with a licensed vet 24/7
AI claims experience with the help of Evie, Figo's AI chat assistant. Evie will ask questions about the claim and the policyholder will answer the questions, upload a picture of the bill, and the claim will be submitted.
Real-time claims tracker
Push notification reminders (for appointments, pet medication, birthdays, etc.)
Ability to locate pet-friendly places (restaurants, hotels, etc.) and connect with other pet parents in your area
According to Figo, 50% of claims are closed within 24 hours.
Premiums
Figo's standard plan is a little more expensive than its competitors, with premiums ranging between $20 and $80.
---
6. ASPCA Pet Health Insurance

Although the ASPCA is primarily known for its efforts in combating animal homelessness and animal cruelty, it has also licensed its name to a company that offers pet insurance, C&F Insurance Agency, Inc. The plans are underwritten by United States Fire Company.
Coverage
The ASPCA Pet Health Insurance program offers both an accident and illness plan and an accident-only plan. The most affordable coverage option is an accident-only plan. The accident and illness plan, called Complete Coverage, covers accidents, illnesses, hereditary conditions, and behavioral conditions.
ASPCA Pet Health Insurance's plans cover most medical treatments for covered conditions, including exam fees, testing, surgery, hospitalization, medication, and vaccinations. There is a 14-day waiting period for accident coverage and for illnesses.
You can also purchase preventative care coverage at an additional cost. Additionally, ASPCA Pet Health Insurance has annual coverage limits ranging from $5,000 to unlimited, and will typically cover 70%, 80%, and 90% of eligible expenses.
Benefit Limits
Annual reimbursement caps depend on the benefit limit selected at enrollment. Expenses ASPCA Pet Health Insurance will not cover include:
Inhumane treatments
Pre-existing conditions
Miscellaneous expenses such as breeding or pregnancy, vaccination tags, and unconventional treatments and medications
Ligament and knee conditions (if your pet exhibited symptoms of a knee and ligament condition at any time prior to enrollment or during a waiting period)
For a full list of exclusions, click here
Deductibles
ASPCA Pet Health Insurance plans feature three different annual deductible options, including $100.
All deductible levels are annual and multi-incident. If your pet has two different medical conditions in the same year, you will only pay one deductible for the year.
Reimbursement
ASPCA Pet Health Insurance will reimburse 70%, 80%, or 90% of your eligible expenses, which is standard for most pet insurance providers.
Claims and Service
Claims can be submitted online, by mail, by fax, or through the My Pet Insurance app. Most claims are processed within 16 days. You can be reimbursed by direct deposit or a paper check.
Premiums
Monthly premiums are based on the following factors:
Plan Type
Breed
Age
Location of residence
Accident-only plans will be the cheapest choice, but they have fewer coverage benefits. You can also get a 10% discount by insuring multiple pets.
Note: ASPCA Pet Health Insurance and Hartville Pet Insurance are both administered by C&F Insurance Agency, Inc.
---
7. Hartville Pet Insurance

Founded in 1997, the Hartville Pet Insurance program provides consumers with insurance for their cats and dogs, including the option to add preventative care at an additional cost. Hartville Pet Insurance plans are underwritten by the United States Fire Insurance Company and produced by the C&F Insurance Agency, Inc.
Coverage
The company's main plan is called Complete Coverage and covers various illness and accident-related incidents, testing for covered conditions, hereditary conditions, dental disease, knee and ligament injuries, and more.
Benefits Limits
There is a 14-day waiting period on knee and ligament injuries. The Hartville Pet Insurance program will not cover the following:
Pre-existing conditions
Cosmetic procedures
Breeding costs
If your pet exhibited symptoms of a knee and ligament condition at any time, prior to enrollment or during a waiting period, all ligament and knee conditions will be excluded
For a full list of exclusions, click here
Deductibles
Hartville Pet Insurance offers annual deductibles of $100, $250, and $500. The higher your deductible, the lower your monthly premium will be, and vice-versa.
Reimbursement
Customers can choose a reimbursement level of either 70%, 80%, or 90%, which is pretty standard for pet insurance. There is an annual coverage limit that will reset every year, ranging from $5,000 to unlimited. Reimbursement will be a percentage of the total vet bill.
Claims and Service
You or a representative from your veterinarian's office can submit the claim online, by mail, or by fax within 270 days of the date of service.
You'll need to include:
Your contact information and signature
A description of the treatment administered
An itemized breakdown of your expenses
Premiums
Monthly premiums are based on the following factors:
Plan Type
Breed
Age
Location of residence
There are a variety of options available, and you can customize your policy to keep your monthly rate as low as possible.
Note: Hartville Pet Insurance and ASPCA Pet Health Insurance are both administered by C&F Insurance Agency, Inc.
---
8. PetFirst

PetFirst has been offering pet insurance for cats and dogs since 2004. PetFirst should be favored by pet owners with older pets because it has no upper age limits. PetFirst's policies are underwritten by American Alternative Insurance Corp. and it has an A+ rating from the BBB.
Coverage
The coverage offered by PetFirst is fairly standard. However, it is one of the only insurers that does not have a waiting period for hip dysplasia, orthopedic conditions, and other chronic conditions that many insurers won't even cover. A wellness plan is available at an additional charge.
Benefit Limits
PetFirst does not offer unlimited annual benefits. You can choose between a $5,000, $10,000 and $20,000 benefit. The $20,000 benefit limit option can be as expensive as unlimited plans offered by other insurers (and in some cases, even more expensive).
Deductibles
For pet owners who would prefer to pay a higher premium rather than high out-of-pocket expenses, PetFirst offers the lowest deductible available. You can choose between a $50, $100, $250 and $500 deductible.
Reimbursement
PetFirst offers three reimbursement options: 70%, 80%, and 90%.
Claims and Service
PetFirst offers a standard claims process: pay your bill and then submit a claims form along with invoices and receipts by mail or fax. PetFirst differentiates itself by offering a discount every year you don't file a claim. Additionally, it won't raise your premium based on the number of claims you file.
Premiums
Plans currently start at $17 per month for dog insurance and $9 per month for cat insurance. Upper-tier plans tend to be pricier than similar plans offered by other insurers. You can earn a $20 discount for purchasing your policy online.
---
9. Petplan
Petplan was founded in 2003 and has ranked highly among pet insurance companies ever since. Petplan insurance is underwritten by AGCS Marine Insurance Co. and has an A+ rating from the BBB.
Coverage
Petplan offers very comprehensive coverage for dogs and cats that includes all accident- and illness-related conditions with no restrictions on hereditary or congenital conditions. Its coverage extends to hospital stays, advanced testing, and all non-routine veterinary exams. It will also cover dental injuries and periodontal disease. In order for coverage to apply, your pet must have an annual checkup.
Benefit Limits
Like Healthy Paws, Petplan offers unlimited coverage. You can also choose among multiple annual benefit limits. This gives you the flexibility of picking a benefit limit that most closely reflects the potential needs of your pet.
Deductibles
The deductibles with a Petplan policy are per condition, which means you have to meet a deductible each time your pet is treated. Petplan does offer a flexible deductible schedule, which allows you to choose between $100 and $1,000.
Reimbursement
Petplan reimburses costs based on the actual veterinary bill. After you meet your deductible, Petplan will reimburse you at a rate you chose at enrollment.
Claims and Service
Petplan states its claims reimbursement timeframe is 30 days. However, processing can be expedited by using its mobile app to submit a claim.
Premiums
Petplan premiums are considered fairly competitive, with monthly premiums varying between dogs and cats. Discounts are available for online registration, as well as for military personnel and medical service pets.
---
10. Healthy Paws

Founded in 2009, Healthy Paws is a perennial top choice among pet owners for its lack of caps on annual or lifetime payouts, annual deductible, and excellent customer service. Healthy Paws insurance is underwritten by The Chubb Group and has an A+ rating from the BBB.
Coverage
Healthy Paws covers cats and dogs without any caps on claim payouts. Its policies cover accidents and illnesses, except pre-existing conditions. Additionally, there are no restrictions on hereditary or congenital conditions, including cancer.
The policy also covers emergency care, hospital stays, surgeries, hip dysplasia for pets under age six (if the hip dysplasia is not a pre-existing condition), and alternative treatments such as acupuncture, hydrotherapy, physical therapy, and chiropractic services.
Healthy Paws does not offer an optional wellness plan.
Benefit Limits
Healthy Paws is one of the few insurers offering policies with no limits or caps, including annual, lifetime, or per incident. Other insurers will offer unlimited benefits, but only as an option or when you purchase their top-tier plans. With Healthy Paws, unlimited coverage is included in its standard plan.
Deductibles
Healthy Paws offers a single annual deductible that is customizable to help customers control their premium costs.
Reimbursement
You can choose a reimbursement between 50% to 90% when you enroll, and Healthy Paws reimburses you based on the actual veterinary bill after you have met your deductible. Other plans reimburse based on an established benefit schedule or what is "usual and customary," which is often based on national averages.
Claims and Service
Claims can be filed online or through a mobile app, and 99% of claims are processed within two business days.
Premiums
Monthly premiums currently start at $32.83 for dogs and $17.19 for cats.
---
11. Trupanion

If you are looking for unlimited pet insurance, Trupanion could be a good fit for you and your pet. Founded in 1999, Trupanion is underwritten by the American Pet Insurance Company.
Coverage
Trupanion's single plan covers 90% of eligible expenses for unexpected illnesses and injuries including hereditary and congenital conditions once your deductible has been met. You can insure your cat or dog for a lifetime.
Pre-existing conditions are not covered.
Benefits Limits
Trupanion will pay 90% of all eligible expenses for a lifetime*; however, ineligible expenses include exam fees, sales tax, wellness and preventative care, and pre-existing conditions. There is also a waiting period of five days for injuries and 30 days for illnesses before your pet is eligible for coverage.
*Terms and conditions apply. This plan is not available for new enrollments in Florida. See policy for details.
Deductibles
Trupanion has a customizable deductible policy that ranges from $0 to $1,000 per condition*. You pay a lifetime per-condition deductible. For example, if your dog has chronic allergies and you have a $500 deductible, Trupanion will pay 90% of all related expenses once the one-time $500 deductible is reached if not pre-existing.
*Terms and conditions apply. This plan is not available for new enrollments in Florida. See policy for details.
Reimbursement
Trupanion is the only provider that can pay their portion of your vet bills directly to your veterinarian electronically at the time of checkout, so you don't have to wait for reimbursement.
This means you only need to pay 10% for covered expenses (and any applicable deductible) and 100% of non-covered expenses, including sales tax and exam fees.
If your vet or hospital doesn't have the Trupanion software, you might have to pay the entire bill and Trupanion will reimburse its portion.
Claims and Service
You can submit all claims online. For first-time claims, you may be asked to submit your pet's medical records for the previous 18 months or more. Once your claim has been approved, you will be reimbursed by paper check or electronic bank deposit.
Trupanion also has 24/7 customer care that can provide you with assistance when the unexpected occurs.
Premiums
Your monthly premium is based on five primary factors:
Age of pet
Breed
Gender
Species (Cat/Dog)
Cost of veterinary care where you live
Since Trupanion offers unlimited lifetime coverage options, its monthly premiums can be higher than other pet insurance providers — but you can potentially save money with its per-condition deductibles.
---
How We Chose the Best Pet Insurance
To find the best pet insurance, our Editorial Team analyzed each pet insurance company based on the Trustpilot rating, Better Business Bureau rating, financial strength, customer support availability, states available, minimum and maximum age limits, illness waiting period, injury waiting period, special surgery waiting period, benefit limit, and discounts available. To come up with an overall rating, all data points were evenly averaged together. Learn more about our ratings and methodology here.
At LendEDU, we have reviewed most of the best pet insurance companies. Check out our full reviews to learn more about a specific company:
How is Pet Insurance for Dogs and Cats Different?
In most cases, pet insurers do not distinguish much between coverage for cats and dogs. Typically, all coverage options, exclusions, benefit limits, deductibles, and reimbursements apply equally to both.
Where they do differ, however, is with premiums. Dog insurance is more expensive because dogs are more susceptible to accidents and illnesses and their treatments may cost more.
On average, premiums for dog insurance are around 50% to 100% more expensive than premiums for cat insurance. The average monthly premium for standard cat coverage is around $17, while the average starting premium for dogs is roughly $32.
Pet Insurance for Dogs
The average cost of caring for a dog is around $1,900 a year, according to a LendEDU study. When an unexpected vet bill comes into play, those costs can rise quickly.
That's why dog insurance exists, to help cover some of the otherwise out-of-pocket costs that may result from veterinary care.
Dog Insurance Cost Factors
There are several pet insurance policies available on the market to help pet owners offset the cost of ownership. However, each pet insurance policy is priced differently based on a number of factors.
The scope of coverage is the biggest variable in a dog insurance policy. In addition, pets that are older or more prone to certain health issues because of their breed are typically more expensive to cover.
The pricing on pet insurance for dogs may also be impacted by pre-existing conditions. Although some pet insurers offer a waiver for a handful of pre-existing conditions, others do not. It is important for dog owners to recognize these differences in policy coverage restrictions before selecting the best pet insurance.
Pet Insurance for Cats
Owning a cat comes with a wide range of responsibilities, from ensuring the pet is well-fed and groomed to covering expenses related to its ongoing health and well-being.
While the feeding and routine upkeep of a cat represents a minimal expense for most owners, the veterinary care a cat could need throughout its lifetime can add up to a significant amount of money.
According to the same LendEDU study mentioned above, cat owners spend around $1,100 a year per feline friend. A large portion of this cost goes to medical care, some of which can be covered through some of the best pet insurance plans for cats.
The Cost of Cat Insurance
Many insurance providers offer coverage for cat owners, but the pricing and scope of coverage can vary widely. Cat insurance ranges from under $10 per month to more than $50, depending on the type of cat owned, the coverage selected, and the cat's health history.
Given that they are more prone to health issues as they age, older cats may also cost more to insure. Some pet insurers offering pet insurance for cats may also increase pricing for coverage when wellness benefits or plans for hereditary or pre-existing conditions are included.
Before selecting a cat insurance plan, pet owners should consider their ability to cover the monthly premium and the benefits the policy includes or excludes
Can You Get Pet Insurance for Exotic Pets?
Yes, you can get pet insurance for exotic pets, but it is hard to find. Of the best pet insurance companies, the only one we know of that offers pet insurance for exotic pets is Nationwide. Its coverage for exotic pets is very similar to its coverage for dogs and cats, with typical exclusions, benefit levels, and deductibles.
Nationwide's exotic pet insurance covers a variety of pets, including:
Amphibians
Birds
Chinchillas
Ferrets
Geckos
Goats
Guinea pigs
Hedgehogs
Iguanas
Mice
Potbellied pigs
Rats
Snakes
Tortoises
To learn more, check out our full Nationwide Pet Insurance Review.
---
How Pet Insurance Works
The Basics
Although most pet owners don't consider their pets as property, pet insurance policies are structured more along the lines of property insurance than they are health insurance.
You pay a monthly premium and, before coverage kicks in, you pay a deductible. The higher your deductible, the lower your premiums. With many policies, you also have a co-pay after coverage kicks in. Pet Insurance is not too unique in this sense, but there are plenty of pet-unique stipulations to consider.
What Does Pet Insurance Cover?
The first thing to know about what pet insurance covers is that it depends on which of the several different types of plans you choose. Some plans only cover accidents and illnesses with no coverage for wellness visits, while other pet insurance plans just cover wellness visits. However, the best pet insurance plans are comprehensive and include emergency care, illnesses, and wellness visits.
Insurers often limit coverage for pre-existing conditions. This is done primarily to prevent pet owners from buying insurance on pets with known chronic conditions.
With most pet insurance policies, there is a waiting period of up to 14 days after the policy is purchased during which no claims can be submitted for sickness. Some medical conditions may require up to a one-year waiting period; the waiting period on injuries is generally 24 to 48 hours.
>>Read More: How Does Pet Insurance Work & What Does It Cover
How Much Does Pet Insurance Cost?
This is where pet insurance policies get a little tricky. Just like health insurance, pet insurance premiums can vary widely depending on the many variables that go into a policy.
Generally, the more comprehensive the pet insurance coverage is, the higher the premium. Other variables, such as coverage limits, deductibles, and where you live, also affect the premiums you pay.
The average monthly premium for pet insurance in the United States is about $22, but some pet insurance policies can run as high as $100 a month depending on the breed and age of a pet.
Here is what generally goes into the price of a pet insurance policy:
Age: With some policies, premiums increase as your pet ages. Where the premium for a 1-year old mixed-breed dog might be $300 in the first year, it could increase to as much as $500 a year by the time the dog turns 10, when it is more likely to need care.
Type of Pet: Premiums are higher for dogs than cats. Purebred pets are charged higher premiums because of the higher risk of hereditary conditions. Policies for pets and breeds that are known to have chronic conditions may also be more expensive.
Deductible: The higher the deductible, the lower the premium. Deductibles range from $100 to as high as $2,500. The standard deductible for most policies is $250.
Coverage Limit: Policies with higher coverage limits have higher premiums.
Reimbursement Percentage: The standard reimbursement percentage for pet insurance policies is 80%. Policies that reimburse at a higher rate tend to charge higher premiums.
Zip Code: If you live in a metropolitan area, veterinary rates tend to be higher, so premiums for pet insurance are higher.
>> Read More: Is Pet Insurance Worth It?
How Can I Save Money on Pet Insurance?
Here are some ways to save money when buying the best pet insurance for your pet:
Take on More Risk: Most of the better plans allow you to customize your out-of-pocket expense risk by choosing from a range of co-pays and deductibles. To keep your premium to a minimum, choose the highest co-pay and deductible you can afford and plan on paying out-of-pocket for wellness care.
Work for the Right Employer: Pet insurance is one of the fastest-growing employee benefits being offered by major companies. Delta Airlines, T-Mobile, UPS, Microsoft, Chipotle, and more than 150 other companies offer pet insurance as an employee benefit option.
Check for Discounts: Some insurers offer discounts to members of affinity groups or associations, such as AAA and AARP. Active-duty or retired military personnel receive discounts at some insurers, too. Some pet insurers occasionally offer signup bonuses.
Buy When Your Pet is Young: As with health insurance, the cost of coverage increases over time. Some plans won't insure pets past a certain age. Also, you don't want to wait until your pet develops some sort of chronic condition that might preclude you from obtaining pet insurance.
Know What You Need: When you know what you need when it comes to pet insurance, you are better positioned to properly compare plans and determine which is most cost-effective for your situation. If you already work with a vet you trust, ask for their recommendation on the type of plan you should have.
Bottom Line
With any type of insurance, the years of paying premiums suddenly become worth it when disaster strikes. If you never have to use your cat or dog insurance, you can consider yourself lucky. However, pets are living longer, and the chances of experiencing a serious illness or injury increase with age.
If you view pet insurance as protection against a catastrophic financial loss, then your best option is to choose the highest deductible you think you can afford. Try to keep your monthly premium low and plan on covering all routine or wellness care out-of-pocket.
Author: Jeff Gitlen
Jeff Gitlen is a graduate of the University of Delaware. He writes about a wide range of financial topics including student loans, credit cards, small business financing, and more. His work has been featured on a number of sites including Bloomberg, CNBC, Forbes, Market Watch, and more.