Nearly a Third of Millennials Have Used Venmo to Pay for Drugs

Released in 2009 and acquired by PayPal in 2013, Venmo is a true 21st-century product that has transformed the way we handle money and payments.
Users of Venmo are able to transfer money between one another using the mobile payment app or the web interface. According to Recode, the mobile payment service handled $7.5 billion in transactions in 2015, and almost $3.2 billion in just the first quarter of 2016.
In a recent poll commissioned by LendEDU, we found that 68 percent of respondents who use a mobile payment application use Venmo. In fact, more respondents used Venmo than Square Cash, a bank's mobile payment app, and other similar services combined!
Last year, we had conducted a study that analyzed over 500,000 Venmo transactions to see what Venmo was being used for. In short, beer, pizza, and fantasy football were amongst the most popular terms used on the mobile payment application.
LendEDU was intrigued by this idea of payments for taboo items being made over Venmo, so we ran a poll!
We commissioned an online survey of over 1,000 millennials to find out how many of them were using Venmo for drugs or gambling.
The first question was asked to 1,217 millennials and read like this: "Have you used Venmo to pay for drugs (ex. Marijuana, adderall, cocaine, etc.)?"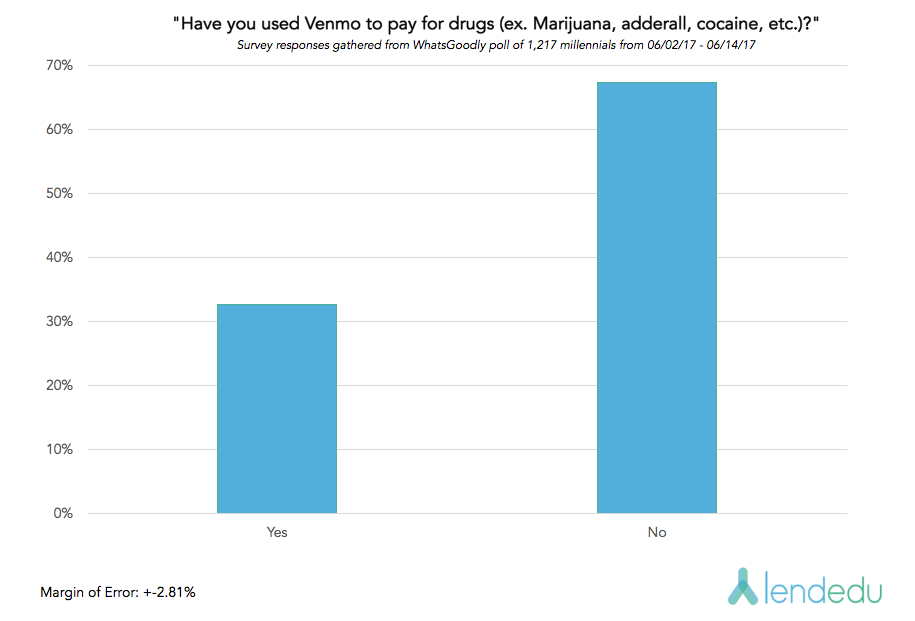 Nearly a third of respondents, 32.6 percent, claimed that they have used Venmo for some type of drug.
Meanwhile, 67.4 percent of millennials stated that they have never used the app to pay for narcotics.
For the second question, 1,269 participants were asked to answer the following question: "Have you used Venmo for betting or gambling (ex. Sports betting, fantasy football, poker, etc.)?"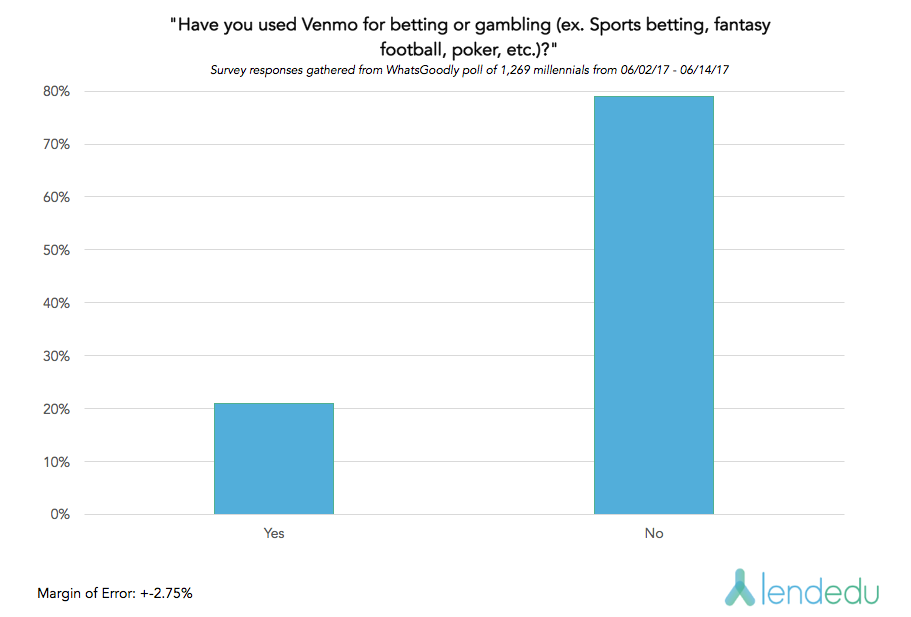 As it turns out, less millennials, 21 percent, use Venmo for gambling than those that use it for drugs.
Additionally, 79 percent of respondents claimed that they have never used Venmo for sports betting.
What are we to make of all this?
One thing is for certain: Venmo has become a medium to make shady transactions, and a sizable portion of millennials are using it for exactly that.
It would seem a near impossible task for engineers at Venmo to be able to monitor daily transactions and flag payments that look suspicious. That mission becomes even more overwhelming when you consider that Venmo is on track to process $20 billion in payments per year.
One interesting point is that any and all transactions made on Venmo will be on file, similar to a payment made with a credit card. Those who use Venmo for suspect transactions run the risk of leaving behind a paper trail that could come back to haunt them.
Methodology
This poll was commissioned by LendEDU and was conducted by online polling company, Whatsgoodly. In total, 1,217 current college students were polled from June 2, 2017 to June 14, 2017 for the first question. 1,269 current college students were polled from those same dates for the second question. The National Center for Education Statistics estimates that there are 20.5 million current college students in the United States. LendEDU estimates that our sample size is representative of that population within a margin of error of +-2.81% and +-2.75, respectively. Respondents were asked to answer each of the two questions truthfully: "Have you used Venmo to pay for drugs?" and "Have you used Venmo for betting or gambling?"
See more of LendEDU's Research

In his role at LendEDU, Mike uses data, usually from surveys and publicly-available resources, to identify emerging personal finance trends and tell unique stories. Mike's work, featured in major outlets like The Wall Street Journal and The Washington Post, provides consumers with a personal finance measuring stick and can help them make informed finance decisions.