You have probably heard the irony before: Americans spend Thanksgiving day giving back to others and being thankful for what they have, but by night they are greedily shoving others out of the way to get the best deals on one of the biggest shopping days in the world.
Next week is Thanksgiving, a day that will be succeeded by Black Friday, which will subsequently be followed by Cyber Monday.
Last Black Friday, a reported 137.4 million Americans were planning to go shopping – more than the 134 million votes cast in the 2016 presidential election. Target sold more than 3,200 TVs per minute in the first hour of the store opening, while Macy's had more than 16,000 people stampede into its flagship New York City location when the doors were opened.
Last Cyber Monday was the single biggest e-commerce day in the history of the United States after consumers spent roughly $3.45 billion on various online stores.
There are not many debates that are trendier than the one between brick-and-mortar retail and online shopping. The Super Bowl of that debate would be Black Friday, the busiest day for brick-and-mortar shops, versus Cyber Monday, the most popular day for e-commerce.
LendEDU conducted a poll of 1,000 adult Americans to find out what will be the bigger (and more expensive) day for consumers: Black Friday or Cyber Monday.
Across-the-Board, Black Friday Beats Cyber Monday
More Consumers Expected to Participate in Black Friday Than Cyber Monday
Through polling 1,000 American consumers over the age of 18, LendEDU was able to develop a few key stats to compare the expected performances of both Black Friday and Cyber Monday in 2017.
Poll participants were given the ability to enter in any number within the provided range when asked to estimate how much they will spend on Black Friday and Cyber Monday. If they were not planning to shop on Black Friday, Cyber Monday, or either, than they simply had to enter "0".
We were able to determine the expected shopper turnout for the two biggest consumer days on the calendar by subtracting those that answered "0" from the rest of the respondents.
While the above infographic rounds the percentages, the exact statistics for Black Friday were as follows: 65.80 percent of American consumers intend on shopping on Black Friday this year, while 34.20 percent do not.
When it comes to Cyber Monday in 2017, 48.90 percent of adult Americans have plans to shop online, while 51.10 percent do not anticipate doing any online browsing. ​
Despite being in an age that is dominated by the Internet and quick access, these results came as no surprise. Although it was not referred to as "Black Friday" then, retail stores slashing prices on the day after Thanksgiving has been a tradition since the 1960s. Meanwhile, the first time Cyber Monday ever took place was in 2005. Americans, specifically older ones that do most of the gift-shopping, are more familiar with spending on Black Friday, not the Monday after Thanksgiving.
Shoppers Anticipate Spending Nearly Four Times As Much on Black Friday Than Cyber Monday
Onto those that fully intend on taking advantage of the many bargains and discounts being offered on Black Friday and/or Cyber Monday. For both days, the estimated spend amounts from each anticipated shopper for that respective consumer holiday were averaged together to find the expected average amount spent for both Black Friday and Cyber Monday.
According to LendEDU's polling data, the amount spent shopping on Black Friday in 2017 will be 3.76x that of the amount spent shopping on Cyber Monday in 2017.
Specifically, the anticipated average amount spent on Black Friday in 2017 by adult Americans ​is $376.47. That same statistic for this year's Cyber Monday is much lower: $100.20.
There could be a few reasons why Black Friday is expected to outperform Cyber Monday by such a wide margin. The first being the aforementioned fact that Black Friday has been around a lot longer than Cyber Monday and is more established and ingrained in the mind of the consumer.
The second reason could be that the vast majority of Americans have the day off work on Black Friday, thus giving them time to shop. Contrarily, most consumers are working on Cyber Monday, and while the day does only require an internet connection to shop, who has time to simultaneously work and shop?
The third and final potential reason why the data turned out the way it did could be that no matter how advanced the online shopping experience becomes, consumers still want to see and feel products before purchasing them. This especially holds true for Black Friday and Cyber Monday when the gifts are more meaningful because they are usually meant for the holidays; loved ones and friends want to guarantee that their money is being spent on the optimal gift for that special someone.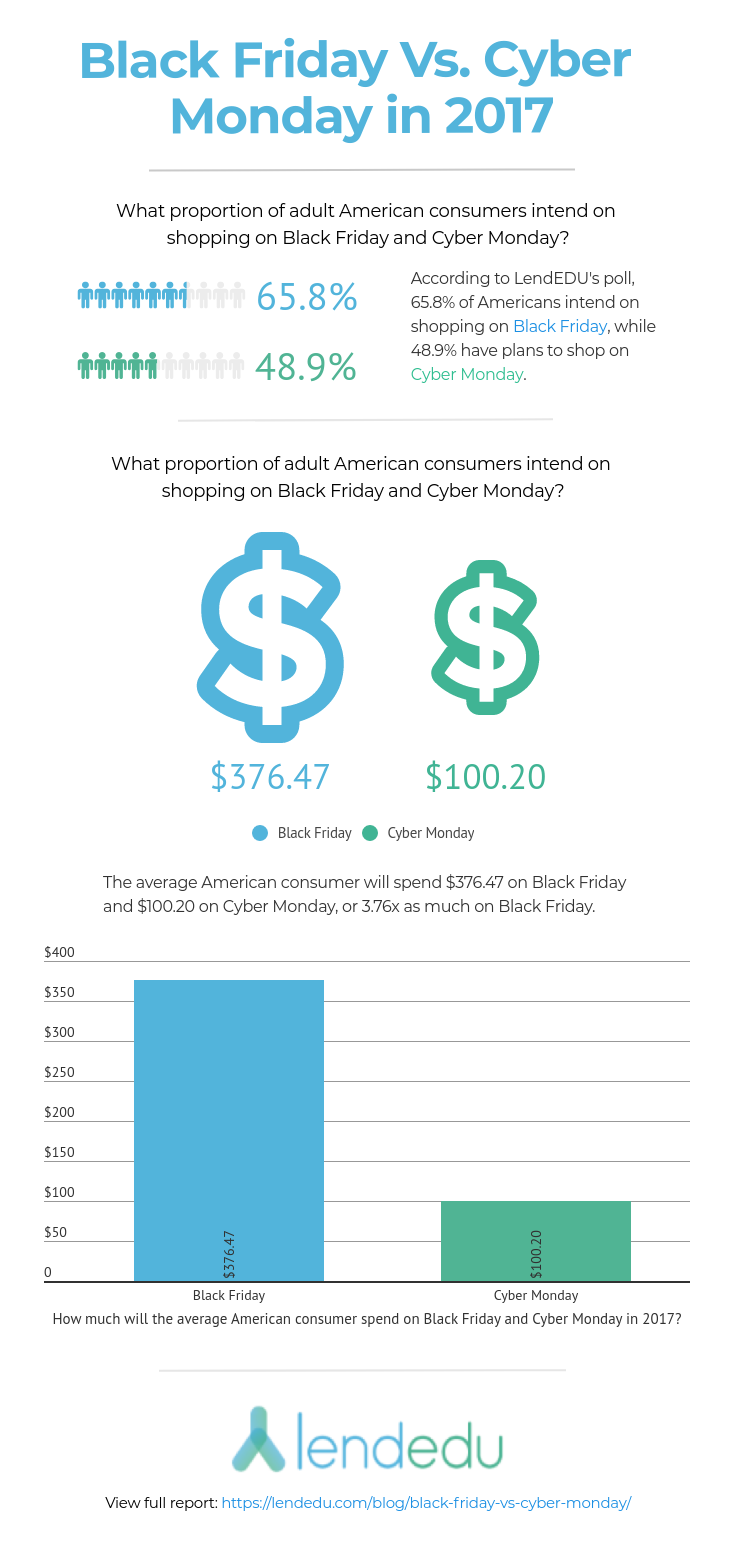 Methodology
The data that was used in this report came from an online poll conducted by online polling company Pollfish. In total, 1,000 Americans above the age of 18 were polled on each of the questions. Respondents were filtered via screening question to ensure they met the requirements.
Poll participants were given the opportunity to estimate an anticipated spend amount within a provided range for both Black Friday and Cyber Monday. Those answers were then averaged together to get the anticipated average amount spent on both Black Friday and Cyber Monday. Respondents that had no intentions to shop on Black Friday or Cyber Monday, or both, had the ability to enter "0," and their answers were not counted towards either average spend amount.
The poll ran over a two day span from November 6th, 2017 to November 7th, 2017. All respondents were asked to answer each question truthfully and to the best of their ability.
See more of LendEDU's Research