One minute you're scrolling through one of the many social media platforms, and the next minute you're entering your credit card number to buy something.
This sequence of events has become commonplace in 2017.
Social media apps have become adept at finding out what we want and pushing us to buy those products that we never knew we needed until two minutes ago.
But, which social media platform is the best at intelligent advertising?
According to new data licensed by LendEDU, the clear majority of millennials are most influenced by Instagram when it comes to online shopping.
In fact, more millennials are influenced by Instagram than Facebook, Twitter, and Snapchat combined!
52.9% of Millennials Say Instagram Influences Their Online Shopping the Most
1,731 millennials were asked to answer the following question: "What social platform has influenced your online shopping the most?"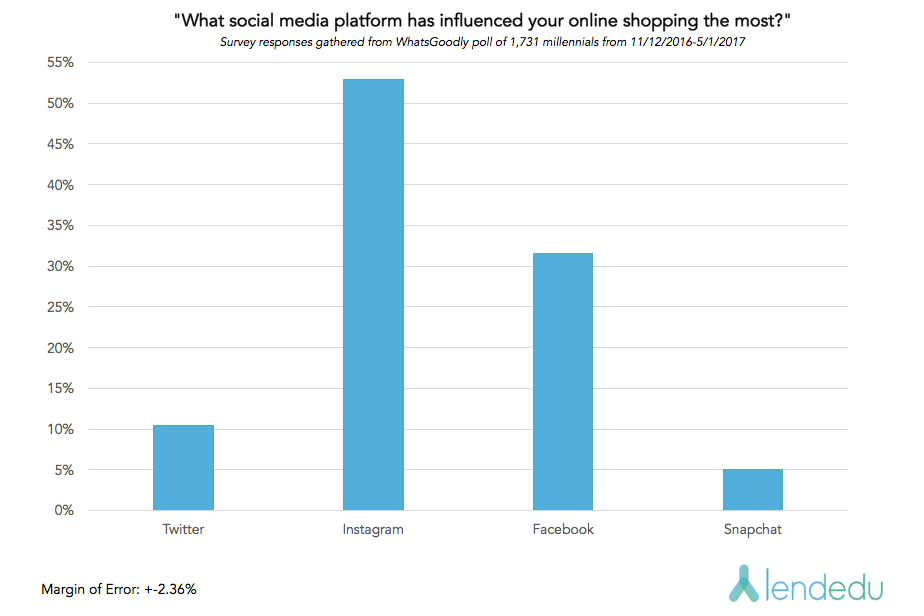 The majority of millennial respondents, 52.9 percent, responded that "Instagram" impacted their online shopping the most.
The second biggest influencer of online shopping millennials was "Facebook," which brought in 32.6 percent of the vote.
Facebook was followed by "Twitter," the app in which 10.5 percent of millennials said had the greatest influence on their online shopping habits.
Finally, 5 percent of respondents stated that "Snapchat" impacted their internet shopping the most.
There are a couple interesting takeaways from this data.
First and foremost, Facebook comes out of this poll as the clear winner. As the owner of Instagram, Facebook has finished with the number one and number two most influential social media platforms when it comes to online shopping. Owners of Facebook stock can find comfort in the news that their two flagship social media applications have found a way to effectively advertise to millennials.
Additionally, Facebook has put a considerable amount of its resources towards sponsored advertisements that appear on users' news feeds. The social media website was one of the first companies to really push the sponsored advertisements strategy. After acquiring Instagram, Facebook invoked this same strategy with the photo-sharing application, and it seems to be paying huge dividends. In fact, sponsored advertisements are even working better on Instagram than they are Facebook, according to this data.
Second, the results of this data provide unwelcome news for Snapchat, and owners of Snap, Inc. stock. Since going public, the knock on Snapchat was that it did not have enough revenue streams.
One of the ways many thought Snap, Inc. was going to become profitable was through advertisements. In fact, the amount of advertisements on the Snapchat application has risen considerably in recent years.
However, this data shows that Snapchat is not an effective advertising medium at all. Snapchat received the least amount of votes amongst millennials when it came to which social media platform influences online shopping the most. If advertising on Snapchat proves to be a fruitless effort, than Snap, Inc. may very well be a lost cause.
Why is This Data Important?
The advertising landscape has shifted considerably in recent years. According to a report by eMarketer, digital ad expenditures surpassed TV for the first time in 2016, and the gap will widen by roughly $10 billion this year.
Further, mobile advertising will be the main driver of digital advertising's growth in 2017. Mobile accounts for over 70 percent of digital advertising. Additionally, mobile advertising spending is expected to surpass TV in 2019.
Digital advertising, and more specifically, mobile advertising has become king in the industry. This means that social media platforms like Facebook, Instagram, Twitter, and Snapchat will see more advertising dollars than more traditional ad mediums like TV, radio, and print media. And, this is expected to happen sooner rather than later.
Another factor contributing to the importance of this data is the fact that this question was asked to millennials. According to U.S. Census Bureau data, there are currently 75.4 million millennials living today. Millennials have surpassed the 74.9 million baby boomers as the largest living generation on Earth.
In summation, millennials represent a considerable portion of the global population and have become the most coveted demographic amongst companies. It also has to be considered that most millennials are in their twenties or early thirties and their disposable income is only expected to grow.
Combine the fact that millennials are the largest living generation with the fact that mobile ads will soon become the most heavily invested form of advertising, and this data suddenly becomes incredibly important.
Millennials say themselves that their online shopping habits are most influenced by Instagram and Facebook, and it is not even close. When you consider that datapoint with the aforementioned trends, you suddenly have a very, very positive outlook for Facebook and Instagram.
Methodology
The data LendEDU gathered for this report was licensed from polling company Whatsgoodly. In total, 1,731 millennials were asked to answer the following question truthfully: "What social media platform has influenced your online shopping the most?" This poll was conducted from November 12th, 2016 to May 1st, 2017. The National Center for Education Statistics estimates that there are 20.5 million current college students in the United States. We estimate that our sample is representative of the population of college students within a margin of error of +-2.36%.
See more of LendEDU's Research