Petplan Pet Insurance Review
Petplan insurance can help you cover some of the most expensive procedures available. There are different plans to choose from to cover healthcare needs for your furry family members.

Important note: Petplan has rebranded to Fetch by The Dodo. All of the information below is still accurate as the product itself is the same.
Key points:
Petplan Pet Insurance provides competitive insurance policies for cats and dogs.
Wellness visits are not covered, but you must complete them to maintain your coverage.
---
If you have a dog or a cat, you know keeping your pet healthy can be expensive. Surgeries and other treatments can cost thousands of dollars a year, especially if your pet develops any chronic conditions.
Just as you need health insurance for yourself, it may also make sense to get pet insurance for your furry friend. A Petplan Pet Insurance provides policies with reimbursement for various services including dental and medical therapies.
This Petplan pet insurance review can help you this provider is right for you.
In this review:
Petplan Pet Insurance: Costs & Coverage
Petplan pet health insurance has been available in the United States since 2001, with the company focused on providing coverage primarily for dogs and cats.
Petplan is incorporated under the name Fetch, Inc. and policies are underwritten by XL Specialty Insurance Company. Petplan has an A.M. Best rating of A and provides fully customizable insurance plans for pets.
Petplan pet health insurance is known for is providing comprehensive coverage for care, including dental coverage for oral diseases and injuries. On top of that, you can get a plan that covers behavioral treatment, so your pets can be treated for disorders including separation anxiety.
Additionally, Petplan insurance is known for having lax age limits. Some providers have an upper age limit for animals they'll insure, but Petplan dog insurance and cat insurance won't cut you off or deny coverage based on age.
What Does Petplan Pet Insurance Cover?
In general, Petplan insurance offers lifelong and comprehensive coverage for a number of pet health conditions, including chronic conditions and hereditary diseases. As long as you meet policy requirements, you can get diagnostic and treatment costs included in your coverage.
On top of that, depending on your plan, you might get access to coverage for alternative therapies (including acupuncture) and behavioral therapies (such as for separation anxiety).
If you get a policy that has an annual limit of at least $15,000, you can get additional Petplan pet health insurance coverage for such items as:
Travel reimbursement if you have to cut your trip short to come back and get your pet due to illness or injury
Advertisement and reward payment for a lost or stolen pet
Cost of boarding your pet if you're sick or injured and need a place for your pet to stay
Reimbursement if your pet is lost or stolen and remains unfound
Additionally, realize that Petplan health insurance makes a distinction between curable and non-curable conditions so you'll need to check your policy and limits to see what to expect.
Waiting Periods for Coverage
There are some waiting periods for certain conditions and treatments, and you might have to jump through some additional hoops for pre-existing conditions.
You should carefully consider your pet's situation and decide if some of the waiting periods and delays might cause undue problems for you. However, in some of these situations, Petplan health insurance offers better coverage than you might see with other plans, so shopping around is also important.
All breeds of dogs and cats older than six weeks are eligible for coverage, and care is covered when provided by any veterinarian in the U.S. or Canada.
Unfortunately, one of the notable coverages missing from Petplan insurance is a wellness plan. You can't get coverage for preventative visits and regular check-ups. However, with Petplan dog insurance, you're required to get these check-ups if you want to maintain your coverage.
How Much Does Petplan Pet Insurance Cost?
As with any other health insurance policy, what you pay for pet insurance depends on a number of factors, including:
The age of your pet
The breed of pet
The amount of coverage you select
The deductible and co-pay you select
Any pre-existing conditions
Non-curable vs. curable conditions
In general, Petplan insurance prides itself in providing customizable plans. You can choose your coverage level, from as low as $5,000. Annual deductibles range from $250 to $1,000. You can also choose different reimbursement levels.
The ability to customize your plan allows you to figure out what will best fit your pet's needs and your budget.
>> Read More: Is pet insurance worth the cost?
Pros & Cons of Petplan Insurance
There are many benefits and downsides to consider before taking out a policy through Petplan.
How to Get a Petplan Policy
You can apply for a policy online in minutes. Just supply Petplan with your location and your pet's name, breed, and age. You'll then be offered three policy tiers (the price of which will vary based on your pet and location).
However, you can also elect to customize your plan by choosing a higher or lower maximum annual payout and deductible, to get the monthly premiums you desire.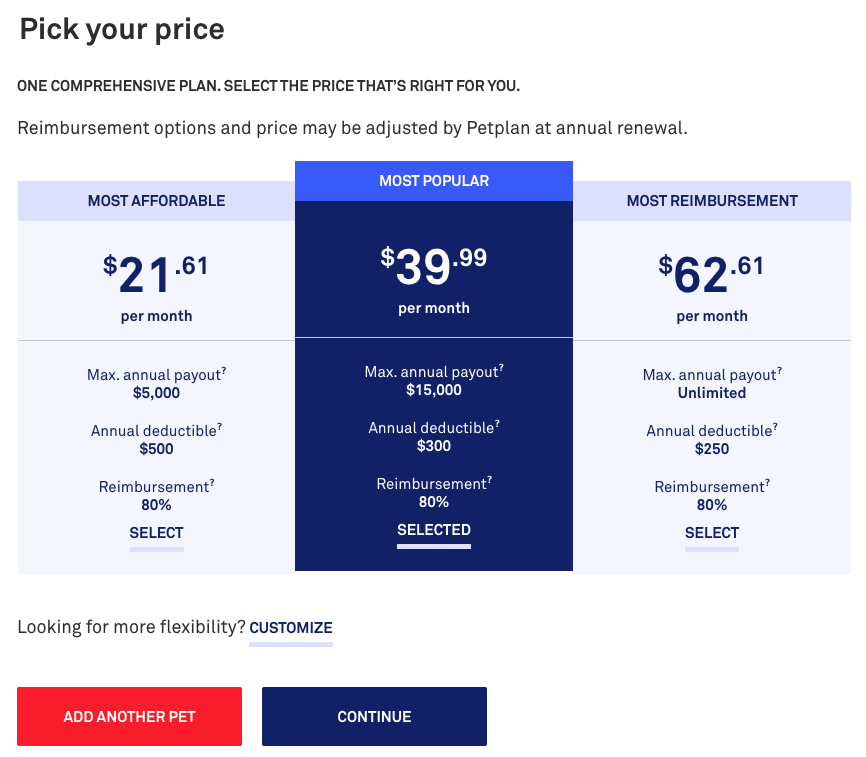 Your coverage will go into effect at 12:01 am EST the day after you elect your policy and remit your first payment.
Where is Petplan Insurance Available?
Petplan insurance is available in all 50 states and in Canada. You can use coverage from this pet insurance company at any vet in the U.S. and Canada.
Petplan Customer Service
The average rating for Petplan insurance on Pet Insurance Review is 9.2 out of 10.
You can call Petplan at 1.866.467.3875, 24 hours a day. You can also send an email through the Petplan website contact form. Finally, Petplan pet insurance offers live chat on its website.
Where to Find Petplan Alternatives
If you're looking for comprehensive coverage for illness and injury, Petplan health insurance can be a solid choice. However, if you want a wellness plan, you'll have to look elsewhere for coverage as Petplan doesn't offer this type of protection.
You can see how Petplan stacks up to other companies on our Best Pet Insurance Companies page or check out our reviews of other pet insurance companies. For a more direct comparison, check out our guide on Petplan vs. Healthy Paws.
How We Rated Petplan Pet Insurance
Petplan scored a 4.8 out of 5. We rate our pet insurance partners based on a variety of data points including coverage, cost, customer ratings, and more.
---
Ready to learn more about Petplan? Check out its website.
4.8
Petplan Pet Insurance

Miranda Marquit has been writing about money for more than 10 years, and is a nationally-recognized financial expert and journalist. She has appeared on Forbes, NPR, CBNC, Yahoo! Finance, and in many other media outlets, online and offline. Her personal finance blog is Planting Money Seeds, and she is a contributor to the Money Tree Investing Podcast. Miranda lives in Idaho with her teenage son and enjoys the outdoors, travel, and reading.