Key points:
Embrace pet insurance offers coverage for dogs and cats of all ages.
You'll have to get your pet checked out by a vet before receiving coverage.
You can add on a wellness plan to your accident and illness coverage.
---

on Embrace's secured website
What we like:
Comprehensive coverage
Monthly Premium

Not disclosed

Deductible

$100 – $1,000

Benefit Limits

$5,000 to $15,000

Age Restrictions

Minimum

6 weeks

old, maximum of

14 years

at enrollment
See how Embrace compares to our top rated pet insurance companies
No pet owner ever wants to deny care to their beloved animal because of money. Unfortunately, many life-saving veterinary procedures can be very expensive, and even routine care can add up to hundreds of dollars annually.
The good news is there are options for pet insurance so you can make sure your best friend gets the care required to live the longest, healthiest possible life.
Embrace Pet Insurance is one option for coverage. Embrace provides personalized plans and unique benefits. This Embrace pet insurance review will tell you what you need to know.
In this review:
Embrace Pet Insurance: Cost & Coverage
Embrace Pet Insurance
LendEDU rating
4.9/5
Benefit limits

$5,000, $8,000, $10,000, $15,000, $30,000

Reimbursement amount

70%, 80%, or 90%

Deductible

$200, $300, $500, $750, or $1,000

Processing fee

$25

Medical exam required?

Yes

Eligible pet age

6 weeks

–

15 years

View rates
Visit Embrace
Embrace is a member of the North American Pet Health Insurance Association and partners with other organizations, including USAA, to provide pet insurance.
Embrace Pet Insurance provides flexibility for dog and cat owners looking to secure coverage, as you can choose between accident and illness or accident-only policies and add wellness rewards to get your routine care covered, too.
All of this, combined with top ratings from customers and the Better Business Bureau, makes Embrace a solid choice for those looking to make sure their furry family member's health needs are met.
What Does Embrace Pet Insurance Cover?
Embrace offers accident and illness coverage, as well as an optional wellness rewards plan. The latter provides coverage for:
Genetic conditions
Breed-specific conditions
Chronic conditions
Cancer treatment
Alternative therapies, including chiropractic care
Specialist care
Emergency room care
Exam fees and diagnostic treatment
Hospitalization
Surgery (e.g. for a cruciate ligament tear)
Prosthetic limbs and devices
Mobility aids
Up to $1,000 per year in dental care
If you add an optional wellness rewards plan, you can get between $250 and $650 in coverage for any routine care your pet may need during the course of the year. Your wellness rewards plan from Embrace covers:
Wellness exam fees
Vaccinations
Titer tests
Flea, tick, and heartworm prevention
Spay/neuter surgery
Routine blood tests
Fecal tests
Microchipping
Grooming, including nail trims
Repair of an umbilical hernia
Nutritional supplements
Anal gland expression
A pet activity monitor
Cremation or burial
Teeth cleaning
You'll receive up to 90% back on veterinary care when you obtain covered services under either of these Embrace insurance plans.
Claims made under your wellness plan do not count toward the deductible for your accident and illness plan, though, and your deductible and payout limits will vary depending on the policy you select.
How Much Does Embrace Pet Insurance Cost?
Embrace Pet Insurance costs vary depending on the age of your pet, your pet's breed, the type of pet (i.e. dog or cat), and other factors such as where you live.
You can get an Embrace quote online to find out exactly how much it will cost to insure your dog or cat. The deductible you select, your chosen coverage limits, and whether you opt to add optional wellness coverage all affect the amount you pay for Embrace Pet Insurance.
Example quotes
We got quotes for comprehensive coverage for a 2-year-old golden retriever and a 2-year-old house cat, each with a $500 deductible, 80% reimbursement level, and a $5,000 annual limit.
The monthly premium for the dog was $29.89, while the cat was $17.03. This ranked Embrace as the second-cheapest comprehensive pet insurance policy.
Pros & Cons of Embrace Insurance
As with any pet insurance provider, there are benefits and downsides to consider before signing up for a policy with Embrace.
Routine care is covered. Embrace's wellness rewards plan reimburses pet owners for training, grooming, and other routine care with no per-item limits. Embrace also covers the cost of your exam fee, which many insurers don't.
You have flexibility in choosing your coverage. You can choose your deductible and policy limits to customize your Embrace coverage to better meet your pet's needs.
Embrace provides options for pre-existing conditions. If your dog or cat has a curable condition and is symptom-free and treatment-free for 12 months, Embrace will provide coverage for that condition after that yearlong period. Many other pet insurers deny coverage for pre-existing conditions for life when you first sign up for a policy.
Multi-pet discount. If you insure more than one pet with Embrace, you can get a 5% discount on each additional policy.
Cons
Long orthopedic waiting period. Dogs are subject to a six-month orthopedic waiting period unless you have an Orthopedic Exam Report card, which can shorten your waiting period to 14 days.
You have to provide a full year of your pet's medical history. This is required before you can buy an Embrace Pet Insurance policy. The medical history includes doctor's notes, test results, and other details about your pet's past health.
Eligibility & Application Information
Embrace offers coverage to cats and dogs, from newborns to 15 years. Coverage is also available to animals older than 15 years of age, but only in the form of accident-only coverage.
You can easily get a quote on Embrace's website by providing the name, species, breed, and age of your pet, as well as your zip code. You'll then be required to select the coverage amounts and deductible you want.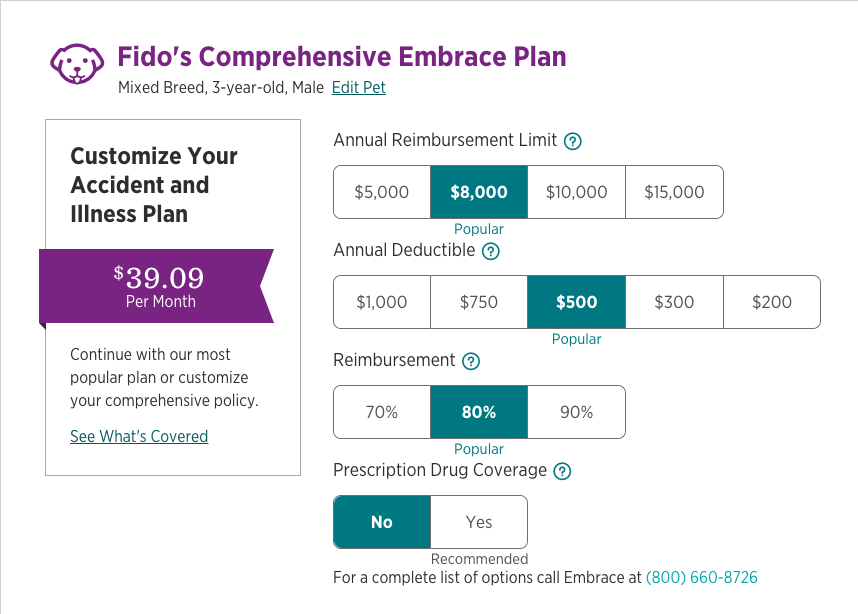 However, you'll need to get your pet checked by a vet before your policy goes into effect.
Where is Embrace Available?
Embrace Pet Insurance plans are available for dogs and cats throughout the United States.
Embrace Customer Service
Embrace can be contacted via phone at 800-511-9172. The call center is open Monday through Friday from 8 a.m. to 8 p.m. ET and Saturdays from 9:00 a.m. to 1:00 p.m. ET.
Online chat is also available Monday through Friday from 8:00 a.m. to 5:00 p.m. Eastern Time. If you need help during off hours, you can send a message via the website's Contact Us form.
Embrace generally gets very good reviews from customers. It has an 8.8/10 rating with Consumer Advocate, which is considered excellent, as well as an A+ rating with the Better Business Bureau.
Where to Find Embrace Alternatives
Embrace Pet Insurance has many unique features. It also provides the chance to get wellness care covered, which some other pet insurers don't offer.
If you want to compare more options, check out our guide to the best pet insurance or read our reviews of popular companies. You may also want to read our Healthy Paws vs. Embrace comparison.
How We Rated Embrace Pet Insurance
Embrace earned a 4.9 out of 5 rating. We rate pet insurance companies based on a variety of data points including coverage, cost, customer ratings, benefit limits, exclusions, and more.
Benefit limit: Unlimited
Deductibles: $200 – $1,000
Reimbursement: 65% – 90%