Figo Pet Insurance Review
Figo pet insurance is an accessible insurance option that covers pets in case of unexpected veterinary bills. Thanks to a user-friendly app and easy qualifying process, many pet owners find appropriate coverage through Figo.
Key points:
Figo Pet Insurance provides policies for dogs and cats.
There are three policy options, with unlimited coverage available. There are also optional coverage add-ons.
Pets younger than figo-ins-696-agelow aren't yet eligible for coverage.
---

on Figo's secure website
What we like:
Numerous discounts available
| | |
| --- | --- |
| Monthly Premium | As low as $21.71 |
| Deductible | $250 to $1,500 |
| Benefit Limits | $10,000, $14,000, or unlimited |
| Age Restrictions | Minimum 8 weeks old with no upper age limit |
See how Figo compares to our top rated pet insurance companies
If you have a pet, you've probably experienced that unsettling feeling—you're at the vet with your beloved furry, scaly, or feathery friend and the receptionist reads off a number and reaches for your card.
"That isn't my bill, is it?"
Veterinary care can be much more expensive than owners expect and, for pets prone to certain diseases or with preexisting conditions, the cost of treatment can rise exponentially over the years. That's why many owners are opting for pet insurance to make sure their pet gets the necessary care. 
Figo, one of the nation's leading pet insurers, offers a variety of plans to suit the needs of owners with pets of all sizes. This Figo pet insurance review will discuss the options available, so you can decide if Figo is the right pet insurance company for you.
In this review:
Figo Pet Insurance: Costs & coverage
| | |
| --- | --- |
| Figo Pet Insurance | |
| LendEDU rating | 4.48 / 5.00 |
| Eligible pets | Dogs & cats |
| Minimum age | figo-ins-696-agelow |
| Vet exam required? | figo-ins-696-medexamreq |
| Maximum benefit options | figo-ins-696-benflimitrange |
| Reimbursement range | figo-ins-696-reimbursrange |
| Deductible range | figo-ins-696-deductrange |
| Monthly premiums | figo-ins-696-premrange_m (varies by region) |
Figo has been supplying pet insurance and other financial products since 2012. As part of Google's Tech Hub Network, Figo offers a number of interactive and intuitive tools for pet owners who utilize their insurance including smart updates and 24/7 access to a live vet via the app.
Figo offers multiple types of pet insurance plans for both cats and dogs. This means that regardless of the size and condition of your pet, Figo is likely to offer coverage.
While the Essential plan is the cheapest and provides the most limited coverage, the Ultimate plan offers owners nearly unlimited services while the Preferred plan offers a middle ground.
Figo pet insurance is also a unique pet insurance company because of the number of discounts it offers. Veterans, owners with medical services pets, and even owners who pay their annual premium in one lump sum will pay a lower overall cost.
What does Figo Pet Insurance cover?
Figo pet insurance offers many levels of coverage to fit the needs of most pet owners. And all breeds of dog and cat are eligible. 
Reimbursement rates are between 60% to 100% depending on the plan and the deductible can be as low as $100 or as high as $1,500. However, routine and preventative visits to the vet are not covered, nor is training, boarding, or grooming.
Hereditary and congenital condition coverage sets Figo apart from many other companies, and owners can expect coverage for hospitalization, surgery, prescriptions, and even cancer treatment.
>> Read More: How to pay for emergency pet care?
How much does Figo Pet Insurance cost?
Although costs and coverage vary based on each individual's unique situation, plans for small dogs start as low as $20.
For an additional fee each month (typically between $5–$6), pet owners can add Veterinary Exam Fee coverage, which will cover the fees charged for an office visit if a pet is experiencing a covered issue. (This does not include routine and preventative visits.)
Pros & cons of Figo Insurance
Thanks to its policy of using an annual deductible system rather than a per-incident deductible, owners can get a clear idea of what their treatment costs will be.
Similarly, because of the discount for paying annually, those with the means can save some money by paying insurance policy premiums in a lump sum.
Because Figo bases premium prices on the coverage it provides, owners with pets who have pre-existing conditions are more likely to be able to find coverage with Figo—albeit at a higher premium—rather than being turned down entirely for a pet insurance policy.
Because of Figo's tech-centric approach, using the insurance is simple—just navigate around the app to see reminders for care, talk to a live vet, and chat with representatives.
Although Figo overall has excellent reviews, some customers complain that their pet's treatment wasn't covered when they expected it to be.
While Figo does provide some coverage for pets with pre-existing conditions, coverage is limited for certain health issues so it's best to clarify policy terms with a representative.
Some may also find Figo's coverage restrictive—pet owners with reptiles, amphibians, birds, and fish can't sign up for policies from Figo.
How to get covered
Getting a Figo policy is easy. You just need to provide some basic information about your pet online, including:
Your pet's name
Species and breed
Age
Your zip code
You'll then be required to make your policy selections. These include the amount of coverage you want, the size of your deductible, and what additional protections—if any—you'd like to add to your policy.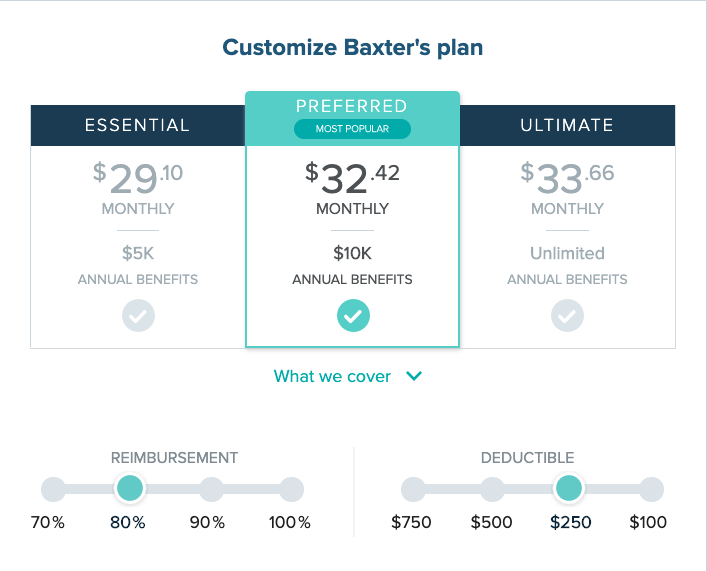 After you make your selections, you just need to submit your first payment for your policy to go into effect. Coverage can begin as soon as the following day.
Where is Figo Insurance available?
Figo is available throughout the United States and owners in Canada and Puerto Rico can also apply for coverage. Because Figo is a technology-based insurance company, you can get a quote online and complete your application from the comfort of your own home at any time.
Figo customer service
Figo Pet Insurance reviews are positive overall, with many policyholders noting their claims were resolved within an hour or even while they were still at the vet.
The company can be contacted via text, tweet, email, or phone, making it highly accessible for those on the go. In addition to accessible representatives, Figo also boasts Evie, an AI assistant who is able to answer most questions. 
Figo is available via phone Monday through Friday, 8:00am-7:00pm CST; Saturday, 8:00am-6:00pm CST, and Sunday, 11:00am-3:00pm CST (text support only). The company can be reached via phone at 844.738.3446, via text at 844.262.8133, and at [email protected]
Figo vs. Healthy Paws
One of Figo's main alternatives, Healthy Paws, is another pet insurance provider with a strong track record of good reviews.
However, it's important to note that while, officially, neither provides coverage for preexisting conditions, Figo may provide some coverage on an individual basis.
Healthy Paws also boasts a payment mailing timeline of three days, but thanks to Figo's tech-centric approach, owners can see their claims processed in mere hours.
Figo's lack of age restrictions also set it above Healthy Paws, as HP requires a veterinary examination at or before 6 years of age to qualify. Further, age can disqualify a pet from certain coverage with Healthy Paws, and older pets see significantly higher premiums that are uncommon at Figo.
Interested in comparing Figo to other insurers? Check out our guide to the best pet insurance companies.
Bottom Line
Figo's pet insurance may be a great option for those who are having a hard time qualifying for coverage elsewhere, but owners should be prepared to pay more per month for the best coverage—just as with any insurer.
Thanks to Figo's quick response time and plethora of contact options, owners will find they have not only an insurer, but a resource in times of need.
How we rated Figo Pet Insurance
Figo scored a 4.48 out of 5.00. LendEDU rates pet insurance companies based on the weighted average of multiple data points, including the company's BBB rating, financial stability, policy limits, and more.
You can learn more about our methodology here.
4.48
FIGO Pet Insurance
Author: Jeff Gitlen
Jeff Gitlen is a graduate of the University of Delaware. He writes about a wide range of financial topics including student loans, credit cards, small business financing, and more. His work has been featured on a number of sites including Bloomberg, CNBC, Forbes, Market Watch, and more.