---

on Pumpkin's website
What we like:
Preventative Care option that reimburses 100% for routine care
| | |
| --- | --- |
| Monthly Premiums | As low as $302 |
| Deductible | $100, $250, or $500 |
| Reimbursement | 90% |
| Benefit Limit | Annual limit of $10,000 for dogs, $7,000 for cats1 |
Compare Pumpkin to other top pet insurance providers.
Pet health insurance has become a common expense for pet parents who want to keep their pets covered in the event of an illness or accident. Many companies offer insurance coverage that can help you avoid unexpected pet care costs and high vet bills.
Pumpkin Pet Insurance is one provider that may be worth considering.
In this review:
Pumpkin Pet Insurance: At a glance
| | |
| --- | --- |
| | Pumpkin Pet Insurance |
| Eligible Breeds | All breeds |
| Eligible Ages | 8 weeks and up |
| Maximum Benefit | Annual limit of $10,000 for dogs, $7,000 for cats1 |
| Reimbursement Amount | 90% |
| Deductible | $100, $250, or $500 |
| Monthly Premiums | Not available |
| Waiting Period for Illness | 14 days |
| Waiting Period for Accidents | 14 days |
| Medical Exam Required? | No |
| Visit Website | View rates |
Pumpkin Pet Insurance makes it easy to apply for pet insurance plans for your dog or cat. You can fill out a simple online quote request and get multiple coverage options for your pet. You can choose from multiple annual deductibles to customize your monthly cost.
You can also add on preventative wellness coverage to your plan for a small cost. This can reduce your out-of-pocket costs for things like annual vet visits and vaccines to almost nothing, which makes budgeting for medical care easy.
Another perk is that the waiting period for almost any illness or accident is only 14 days, so you don't have to worry about waiting too long for coverage to kick in after you purchase a policy.
How much does Pumpkin cost?
Pumpkin Pet Insurance premiums start from under $30 a month. The cost varies with the age of your animal. In general, older pets cost more to insure than younger ones, so insuring your pet while they're young can save money in the long run.
What does Pumpkin cover?
Here is what is covered by Pumpkin's dog insurance.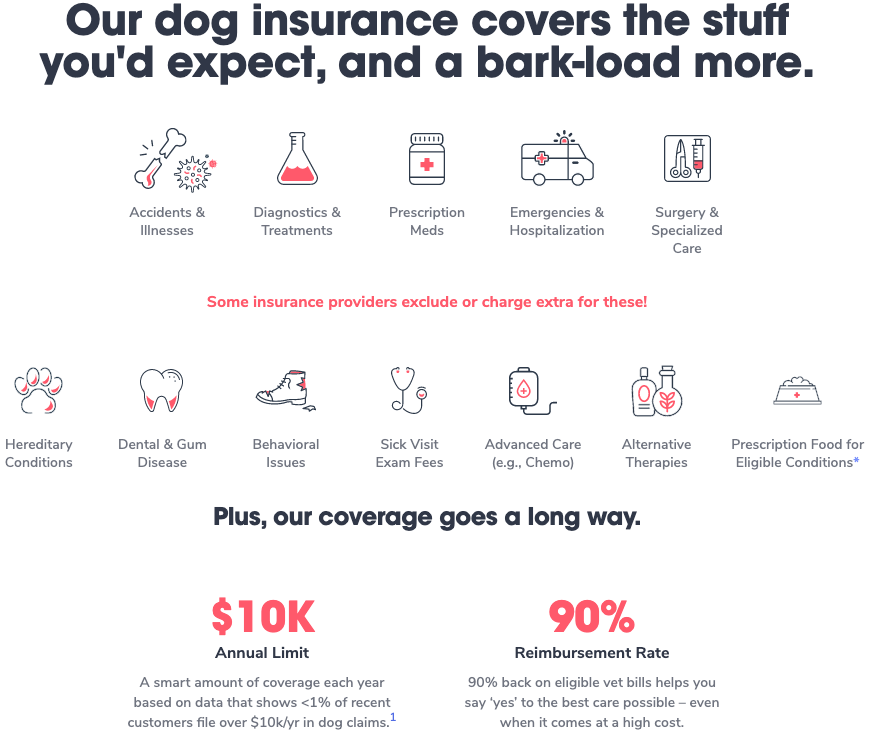 Here is what is covered by Pumpkin's cat insurance.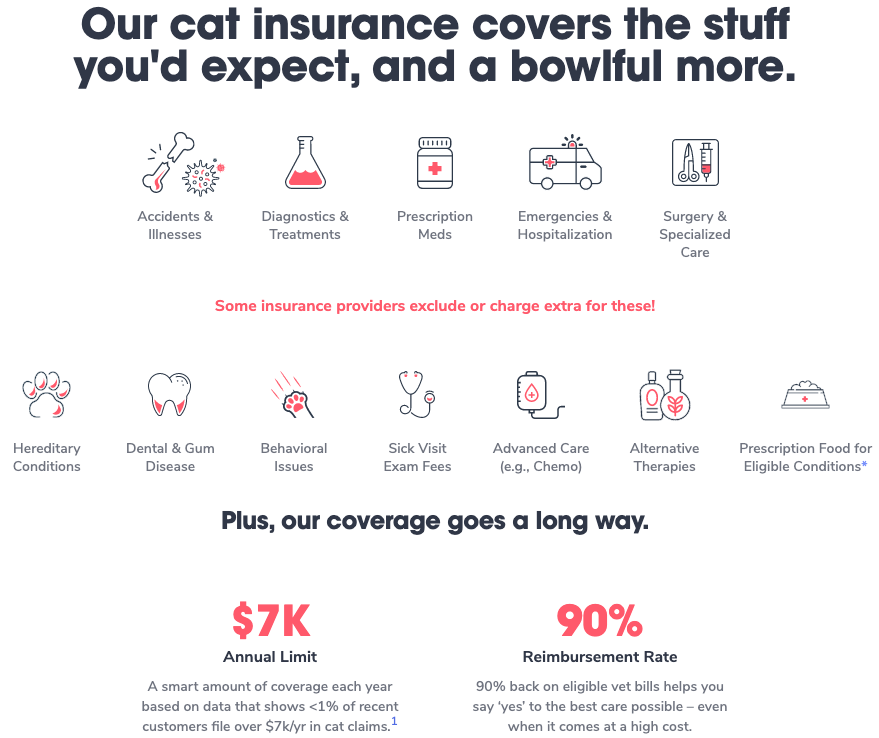 What Pumpkin does not cover
Here is what is not covered by Pumpkin.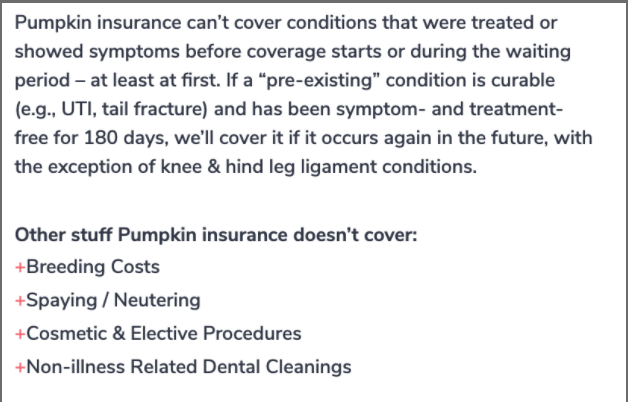 For all exclusions, call 1-866-ARF-MEOW or check out a sample policy.
Pros & cons of Pumpkin Pet Insurance
Covers many things that some other providers don't, such as hereditary conditions, dental disease, and behavioral issues

10% multi-pet discount on each additional pet

Optional preventative coverage, including 100% reimbursement for the annual wellness exam and vaccines, for a low cost
The only benefit limits are $10,000 for dogs, and $7,000 for cats

Some competitors offer lower prices

Plans are less customizable than other providers' plans
How to get a Pumpkin policy
Applying for a Pumpkin Pet Insurance policy is easy to do through the company's website. Fill out an online quote form and you'll receive multiple options from which to choose.
Enrollment eligibility information
Pumpkin Pet Insurance doesn't list any specific enrollment eligibility requirements for its dog or cat insurance. All pets, regardless of breed and age, are eligible, though older pets will cost more to insure than younger ones.
The company sells insurance in all 50 states and Washington D.C.
Pumpkin's policies do not require a medical exam, but it's always a good idea to get one before getting a policy so that you can show that your pet is free and clear of any pre-existing conditions.
How to apply
Applying for pet insurance coverage through Pumpkin is as easy as filling out an online form. Enter your pet's name, breed, and age and you'll get a few different quote options. You can choose from one of three deductibles to customize your monthly premium.
After selecting a plan, you also have the option to add preventative coverage.
Once you're happy with the plan you've selected, you can submit your payment and the waiting period begins.
Where to find alternatives to Pumpkin
Pumpkin Pet Insurance is just one of many pet insurance providers on the market. If you want to insure your pet, it makes sense to shop around. You can check out our guide to the best pet insurance companies to get an idea of what might fit your needs.
For a one-on-one comparison, check out how Pumpkin compares to Spot.
---
Ready to learn more about Pumpkin Pet Insurance? Check out its website.
Deductible: $100 – $500
Reimbursement: 90%
Annual limit: $10,000 for dogs, $7,000 for cats
---
About Pumpkin:
Pumpkin Insurance Services Inc. (Pumpkin) is a licensed insurance agency, not an insurer. Insurance is underwritten by United States Fire Insurance Company, a Crum & Forster Company and produced by Pumpkin. Pumpkin receives compensation based on the premiums for the insurance policies it sells.
Pumpkin Preventive Essentials is not an insurance policy. It is offered as an optional add-on non-insurance benefit. Pumpkin is responsible for the Pumpkin Prevent Essentials product and its administration.
1. Pumpkin Pet Insurance policies do not cover pre-existing conditions. Waiting periods, annual deductible, co-insurance, benefit limits and exclusions may apply. For full terms, visit pumpkin.care/insurancepolicy. Products, discounts, and rates may vary and are subject to change. More information available at checkout.
2. Price of monthly premium varies based on plan type, pet breed, age and location.
30-DAY MONEY BACK GUARANTEE TERMS: Cancel Pumpkin Pet Insurance in the first 30 days and get a full refund as long as you have not received approval or payment for a claim. 30-Day Money Back Guarantee not available in NY.