Important note: PetFirst was acquired by MetLife and is not MetLife pet insurance. The information below is still accurate and will take you to the MetLife website.
---

on PetFirst's secured website
What we like:
Short waiting period for accidents
| | |
| --- | --- |
| Monthly Premium | As low as $32/month for dogs and $26/month for cats |
| Deductible | Customizable deductibles between $50 and $500 |
| Benefit Limits | $2,000 to $20,000 annually |
| Age Restrictions | Not disclosed |
See how PetFirst compares to our top rated pet insurance companies
As more pet owners treat their animals as family, the costs of veterinary care have gone up. Today, it's possible to keep dogs and cats healthy with expensive procedures to treat serious and chronic conditions—but many families are left wondering how to pay for care.
That's where pet insurance comes in. Pet insurance can protect your animal in case of accident or illness, and some policies also provide coverage for routine and wellness care. One pet insurance company to consider is PetFirst Pet Insurance.
PetFirst offers flexible pet insurance plans that let you pick your deductible, annual limit, and reimbursement rate. You can also add a Routine Care Rider to cover wellness care to keep your pet strong and healthy. This PetFirst Pet Insurance review will tell you what you need to know.
In this review:
PetFirst Insurance: Coverage & costs
| | |
| --- | --- |
| PetFirst Pet Insurance | |
| LendEDU rating | 4/5 |
| Maximum benefit | $2,000 – $10,000 |
| Deductible | $50, $100, $250, or $500 |
| Reimbursement | 70%, 80%, or 90% |
PetFirst began supplying pet insurance to dogs and cats in 2003 and has since become one of the fastest-growing pet health providers in North America.
PetFirst offers plans fully customizable to your family's needs. You can take your pet to any licensed vet clinic, emergency clinic, or specialist in the U.S. and simply submit your vet bills for reimbursement.
The claims process usually takes less than two weeks, so you'll get your money back fast. And unlike many pet insurance providers, PetFirst has no upper age limit on the animals it will cover—even senior pets can get insured with PetFirst.
What does PetFirst Insurance cover?
PetFirst offers different types of plans so you can customize your coverage. For example, options include:
Cost Conscious: Provides up to $2,000 in annual coverage, with variable deductible and reimbursement amounts (see table above). This plan comes with the lowest monthly premium.
Recommended: Provides up to $5,000 in annual coverage, with the same reimbursement and deductible options. This plan comes with a mid-range premium.
Additional Coverage: Provides up to $10,000 in annual coverage, with the same options above. This policy will come with the highest monthly premium.
Monthly premiums will vary based on your pet and location, chosen policy, and your deductible and reimbursement selections.
All policies exclude coverage for pre-existing conditions, elective care, anal gland expression or removal, grooming, parasite prevention, behavioral therapy, and some other routine health needs.
You can, however, add an optional wellness rider to get coverage for your pet's routine health care costs.
With standard plans that don't include the wellness rider, you're covered for:
Accidents and illnesses, including hereditary conditions and chronic conditions
Hospitalizations
Surgeries
Exam fees
X-rays and ultrasounds
Medications
Alternative therapies and holistic care
Emergency care
After a 12-month waiting period, you're also covered for various disc and ligament problems.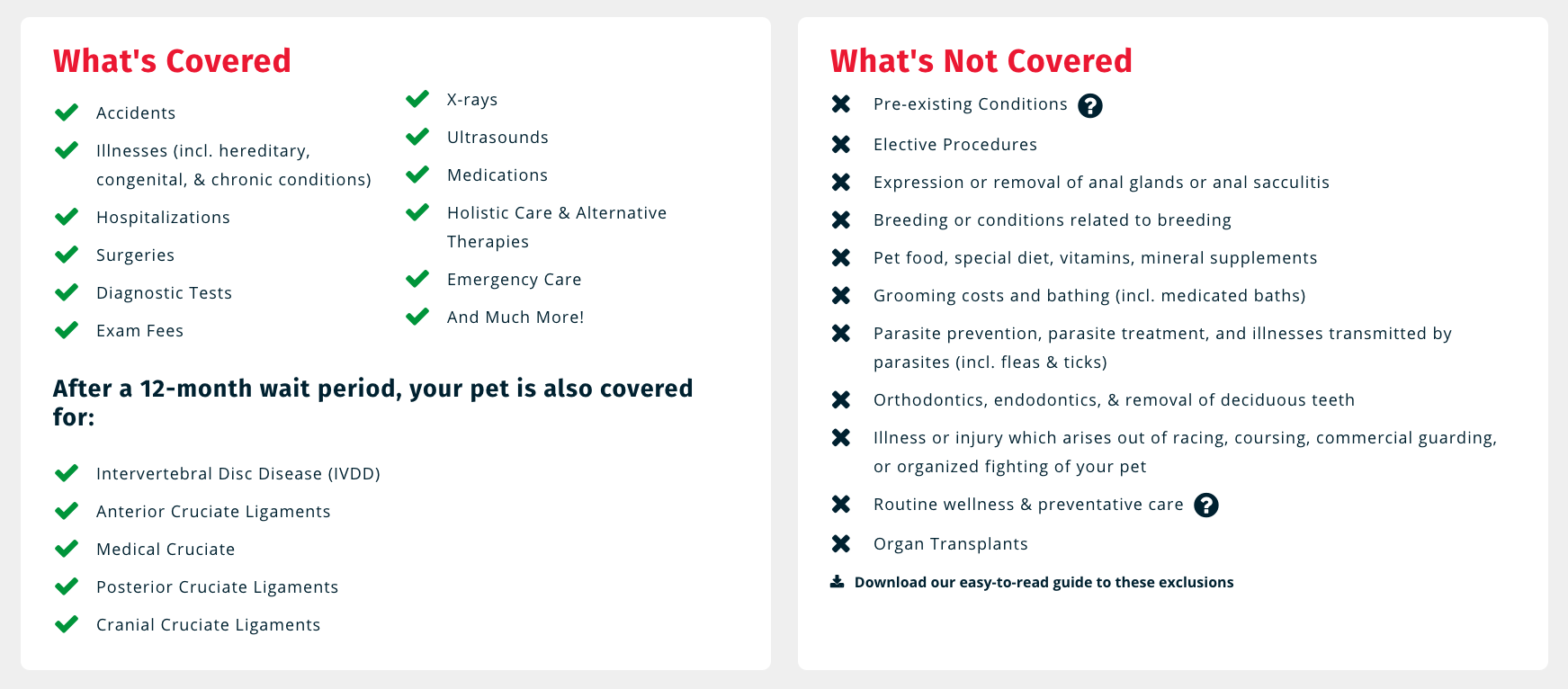 How much does PetFirst Insurance cost?
The costs of a PetFirst Insurance policy will vary depending on which plan you select, whether you have a dog or cat, your pet's breed, and your animal's age.
The best way to find out the specific cost to cover your pet is to get a free online quote. This will also allow you to customize your coverage and specify whether you want wellness care covered as well.
>> Read More: Is Pet Insurance Worth It?
Pros & cons of PetFirst Pet Insurance
As with any insurance provider, there are benefits and downsides of PetFirst to consider before taking out a policy.
No limits on coverage options for senior animals.

Multi-pet discounts through a unique family plan (save an average of 30% compared to maintaining individual policies).

No vet exam required.

Accident insurance coverage starts as soon as the next day after you buy a policy.

Waiting period for illness coverage is just 14 days (shorter than other competitors).
Preexisting conditions aren't covered.

PetFirst has just two out of five stars on Yelp, and some pet owners allege their claims weren't processed properly.

Deductibles are on a per-incident basis, meaning you must meet a deductible every time your pet needs care for a different incident for PetFirst to pay for covered services.
Eligibility & application information
Getting a PetFirst policy is easy. You just need to supply the company with your pet's name, breed, age, and color, as well as your location. You can then choose which policy you want and customize your coverage, if you'd like to add additional riders or higher coverage amounts.
You can complete the whole process on PetFirst's website, and no medical exam is required. And by completing the process online, you can qualify for a $10 discount on your first payment.
Where is PetFirst Insurance available?
PetFirst provides pet insurance throughout North America.
PetFirst Insurance customer service
PetFirst customer service is available via phone at 1-855-270-7387. For customer service, you should select Option 2 when you call.
Call center hours are Monday through Friday from 8 a.m. to 9 p.m. EST Monday through Friday, 10 a.m. to 7 p.m. EST on Saturdays, and 10 a.m. to 6 p.m. EST on Sundays. You can also reach out via email at [email protected].
PetFirst has an A+ rating from the Better Business Bureau, but reviews from actual customers suggest problems with customer service. The insurer has a 1/5 rating on BBB's consumer review site, and its Yelp ratings are also low.
Where to find PetFirst alternatives
PetFirst Insurance is a good choice if you don't mind a per-incident deductible. It provides flexibility in coverage options and will even cover senior pets. However, annual benefit limits and poor reviews mean pet parents might want to consider other pet insurance companies before making a decision.
If you want to compare PetFirst with other companies, our guide to the best pet insurance will show you your top options.
How we rated PetFirst Pet Insurance
PetFirst received a LendEDU rating of 4 out of 5.
We rate pet insurance companies based on a variety of data points including coverage, cost, customer ratings, benefit limits, exclusions, and more.