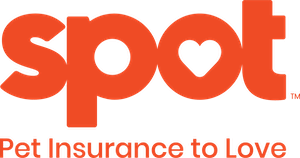 on partner's website
What we like:
Flexible plans let you customize your premium
| | |
| --- | --- |
| Age Restrictions | 8 weeks or older |
| Reimbursement rate | 70%, 80%, or 90% |
| Deductible | $100, $250, or $500 |
| Benefit Limit | $2,500, $4,000, $5,000, $7,000, $10,000, or unlimited |
See how Spot Pet Insurance compares to other providers
If you own a pet, you know how important it is to keep your family member under great care. Sometimes, this care can lead to a flurry of added costs. Many pet owners have turned to pet insurance to help cover the costs of veterinary care.
Spot Pet Insurance is one of our top choices for covering your dog or cat. The team aims to help create a world of healthier pets and happier owners.
In this review:
Spot Pet Insurance: At a glance
| | |
| --- | --- |
| | Spot Pet Insurance |
| Eligible breeds | All dogs and cats |
| Eligible ages | 8 weeks – No limit |
| Maximum benefit | $5,000 – Unlimited |
| Reimbursement amount | 70% – 90% |
| Deductibles | $100 – $500 |
| Medical exam required? | No |
| Ready to apply? | View Rates |
Spot Pet Insurance offers flexible insurance policies, letting dog and cat owners customize their pet's coverage and the plan's cost. You can sign up for a plan covering all care, including regular checkups and unexpected illness or injury.
One perk of working with Spot Pet Insurance is that it doesn't cap your benefit. Some insurance companies will only provide benefits until you reach a maximum payout. Spot doesn't have per-incident or lifetime caps.
How much does Spot cost?
The price for Spot pet insurance varies based on a variety of factors, including the breed of your pet and their age.
The cost of a policy also varies with the level of coverage you select. For example, coverage for a three-year-old male cockapoo with a $250 deductible, 80% reimbursement, and a $5,000 annual limit is $49.94 per month.
Reduce the deductible to $100 and increase the reimbursement to 90%, and the cost rises to $67.65 per month. If you raise the deductible to $500 and drop reimbursement to 70%, the cost falls to $37.82. Premiums for a cat of the same age run from $18.31 to $34.06 monthly.
You can also save money by opting for accident-only coverage, which doesn't cover regular checkups. The ability to customize the policies makes it easy to find one that fits your monthly budget.
What does Spot cover?
Spot Pet Insurance can cover almost anything from regular vet visits to accidents that require significant care. The company offers a list of treatments its plans cover, including:
MRI or CT scans and X-rays
Poison control consultation fees
Prescription medications
Surgery and hospitalization
Medical supplies (such as bandages, casts, and splints)
Cancer treatments
Treatment for behavioral problems
Microchip implantation
To get coverage for checkups, you must select that option when applying for a policy.
Spot Pet Insurance does not cover:
Preexisting conditions
Conditions occurring within the policy waiting period
Non-FDA treatment or supplements
Pet diets
Day care or boarding
The company's accident-only coverage kicks in if your pet is in an accident or suffers an unexpected injury. It doesn't cover costs related to illnesses, pregnancy, or negligence.
Pros & cons of Spot Pet Insurance
Customizable policies

Discount for multiple pets

No age limit

30-day money-back guarantee*

Visit any licensed veterinarian
Only covers cats and dogs, not exotic pets

Different policy options can make it hard to figure out what is covered

Does not cover prescription food
*If no claims have been submitted. Not available in New York.
How to get a Spot policy
Here's what you need to know about signing up for a Spot Pet Insurance policy.
Eligibility information
Spot makes it easy to insure any cat or dog. It doesn't have breed restrictions, and you can insure your pet after they're eight weeks old. However, your premium may increase as your pet ages or develops a health condition, so it's often cheaper to insure them while young.
No medical exam is required, but you will need to send your pet's vet records to the company as part of the application process. You can sign up from anywhere in the U.S.
How to apply
Visit Spot Pet Insurance's website and click "Get a Quote."
Fill out your pet's details, including their name, breed, and age.
Provide your information, including your email address and ZIP code.
Select a plan, including the annual limit, deductible, reimbursement amount, and add-ons.
Provide your billing information.
The insurer will contact you to ask for medical records and begin the 14-day waiting period for coverage to start.
Where to find alternatives to Spot
Spot is one of our highest-rated companies, but it isn't the only pet insurance provider on the market. Many other companies can help you care for your pet, so we recommend comparing to get the best deal.
To compare options, use our guide to the best pet insurance. To compare real quotes to see which is most affordable, check out our cheap pet insurance guide.
We've also created one-on-one comparisons: Read our Spot vs. Pumpkin, Spot vs. Healthy Paws, Spot vs. Trupanion, and Spot vs. ManyPets comparisons.
---
Ready to take out Spot Pet Insurance? Check out its website.
Deductible: $100 – $1,000
Reimbursement: 70% – 90%
Benefit limit: $2,500 – unlimited