Navient Student Loans Review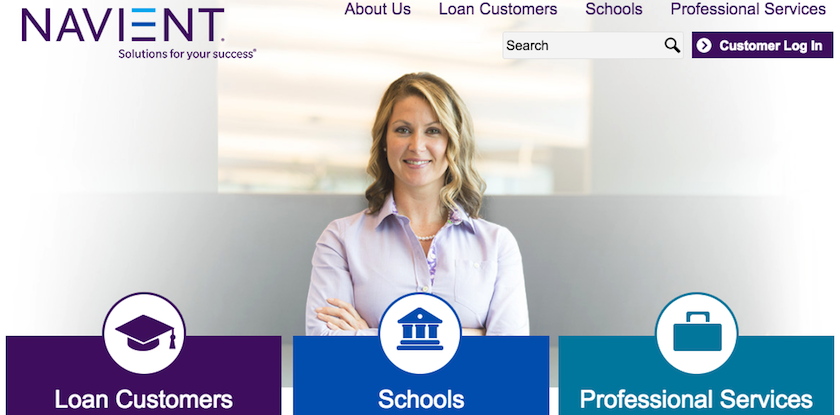 Updated 7/20/2018
About a year ago, Sallie Mae announced that it would be splitting up into two separate companies, Sallie Mae and Navient student loans. Sallie Mae has continued to provide banking services for consumers including private student loans, insurance products, and credit cards.
Navient student loans was spun off mainly to deal with the servicing of both federal and private student loans. The move was made because in 2010 the Department of Education started offering loans directly to students, ending its guarantee on loans from lenders like Sallie Mae.
Since breaking away from Sallie Mae, Navient student loans has taken over many of the contracts with the Department of Education that Sallie Mae previously held. Though Navient is now its own separate entity, borrowers are still guaranteed certain benefits.
If someone has an issue with Navient student loans, he or she can file a complaint to the Consumer Financial Protection Bureau (CFPB), who will investigate the issue and force action from Navient, if necessary. Many borrowers who previously had their student loans serviced through Sallie Mae were happy to hear about this when they found out that they would be switched over to this new, unknown company.
Student Loans
Find the Best Private Student Loans.
Private student loans can help pay for school after you hit federal limits. Compare student loan rates without affecting your credit score.
View Loan Options
College Ave Student Loans
What Does Navient Do?
Navient is a loan servicing company. This means that they handle all of the billing and services associated with your loan including repayment plans and loan consolidation. Loan servicers are the ones that can help with any issues you have regarding your student loan.
One thing that Navient student loans does exceptionally well is keeping their customers up to date about their loan. Some of these updates include quarterly interest statements, monthly billing statements, payment schedules and disclosure statements, automatic payments, and online account management. In addition, Navient has expert phone representatives to process payments and resolve any issues one might have.
One other unique and beneficial service Navient offers is a rate reduction program. Under this plan, select participants can have their rate reduced to as low as 1% for a year. After this year, borrowers return to their original rates. This program can help those struggling to pay their loans to get back on track. There are many stipulations with this program, however, and not everyone is eligible.
Navient Loan Servicing Controversy
Navient, like many student loans companies, has had their fair share of controversies. Starting last June, Navient began issuing refunds, averaging about $770, to almost 80,000 veterans who were overcharged on their student loans. The main problem was that Navient didn't cap their interest rates at 6% as is required by Servicemember's Civil Relief Act. Navient will have pay $60 million in total before they are settled with the government.
Navient has also been under investigation by the CFPB for cheating borrowers. In August, the CFBP sent a letter to Navient informing them that they are considering suing the company. State attorney generals from both Illinois and Washington have been looking into the company for years. Despite these allegations, Navient has denied any wrongdoing. While there is definitely controversy surrounding the company, the Education Department renewed their contract with Navient to service their loans into the future. This is a promising sign for a company who has been under some heat recently.
Student Loan Tips
​Like most loans, student loans can be risky business and you need to take some things into consideration before jumping in and signing on the dotted line for credit to fund your education. For some people, though, taking a student loan is the only alternative they have to get an education. However, knowing the do's and don'ts of student loans can help put you on the right track.
Do Not Default Your Payments
Once you stop paying back your student loans for whatever reason, the organization you borrowed the loan from will add the arrears to the principal sum, thus, making the loan more difficult to finish paying off. What's more -- to default on your loan can help ruin your credit and make it difficult for future lenders to lend you money. Try to apply self-control and forbearance instead of running away from your student loan.
Do a Payment Strategy Plan
Make out a strategy on how you will pay your loan and stick to it. One way is to pay off any smaller loans you owe first and then tackle the bigger ones. Once you experience success in removing one debt out of your way, you will be motivated to take on a bigger debt, like your student loan debt. Once you plan ahead of time, chances are you will not fail in your repayments.
Do Focus on Meeting Your Repayment
Instead of losing track of your student loan repayments, you should instead focus on making every effort to pay them off. Missing a repayment can cause your education loan interest to increase. If you have very big loans to pay off and seem to be drowning in debt, seek out the help of a business manager and let him or her teach you to budget properly.
Do Find Creative Ways to Meet Your Student Loans Obligations
By finding creative ways to meet your student loans obligations, you are taking some pressure off of yourself. One way you can try to find the money to make repayments is by going online and seeking aid. You can visit sites such as myrichuncle.com and gofundme.com where you might find some sympathetic persons who might be able to contribute to your cause.
Another way to get creative and find the money to repay your student loans is for you to put your hobby to good work. If you are passionate about something and do it as a hobby, you can start selling your service to persons who need it. Take, for example, if you are an artist, you can sell your skill to art lovers.If you are passionate about dancing, you can teach people to dance and collect a fee for your service.Your hubby can become a good way to earn and send yourself through college.
Do Not Let Down Your Loan Co-signers
Co-signing a loan is a risk for parents and other cosigners and thus they can lose his or her cash or collaterals because in the event of you failing to repay the loan, the lender can carry the co-signer to court and force him or her to repay the student loan. Therefore, you should not forget the risk your co-signer is taking for you. Making every effort to repay a loan is a way to protect him or her financially.
Do Not Run Off and Not Repay Your Student Loans
Graduates who refuse to repay their student loans will add more confusion to an already difficult situation. By refusing to repay your loan, you are causing other future applicants to get their loans at a higher rate of interest. In addition, your credibility will lower, thus, causing your credit rating to go down. Furthermore, you will find it very difficult for anyone, especially lending organizations to trust you because as far as they are concerned you will disappear without paying them back.Knowing what to do from what to avoid is essentially in getting you on the road to success and helping you earn your degree.​
Author: Jeff Gitlen
Jeff Gitlen writes about a wide range of finance topics including everything from student loans to credit cards to small business financing. Jeff's work has been featured on a number of sites including Bloomberg, CNBC, Forbes, Market Watch, and more.