College Ave Student Loans Review
June 25, 2015

Posted by:

Dave Rathmanner

Category:

Student Loans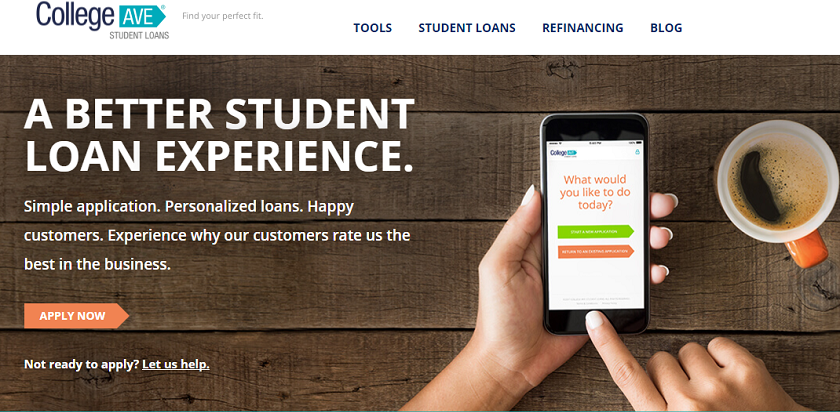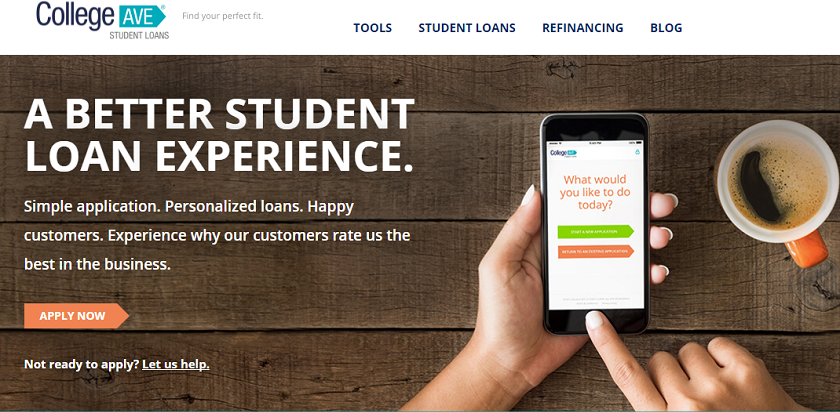 Updated: 2/9/2018
If you are looking for a new private educational loan or to refinance old loans, College Ave Student Loans might be a great option for you. Since launching in 2014, the company has worked to become one of the leading private student loan lenders. Recently in 2016, College Ave added refinancing to help the millions of student loan borrowers save money on their repayment.
The company offers both variable and fixed rate student loans on refi loans. The rates are very competitive and, in some cases, are even lower than those offered on federal student loans!
In this article we would like to review the company's student debt products and provide some information in regards to the products they offer.
Who is College Ave?
We've all heard of the big three private student loan lenders: Iowa Student Loan, Wells Fargo, and Discover Student Loans.
But Who is College Ave?
College Ave Student Loans was launched in 2014 to help students find new and improved private student loan products. The company prides itself on no jargon, no surprises, and simplicity. The company was created by ex. Sallie Mae executives looking to enter the educational loan market for themselves. According to the company's website, the founders of College Ave "learned from other complicated lending companies and decided to make getting a private student loan better". College Ave Student Loans' products are made available through either either Firstrust Bank, member FDIC, or The Middlefield Banking Company, member FDIC.
What New Educational Loan Options Does College Ave Offer?
College Ave Student Loans offers private student loans to undergraduate students, grad students, and the parents of students entering college. The company has a number of interesting options available to borrowers. Unlike other lenders, College Ave has a plethora of different loans available. By offering many options, College Ave has made it easy to customize your student loan to your own life.
Repayment Plans
College Ave offers a number of repayment options. College Ave offers its borrowers the choice between deferred, interest only, flat payment, and even full principal and interest payments. Depending on the repayment plan you select, your interest rate may change. If you choose a plan where payments are made in school, you will receive a much lower interest rate. Paying your interest while you are in school can save you thousands of dollars over the life of your private student loan.
Term Lengths
Borrowers at College Ave can even choose their term length. Borrowers can select from 8 year, 10 year, 12 year, and 15 year term lengths. College Ave is one of the only college loan lenders that offers this benefit. Shorter term lengths mean lower interest rates! If you elect to choose a shorter term length, you will save yourself a significant amount of money over the life of your loan. For the Parent Loan, there are repayment terms anywhere between 5 and 12 years.
Eligibility Requirements
Unlike educational debt offered by the Department of Education, College Ave loans are issued based off creditworthiness. To get approved for a College Ave collegiate loan, you must have good credit and an established credit history. Most undergraduate students will need the help of a cosigner to get approved for a College Ave educational credit.
Next Steps
You can apply for a College Ave private student loan on the company's website, but it's important to shop around first to find the lender that will offer you the lowest rate. Use our private student loan comparison tool to get rate estimates from College Ave and other lenders all in one place. Click on the button below to get started.
What Does College Ave Offer in Terms of Refinancing?
College Ave just recently added student loan refinancing to its portfolio. Just like refinancing your mortgage or car loan, refinancing your student loan is the process of getting a new loan with a different interest rate or repayment term. The new lender pays off your old loans and gives you a new one, typically with a lower interest rate. Refinancing can save you thousands of dollars over the life of your loan.
Borrowing Limits & Fees
Like many of the other refinancing lenders, College Ave has no application or origination fees. Furthermore, borrowers can refinance student loan debt as low as $5,000; which is lower than most lenders. The cap for people with undergraduate or graduate degrees is $150,000 while the limit for those with professional degrees - such as medical, dental, veterinary, or pharmacy - is $250,000.
Next Steps
You can apply for a College Ave refinance loan on the company's website or use our student loan refinance comparison tool to see what interest rate and repayment term you're likely to receive from College Ave and other lenders, all without affecting your credit score.
How Do I Get Approved at College Ave Student Loans?
As mentioned above, most students will need to help of a parent to get approved for a new loan at College Ave. About 90% of new private educational loans are originated with the help of a cosigner. The fact is, most students do not have strong enough credit to get approved by themselves. By using a cosigner, the parent's credit history can be used to show creditworthiness. In most cases cosigners are parents or grandparents. Check here for student loan options without a cosigner.
Once borrowers have graduated and obtained well-paying jobs, however, they may be eligible for refinancing without a cosigner. Refinancing, like new private loans, is based on creditworthiness. If you have not yet built up your credit, however, a cosigner may help you qualify for refinancing.
To get approved for a College Ave Student Loans you must fill out their online application. The application will usually take about 3 minutes and applicants can get an instant credit decision. Cosigners can be added to the application directly online. You can even submit College Ave's application from your mobile phone. The company's application is mobile friendly and ready to be used on any smartphone or tablet.
If you are approved for a College Ave educational loan, the money will be distributed directly to your college or university. You should know that you can only borrower up to the cost of attendance stated by your college or university. If you are approved for refinancing, College Ave will pay off your hold loan and issue a new loan with new terms.
Alternatives to College Ave Student Loans
You should always use federal student loans before private student debt. And, if you've qualified for scholarships or grants you should use those first.
Federal student loans come with many benefits such as subsidized interest and income based repayment plans. Federal student loans are available to all students. Students with a greater need are eligible to receive larger amounts of financial aid. You must submit the FAFSA to qualify for federal financial aid. College Ave Student Loans should be used to fill the gap between your cost of attendance and financial aid.
If you would like to compare refinancing lenders, check out our refinancing page that provides extensive information on all of the top lenders in the industry.
*See important College Ave disclosures