College Ave Student Loans Review
December 4, 2018

Posted by:

Dave Rathmanner

Category:

Student Loans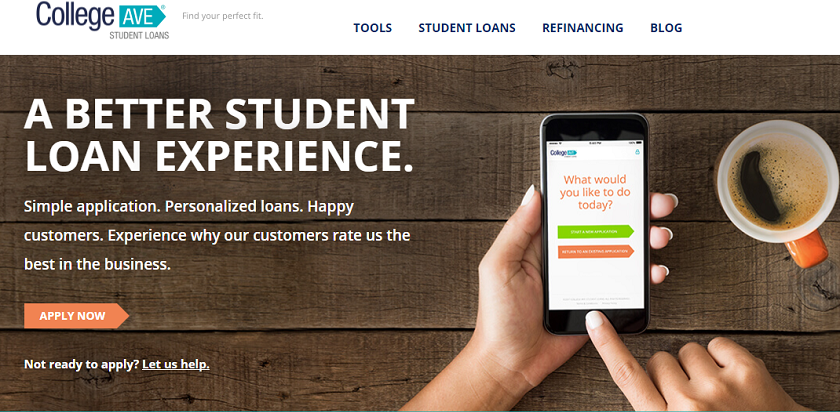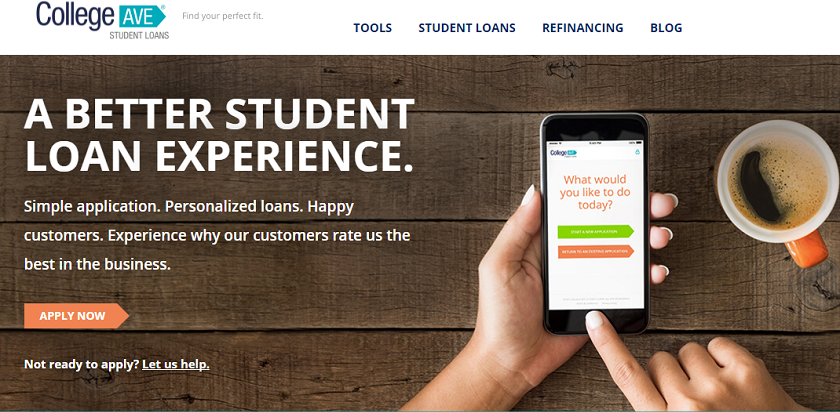 At a Glance:
College Ave Student Loans offers both private student loans and student loan refinancing. The lender has a wide variety of loan options and offers competitive rates and benefits.
The cost of higher education has increased exponentially in the last few decades and it will likely continue to increase with time. While many students used to be able to work and pay for their own schooling, college has become so expensive that most students must rely on student loans to pay for it, on top of scholarships, grants, and savings. In fact, almost 70 percent of all college graduates finish school with tens of thousands of dollars in student loan debt.
Federal student loans are typically the first choice for many students due to their low interest rates and extensive benefits, but many private student loan lenders exist to help those who still need funding after all federal loans are exhausted. College Ave is a fairly new private lender that helps students with both new loans for school and refinancing existing student loans.
Founded in 2014 by former executives of Sallie Mae, College Ave has risen quickly in the student loan industry to become one of the leading private lenders. In 2016, they added refinancing products to help graduates save on their current loans. The lenders offers both variable and fixed rate student loans and refinance loans, and in some cases its rates are even lower than federal student loans.
On this page:
College Ave Student Loans
College Ave Undergraduate Student Loans
Eligibility Requirements
To be eligible you need to be a student at a U.S. college or university and must be either a U.S. citizen or an international student with a valid U.S. Social Security Number. The minimum loan amount available is $1,000 and you can borrow up to 100% of the school's cost of attendance minus any financial aid you've received.
Unlike federal loans, many of which are based on financial need, College Ave goes off of creditworthiness. They understand, however, that many students may not have an established credit rating or payment history, and so most undergrads will need a qualified cosigner. If your cosigner has a good credit history, however, you could end up with the cheapest rates and best repayment terms.
Application Process
To apply for any College Ave student loan, you can fill out an online prequalification form that takes only 3 minutes to receive a credit decision. Cosigners can also be added to the application online.
College Ave Graduate Student Loans
For graduate students, College Ave Student Loans provides funding with flexible repayment plans for those even costlier degrees; one even lets you defer your monthly payments while you're in school—something typically not offered with most private loans.
Rates, Terms, Eligibility, and Application Process
Graduate loans come with the same terms, minimums and maximums as the undergrad loans. You can choose a 5, 8, 10, or 15-year term with four different in-school repayment options. These options include full principal plus interest payments, interest-only payments, flat payments of $25, and a deferred plan that lets you wait until after graduation to start repayment.
Interest rates are slightly different for a graduate loan. Variable rates range from 3.94% APR to 9.25% APR while fixed rates range from 5.29% APR to 10.45% APR. In order to get the best rates, you'll still need good credit and, possibly, a qualified cosigner.
As with the undergraduate loan, you can apply for the graduate loan completely online in about 3 minutes.
What Else You Should Know
There are no fees to apply or penalties if you pay the loan off early. While College Ave does offer a wide range of repayment options, putting as much money towards your loan as soon as possible will save you the most money.
College Ave Parent Loans
If you're looking to borrow on behalf of your child, College Ave has an option for you as well with the Parent Loan.
>> Read More: Best Parent Student Loans for College
Rates, Terms, Eligibility, and Application Process
With the College Ave Parent Loan, up to $2,500 of the loan proceeds can be delivered directly to you as the parent, so you can control spending on additional items like books, computers, and needed supplies for your student's dorm room.
Rates for the parent loan are slightly higher, starting at 5.22% APR and going up to 9.66% APR for a variable loan. Fixed rates, on the other hand, range from 6.62% APR to 11.56% APR. Like with the other loan options, there are no application or origination fees.
There are three in-school repayment options available including full principal plus interest, partial principal plus interest, and interest-only. As with the undergraduate loan, you can apply for the parent loan completely online in about 3 minutes.
What Else You Should Know
The application process, like with other College Ave loans, is quick and easy to complete. Funding can begin as soon as a few days after approval.
College Ave Student Loan Refinancing
College Ave also offers refinancing products, but as of November 2018 their refinance offerings are being improved, so they aren't taking any new applications at this time. Once College Ave starts to refinance student loans again, we will be sure to update this review.
What Does College Ave Do Well?
College Ave's interest rates and no-fee loans put it in the top tier of private student loan lenders. It also seems to care about customer service; all complaints made to the Better Business Bureau were answered, with all but one customer satisfied with the resolution.
What Could College Ave Do Better?
While it's impossible for a company as large as College Ave to have 100 percent perfect customer reviews, the complaints that do exist seem to point to personnel who may not be properly trained in student loan setup and maintenance. All errors, however, seem to get rectified in a timely manner when spotted, and College Ave seems to care both about their customers and about getting things correct.
The Verdict
All in all, College Ave is a highly viable option for you if you're looking for funding for your own education or for that of your child. The wide variety of products, terms, and repayment options means that you can structure your loan to best fit your needs, and the lack of fees makes College Ave loans cheaper overall than many other lenders. Before choosing any lender, however, it's best to do some comparison shopping across multiple loans and companies to find the right fit for your personal situation, budget, and financial goals.
*See important College Ave disclosures
Author: Dave Rathmanner
As the VP of Content at LendEDU, Dave regularly plans and writes content to help consumers with their personal finances. Dave's work has been featured in the Chicago Tribune, Bloomberg, CNBC, US News, Yahoo Finance, NPR, and more.