Can You Refinance Federal Student Loans?
While the government does not offer federal loan refinancing options, federal student loans can be refinanced through private lenders. In some cases, this can lead to more manageable payments and lower interest rates, but it often comes at the expense of borrower protections offered by the federal government.
A significant portion of college graduates—70 percent, to be exact—leave the hallowed halls of academia with a fresh set of loans, but the source of those loans may vary. Some students take out loans through private lenders; however, many leave with some federal student loans or loans provided by the Department of Education.
These graduates must often contend with years of monthly payments, which can hinder or delay their ability to move forward with other parts of their life. In some cases, post-graduation loan payments and student loan debt can become unmanageable, and one way to take control of existing student debt and possibly lower payments and interest rates is to consider refinancing student loans.
If you can find a good option to refinance a loan, you may be able to save thousands but there are things to consider before making the decision to do a student loan refinance.
On this page:
Can You Refinance Federal Student Loans?
If you have federal student loans and are considering refinancing them, you won't be able to do so through the federal government. At this time, they do not offer refinancing options. However, you can refinance federal student loans through a private lender.
If you have both federal and private loans and are looking for a way to simplify repayment and possibly get lower rates and monthly payments, then you may also want to consider loan consolidation.
Federal borrowers can go through the process of student loan consolidation and combine student loan payments through the federal government's Direct Consolidation Loan but they cannot consolidate private loans through the federal government. Instead, any efforts to consolidate federal and private loans together must be made through a private lender like Sallie Mae, Wells Fargo, or Sofi, among others.
How Do You Refinance Federal Student Loans?
Review Your Credit History
You may be asking, "how can I refinance my student loans." One of the first things you should do if you are considering refinancing your federal loans is to take a look at your credit history and score. While the fixed rates attached to federal student loans are set by Congress and are not dependent on your credit score or expected income, private loan rates are.
As such, borrowers with average or below average credit scores will have a difficult time finding rates whether those are fixed interest rates or variable rates that justify refinancing. Or, in some cases, borrowers will need to add a cosigner to the loan agreement.
Select a Private Lender
If you determine that your credit score is good or that you have a reliable cosigner, the next step would be to select a private lender. There are numerous private lenders that offer refinancing products, making it important that you shop around before deciding on a specific lender and submitting a loan application.
As you peruse various refinancing options, you'll want to take note of rates and terms—how much the loan will cost and how long you have to pay it off. Additionally, it's also important to identify any benefits associated with a specific lender, such as forbearance options, autopay discounts, cosigner release policies, etc.
Keep in mind that today many lenders offer instant rate quotes. Typically, these are based on general information, like the total loan amount to be refinanced, your income, and your credit history. In many cases, lenders use a soft credit inquiry to determine your rates, but always verify this before requesting a quote, as a hard inquiry, particularly more than one, can damage your credit.
Get Your Personal Information Ready
Though each application process differs, you'll likely need to provide information about your current loan, like how much you owe. You'll also need your current income, social security number, and basic contact information, including your physical address, email address, and phone numbers. If you need to add a cosigner to your application, you will also need similar information about them, including their social security number.
Pros and Cons of Refinancing Federal Student Loans?
Pros
One of the primary reasons borrowers choose to refinance their loans is the ability to secure a better rate or lower monthly payment. For borrowers with very good or excellent credit, this can translate into thousands of dollars in savings over the life of the loan.
>> Read More: Calculate Savings With Our Student Loan Refinancing Calculator
Cons
If you refinance to a longer repayment term, your payments may be lower but it will take you longer to repay the debt.
Another potential issue that exists when refinancing federal student loans is the loss of borrower protections that often make federal loans attractive in the first place.
Federal student loan borrowers frequently have access to income-driven repayment plans and student loan forgiveness programs, all of which will disappear once a loan is refinanced through a private lender. Furthermore, federal loans tend to have more generous forbearance periods, and it's exceedingly rare to find a private lender that offers deferment benefits.
Is Refinancing the Right Option for You?
If you have very good or excellent credit and can secure lower interest rates through a private lender, then you may want to consider refinancing your loans. Historically, Grad PLUS and Parent PLUS loans have interest rates that are relatively high when compares to refinancing options. If you have a Grad PLUS or a Parent PLUS loan, you may want to consider refinancing to a lower rate.
Advertisement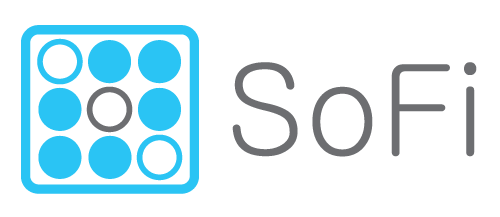 Refinance your federal student loans with SoFi!
Fixed rates as low as 
3.90%, variable rates as low as 2.47%
Unemployment protection up to 12 months
Zero application, origination, or prepayment fees
However, there are certain circumstances that may make refinancing a poor move. This is particularly true if you have poor credit or can't secure rates that are lower than those applied to your existing federal loans. Also, borrowers who are enrolled in some of the repayment programs offered by the federal government, specifically income-driven repayment programs that offer forgiveness after 20 or 25 years, must determine how much money they will save over the life of the loan.
The same is true for borrowers working for the government or in the non-profit sector, as they can likely take advantage of the Public Service Loan Forgiveness Program, which will result in loan forgiveness after 10 years of consecutive payments.
Finally, keep in mind that federal loans typically offer more repayment options, many of which can make repayment easier while enrolled in school or during times of financial struggle. This is not often the case with private lenders.
Alternatives to Refinancing Federal Student Loans
If your goal is to lower your rates, you may be able to do so without refinancing your federal student loans. One way to do this is by enrolling in autopay with your loan servicer, which can reduce your rates by up to 0.25 of a percentage point.
If your primary goal is to make payments more manageable, you may be eligible for a variety of payment programs currently offered by the federal government. These include the Income-Based Repayment (IBR) Plan, the Revised Pay As You Earn Plan (REPAYE), and the Income-Contingent Repayment Plan (ICR).
These programs base monthly payments off a percentage (10% to 20%) of the borrower's discretionary income, with the expectation that the payments will increase as the borrower progresses in their career and makes more money. Typically, loans entered into these programs are forgiven after 20 to 25 years of consecutive payments.
Refinancing federal student loans is possible, but borrowers should make this decision with caution. In some cases, refinancing can lead to big savings and lower monthly payments. In others, borrowers may find that the rate reduction, if any, does not merit the loss of borrower protections and repayment plans currently offered by the federal government.
Author: Jennifer Lobb
Jennifer Lobb is a graduate of the University of Denver and a freelance writer with several years of experience writing for both personal and small business finance sites. In addition, she has also spent well over a decade as a content marketing professional and continues to follow and write about emerging trends in that field.
Join the LendEDU Newsletter

News, insights, & tips once a week

Thanks for submitting

Please Enter a valid email