The Truth Behind Discover Student Loans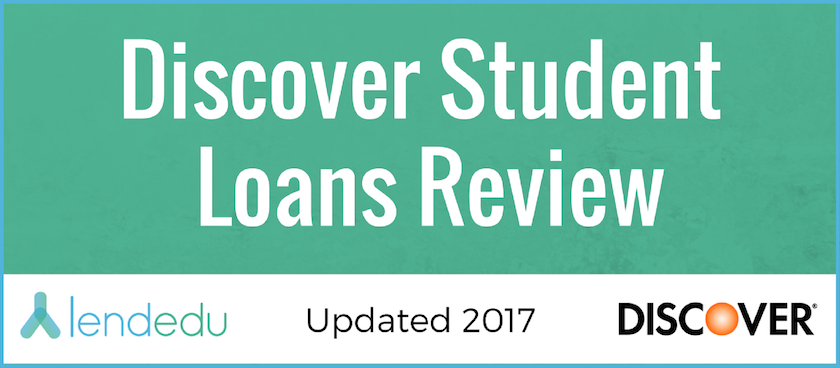 Discover Student Loans is one of the largest and most popular private student loan lenders on the market. Over the last decade, the costs of higher education have increased dramatically. Keeping up with the rising costs of a college education is tough for student and families. These days, many students are turning to private educational loans to help pay for college. Discover Financial Services has become one of the best options for private college loans.
After the 2008 financial crisis, a number of private student debt lenders pulled out of the market. During this time, Discover Financial Services continued to issue student loans and the company quickly became one of the few large collegiate debt lenders left in the industry.
---
Variable: 3.99% - 9.99%
Fixed: 6.49% - 12.49%
Terms Lengths: 15 years
Other Partners
---
Variable: 2.751% - 11.03%
Fixed: 3.63% - 8.93%
Terms Lengths: 5 - 15 years
What Does Discover Offer to Undergraduates and Graduates?
Discover college loans are offered by Discover Financial Services. While most of us know Discover for their credit cards and funny commercials, Discover is quietly one of the biggest private student debt lenders on the market.
Discover Student Loans are certified private educational loan products aimed to help students and families pay for tuition, books, and all other expenses related to Cost of Attendance (COA). Discover offers private student loan options for many different types of students. The company offers private student loans to students in undergraduate, graduate, MBA, Law, Residency, Health Professions, and Bar Exam programs.
Interest Rates
Discover college loans have very low interest rates for qualified borrowers. Variable interest rates start at 3.99% and go up to 12.49% on the high end of the range. Your offered rate will depend on a number of factors. Private student loans are issued based off credit worthiness.
Applicants with higher levels of creditworthiness will receive lower interest rates. Moreover, Discover's variable interest rates are lower than the company's fixed interest rate products. Fixed interest rates start at 6.49% for very qualified borrowers. If you choose a variable rate Discover loan product, you should know that your interest rate may change over time.
Repayment Terms
All of Discover's student loans have a repayment length of 15 years.​ While in school, students have the choice of making payments (at least $25 monthly) or deferring payment until 6 months after graduation.
Eligibility Requirements
Most students will need a cosigner to qualify for a Discover's educational debt program. About 90% of private educational advances are issued with a cosigner attached to a loan. In most cases, parents or grandparents will act as the cosigner on private student loans.
Benefits
Discover Financial Services offers many great benefits to students and families. Discover Financial Services can cover up to 100% of school -certified costs. Furthermore, Discover Financial Services does not have origination fees, late fees, or application fees. Students who receive a 3.0 GPA or better will receive a 1% cash reward for each new undergraduate or graduate credit. It really can pay to study if you are a Discover Financial Services borrower!
Discover is known for having great customer support. The company prides itself in having only US based Loan Specialists. They are available to help you anytime of the day or night. The company's application is pretty straightforward. Students and cosigners are able to fill out their application online in about 15 minutes.
Can I Refinance Discover Student Loans?
Discover Financial Services does not offer student loan refinancing or consolidation. However, you can refinance Discover educational debt with other refinance and consolidation lenders. Collegiate debt refinance is the process of refinancing old private or federal educational debt with a new private college lender. If you are stuck paying a high interest rate on your Discover educational loan debt you should know that you may be able to get a significantly lower rate by refinancing.
​Refinance and consolidation is a smart move for those looking to make only one payment on their student loans or those looking to lower their monthly payment. Often, student loan lenders will trust borrowers more once they have started working a full-time job, as they are in better financial standing. Lenders will typically take all of your loans and consolidate them into one. This usually also means you will be paying a lower interest rate. Another option is to extend the length of your loan repayment. Though this means you will probably pay more over the lifetime of your loan, you will be paying less each month.
Private student debt consolidation rates start at 2.43% for very qualified applications. Most users at LendEDU tend to fall into the 3% to 5% range. Saving even 1% on your Discover Financial Services debt could add up to thousands of dollars over the life of your loan. Most student loan refinance lenders do not charge origination, pre-payment, or application fees.
If you already have educational debt from Discover, you should consider refinancing and consolidation. Educational debt refinance applications can be completed online and usually take about 15 minutes.
Alternatives to Discover Financial Services Educational Products?
​You might be one of those persons who are unable to get a proper education because of lack of resources on your part. Even though you might be qualified to attend a university, you may be unable to and thus stand a good chance of missing a higher education.
Financial aid organizations are set up to aid you so that you can transition into college or university with ease. It has always been your desire to make a big impact on the world and you know you have what it takes to do so. However, you know that without a proper education your plans of changing the world might slowly be slipping away from you. Financial aid can assist you in reaching your desired goal and finding the right route to access the help will put you in striking distance of your goal.
Your financial aid help can come through a number of resources and you need to keep them in mind. The FAFSA is a free application run by the government that will estimate how much your family can contribute to your education. Based on this, you will be given options to help pay for college including grants, work-study programs, and federal loans. It is always smart to look into the options that are free before applying for student loans.
The US Federal Government is positioned to assist your education needs in a number of ways. If you area US citizen attending a college or university in the country, you can claim education tax benefits. If you are fortunate to get tax benefits, you can use the money to offset some of the gruesome bills you face each month. These expenses can go towards payments for tuition fees, books, supplies and equipment.
You can claim up to $2,500 in tax benefits through the American Opportunity Credit. You are eligible to collect funds on a yearly basis during the first four years of your tertiary education process. In addition, you can claim $2,000 in tax benefit to help clear education expenses if you go through Lifetime Learning Credit as well. Once you make a claim from LLC, you have an obligation to spend the money at the school where you are attending. If you are a recipient getting financial aid, you should make sure to file your tax returns each year, even if you are earning below the tax threshold. Forgetting to fill tax return can cause you to forfeit any benefits you might be able to get through American Opportunity Credit and Lifetime Learning Credit.​
Nonprofits and other private organizations play an important role in providing financial aid if you needto carry out further studies and get ahead in life. These organizations offer you a chance to grab ascholarship or grant to help with your education expenses.
Since these types of financial aid come free, they are usually referred to as "gift aid" and you do not need to pay back anything. However, if you withdraw from school before completing your course, you might be required to repay a part or the entire grant. Nonprofits and private organizations give scholarships to different individuals for different reasons.
Some companies give scholarships for academic merit received by a student, others give because of performance in a particular sport, like basketball or football. Also, some companies might give a scholarship because a student is a member of a particular church while some companies reward scholarships to employees' children. Financial aid is the perfect help for you if you are serious about heading for a degree. If you are fortunate to get aid, you do not need to carry out any repayment and can live a stress free life after graduation.​
Final Thoughts
Discover Financial Services is a great option for students looking for private educational loans. That being said, Discover Financial Services might not be the best option for everyone. Before signing that promissory note, you should shop around to make sure you are getting the best deal on the market. Some credit unions and community banks have lower rates than Discover. If you would like to compare multiple private student loan lenders with one application, you can do so right here on LendEDU.
Discover Student Loans is one of the big three private student loan lenders. In the years to come, we believe Discover Student Loans will continue to be a good option for students. Discover may even offer student loan refinancing one day!
Enter your text here...