Ascent Student Loans Review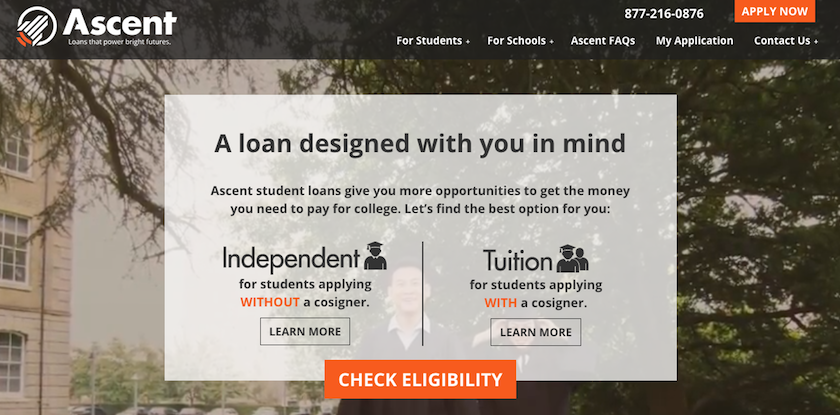 What we like:
Lengthy Forbearance Period
Updated: 8/1/2017
Ascent Student Loans was founded to offer more students an opportunity to get approved for private student loans. Many students struggle to get approved for student loans because they don't have an income and or long enough of a credit history meaning that they often need a co-signer in order to qualify. Ascent Student Loans has several credit tiers that allow for more chances to get approved with or without a co-signer (through their Ascent Tuition loan) or without a co-signer (through their Ascent Independent loan).
Ascent was started by Goal Structured Solutions, Inc. in San Diego, California to revolutionize education financing by changing the way people pay for college. In addition to offering loans, Ascent Student Loans offers financial literacy education in order to help students and their families make responsible borrowing decisions.
They work with a number of partners that allow them to provide a better experience for their customers. Their main lending partner, Richland State Bank, that actually provides the loans. This Ascent Student Loans Review will cover some key questions and help you get a better understanding of the company.
The Model
Ascent Student Loans looks at broader criteria than traditional private student loan lenders, like Discover Student Loans, when deciding whether to make lending decisions.
These decisions are based off of credit worthiness, graduation date, school, program, major, future income potential and other factors that allow students to obtain a student loan without necessarily needing a co-signer.
These criteria are deemed by Ascent as predictors of students' ability to repay their loans. This allows students to potentially gain access to education funding that they wouldn't be able to access otherwise if they do not have someone who can co-sign for them.
The Process
Applying for an Ascent Student Loan is very easy. You can check your eligibility online in under one minute. If your school is on their approved list of over 2,170 schools, you'll be invited to submit a full application.
One of the differences with the Ascent model is that it has a financial literacy module that students must complete during the application process in order to ensure that they're making informed borrowing choices. This helps students and cosigners (if applicable) understand the cost of their borrowing decisions and how their loans could potentially impact them later in life.
After completing the module, students decide whether they want a fixed or variable rate loan and customize their loan by choosing their term length and repayment plan. The funds are disbursed directly to their schools.
The Details
Ascent's loans are priced competitively. The interest rate varies depending on the borrower's or co-signer's credit history. There is also a difference in pricing depending on term length, whether you get a variable or fixed rate loan, if you're getting a co-signed loan or a non-co-signed loan, and which repayment plan you choose.
Ascent offer three different repayment plans: you can choose to pay the interest on your loans while you're in school, make $25 payments every month, or defer your payments until you graduate.
There is a minimum loan amount of $2,000 and a maximum of the total cost of attendance. They also have a maximum aggregate loan amount of $200,000.
Currently, solo student applicants and cosigners must be U.S. citizens or permanent residents. International students must apply with a cosigner that is a U.S. citizen or permanent resident.
Ascent has two main types of loans they offer: Ascent Independent and Ascent Tuition. None of these loans have origination, disbursement, or application fees and offer a 0.25% interest rate reduction for setting up automatic payments.
The lowest rates are generally based on a five-year repayment plan while the highest rates are based on a 15-year repayment plan. These options are different than typical private student loans where the average repayment plan is generally 10 years.
---
Variable Rates
3.49% - 12.74%
Fixed Rates
4.87% - 14.36%
Terms
5, 10, or 15 years
at Ascent's secure website
Ascent Tuition
Ascent Tuition loans are for students applying with a cosigner. If students choose to use a cosigner, they can request to release them from their loans after 24 months of consecutive on-time payments.​
Both variable and fixed rates are available with Ascent Tuition loans. Variable APRs range from 3.49% - 9.74% and are dependent on the 1-month LIBOR. Fixed rates, alternatively, range from 4.87% - 11.35%.
Ascent Independent
Ascent Independent loans are for students applying without a cosigner.
Both variable and fixed rates are available with Ascent Independent loans. Variable APRs range from 3.99% - 12.74% and are dependent on the 1-month LIBOR. Fixed rates, on the other hand, range from 5.37% - 14.36%.
Students applying without a cosigner must be U.S. citizens or have U.S. permanent resident status. Students that are not a U.S. citizen or U.S. permanent resident may apply with a credit worthy cosigner that is a U.S. citizen or U.S. permanent resident. Ascent Independent loans are only available for Juniors, Seniors, and Graduate Students.
Potential Drawbacks
While Ascent Student Loans offer a great alternative to traditional private student loans for students who have trouble getting someone to co-sign for them, the amount that students might pay if they don't have a co-signer is significant and could make repayment more difficult.
The term lengths that Ascent offers also provide students with more choices, but some students might choose a 5-year term length without realizing how difficult that loan might be to repay given that they don't know how much money they will be making upon graduation. Since shorter loan lengths come with lower interest rates, there is an incentive for students to make potentially unwise borrowing decisions, though Ascent's financial literacy program should help borrowers avoid this.
The Bottom Line



For many years, there were few alternative options for students who did not qualify for traditional private student loans. Ascent Student Loans provides another potential option for students who might struggle to finance their college degree and may allow them to build credit in the process.
While the highest interest rate they offer is expensive, it's also lower than similar options from other start-ups, like Funding University and MPOWER Financing, offering student loans without co-signers. For that reason, Ascent Student Loans could be a good choice for a student who needs to access additional funds to complete their college degree.
4