Earnest Student Loan Refinancing Review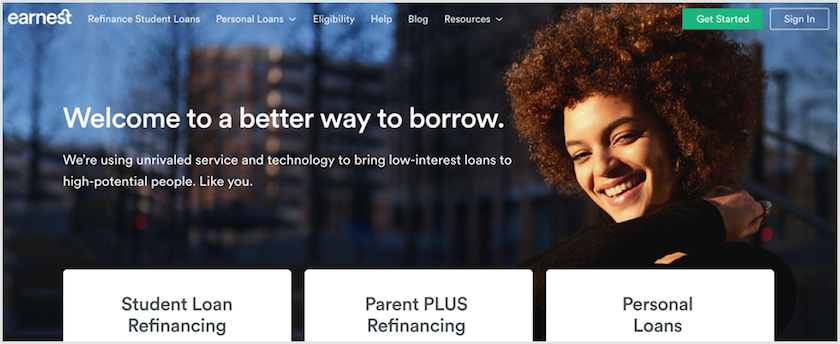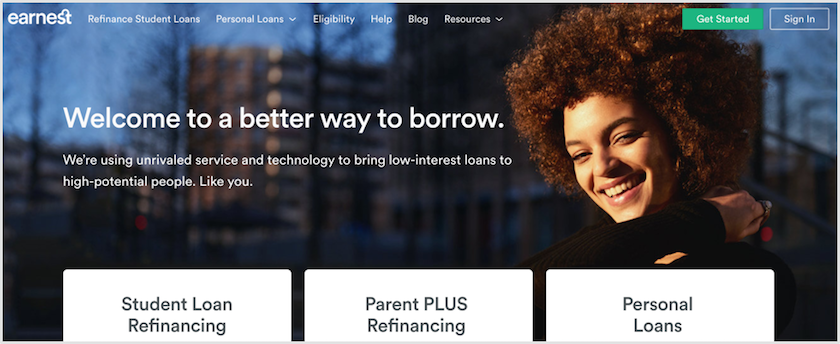 What we like:
Innovative, data-driven underwriting process
Updated: 8/09/2018
Earnest is one of the fastest growing companies in the student loan refinance industry, where companies help consolidate old student loans together.
Located out of San Francisco, Earnest offers both student loan refinancing and personal loans to consumers. While many other lenders simply use credit score as a means of determining the eligibility and plans for their users, Earnest employs "data-intensive modern technology" to better understand their client's needs, financial standing, and what the best plan of action is for that individual. Earnest has set itself apart with their analytics and it has surely paid off for them so far.
This Earnest student loan refinancing review will cover everything you need to know about this company.
Earnest Student Loan Refinancing
Earnest offers student loan refinancing with rates as low as 2.65% APR for variable interest and 3.20% APR for fixed interest. These rates are the lowest in the industry today, making Earnest an obvious consideration when choosing a refinance lender. The max rates Earnest offers are 6.19% and 6.39% for variable and fixed interest, respectively.
There are many benefits of refinancing your student loans with Earnest. First off, there are no origination, prepayment, or hidden fees. When you open your statement there will be no unexpected fees or random charges. Earnest's business is built on your interest payments and nothing else.
In addition, Earnest allows its users to change between a fixed interest rate (with no fee of course), make biweekly payments so less interest accrues, and schedule additional payments when extra money becomes available. Earnest truly wants to make the repayment process as smooth as possible for their users.
They have their own Client Happiness team that will help you with anything regarding your Earnest student loan. Unlike third party servicing companies, Earnest only deals with their own clients. They provide unparalleled customer support and are always ready to help their borrowers if any issues come up.
---
Variable Rates
2.65% - 6.19%
Fixed Rates
3.20% - 6.39%
Terms
5 - 20 years
Eligible Loan Balances
Minimum: $5,000
Maximum: None
at Earnest's secure website
Another great advantage of using Earnest is that they will be your new student loan servicer. Other refinancing companies almost always send their borrowers off to a third party lender like Great Lakes Student Loans or Navient. There are daily complaints about these other servicing companies due to their lack of customer service and their inability to help when problems arise.
In the event of financial hardship, Earnest has policies set in place that allow for temporary deferment or forbearance. For example, those who want to return to school can have their payments deferred for up to 3 years. Furthermore, Earnest allows for deferment up to a year for those who unexpectedly lose their job. Finally, Earnest allows their borrowers to skip one payment a year after they have made on-time payments for 6 months. It should be noted that skipping a payment would result in higher payments in the following months.
Am I Eligible for an Earnest Student Loan?
As of early 2016, Earnest does not offer refinancing in the following states: Alabama, Delaware, Idaho, Iowa, Kentucky, Louisiana, Mississippi, Montana, Nevada, North Dakota, Rhode Island, South Dakota, and Vermont.
If you do live in one of the eligible states, you can apply for refinancing if you satisfy the following:
Over 18 years of age
​Are a U.S. citizen or permanent resident alien
​Have debt from a Title IV accredited school (LINK)
​Completed or are in the final semester of a degree
​Have a job or a job offer
Hold over $5,000 in student loan debt
Though the following aren't strict requirements, Earnest's users typically have positive bank account balances, a large enough of an income that they can pay both their everyday expenses as well as the loan, enough savings that they can cover at least a month of regular expenses, and a solid history of paying on time.
Earnest offers merit-based interest rates. This means that they look into more than just your credit score. Earnest looks at your full financial history, ensuring that no one is left behind just because one metric shows you as not trustworthy. Earnest also considers your employment status, education, debt-to-income ratio, and much more.
How to Apply for Refinancing
Though the application process for Earnest is slightly more complex than other refinance lenders, it still only takes about 15 minutes to complete. Because Earnest considers much more than just credit score, they require more information from the user. You can apply for refinancing through Earnest here.
Before you apply, Earnest performs a soft credit pull to provide an estimated interest rate. This does not hurt your credit but can provide enough information to give Earnest an idea of where you will most likely fall in the interest spectrum. Only after you decide to move forward with the full application will Earnest perform a hard credit pull, which may slightly lower your credit score. Every other refinance lender requires a hard credit pull, however; so do not let this deter you from choosing Earnest.
The full application for Earnest's refinancing is a six-step process that provides Earnest with the information discussed above. Earnest may also request access to applicants' bank accounts so they can automatically analyze their financial habits. Earnest only reads account information and promises to never store or share it.
After you apply, you can expect to receive a hard offer within 7 business days. Earnest takes each application seriously and looks at each one individually instead of simply letting an algorithm decide where an applicant falls. Once you accept an offer from Earnest, you can expect to receive your money within 3 days.
Is Refinancing With Earnest Right for Me?
Once you have graduated and obtained a secure job providing a reliable income, you are seen as much more financially trustworthy. This is why private lenders are able to offer refinancing rates that are often much lower than initial federal or private student loan rates.
If you have student loans, whether federal or private, with interest rates over 6.00% and you meet the requirements stated above, you may be able to save thousands of dollars through refinancing. In fact, Earnest saves their average customer over $17,000.
It is important to keep in mind that when you refinance federal student loans with Earnest or any other private lender, you will lose access to certain federal benefits. Some of these include student loan forgiveness, certain repayment plans, and federal deferment and forbearance. Only certain people are eligible for these programs, however, and the majority of people never end up using any of them.
Final Thoughts
Earnest has undoubtedly emerged as one of the leaders in the student loan refinancing industry. Whether it be because of the incredible amount of money they have been able to raise, or their unique eligibility criteria, people are starting to notice Earnest. It is clear that Earnest has solidified themselves as one of the top leaders in student loan refinancing.
Earnest Refinance Loan