Sallie Mae Student Loans Review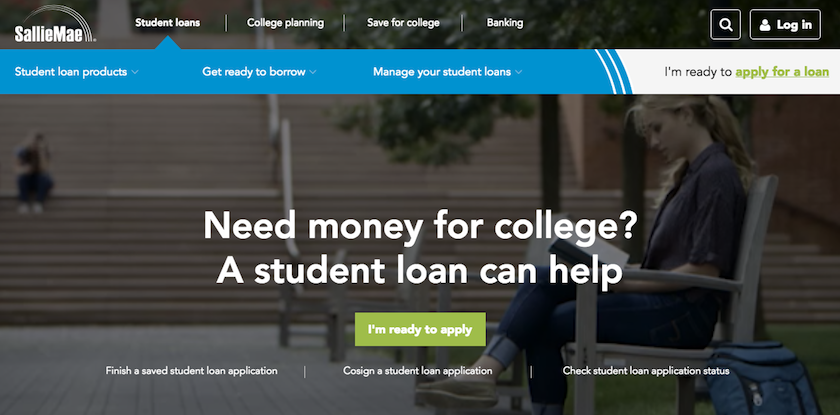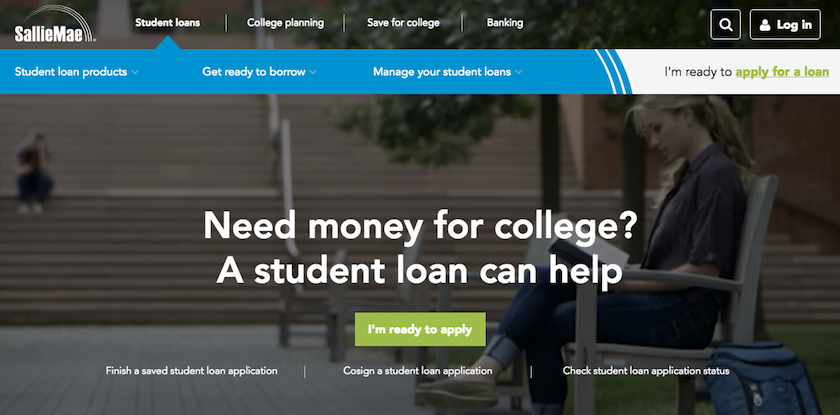 What we like:
Repayment Term Flexibility
Updated: September 5, 2018
Sallie Mae is the most well-known and largest private student loan lender in the nation and is a publicly traded corporation located out of Newark, Delaware.
In the fall of 2014, part of Sallie Mae student loans branched off into its own entity - Navient student loans. You can read our full Navient Student Loans Review to learn more about what that company does.
The rest of this review will take a look at the interest rates, term lengths, and benefits of Sallie Mae's private student loans, as well as alternatives to consider.
Student Loans
Find the Best Private Student Loans.
Private student loans can help pay for school after you hit federal limits. Compare student loan rates without affecting your credit score.
View Loan Options
College Ave Student Loans
What Options Does Sallie Mae Offer?
Interest Rates & Term Lengths
Sallie Mae offers a variety of private student loans for those who need some extra financial support to pay for college. All of Sallie Mae's student loans can be used for any of the expenses associated with college—tuition, housing, books, technology, and more. The loans can be used for an undergraduate education, grad school, medical and dental school or residency, and for law school.
For undergrads and grad students, one of the most popular options is the Smart Option Student Loan. This loan offers competitive student loan interest rates—ranging from 3.25% APR to 11.85% APR1, no origination fees, and three repayment options. Variable rates range from 3.25% APR to 10.22% APR1 while fixed rates range from 5.74% APR to 11.85% APR.1
Borrowers can choose a repayment term anywhere from 5 to 15.*​
Repayment Options
The Deferred Repayment Option allows borrowers to make no payments during school or as much as they want to.1
The Fixed Repayment Option requires just a $25 a month payment while in school and results in over 10% savings on the total amount of the loan as compared to the Deferred Repayment Option.1
Finally, the Interest Repayment Option allows students to pay the interest on their loan while in school, resulting in an average savings of over 20%.1
Benefits
There are multiple benefits of the Smart Option Student Loan as well. First, borrowers can earn up to 0.25% interest rate reduction if they opt to use the automatic payment option for their loans.
Also, Sallie Mae is one of the only lenders to offer a flexible repayment option for borrowers. This allows graduates to make 12 interest only payments after the grace period—the time after graduation in which borrowers don't have to make payments on their loans.
Both the Medical and Dental Residency and Relocation loans provide anywhere from $1,000 to $20,000 depending on the needs of the individual. In addition, no payments are required while in school or for three years after graduation. These two loans also offer the same automatic payment discount as the Smart Option Student Loan.
The Bar Study Loan from Sallie Mae student loans allows for students studying for the bar exam to borrow anywhere from $1,000 to $15,000. Payments can be deferred until 9 months after graduation or leaving school.
---
Variable Rates
3.25% APR - 10.22% APR1
Fixed Rates
5.74% APR - 11.85% APR1
Terms
5 - 15 years*
at Sallie Mae's Secure website
Next Steps
You can apply for a Sallie Mae private student loan on the company's website, but it's important to shop around first to find the lender that will offer you the lowest rate. Use our private student loan comparison tool to get rate estimates from Sallie Mae and other lenders all in one place. Click on the button below to get started.
Can I Refinance With Sallie Mae?
Sallie Mae doesn't offer any student loan refinancing or consolidation services themselves. Like with any loan, however, borrowers can always use other private lenders for student loan consolidation and refinancing. Many applicants are offered lower interest rates than their current loans as they now have a job and are more creditworthy. In addition, multiple loans can be consolidated into one, making the repayment process much easier.
Here at LendEDU, we have one common application that shows up to 5 interest rates from our partners. Our quick and simple application utilizes a free credit score that doesn't hurt the user's credit. Interest rates even start as low as 2.21%.
Use our student loan refinance comparison tool to see what interest rate and repayment term you're likely to receive from up to 5 of the leading student loan refinance lenders, all without affecting your credit score. Click the button below to get started.
---
What Other Options are There Besides Sallie Mae Student Loans?
Since so many students are turning to borrowing money to reach their education goals, student loan lenders are becoming more and more popular.
Just because Sallie Mae is the biggest private student loan lender doesn't necessarily mean that it's the best. It is always smart to take a look at other lenders out there to see what kind of rates they offer. If you are looking for some other ideas, take a look at our other reviews such as Discover Student Loans or SunTrust Student Loans.
Sallie Mae has been a leader in the student loan industry since its inception in 1973. Based on their current size and success, we don't see any reason why they won't remain at the top for years to come.
Sallie Mae Student Loan Disclosures
See Sallie Mae Disclosures1,2,3 and Important Repayment Disclosure*
4.75
1,000
Cost of Attendance