A.M. Money Student Loans Review
A.M. Money is a student loan program with a different approach. Find out how to qualify for its student loans with no cosigner and no credit.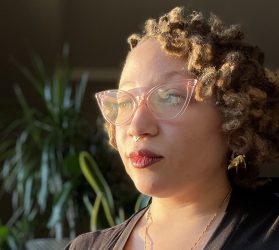 on A.M. Money's website
What we like:
Offers income-based repayment plans.
| | |
| --- | --- |
| Rates (APR) | Fixed: 7.53% – 8.85%  |
| Repayment terms | 10 years |
| Loan amounts | $2,001 (per year) – $50,000 (total) |
| State availability | Available in 13 schools in Illinois, one school in North Carolina, and one in Indiana.  |
See how A.M. Money compares to other student loan lenders
In 2017, two Chicago natives started A.M. Money to provide equitable access to financing for high-achieving students who don't have the backing of good credit or reliable cosigners.
Their push to change the student loan industry came from their lived experience. Both founders struggled with finding money to complete their education though they had strong academic records.
This Black-founded company mainly loans to students attending select Illinois colleges, so it serves a small market. However, it gives graduate and undergraduate students a chance to fill the gap between their current financing and the amount they need to complete their education.
In this review:
A.M. Money in-school student loans
According to a 2021 study by the University Professional and Continuing Education Association (UPCEA), 42% of people cited financial reasons as the main cause for stopping their college journey. This is even more prevalent for people from low-income backgrounds.
For a student with fledgling credit and no cosigner, qualifying for a student loan with your high GPA seems like a no-brainer. With Chicago Student Loans by A.M. Money, that's precisely what you'll find. Its mission is to keep students in college by offering affordable financing.
A.M. Money does that by offering loans that cover the gaps in funding that prevent students from finishing their degrees. A.M. student loans are aimed at upper-level students. However, some second-semester sophomores qualify too. We'll dive more into the requirements below.
| | | | | |
| --- | --- | --- | --- | --- |
| | Loan amounts | Variable rates | Fixed rates (APR) | Term lengths |
| Undergraduate | $2,001 (per year) – $50,000 (total) | None | 7.53% – 8.85%  | 10 years |
| Graduate | $2,001 (per year) – $50,000 (total) | None | 7.53% – 8.85%  | 10 years |
Whether you're applying for a graduate or undergraduate loan doesn't make much of a difference since your APR is based on how many months are between the date of your loan and your graduation date. Everything else is the same.
Pros and cons
We'll weigh the pros and cons of using Chicago Student Loans by A.M. Money.
No cosigner required
Income-based repayment plans
Merit-based instead of credit-based
No prepayment fees, no early payment fees, no late fees
4.5% origination fee, added to your principal 
Limited to 15 eligible colleges
Not available for first-year students
How to apply for an A.M. Money student loan
Applying for an A.M. Money student loan is simple compared to the typical student loan process. You'll find that it doesn't require certain standard information. You don't need to produce a cosigner or a good credit score to get an A.M. student loan.
You will need to provide basic information to determine whether you qualify, and A.M. will run your credit so it can report your payment history to the credit bureaus, which can help you build credit in the long run.
Be prepared to submit your:
Name
Contact information
Year in school
Amount needed
GPA
Transcripts
Current financial aid package
The initial application doesn't take long. The lender timed it at less than three minutes. The application process follows these steps from there:
A team member reviews your information to determine whether you qualify.
If you do, you'll complete a full application and send over essential documents, such as your transcripts and financial aid records.
Your application goes through a final review once the lender has all the requested documents.
If approved, you'll receive funding in as little as three weeks.
For the best odds at approval, you'll want to meet these standards:
Attend an eligible school
Junior or senior standing
Above-average GPA
U.S. Citizen or legal permanent resident
Eligible for a Pell Grant or near eligible
Keep in mind: A.M. private student loans require you to reapply for funding each year. It won't rerun your credit, but it will check in to ensure everything is going as planned.
A.M. Money student loan refinancing
A.M. Money wants to help improve the lives of students who need to close funding gaps to finish their degrees. But what about those who have entered repayment and need to refinance high-interest student loans to something more affordable?
They've thought about you, too.
It's not ready yet, but A.M. Money has started building a program for student loan refinancing to help students consolidate loans or reduce their interest rates. You'll likely see terrific benefits if this option is similar to its student loans.
Refinancing isn't for everyone, but it works best in situations such as:
You're juggling multiple loan payments and want something easier to manage.
You had to take on astronomical interest rates on private loans to fund your education.
You want to lengthen your repayment term for a lower monthly payment.
If you're interested in being one of the first to use the refinance option once it's ready, just add your name to the A.M. Money refinance waitlist.
Alternatives to A.M. Money student loans
There's no denying the concept behind A.M. Money is excellent. However, you might continue searching for other options. Compared to other private student loans, A.M. student loans won't always have the lowest interest rates, even if they're capped at a reasonable 8.85% APR.
The chance to qualify for a student loan with just your GPA is compelling, but this program is limited to 15 schools, mainly in Illinois. You're also in luck if you attend Valparaiso University in Indiana or North Carolina State University At Raleigh.
We have alternatives if you like A.M. Money for its benefits, including no cosigner, merit-based qualification, and reasonable repayment plans, but you want to explore your options. For a complete rundown, look at our list of student loan companies. To narrow it down, here are two options that might work best as alternatives to A.M. student loans.
Funding U
Funding U has a model that grants financing based on academic achievement. You don't need a cosigner or a good credit score to get approved for a loan. Compared to A.M. Money, Funding U is more widespread, reaching 37 states. 
To get a loan from Funding U, you should have a GPA above 2.5 for the best approval odds. You'll also find higher funding limits, with a maximum of $20,000 per academic year.
A bonus is its autopay rate reduction of 0.50%.
Funding U might not be suitable for you because:
It doesn't finance summer school classes.
It has a limited number of eligible schools.
Loans are for undergraduate students only.
The APR range (7.49% – 12.99%) is higher than A.M. Money.
Edly
Edly's ideals are similar to A.M. Money's. It focuses on upper-level students and those within two years of completing their degree. It doesn't use credit or cosigners to qualify you for the student loan and offers income-based repayment plans. 
What sets it apart are its deferment and forbearance options. Edly helps students stay in good standing with their loans by deferring payments during a job loss. Plus, you must meet minimum income threshold requirements before payments begin.
The downsides are:
$5,000 to $25,000 per semester, with a lifetime maximum borrowing amount of $25,000
Not for first-year students
Late fees
Shorter repayment term of five years
APR can reach a high of 23%
As always, compare multiple lenders to find the best option for you. Prequalifying ahead of your application provides an estimate of your rates and payments without affecting your credit score.
Overall, A.M. Money student loans are best for high-GPA students driven to walk across the stage with their degrees but don't have the cosigner or the credit to make it happen.
A.M. Money provides an equitable stepping stone for students from all backgrounds to complete their college journeys.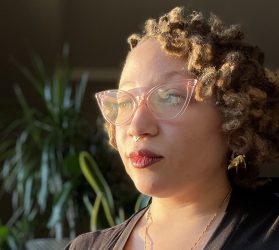 I spent over seven years as a financial consultant and branch manager in one of the ten largest banks in the US. I was NMLS certified and regularly completed units of financial training that ranged from banking protocols to lending best practices and more. I routinely helped clientele across various economic backgrounds achieve financial wellness through needs-based conversations around solutions for their finances. I began working as a freelance personal finance writer in 2020, where I dove deeper into various finance and small business topics and pursued my credit and lending expert certification.