MPOWER Financing Review
April 3, 2017

Posted by:

Jeff Gitlen

Category:

Student Loans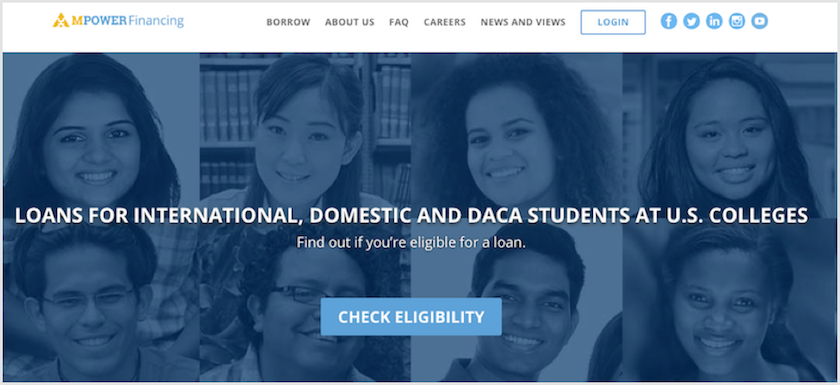 MPOWER Financing is a new kind of college financing. The company was started by co-founders Manu Smadja and Mike Davis who both struggled to pay for their undergraduate degrees as an international student and a first-generation domestic student respectively. They wanted to help others pay for their degrees and saw international students as an underserved market in the student financing industry.
One of the challenges that international students face is difficulty in accessing financial resources in order to attend U.S. colleges. Because international students don't have a U.S. credit score, they're not able to apply for private student loans in the same way that domestic students are. They're also not able to get their parents to co-sign for them since their parents likely also don't have a U.S. credit score.
MPOWER Financing, which has been around since 2014, sought to help with that problem by offering global citizens with academic and career promise personal loans for their college expenses that don't require collateral or a co-signer. Loan decisions are made based on future earning potential rather than a credit score. They currently offer loans to students from over 180 countries who are attending a U.S. college. While they focus internationally, domestic students are also eligible for their loans. Want to learn more? Keep reading our review below.
What Does MPOWER Financing Offer?
---
Variable:N/A
Fixed: 7.99% - 13.99%
Terms Lengths: 3 - 10 years
on MPower's secure website.
Other Partners
---
Variable: 2.751% - 11.03%
Fixed: 3.63% - 12.99%
Terms Lengths: 0 - 15 years
with LendEDU's free application.
MPOWER Financing doesn't technically offer student loans, but rather offers personal loans to cover things like tuition and other college necessities like room and board, and books. Students are able to borrow up to $25,000 per year at fixed interest rates that vary between 7.99% and 13.99%. Term length can be anywhere from 3 to 10 years. Despite the fact that they are personal loans, the funds are sent directly to the school just like they would be if you were getting a student loan.
MPOWER Financing also recently started offering student loan refinance options for international graduates working in the U.S. MPOWER Financing offers them a refinance option with no co-signer or collateral. Their refinance loans have a fixed interest rate that starts at 9.99% and they offer flexible payment terms between one and 15 years. For international students who aren't able to access other forms of refinancing, this option might be a good way for them to reduce the interest rate on their current loans.
The Model
Because MPOWER Financing offers student loans without collateral or co-signers, they look at academic potential when it comes to making their lending choices. They also take into account things like anticipated graduation date, degree, major, and school. While they lend to students attending many schools, they don't lend to students from all schools in the U.S.
They also provide their borrowers with additional benefits by allowing them to access financial literacy courses through USA Funds and by providing help with career coaching after graduation. This ensures that students truly understand their loans and can repay them easily when they graduate.
Application Process
The process to apply for and borrow money from MPOWER Financing is fairly simple. To get pre-approved, you first have to see if your school or program is on their list of eligible institutions. If it is, then you can fill out their 15-minute application and upload relevant supporting documents.
One of the benefits of MPOWER Financing is that they take just three days to review your documents and then call you to get additional information or to clarify anything that wasn't clear. They will then schedule an introductory call and tell you more about MPOWER Financing loans, as well as answer any questions that you might have before you submit the final application for credit review
Five business days after that call, you are given a conditional response to your application. At that point, they connect with your school to certify that you're enrolled. After that, you are given the final approval and their team works with you to make sure you understand your repayment schedule. In total, the entire loan process takes between one and three weeks and you receive a loan decision 5 to 10 business days after submitting your application.
Like most student lenders, MPOWER Financing offers a discount of 0.25% on their interest rate if you sign up for automatic payments. But they also offer another discount of 0.25% for making 24 consecutive on-time payments.
The big difference between MPOWER Financing and most other student lenders is that they require their borrowers make small payments on their loans while they're still in school. They call these 'Small Touch' payments and say that they allow students to start building their credit history while they are still in school. One example on their website of what a small touch payment might look like suggests that you would pay $157.37 per month on a $15,000 loan taken out at 11.99% on a 10 year term.
Potential Drawbacks
It's great to have another option for students to borrow money that doesn't require a co- signer or credit check. This is particularly true for international students who often struggle to access funding in order to pay for their educations. But there are some big drawbacks to getting an MPOWER Financing loan.
The first drawback is that the interest rates they charge are higher than you would pay if you got a private student loan co-signed by your parents or if you refinanced your student loans with another lender. Since this is not always an option for international students, this might not seem like a drawback. The high interest rates, however, will make it more difficult to repay the loan upon graduation.
The other drawback is that, unlike most student loans, you are required to make payments while you're in school. Many students would not be able to find additional money in order to make these payments and so they would essentially be using their student loans to repay their student loans.
The Bottom Line
At the completion of this MPOWER Financing Review, we have concluded that it is a good option for international students who need to borrow money for college and have few options, but the high interest rates they charge and the need to start making payments immediately could cause some borrowers to struggle financially while in college and could make it harder for them to pay off their debt when they graduate.