Income-Share Agreements
Income-share agreements are a new way to fund your college education. Instead of paying interest on a student loan, you agree to give your lender rights to a percentage of future income.

There is a student loan crisis in America, and some universities and financial institutions are looking for creative ways to help students pay for higher education expenses.
Income-share agreements (ISAs) are one such solution, but this student loan alternative comes with some downsides to consider. In short, when you enter into an income-share agreement, you agree to pay a future percentage of your salary for money now.
This guide will explain exactly how income-share agreements work, whether they're a good idea or a bad idea, and a few ISA lenders you can consider if you decide one is right for you.
In this guide:
What is an Income-Share Agreement?
Income-share agreements are contracts in which a lender, company, or school agrees to give students money in exchange for a share of their future income.
While not exclusively for students, those who need money to fund their education are the biggest target demographic of this new loan product.
In particular, people earning STEM degrees or degrees that are likely to lead to high post-graduate salaries are often prime candidates for ISAs.
Examples of an ISA Loan
To understand the costs, let's consider two examples:
You enter into an income-share agreement in which a lender gives you loans for your higher education costs in exchange for 6% of your post-grad salary over 10 years. If you made $50,000 per year during this entire 10-year period of time, you'd pay $250 per month each month and would make a total of $30,000 in payments.
If your salary is higher, or the percentage of your income you have to pay is higher, then your loan would cost you more. Say you made $75,000 over the decade you had to pay your lender 6% of your salary. Your monthly payment would be $375 and you would pay back a total of $45,000.
As you can see, salary increases benefit the lender. So income-share companies tend to target students likely to earn a high income within a few years of graduation. Some lenders also target highly paid professionals, such as doctors, who are in need of personal loans.
Where to Get an Income-Share Agreement
Income-share agreements are a relatively new product, so your options are more limited than they would be if you were searching for a private student loan. However, new lenders and even universities are emerging every year with income-share programs.
Advertisement
Stride Funding Income-Share Agreement
No interest payments. Payments are based on fixed percentage of future income.
Up to $25,000 in funding per year.
Percent of future income due from 4% – 10%.
Eligible to only grad students or students seeking second Bachelor's
For now, LendEDU has ranked and rated three major income-share agreement companies, as well as compiled a list of universities with their own ISA programs, so you can compare your options.
ISA Lenders were ranked and rated based on the weighted average of seven data points:
BBB Rating (10%)
Trustpilot Rating (10%)
Minimum Income (20%)
Income Percentage Taken (20%)
Funding Amount (10%)
Fund Time (10%)
Maximum Loan Term (20%)
1. Align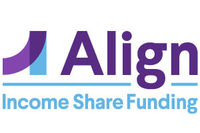 Align makes loans available for more than just tuition, so it advertises itself as an alternative to personal loans rather than student loans. Funds can be deposited as quickly as the next business day after you apply, and you can apply without a hard credit check that affects your credit score.
Here's what you need to know about Align.
Ratings
LendEDU Rating: 5.00 / 5.00
BBB Rating: A-
TrustPilot Rating: 9.20 / 10
ISA Loan Info
Minimum Income to Make Payments: Part-time
Loan Amount: $1,000 – $12,500
Max. Percent of Future Income Owed: 10%
Loan Term: 24 – 60 months
Fees: No origination fees
2. Blair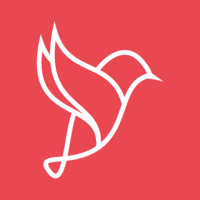 Blair provides funding for tuition or the costs of living while you are in school. You do not have to pay Blair back in any year when your income is under $25,000, and ISA payments are capped, so you won't have to make huge payments if you make more than usual in a given year.
Here's what you need to know about Blair.
Ratings
LendEDU Rating: 4.78 / 5.00
BBB Rating: N/A
TrustPilot Rating: N/A
ISA Loan Info
Minimum Income to Make Payments: $25,000
Loan Amount: $1,000 – $50,000
Max. Percent of Future Income Owed: 8.63%
Loan Term: 120 months
Fees: N/A
3. Lumni

Lumni only provides financing to students. No collateral is required and you don't have to begin making payments until you get your first job after graduating. Lumni says it is not a bank or money lender, but rather invests in human capital.
Here's what you need to know about Lumni.
Ratings
LendEDU Rating: 3.17 / 5.00
BBB Rating: N/A
TrustPilot Rating: N/A
ISA Loan Info
Minimum Income to Make Payments: N/A
Loan Amount: Determined based on a percentage of tuition
Max. Percent of Future Income Owed: 17%
Loan Term: 48 – 120 months
Fees: N/A
Universities That Offer ISAs
Many universities are eager to offer ISA programs of their own in order to collect some of the income that student loan companies are now earning.
More universities add ISA programs every year, but some of the universities that currently offer income sharing agreements include:
Benefits of an ISA Loan
There are some benefits of income-sharing agreements as a method of paying for college:
If you don't land a good job out of school, you won't have to pay for more than you can afford.
Schools and lenders are incentivized to make sure they don't loan you more than you'd reasonably be able to pay back given your field of study.
Schools that offer ISA programs are incentivized to help you earn the highest paying jobs.
You may end up paying less than you would pay with a traditional student loan, depending on your future income.
Your ISA contract could expire years earlier than traditional student loan repayment.
You don't have to worry about student loan debt hanging over your head.
Downsides of an ISA Loan
There are also some big downsides to ISA loans that you need to know about:
You could end up paying more with an ISA if you get a job with a high salary. However, it's worth noting that some ISA programs cap the total cost of the agreement.
There's a lot more uncertainty regarding how much your loan will cost.
Income-driven repayment plans are already an option with federal student loans, and federal loans also offer the potential for student loan forgiveness.
Bottom Line: Is an Income-Share Agreement Right for You?
Before you decide that an income-share agreement is the right way to borrow for school, you need to make sure you fully understand the pros and cons.
For many students, this will be an expensive alternative to federal student aid from the Department of Education or private loans.
However, if you plan to work for a nonprofit after school and expect only a modest salary, an ISA program might work out in your favor.

Christy Rakoczy is an experienced personal finance and legal writer who has been writing full time since 2008. She earned her JD at UCLA and graduated from the University of Rochester with a degree in media and communications. Her work has been featured on CNN Money, MSN Money, Yahoo Finance, USA Today, and more.