CommonBond Student Loan Review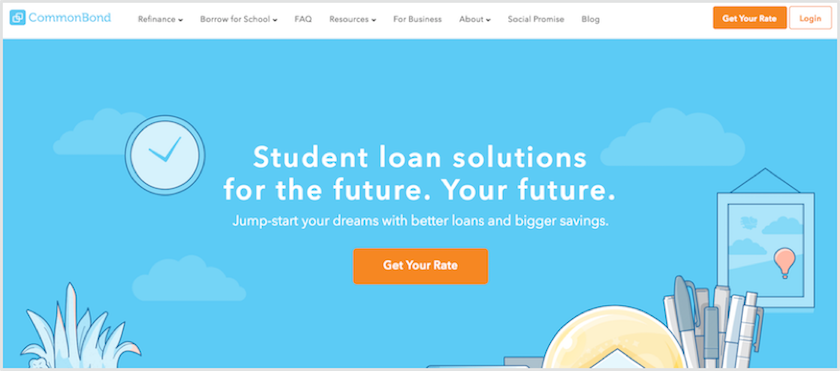 What we like:
Their CommonBridge program and social promise
Founded in 2011 by three MBA students who had grown weary of high interest rates for student loan payments, CommonBond is one of the fastest growing private student loan providers. Along with focusing on offering low rates, this provider was founded on the premise of offering better customer service while putting an end to what is sometimes a confusing borrowing process. CommonBond is also dedicated to making a social impact. For each loan the company books, they fund the education of one student abroad for a year.
What Does CommonBond Offer?
Two products are offered by CommonBond to assist borrowers with paying for college. Customers may opt to refinance their undergraduate, graduate student loans, or Parent PLUS loans or choose to borrow using a private student loan to pay for their MBA. The company maintains relationships with 29 schools offering MBA programs.
Among the benefits of MBA loans through CommonBond is the 2 percent origination fee and the streamlined lending process. Two loan products are available; a fixed 10-year loan and a fixed 15-year loan. Every borrower who is approved for a loan through CommonBond receives one of two rates. The rate that is offered is based on the repayment term selected by the borrower. Currently, the 10-year option features a fixed interest rate of 6.05% (6.23% APR), while the 15-year option has a fixed interest rate of 6.60% (6.72% APR.)
Members may also benefit from a possible 0.25% interest rate reduction if they choose to enroll in CommonBond's automatic payment program. Since interest rates are fixed, even if market-based interest rates fluctuate, a CommonBond borrower's monthly payment will remain the same.
One of the reasons that CommonBond is able to offer interest rates that are lower than the competition is the belief among the company's founders and investors that creditworthy borrowers should benefit from lower rates. According to the company, it's a win-win situation for everyone.
The maximum amount a member may borrow from CommonBond is based on the published cost of attendance at the student's school, minus any other form of assistance the borrower may receive, such as scholarships, fellowships, grants, and financial aid. CommonBond's maximum loan amount for each academic year is $110,000.
---
Variable Rates
2.79% - 6.72%
Fixed Rates
3.35% - 6.74%
Terms
5, 7, 10, 15, 20 years
Eligible Loan Balances
Minimum: $5,000
Maximum: $500,000
at CommonBond's secure website
Once a borrower's loan is approved, funds are sent directly to the school. The borrower will then receive any funds above and beyond the cost of tuition and fees. Since the school is responsible for sending the difference to the borrower, timing is determined by each school's billing cycle.
CommonBond offers two different repayment options while borrowers are in school. With full deferment, borrowers are able to postpone their interest payments while they are enrolled in school. The borrower also receives a six-month grace period following graduation or termination of school enrollment. The full deferment period is a maximum of 32 months. Borrowers may always opt to make one-time payments while in deferment.
The other option is an interest-only payment. With this option, borrowers may elect to make interest payments on their loans while they are in the deferment period. For members who wish to begin making regular payments, this may be a good option.
The full principle and interest payment plan allows borrowers to pay the full amount of the loan principal and interest while still enrolled in school. Some members opt for this plan, as it allows them to spread out payments over a longer period of time. A borrower's financial situation may determine which option is best for their particular needs.
CommonBond's Application Process
CommonBond's application process is designed to be simple and straightforward. It only takes a few minutes to start an application. Depending on specific circumstances, applicants may sometimes need to provide certain documents. When that is the case, it could take up to three business days for an application to be reviewed and approved.
Once the application process is complete, CommonBond sends the application to the school to confirm both attendance and loan amount. Since every school is different, the length of time this could take could vary from just a few days to up to three weeks.
Once the school has verified the information, the borrower is notified by email. At this point, the applicant will need to sign and accept the final terms of the loan within 30 days. Disbursement dates for loans are set by each school, although this is usually around the beginning of the next semester. It is the responsibility of the borrower to request any additional funds remaining on the loan after tuition and fees have been paid to the school.
In situations in which a borrower is not able to pay his or her loan, CommonBond offers an economic hardship forbearance. If the borrower is still not able to meet their loan payment, CommonBond will work with him or her and the CommonBond community to come up with a solution. Instances in which a solution cannot be found and the borrower either chooses not to pay or is unable to pay the loan, it will be subject to default.
One of the benefits of a private loan through CommonBond is that no co-signer is needed if the applicant qualifies. Applicants do need to have good credit though. Most CommonBond MBA loan borrowers have a minimum credit score of 750.
Yet another benefit offered by CommonBond is the ability to postpone payments if a borrower experiences some type of issue. For instance, if a borrower loses his or her job, becomes ill, or is strapped for cash for some other reason, CommonBond will allow the borrower to stop making payments temporarily. Known as forbearance, this option gives borrowers the ability to postpone payments for up to 12 consecutive months and a total of 24 months. Interest does continue to accrue during forbearance.
CommonBond also offers a professional community by hosting networking events for borrowers. These events include dinners, panels, and an MBA summer internship program. In addition, the company can make introductions between borrowers and others in the network.
One thing that CommonBond does not offer is a variable interest rate. All interest rates are fixed for MBA loans through CommonBond. Since variable rates do usually begin lower than fixed rates, this could be a drawback for some people. Even so, variable rates are sometimes considered riskier than fixed rates because they can fluctuate with shifts of the economic markets. By comparison, fixed rates remain the same through the life of the loan.
Since CommonBond's loan program is a private loan, there are fewer protections than available with federal student loans. This includes no forgiveness programs or income-driven repayment plans. Borrowers who plan to work for a non-profit or government agency following graduation might be eligible for certain forgiveness programs that are not offered through CommonBond.
CommonBond also offers student loan refinancing. Originally, the company only offered refinancing to graduate students, however, it has since expanded its refinancing program to include undergraduate students. Both fixed and variable rate refinancing loans are available. Additionally, CommonBond offers loan forbearance for up to 24 months. A 10-year hybrid loan is also available. With this loan, the rate remains fixed for the first five years, while a variable rate is implemented for the following five years.
Customers may choose from a variety of different loan terms when refinancing. Along with five-year and seven-year loan terms, customers may choose from 10-year, 15-year, and 20-year loan terms. A 0.25% interest rate deduction is available when customers set up automatic debit payments. CommonBond allows customers to refinance up to $500,000 in CommonBond student loans. This is far more than many other lenders allow to be refinanced.
Under CommonBond's forbearance policy, borrowers who are experiencing financial challenges can opt to postpone payments temporarily in three-month increments for a period of 12 consecutive months and a total of 24 months. Interest will continue accruing even while loans are in forbearance.
The hybrid loan and seven-year loan choices may be good options for consumers who wish to begin repaying their student loans quickly but who are not able to make a commitment to a five-year loan term. It should be noted that rates for the seven-year loan are higher than rates for the five-year loan but lower than the 10-year loan. By comparison, rates for the hybrid loan are not as low as the five-year loan, but are lower than what is offered for the seven-year loan.
It should also be noted that there are some eligibility guidelines required by CommonBond that are not required by other lenders. For instance, borrowers must have graduated from college in order to qualify. Additionally, borrowers who are refinancing undergraduate loans must have graduated more than two years before applying in order to qualify to refinance their student loans. Borrowers in some states, including Idaho, Delaware, Mississippi, Louisiana, Rhode Island, Nevada, Vermont, Tennessee, and South Dakota, are not eligible to have student loans refinanced through CommonBond.
Final Thoughts
Overall, CommonBond offers a graduate student loan and refinancing options with a number of benefits that may be right for some borrowers.