Wedding Loans: Everything You Need to Know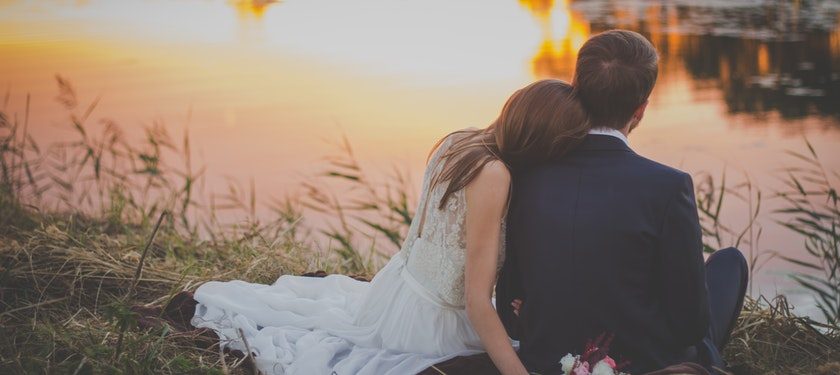 If you're currently planning a wedding, you might have been surprised by just how expensive all those white peony bouquets and orchid center pieces you see on Instagram actually are. According to The Knots' 2016 Real Wedding Study that surveyed 13,000 brides and grooms across the United States, the average cost of a wedding has skyrocketed to a shocking $35,329.
According to their study, the venue was the most expensive part of the big day with the average couple paying $16,107 to secure the perfect location. Other big expenses include the engagement ring at an average of $6,163, the reception band at an average of $4,156, the photographer at an average of $2,783, and the florist at an average of $2,534.
That adds up to a lot of money to be shelling out over a short period of time and a lot of couples just don't have the cash on hand to pay for the expenses of their dream wedding all at once. That's why many are turning to wedding loans to help finance all those photo booths and champagne toasts.

What are Wedding Loans?
A wedding loan is essentially just a personal loan that you use to pay for the cost of a wedding. The first thing you need to know is that you have to be careful about any loan advertising itself as a 'wedding loan' because some of these loans are high interest payday loans which sometimes charge well over 200% or 300% APR and give you very short repayment terms. In contrast, an unsecured personal loan will likely give you better repayment terms, a lower interest rate, and lower fees if you get it from a reputable online or traditional lender.
What's a Personal Loan?
A personal loan is an installment loan which requires you to pay back the money borrowed via a set monthly payment over a specific period of months or years. The term length on a personal can be anywhere from six months to over 10 years. Remember, when you use one of these for a wedding, you can just call it a wedding loan.
Depending on your personal financial and credit situation and the minimum and maximum borrowing amounts of the lender you choose, you can potentially qualify to borrow anywhere from a few thousand dollars to as much as $100,000 or more via a personal loan. How much you'll pay in interest will depend on the lender and your own credit and financial situation.
If you have excellent credit and a well-paying job, you might be able to qualify for the lowest rates which can start as low as 3% or 4%. If your credit is less than ideal, you could find yourself paying closer to 20% or 30% on the money you borrow.
One of the benefits of using a wedding loan to finance your wedding is that you can often apply online, get a quote online without hurting your credit, and have the option of choosing between flexible term lengths and a variety of fixed and variable interest rates, and get your money within as little as one business day after being approved.

Should You Use a Home Equity Loan Instead?
Another option when it comes to borrowing for your wedding is to use a home equity loan. Home-equity loans are different from personal loans or wedding loans in that they use the equity you have in your home as collateral in order to get you better rates.
Lenders can also offer you something called a home equity line of credit which is similar to a credit card in that it is a type of revolving credit where you can borrow money, pay it off, and then borrow it again. Rather than having a fixed monthly payment, you pay a percentage of your balance every month.
A home equity line of credit or a home equity loan can help save you money on interest, but because you're using your home as collateral, if you fail to pay your loan or line of credit back, then your lender can potentially seize your house.
Should You Take Out a Wedding Loan?
There are a lot of reasons why you might need to borrow money to help pay for your wedding. Some people start planning their wedding and don't realize how much all the little expenses add up. They might have already booked the expensive stuff like the venue and the photographer, but they still need to pay for things like the wedding cake or the rehearsal dinner. In this case, a wedding loan would give you a cash infusion to help you cover the rest of the costs.
Another good reason to get a wedding loan is to cover your deposits. Most wedding vendors expect deposits to be paid immediately in order to book their services. For this reason, many expenses related to wedding planning come very soon after getting engaged – before couples have had a chance to save up for their weddings. Most couples don't have access to enough cash in order to pay all these expenses at once. For that reason, many turn to credit cards. But credit cards charge a significant amount in interest and if you need to borrow money, you're often better off doing so with a personal loan since you can access lower rates.
But there are times when it might not be a good idea to get a wedding loan. For example, if you have bad or poor credit, then you might not be able to qualify for a low interest rate on a wedding loan and therefore you will be paying a significant amount in interest on the money that you would borrow for your wedding loan. Or maybe you really want to have a fancy wedding but you don't know how you will afford to pay off the wedding loans that you're thinking of taking out. In both these cases, it makes more sense to delay your wedding and save up the money you need to pay for your expenses in cash. You don't want to start off your marriage desperately trying to repay debt from a wedding loan.
Author: Andrew Rombach
Andrew writes engaging and informative content for readers looking to find information about topics such as student loans, credit cards, personal loans, and small business financing. Andrew's work has been featured in Market Watch, Bankrate, The Penny Hoarder, and the Lacrosse Tribune.
Personal Loans Information