Our take on LightStream's personal loan
Best for excellent credit
Editorial rating: 4.8 out of 5
LightStream is a fast and easy way to get a personal loan with low interest rates and no fees.
But there is a catch: you need a strong credit profile that includes sufficient income, assets, credit history, and payment history. For those with an excellent credit profile, LightStream personal loans are a strong contender for easy lending with low rates and minimal fees.
Yet, LightStream has some particularly bad reviews on Trustpilot and the Better Business Bureau, indicating there is room for improvement in its customer service once the application process is complete
We offer a complete picture of what a LightStream loan offers, how to apply for one, how these loans are serviced, and the potential downsides you should anticipate.
Table of Contents Skip to Section
About LightStream
LightStream is a part of Truist Bank based out of Charlotte, North Carolina. Their mission is to offer excellent credit customers a very simple and streamlined process. Their loans come with no fees and very competitive rates.
LightStream partners with the conservation organization, American Forests, to plant a tree for every loan originated. It's a reflection of the paperless online loan process that's a hallmark of LightStream personal loans.
LightStream personal loan at a glance
The table below offers a quick look at personal loans from LightStream. We'll cover everything in detail below.
Term
Details
Minimum credit score
Not disclosed, but must be good (660+)
Minimum income
Not disclosed
Fixed rates (APR)
7.99%% – 25.49%%, varies by loan type and credit profile
Variable rates (APR)
N/A
Rate discounts
0.50% for enrolling in autopay at loan application
Loan amounts
$5,000 – $100,000
Repayment period
24 – 144 months
Unsecured or secured?
Unsecured
Joint loans?
Yes
Time to funding after approval
As soon as same day
Fees
None
Unique features
$100 customer service guarantee

Rate Beat Guarantee

Tree planted with every loan
How does a LightStream personal loan work?
LightStream personal loans offer low, fixed rates on loan amounts from $5,000 to $100,000. Fixed rates range from 7.99% to 25.49%, and repayment periods are from two to 12 years.
Loans don't require any collateral, and there are no fees. You can apply with a co-borrower, and it's possible to receive funds the same day. Loans enrolled in autopay at the time of application qualify for a 0.50% rate discount.
To qualify for these low rates, you must have an excellent credit profile. In evaluating your credit profile, LightStream looks at income, assets, debt, credit history, and payment history when making a decision about your loan.
LightStream touts its streamlined application and funding process, which looks like this:
Apply for the loan
Accept the loan agreement
Designate where the funds need to go
Use the funds
The process is entirely online. Everything is set up from the get-go, including payments if you choose autopay from the application. This is an efficient choice for customers who don't need to make any changes and always make their payments.
What can a LightStream personal loan be used for?
LightStream personal loans can be used for many purposes. You must select the use of your personal loan on your application and are required to use it for that purpose. Some of these include:
Home improvement
Debt consolidation
Swimming pool
Medical
Wedding
Timeshare
Boats
Solar
Landscape
Adoption or IVF
Jewelry
Horses
Tiny home
LightStream personal loans cannot be used in the following circumstances:
To refinance another LightStream loan
To purchase bonds, stocks, stock options, or pay back a loan against a stock option.
To contribute to retirement, life insurance, or education savings plan
Who's eligible for a LightStream personal loan?
LightStream personal loans are available to citizens of the United States. You must apply with a Social Security number. Joint applications are accepted.
| | |
| --- | --- |
| Requirement | Details |
| Citizenship | Loans are made in the United States |
| Employment status | Not disclosed but applicants must have sufficient income |
| State of residence | All 50 states |
| Minimum age | Not disclosed |
| Minimum credit score | Not disclosed but only good-to-excellent profiles are approved |
| Minimum income | Not disclosed but sufficient income is required |
What are the costs and fees of a LightStream personal loan?
When you submit your application for a LightStream loan, the lender takes a close look at your income vs. debt, assets, payment history, and credit history. By looking at the complete picture of your credit, LightStream awards the best terms to those with not just the best credit, but those who can most easily repay the loan.
Being able to see your payment and rate options is helpful in making a decision when it comes to LightStream personal loans.
Your rate is also determined by your loan term amount and loan term repayment period, as you can see in the examples the table below.
| | | | |
| --- | --- | --- | --- |
| Loan amount | Repayment period (months) | Interest rate range | Estimated monthly payment range |
| $10,000 | 24 | 7.99% – 17.99% | $452.23 – $499.19 |
| $100,000 | 48 | 9.49% – 18.59% | $2,511.84 – $2,968.42 |
There are no fees for a LightStream personal loan. The cost of the loan is built into the APR you receive when you submit your application. It's clearly disclosed when you take a look at your loan offers.
How do you repay a personal loan from LightStream?
Repayment of a personal loan from LightStream begins at application. On the application, borrowers are given a choice on how to pay for the loan. To get a 0.50% discount, borrowers can select "AutoPay" instead of "Invoice" when applying for the loan.
What this does is set up repayment of your loan. You will have already provided your bank information for repayment to LightStream. You're also given a due date and your repayment of the loan begins immediately.
If you select "Invoice" when you apply, you'll need to set up payment later—just without the discount. In any case, there are no prepayment penalties, so if you're able, you can pay off the loan early.
Pros and cons of LightStream
LightStream personal loans have a lot of benefits, but they also have some potential drawbacks.
Guaranteed lowest loan rates

LightStream will beat competitor rates by 0.10% for unsecured loans if you were approved for a personal loan with another lender with a better rate. 

No fees 

No origination fees, no credit check fee, or other junk fees. 

Fast funding

You can schedule a wire for same-day funds if you log on to your account by 2:30 Eastern Time and schedule a wire by 3 p.m.  

Easy application process

The application process only takes a few minutes and is all online. 

Discount for autopay

When you apply for the loan, you can receive a .50% discount when you elect to pay with AutoPay.
Must have good credit

LightStream looks at your entire credit profile to determine if they will lend to you or not. They look at more than your score, so your debt-to-income level, payment history, and credit history have to be just right. 

Rates vary by purpose

You could get a higher APR than advertised, depending on what you select as your purpose for the loan. 

No soft credit check option

Many online lenders offer a soft credit check option that doesn't result in an inquiry on your credit, but LightStream does not. 

Customer service reviews are poor

We've found that LightStream has low customer service reviews from both the Better Business Bureau and TrustPilot. The scores are similar to some other lenders, like Wells Fargo, but below other online lenders.

Not a lot of flexibility on loan servicing

You can't make same day payments. You can't change the due date of your loan, you have to schedule payments at least two days in advance, and contacting customer service is only offered via email. 
To summarize, LightStream offers low loan rates and fees, an easy application process, and fast funding. However, you must have good credit with sufficient income. You also might find customer service lacking if you need help servicing your loan.
Is LightStream a reputable lender?
Collected on 09/26/2023
Lighstream's customer service reviews are on par with that of the parent bank, Truist Bank. They're very low and reflect ongoing customer service issues. This is disappointing considering their competitive rates.
If everything runs on autopilot for your loan, you might be able to avoid these kinds of headaches. If you're concerned about customer service issues, you may want to look at lenders like SoFi or Upgrade, who have excellent customer service ratings.
Does LightStream have a customer service team?
If you need to reach the LightStream customer service team, you are directed to use email: [email protected]
The customer service team hours are Monday through Friday, 9:30 a.m. to 7 p.m. and Saturday, noon to 4 p.m. Eastern time.
If you need to reach LightStream by mail, you can use the following address:
PO Box 117320, Atlanta, GA 30368-7320
Application processing hours are from Monday through Friday, 10 a.m. to 6 p.m., Saturday and Sunday, 1 p.m. to 6 p.m Eastern time.
How to apply for a LightStream personal loan
The application process for a LightStream personal loan is all online and a credit decision is made during the process. The application does involve a hard credit check.
When you go through the application, it will look something like this:
Choose your application type, either individual or joint application.
Select primary loan purpose. For personal loans, you can select from:
Home improvement/pool/solar loan
Timeshare/Fractional purchase or refinance
PreK-12 Education loan or refinance
Medical and family planning
Credit card/debt consolidation loan
Other
Type in your zip code, loan amount, and term length in months.
Choose a payment method, either "autopay" for a 0.50% discount or "invoice" if you want to figure out your payment method later.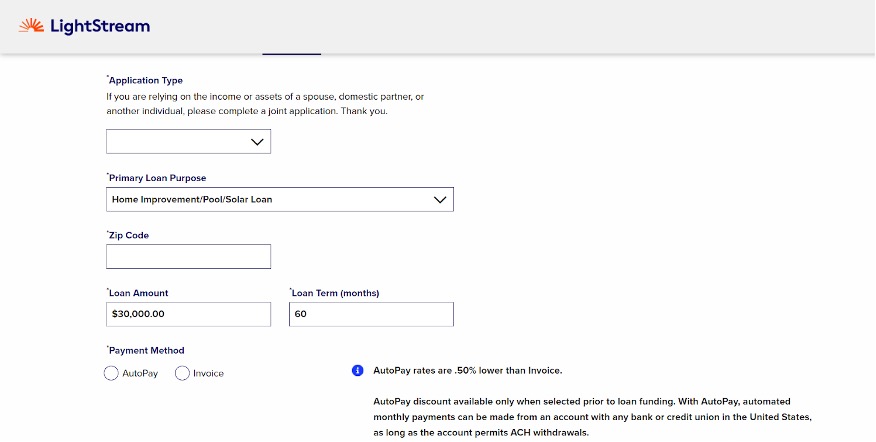 Fill in the application. This includes your personal information, housing status, social security number, work status, and financial information. Continue to the next page.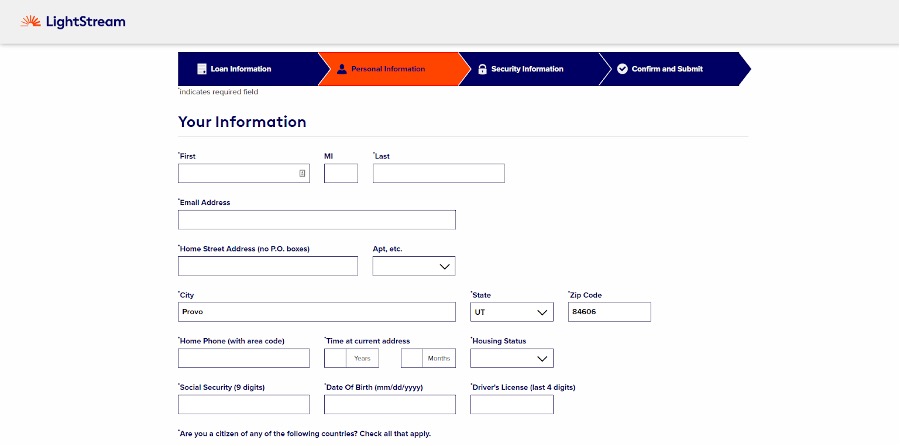 Create a user ID, password, and security question.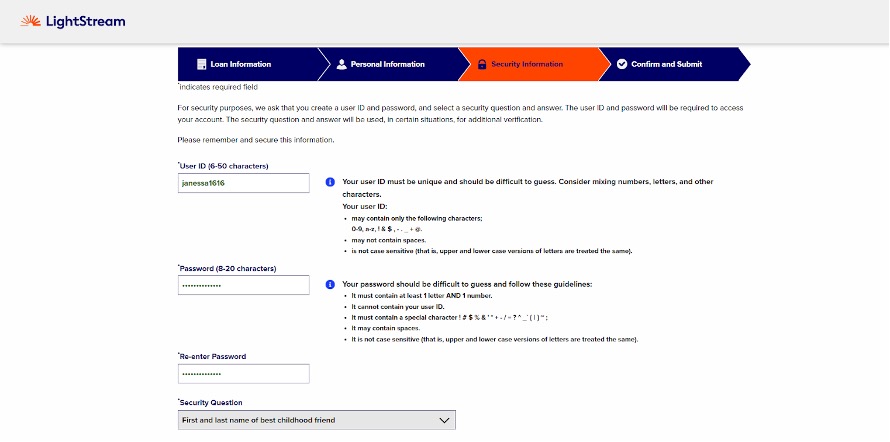 Authorize the lender to check your credit for the application.
Review the loan options.
Select the one that most closely matches what you need.
Submit information for where and when Lighstream should send the money.
Accept your money.
What if I'm denied a personal loan from LightStream?
If you're denied for credit, lenders are required to notify you with the reason. You'll likely receive a message via email and/or a letter in the mail. If you want to ask for reconsideration, you can email customer service at [email protected].
LightStream personal loan FAQ
Can you have more than one LightStream personal loan?
Yes, you can have more than one LightStream personal loan. However, LightStream restricts new loans from refinancing other LightStream loans.
Can you pay off a LightStream personal loan early?
There are no prepayment penalties if you want to pay off a LightStream loan early.
How we rated LightStream
We designed LendEDU's editorial rating system to help consumers identify companies that offer the best financial products. Our experts spend hours researching these companies each year to ensure our ratings are fresh and accurate.
Our most recent evaluation compared LightStream to several personal loan lenders across a number of factors, including rates, loan amounts, customer reviews, repayment details, and eligibility requirements. We weighted, scored, and combined these factors to produce a final editorial rating. This rating is expressed on a scale from 1 to 5, with 5 being the highest possible score. We round all ratings to the nearest tenth decimal place.
| | | | |
| --- | --- | --- | --- |
| Product | Best for | Our rating | |
| Personal loan | Best for excellent credit | 4.8 out of 5 | View rates |