Key points:
Navy Federal Credit Union (NFCU) offers private student loans to undergrads and graduate students.
NFCU also offers student loan refinancing for college graduates.
You must be a member of NFCU to be eligible for any of the company's products.
---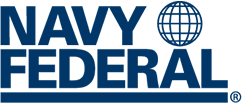 on Navy Federal's secure website
What we like:
Helpful student resources available
Fixed Rates

As low as

4.99%

Variable Rates

As low as

4.57%

Loan Terms

Not disclosed

Loan Amounts

As little as

$2,000
See how Navy Federal's private student loan product stacks up with other options
Established in 1933, the Navy Federal Credit Union (NFCU) has serviced the financial needs of active duty military members, reserve members, and veterans, including those in the Navy, Army, Marine Corps, Air Force, and Coast Guard.
Today, Navy Federal has over eight million members and offers a full array of financial products and services including auto loans, personal loans, and checking and savings accounts.
In addition to those services, NFCU has partnered with LendKey, a New York-based lending platform, to offer both private student loans and student loan refinancing to eligible credit union members.
In this review:
Navy Federal Student Loans
Navy Federal student loans offer qualifying student borrowers access to the financial assistance necessary to pay for a variety of educational expenses, including tuition, room and board, and books.
Terms, Rates, & Fees
Navy Federal offers both fixed and variable rate student loans, and borrowers using the automatic payments feature receive a 0.25% interest rate reduction.
Loan Term
Variable APR
Fixed APR
Not disclosed
As low as

4.97%

As low as

6.49%
NFCU student loans don't charge an origination fee, and there's no penalty for early repayment.
Application Process
Applications are accessible through the Navy Federal Credit Union website and must be completed online. Students can typically complete the application within 15 minutes; however, it's helpful to have the required information on hand before getting started.
This includes the school name, expected graduation date, the academic period start and end dates, the student's current GPA, and the total requested loan amount.
Eligibility Requirements
To be eligible for a Navy Federal student loan, applicants must be members of the Navy Federal Credit Union. Only active-duty, reserve, and retired military members; Department of Defense (DoD) civilian employees or contractors; or family members of those groups can join.
Additionally, private student loan applicants must also meet the following eligibility requirements:
​Be a U.S. citizen or permanent resident
​Be an active military member, reserve, or veteran
​Be enrolled at least half-time at an eligible school
Have a GPA of 2.0 or higher and meet "satisfactory academic progress" as defined by the school
Though NFCU doesn't list or provide specific qualifying criteria, some applicants may be required to add a cosigner to the loan. Typically, this is based on the applicant's existing credit score and income.
Cosigners can be released from responsibility for the loan after 24 consecutive loan payments.
Other Key Facts About Navy Federal Credit Union Student Loans
While some private loans allow payments to be deferred until graduation or withdrawal, Navy Federal Credit Union requires students to make payments while enrolled.
To meet this requirement, the student can either pay $25 a month per loan or can make interest-only payments. The $25 payment will go to interest accrued if students choose this option.
Borrowers who run into financial challenges while repaying their loans can put loans into forbearance and pause payments for up to 12 months. Forbearance must be requested in six-month increments.
Navy Federal Student Loan Refinancing
Eligible applicants with existing student loan debt, including federal and private student loans, can refinance up to $175,000. For some students, refinancing their student loans through Navy Federal can result in lower rates and monthly payments.
Terms, Rates, & Fees
Navy Federal student loans are available with variable or fixed interest rates, with specific rates dependent on the loan term. As with private student loans offered by NFCU, refinance loans also come with a 0.25% discount for borrowers that use autopay. Current rates as of November 2018 are shown in the table below.
Loan Term
Variable APR
Fixed APR

5 years

As low as

4.58%

As low as

4.29%
There are no origination or prepayment fees associated with Navy Federal refinance student loans.
Application Process
Existing student debt holders interested in applying for a Navy Federal refinance student loan must do so using the online application, which typically takes 15 minutes to complete.
To apply, borrowers should be able to provide basic information about their existing debt, including the school attended and the total refinance amount.
Eligibility Requirements
In addition to meeting military service requirements and Navy Federal Credit Union membership requirements, applicants must meet the following criteria to be eligible for a refinance loan:
​Must be a U.S. citizen or permanent resident
​Graduated from an eligible school
​Must have a good credit history and score
​Refinancing private and/or federal student loans
Other Key Facts About Navy Federal Credit Union Student Loan Refinancing
Both federal and private loans may be refinanced through a Navy Federal refinancing loan, though borrowers should be aware they will lose federal loan benefits, including student loan deferment, income-driven repayment options, and loan forgiveness options.
While Navy Federal doesn't offer deferment, they do allow refinance loan customers with a five or ten-year repayment plan up to 12 months of forbearance and customers with a 15-year repayment plan up to 18 months of forbearance, both of which must be taken in six-month increments.
Pros & Cons of Navy Federal Student Loans
For eligible applicants, Navy Federal Credit Union offers slightly competitive rates on private education loans. Those who can't qualify for loans on their own may also find the 24-month cosigner release option more attractive than those provided by other lenders.
However, some students may find other lenders offer slightly lower interest rates than Navy Federal, so students should shop around before committing to borrow through NFCU. If you'd like to compare other options, you can check out our guide to the best private student loans.
Another thing potential borrowers should keep in mind is the limited repayment options available with Navy Federal student loans. A private student loan borrower must agree to a ten-year repayment term.
Additionally, students who don't want to be responsible for payments while in school may also find this lender to be a poor fit, as all borrowers are required to make small payments of at least $25 per loan while in school and after graduation.
>> Read More: List of student loan companies
The Verdict: Is an NFCU Student Loan Right for You?
For eligible borrowers who don't mind the ten-year repayment plan, a Navy Federal student loan may be a good option, particularly for those who can't secure lower rates elsewhere and who choose to take advantage of the 0.25% autopay discount.
However, students may want to first exhaust other forms of aid, particularly federal loans, and students should review rates and terms available from other private lenders before taking out a loan with NFCU.
You can learn more about other options in our Credit Union Student Loans Guide.