Financial aid isn't guaranteed to every college student who fills out a FAFSA or applies to a school. In fact, you may be denied financial aid, or offered far less than you think you need.
The denial is not final, however. You still have one option left after first being denied financial aid—the appeal letter.
A financial aid appeal letter is a formal communication asking the school to reconsider its decision to limit or deny your financial aid, including grants, scholarships, and federal student loans. Writing an appeal letter doesn't guarantee the school will reverse its decision, but it may help.
In this guide:
How to write a financial aid appeal letter
1. Contact the school to find out the process and where to send a letter
Every school's appeal process is different, so contact the financial aid office to ensure you follow yours precisely. You should also ask who to send your appeal letter to, as well as their address.
Putting an actual name on your letter (rather than a "To whom it may concern") can help personalize your appeal.
2. Determine how much aid you need
Clearly state exactly how much assistance you need to attend school. What will that aid go to? Are there specific supplies or course fees you need help covering? Let the financial aid office know how their money will be used.
3. Gather any necessary documentation
Your school may require special documentation in order to file an appeal. You may also want to include proof of any hardships or extenuating financial circumstances you're experiencing, too (high medical bills, a parent's pink slip, etc.)
If you have financial aid offers from other schools, you can include these as well, asking your preferred school to match it.
4. Write the appeal letter
Don't hand the task off to a parent or well-written friend. The appeal letter should come in your own words and voice. Take your time, make it personal, and be clear with your ask. Try to keep the letter to one page or less.
5. Submit the letter
Finally, mail (or email) the letter to the appropriate financial aid representative. Be sure to give in a few weeks before following up. There's a chance they have many appeal letters to go through.
What to include in an SAP letter
Include the date, addressee, and address at the top. Always be specific about who you're addressing. This helps personalize your appeal.
Thank the financial aid office for the award offered (if any). If the school gave you a partial award, express gratitude for the assistance, however small it may be.
Explain that the award isn't enough and why. Give details as to why the aid is insufficient, and what you need the additional funding for.
Explain your circumstances and why they require more financial aid. Break down the details of any extenuating circumstances or financial hardships your family may be going through.
Explain anything that's changed. If the award was denied for reasons that were your fault (late assignments, failing grades, poor attendance), explain what has changed since your denial and how you've moved to remedy the issue.
Include any documentation to support your request. Include documents to support your need for additional assistance. Don't forget any appeal forms or other paperwork your school may require.
Sign off with your signature, typed name, and contact information. Make sure the financial aid knows who you are and how to contact you.
Tips for writing a successful financial aid appeal letter
Be professional. When writing your financial aid appeal letter, be professional. You want the school to reverse its decision, so you don't want to be demanding.
Address the right person. Research exactly who will be reading your appeal letter, and address it to them.
Get to the point quickly. Make sure you also get to the point quickly. School financial offices deal with thousands of students each year, so make sure you lay out the situation clearly and upfront.
Explain the situation clearly. Whatever the mitigating situation, outline it simply without being emotional.
Take responsibility if necessary. If the situation that caused the school to limit your financial aid was your fault—such as failing out of school—then take responsibility for it. Express your remorse, and outline how you plan to correct the mistake.
Write well and proofread. Proofread for both content and proper English, and send it promptly.
Sample financial aid appeal letter
Here's an example of a financial aid appeal letter you can reference when writing your own. Of course, be sure not to copy this sample exactly.
---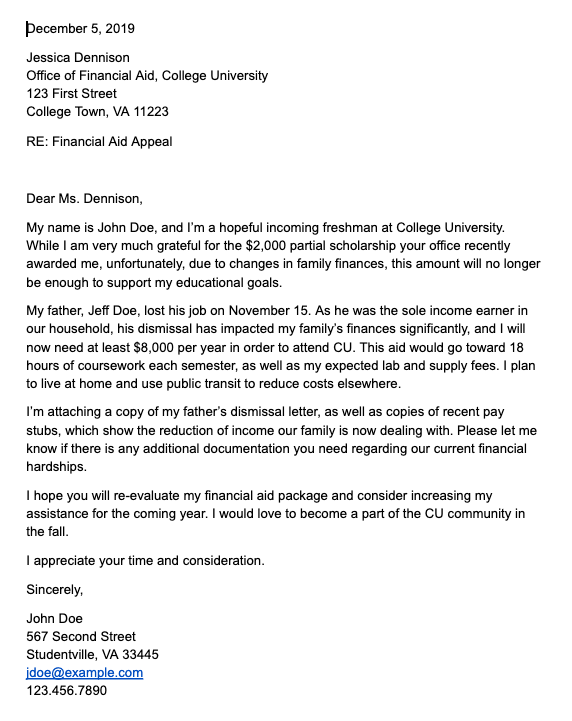 ---
Valid reasons for an SAP appeal
There are many reasons you might file an appeal with your school's financial aid office.
These include:
The aid is insufficient to cover the school expenses you expect to incur.
Your family's finances have changed since filing for financial aid.
Another school has offered you more aid, and you'd like your preferred school to match.
You made an error in filing your FAFSA and it might have impacted your award.
You were denied financial aid due to academic performance and are experiencing some sort of hardship, injury, trauma, or illness.
You may also write an appeal letter simply in hopes of getting additional financial assistance. Just be sure to explain how this aid would help you more effectively achieve your educational goals.
What should you do if your financial aid appeal is denied?
It's possible that your financial aid appeal will also get denied. If so, you still have options to pay for your college education, but it will require more research and effort.
Scholarships and private grants are options to consider even while first applying for financial aid. Once you've appealed and been denied, you should certainly consider these options as a way to fill the gap in your financial aid.
All individual scholarships and grants have their own criteria, deadline, and process, so you'll need to do research. Follow through with the ones you qualify for.
If you're unable to secure a scholarship or other "free" money, private student loans may also be an option. With these, you'll likely need a cosigner with good credit. Or, if you don't have a cosigner, you need to have excellent credit and a history of stable income yourself.
If you don't have a cosigner or good credit, there are some student loans available without a cosigner that you can look into.
Should you hire a financial aid consultant?
A financial aid consultant can help you and your family navigate the appeal letter process, but do you need one?
If you've been denied, you can submit an appeal letter without a consultant. In fact, that consultant will likely cost money. If you're trying to appeal denied financial aid, you may not want to spend money on a consultant.
In addition, some consultants get your applications and appeals more closely scrutinized, which may not be a good thing. If the school sees you can afford a financial aid consultant, it could deny your appeal.
Bottom line
Just because you get denied financial aid your dreams of a college education are still attainable.
If you're willing to put the effort in, you can often successfully appeal your denial—or find other ways to fund your schooling.
Look for examples of successful appeal letters, write down what you want to say, then edit until you're confident you've come up with a coherent, professional appeal.