SoFi Money Review: Earn More From Your Bank Account
SoFi Money offers a hybrid online savings and checking account with no account minimum fees, no overdraft fees, and no ATM transaction fees. Your SoFi bank account balance will earn 2.25% APY.


on SoFi's secure website
| | |
| --- | --- |
| APY | 2.00% |
| Opening Account Fee | $0 |
| Monthly Fee | $0 |
| Purpose | Checking/Savings Account |
See how this bank stacks up against our top rated online banks
SoFi Money is a hybrid online bank account combining elements of a savings account with a checking account. It's an online-only platform where "your phone is your branch," and it eliminates hassles and fees most traditional levy against their customers. And since operating an online bank has lower overhead costs than brick-and-mortar banks, SoFi Money also provides you with a competitively high interest rate on your account balance — 2.25% APY.
As a hybrid account, SoFi money is convenient for people who are comfortable using online and mobile banking technology and who don't want to deal with transferring money between savings and checking accounts to access their money.
You can open a SoFi Money account from your couch, and it takes about 60 seconds. But if you're still not sold on the concept, read the rest of this review to see what SoFi Money is all about.
In this review:
What Does SoFi Money Have to Offer?
SoFi is a fintech company that offers several financial services, including student loan refinancing, personal loans, home loans, and investments. But you don't need to use any other SoFi products to create a SoFi bank account.
SoFi Money acts like a checking account, but it earns interest like a savings account. This means you never need to worry about transferring balances between accounts before spending, and you can earn interest on all of your saved money.
Thanks to the online-only model, the interest rates earned on deposits with SoFi Money are highly competitive. Traditional banks typically offer a fraction of 1% in interest to their clients, But SoFi passes their savings on to you in the form of higher interest rates and no minimum account fees, overdraft fees, ATM transaction fees, foreign transaction fees, or any other fees of any kind.
SoFi Money – Earn More From Your Bank Account
Earn 2.25% APY
Pay zero fees
Use any ATM worldwide that accepts Visa® and SoFi will reimburse you for the fees
SoFi Debit Card + Mobile App = Easier Banking for You
Old habits die hard, so some people who've never tried mobile banking have concerns about how it will work. With SoFi Money, there isn't a branch you can visit to deposit checks or a representative for you to talk to face-to-face. Instead, the app offers mobile check deposit, so you can upload your checks from anywhere just by snapping a picture, and you can contact their representatives by phone or email. The app can also be used to set up a direct deposit, pay and manage bills, and to transfer money to other people.
Every account comes with a SoFi Money Visa card, which can be used for debit card transactions anywhere Visa is accepted. The card can also be used for ATM withdrawals at any bank, and SoFi offers unlimited ATM Fee reimbursements for any penalties you incur when accessing your cash.
How to Set Up Your Account
Here's how to set up your SoFi Money account:
Click to open an account and follow the on-screen prompts to get started
Enter the personal information required to open a bank account (date of birth, citizenship status, social security number, etc.)
You may need to supply additional information, such as a copy of your driver's license to verify your identity and mailing address, so you can receive your debit card and checkbook
The account can be open within a minute after signing up
Benefits of SoFi Money
SoFi Money comes with several benefits that range from the higher earning potential compared to brick-and-mortar banks to the ability to keep all of your funds in one place for simplified management.
Earn Up to 225x More Than Traditional Banks
SoFi Money accounts earn 2.25% APY. Although that's not much compared to what you could earn by investing, it's far more than the .01% to .06% many traditional banks offer.
All Your Money in One Place
As a hybrid account option, SoFi Money customers have access to checking and savings funds in one convenient location, so you don't need to worry about whether you transferred enough to your checking account before you spend.
No Fees
According to SoFi, most banks charge an average of $329 in account fees annually. With SoFi Money, you won't pay a single fee for typical banking activity, including overdraft fees, minimum balance fees, or foreign transaction fees. You may be charged an ATM fee if you use another bank's ATM to withdraw cash, but SoFi Money offers unlimited ATM reimbursements to cover that cost.
The only fees you could (but probably won't) run into are:
A second replacement card fee of $20 (the first card replacement is free)
A replacement card rush delivery fee of $25 if you need a new card ASAP
A stop payment order fee of $20 if you need to temporarily halt payments on your account
A legal processing fee of $100 if a court issues garnishment of your SoFi bank account balance
Know You're (Very) Insured
Sometimes consumers have a sense of apprehension about online banking because they don't think there is insurance on their deposits. Not only does SoFi money have rigorous security measures in place to protect your money and information, but all deposits in SoFi Money accounts include FDIC insurance for up to $1.5 million, which is higher than the brick-and-mortar bank standard of up to $250,000 per depositor.
Mobile Banking
The mobile app, which is the basis for banking with SoFi Money, is simple and easy to use. The mobile banking app features mobile transfers and photo check deposit as well as access to customer service. With P2P transfers, account holders can transfer money to anyone from the app, and if the money is transferred to another SoFi Money account holder, they'll receive the funds instantly.
Downsides of SoFi Money
In many ways, SoFi money is a great option for someone who wants a no-fee, high-interest online bank account. But, of course, there are a few downsides to be aware of.
First, while the hybrid account model can be a perk, it can also be a downside. If someone has a hard time controlling their spending, separating their savings and checking account balances can be a good way to protect their nest egg.
A good way to work around this would be to set up a separate high-interest savings account elsewhere to keep your emergency fund separate.
Also, although SoFi doesn't charge any foreign transaction fees on debit card purchases, Visa does charge a 1% foreign exchange fee. So if you want to avoid this added cost it may be better to use cash or a travel credit card that waives this fee when traveling internationally.
How Does SoFi Money Compare to Other Mobile Banks?
SoFi Money is a great mobile banking option, but there are other choices with similar benefits as well.
SoFi Money vs Ally
Ally was a trailblazer in the world of high-interest online banks. Ally doesn't have a hybrid account. Instead, users set up separate checking and savings accounts, so it may be a better option for those concerned about overspending.
The APY for an Ally savings account is a slightly lower but still competitive 2.20%. However, an Ally checking account yields just 0.10% depending on your balance.
SoFi Money vs. Simple
Simple is another fee-free, online-only bank. Simple's online banking includes a Visa debit card, photo check deposit, direct deposit, third-party payment service integration, instant transfer to other Simple customers, and external account linking — all similar to SoFi Money.
However, Simple comes with a 2.02 percent APY, which is highly competitive, but not quite as much as so as a SoFi Money account.
One thing that's different at Simple is the fact that it's focused on helping you set savings goals, so Simple accounts feature built-in tools to make budgeting easier for account holders. If you're looking for an all-in-one place to manage your money and monitor your progress toward savings goals, Simple may be a better option for you.
LendEDU's Experience With SoFi Money
Personal experience by Jeff Gitlen, Director of Content Operations at LendEDU
My original checking account was a TD Convenience Checking account, which I had for years with no problems. It wasn't until a little over a year ago that I made the decision to open a savings account to finally start earning interest on my money.

I did some research online and decided to open a Marcus Savings Account since it offered a 2.25% APY at the time. Earning interest on my savings was great, but I missed the convenience of a checking account. That's when I saw an article talking about SoFi Money, a checking/savings-account hybrid offering the same APY.

I went to SoFi's website and filled out a quick application, then transferred all my money from my savings account into my new SoFi Money account. Currently, I use it for all my transactions.
I went to SoFi's website and filled out a quick application, then transferred all my money from my savings account into my new SoFi Money account. Currently, I use it for all my transactions.
Being able to order free checks, use the mobile app, and make more than six withdrawals per month (the maximum limit on most other savings accounts) has been great. Not to mention I still earn a competitive APY that beats most savings accounts.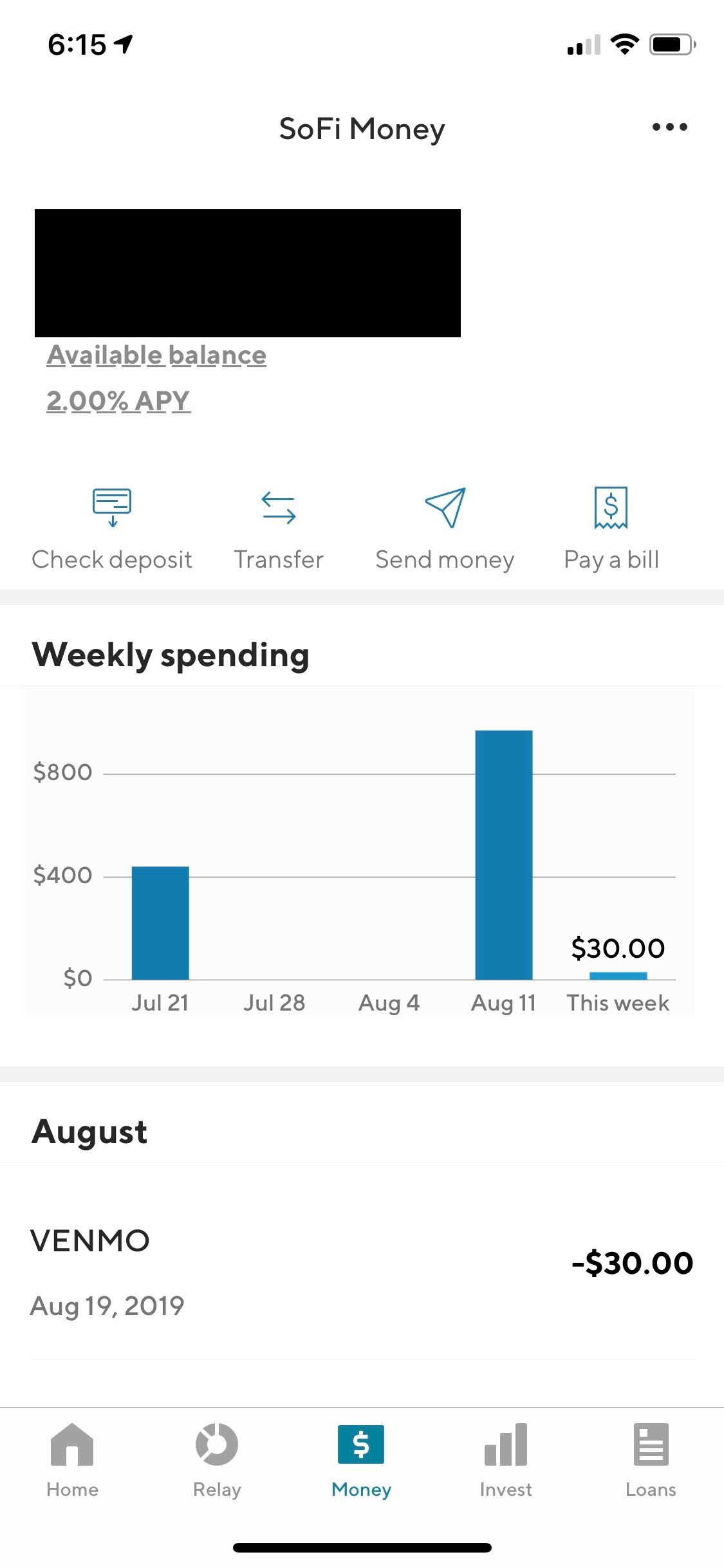 To top it off, SoFi reimburses any ATM fees for using out-of-network ATMs. Being on the wrong side of these fees in the past makes this benefit all the more important.

Bottom Line: Is SoFi Money Bank Account Right for You?
SoFi Money is a secure, insured, straightforward way to bank online. The mobile app is convenient and easy to use, there are virtually no fees to worry about, and the APY on checking and savings deposits is highly competitive, even compared to most other online banks. If you're looking for a new online bank account, SoFi Money is probably one of your strongest options.

Ashley Sutphin Watkins is a graduate of UNC-Chapel Hill where she studied journalism. She has worked as a journalist, content creator, and copywriter for nearly a decade, with a focus on personal finance, real estate, and healthcare. She now lives in Knoxville with her husband and young kids. During her free time, she enjoys traveling and enjoying the outdoors in East Tennessee.