Refinance Medical Student Loans
Refinancing medical school loans is one strategy to save on interest costs. Some lenders specialize in refinancing medical student loans and also allow residents and fellows to make minimum payments until they have a full-time job.
As the massive and growing student debt issue continues to garner media attention, there is little mention of the crisis facing medical students who must contend with an average medical school debt of more than $200,000 before they even begin to earn a decent paycheck.
Refinancing medical school loans is one strategy that current and future doctors could consider to save on that debt. If you are eligible to refinance, your new lender will pay off your old loan(s) and issue you a new one with a (hopefully) lower interest rate—helping you save money.
This guide will explain when refinancing makes sense and will cover some of the top lenders to consider.
On this page:
Best Lenders for Refinancing Medical School Loans
The following student loan refinancing lenders base their eligibility requirements on borrowers' earning potential (as determined by their future field of practice) as well as other factors like credit score and current income.
They all also have competitive rates and flexible repayment terms that include minimum payments during residency if desired.
SoFi

Over the last eight years, SoFi has exploded on the fintech scene as one of the premier lenders for student loan refinancing.
As the first lender to offer refinancing of both federal and private student loans, SoFi has refinanced about $18 billion in student loan debt as of February 2019. You can learn more about their refinancing program in our full SoFi Student Loan Refinancing Review.
In October 2017, SoFi announced the launch of a new refinancing program geared strictly for medical student loans with the following rates, terms, fees, and limits:
Rates: 4.140% to 8.709% (fixed APR with autopay); 2.790% to 7.750% (variable APR with autopay)
Terms: 5, 7, 10, 15, and 20 years
Fees: None
Limits: Minimum $10,001 in most states, no maximum
Refinancing medical school loans is open to residents and fellows once they have been matched to a program and are within four years of becoming an attending physician or practicing dentist.
SoFi allows residents to make minimum payments as low as $100 on their loans through the end of their residency or fellowship program, up to 54 months. Once you leave residency, SoFi will re-amortize your loan and your payment amount will increase based on the new amortization schedule.
Although interest does accrue when you make minimum payments, you are not charged compounded interest during your residency period. Instead, SoFi simply capitalizes the accrued interest at the end of your residency period.
---
Splash Financial

Launched in 2013, Splash Financial is one of the first student loan consolidation companies to focus primarily on medical student borrowers in residencies or fellowships.
Medical student loan refinancing is available with the following rates, terms, fees, and limits:
Rates: Fixed APR starting at 3.75%, variable APR starting at 3.10%
Terms: 5, 7, 10, 15, and 20 years
Fees: None
Limits: Minimum $25,001, no maximum
Borrowers may pay as little as $100 a month towards their loans during their residency period, with all unpaid principal and interest amounts capitalized at the end of training.
Laurel Road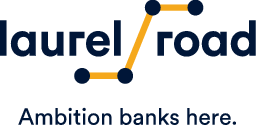 Laurel Road started offering student loan refinancing as Darien Rowayton Bank (DRB) in 2006. It took on its current name in 2017 to reflect the "journey it takes our customers to achieve their life goals."
DRB/Laurel Road has originated more than $2 billion in refinanced student loans, which makes it one of the largest lenders in the student loan space.
Medical student loan refinancing is available with the following rates, terms, fees, and limits:
Rates: 3.87% to 7.44% (fixed APR); 3.60% to 7.10% (variable APR)
Terms: 5, 7, 10, 15, and 20 years
Fees: None
Limits: Not disclosed
Like SoFi and Splash Financial, Laurel Road offers a minimum repayment option, allowing borrowers to pay as little as $100 per month throughout their residency or fellowship and for up to six months after training concludes.
All three of these leading lenders offer forbearance options and loan forgiveness in the event of death or disability. Applications are submitted online and are usually notified of a decision the same business day.
The timing of funding varies between the three, but borrowers can always expect to receive loan proceeds within about 10 days, if not sooner.
When Refinancing Medical School Loans Makes Sense
Refinancing can help you save a lot of money in interest costs if you are eligible for a lower rate than what you are currently paying. Before you refinance, though, it's important to decide if it makes sense for you.
Here are some situations when refinancing is a good idea.
You Aren't Dependent on Federal Benefits & Repayment Plans
It always depends on individual circumstances, but for many medical school grads who don't plan on using federal benefits like Public Service Loan Forgiveness and income-driven repayment plans, refinancing federal student loans can help them reduce both their interest costs and monthly payments.
You Have High Interest Private Student Loans
If you took our private student loans to pay for medical school, you may now be eligible for a lower interest rate if you have a better credit score or income.
In this case, it almost always makes sense to refinancing your loans, as long as your new refinance lender offers the same benefits as your old lender.
You Want to Consolidate Multiple Loans
Refinancing allows borrowers to consolidate multiple private and/or federal student loans into one, which makes managing medical school loan repayment much easier.
Alternatives to Refinancing Medical School Loans
Many student debt experts recommend medical residents start paying off their medical school debt as soon as they can. However, paying a $1,500 monthly payment on less than $60,000 of income is a lot easier said than done.
At the very least, residents should try making interest payments to keep their loan balances from growing. But considering the loan payments consist primarily of interest in the early years, it would still be a large monthly payment.
If you have private student loans, you may be able to temporarily pause payments during your residency or fellowship or extend your repayment plan over a longer period of time to help lower payments.
If you have federal student loans, there are specific repayment plans that can help you lower your monthly payments:
Bottom Line
Americans owe more student loan debt than ever, with medical students carrying an average of more than $200,000 in debt upon graduation. Although physicians are expected to earn sizable salaries, the truth is most earn around $57,000 while in a residency or fellowship program, putting student loan repayment out of reach for many.
Luckily, lenders SoFi, Splash Financial, and Laurel Road specialize in medical student loan refinancing that can ease the burden of monthly loan payments for residents and fellows. As with most loans, eligibility restrictions apply and approval for the lowest rates is based on a variety of factors, including earning potential, credit score, and current income.
Author: Jeff Gitlen
Jeff Gitlen is a graduate of the University of Delaware. He writes about a wide range of financial topics including student loans, credit cards, small business financing, and more. His work has been featured on a number of sites including Bloomberg, CNBC, Forbes, Market Watch, and more.
Your Guide to Financial Freedom

Money tips, advice, and news once a week

Join the LendEDU newsletter!

Thanks for submitting!

Please Enter a valid email