PhD Student Loans: Find Your Best Option
PhD student loans from the federal government or private lenders can be used to cover the cost of your degree. Compare our best options.
Getting your PhD is a big endeavor—and not just because of the immense amounts of work involved. You'll also need to spend additional years in school and tens—or hundreds—of thousands of dollars while doing so.
You need to be smart about how you fund your schooling, especially if you take out PhD student loans, if you hope to earn a PhD and become debt-free within a reasonable number of years.
This guide will cover using PhD student loans—a specific type of graduate student loans—to finance your education.
In this guide:
Compare PhD Student Loans
Exhaust Your Federal PhD Student Loan Options First
If you have to borrow using PhD student loans, always max out federal student aid as your first source of funding. Federal student loans tend to be cheaper, provide more repayment flexibility, and come with other borrower perks, such as the potential for loan forgiveness.
The Department of Education offers Direct PLUS Loans to graduate students for the purpose of covering advanced education, and if you're eligible, you could potentially borrow up to the school-certified cost of attendance, less any grants or scholarships you've received.
Unlike some federal loans, however, Grad PLUS Loans aren't available to you if you have an adverse credit history, and you'll need to undergo a credit check to prove that you don't.
>> Read more: How to Pay for a PhD
5 Best Private PhD Student Loans
After maxing out your federal student loans, you may find you still need more money to pay for your doctoral degree. If that's the case, you'll need to look into getting private PhD loans.
Private student loans tend to come with higher interest rates, can be harder to qualify for, and repayment plans are less flexible. However, they can cover shortfalls in funding that otherwise might make getting your PhD impossible.
LendEDU has ranked the best PhD student loan providers to help you find options that could help you fund your degree. Here are the five highest-rated lenders that offer student loans to PhD students.
Click a lender to jump down to the review:
1) Sallie Mae

Sallie Mae is one of the oldest student loan financing providers, as it dates all the way back to 1973. Although Sallie Mae originally was a federal student loan servicer, it is now focused on providing private student loan options, including loans for students who are getting their PhD.
Here are the key things you need to know about loans from Sallie Mae:
Loan amounts: Borrow up to the school-certified cost of attendance
Loan terms: Take up to 15 years to repay your loans
APRs: 4.50% to 10.11% variable rate APR or 5.50% to 10.23% fixed rate APR
Pros
Borrowers have the option to defer repayment for 48 months after graduation for an internship or fellowship. And, you can make 12 interest-only periods after the grace period for maximum flexibility.
There are no origination fees, no prepayment penalties, and no fees to apply.
Cosigner release is the shortest of any lender. It's available after only 12 on-time, consecutive monthly payments
Cons
A hard credit check required.
Customer service complaints are common from existing Sallie Mae customers.
2) Ascent

Ascent provides a specific option for non-cosigned loans, which makes it easier for students to get approved without a parent cosigner. Ascent helps students nationwide to secure loans, and provides up to $600 in referral bonuses.
Here are the key things you need to know about tuition loans from Ascent:
Loan amounts: Up to $200,000
Loan terms: Up to 15 years
APRs: 4.14% to 13.13% variable APR; 4.55% to 13.77% fixed rate APR
Pros
Loans are designed for students without a cosigner.
Generous options to put loans into forbearance in times of financial hardship.
Flexible options for in-school repayment, including deferment.
Cons
Ascent gets average ratings from customers.
The maximum APR is higher than many other lenders.
3) College Ave

College Ave was founded to change the way students borrow for school. Both student loan refinancing and private student loans are available, including loans for people earning a PhD.
Here are the key things you need to know about loans from College Ave:
Loan amounts: Up to $150,000
Loan terms: 5 years, 8 years, 10 years or 15 years
APRs: 5.22% to 10.92% variable APR or 5.97% to 11.68% fixed rate APR
Pros
You can defer loan payments while in school or choose from one of three other in-school payment options.
It takes only three minutes to submit your application.
There are no fees to apply for a loan, and no prepayment penalties or origination charges.
Cons
There's no set forbearance period for struggling borrowers, but rather forbearance is made available only on a case-by-case basis.
24 on-time loan payments are required before cosigner release becomes available.
4) SunTrust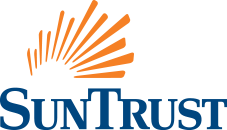 SunTrust has more than 1,400 bank branches and operates in 11 states in the southeast and Washington D.C. It provides a variety of financial products, including student loans for grad students earning a PhD.
Here are the key things you need to know about earning loans from SunTrust:
Loan amounts: Up to $150,000
Loan terms: 7, 10, or 15 years
APRs: 4.251% to 13.250% variable APR or 5.051% APR to 13.750% fixed rate APR
Pros
You can receive a 0.25% discount just for making automatic payments.
You have four options for in-school repayment, including deferring payments.
No application fees, origination fees, or prepayment penalties.
In-school refinance options are available.
Cons
36 months of on-time payments are required for cosigner release.
Maximum APR discounts are available only for SunTrust customers.
There are fewer repayment options than with many other lenders.
5) Citizens Bank

Citizens Bank has its headquarters in Rhode Island, but has branches that span a total of 11 states. The bank offers a wide variety of different banking products, including checking accounts, savings accounts, and loans. Private student loans are among the school's offerings, and you can borrow from Citizens Bank to get your PhD.
Here are the key things you need to know about loans from Citizens Bank:
Loan amounts: Up to $150,000 maximum
Loan terms: 5, 10, or 15 years
APRs: 5.14% to 11.35% fixed APR or 3.91% to 10.77% variable rate APR
Pros
Multi-year approval is available.
You can choose to defer or make payments while in school.
Apply in 15 minutes or less with three easy steps.
Cons
36 payments required before cosigner release is available.
The autopay discount is available only to Citizens Bank customers.
Fewer options for repayment terms than some competitors.
Alternatives to PhD Student Loans
If you're looking for alternatives to PhD student loans, the good news is that there are numerous scholarships and grants available to graduate and professional students who are pursuing a PhD. You can look into tuition reimbursement programs with your employer in exchange for employment contracts as well.
Bottom Line: Getting Your PhD Paid For With Student Loans is Possible
Now you know some of the best PhD student loans available. Try to make sure you borrow the minimum by first using free funding. Then, exhaust federal student loans before shopping around for private lenders.
By approaching your educational funding this way, you can make sure loan repayment isn't a major burden after graduation.
>> Read More: Private Student Loan Interest Rates
Author: Christy Rakoczy
Christy Rakoczy is an experienced personal finance and legal writer who has been writing full time since 2008. She earned her JD at UCLA and graduated from the University of Rochester with a degree in media and communications. Her work has been featured on CNN Money, MSN Money, Yahoo Finance, USA Today, and more.
Your Guide to Financial Freedom

Money tips, advice, and news once a week

Join the LendEDU newsletter!

Thanks for submitting!

Please Enter a valid email