Credit Union Student Loans: Pros and Cons
June 9, 2015

Posted by:

Dave Rathmanner

Category:

Student Loans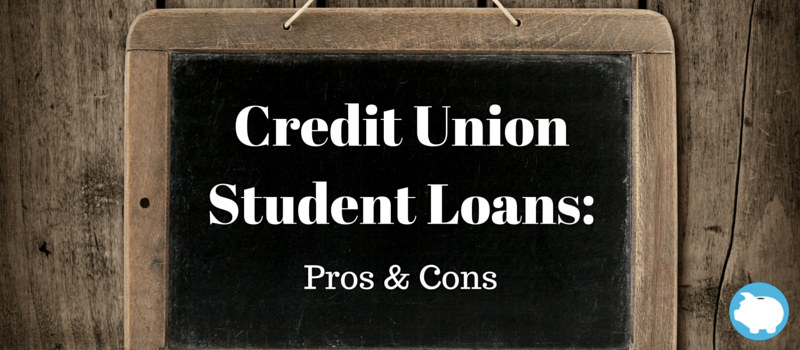 The costs of higher education have risen dramatically in recent years, consequently, it has become even harder for students and families to foot the yearly tuition bill. Most students these days turn to student loans to help pay for some of their educational expenses.
In fact, 7 out of 10 graduates are now graduating with some form of student loan debt, according to our college debt statistics. Student loans have become a necessary tool for most families. That being said, not all student loans are created equal. Today, there are plenty of lenders, banks, and credit unions entering the student loan market. In this guide we would like to highlight some of the great student loan options offered by credit unions. Credit Unions are increasingly starting to offer student loans and student loan refinance. We want to make sure that our readers here at LendEDU get the inside scoop on Credit Union educational debt products!
What is a Credit Union?
You may have heard of credit unions, but you might not be exactly sure what a credit union is. Simply put, credit unions are not-for-profit organizations who work to benefit their members, not to generate maximum profits. Credit unions do not have shareholders, they only report directly to their members who each have a stake in the organization.
Like traditional banking institutions, credit unions will accept deposits, provide loans, and serve customers with a number of other financial services. Credit unions student loans are becoming an even more popular product too! Unlike the traditional banks on Wall Street, credit unions are required to give all extra profits back to their members in the form of dividends. These dividend may be paid on a quarterly or annual basis.
Sound too good to be true?
Nope, credit unions are the real deal. Because credit unions are not focused on generating maximum profits, they can usually provided lower interest rates for borrowers. In most cases, credit union financing will have very competitive interest rates available for their members.
You might be wondering what you need to do to become a member. To become a member at a credit union you usually need to meet the membership requirements laid forth by the credit union. Typically, you must live within a certain geographical region (ex. NYC), or work within the region. After being approved for membership you will usually need to make a $1 to $5 deposit to confirm your membership.
Don't worry, you can always get this deposit back. Credit unions even offer deposit insurance by the National Share Insurance Fund. Just like the FDIC, deposits are federally insured with $250,000 in protection. Most credit unions make their membership requirements pretty clear on their website.
What Are Student Loans? How Do I Get One?
At this point you might be wondering what exactly is credit union educational financing. Credit union college loans are private student loans. Meaning, the student loan is issued by a private student loan lender. In this case, the private lender would be the credit union. In comparison to federal student loans, private student loans usually have less repayment options and higher interest rates.
However, if you are like most students these days you will probably need to supplement your financial aid package with a couple private student loans. Don't fret, private student loan interest rates are falling and have become nearly equal to their federal student loan counterparts, for some borrowers. In most cases the standard repayment term for these student loans will be 10 years. Interest rates offered will vary depending on the credit union of choice.
To get a private student loan from a credit union you will need to fill out an application directly with the credit union. Each credit union may have its own underwriting criteria used to approve application for the loan. In general, you must have above $25,000 in annual income, a good credit score, and a debt-to-income ratio below 40% in order to qualify.
If you do not meet these qualifications you will need to apply with a cosigner. A cosigner is a credit worthy individual who agrees to take responsibility for the loan should the primary borrower fail to repay. Student debt offered by credit unions can be cosigned by parents, grandparents, or really anyone.
These days, about 90% of new private student loans are originated with a cosigner. In most cases, parents act as the cosigner on the loan. The application process usually takes about 20 minutes to complete. We suggest applying at multiple lenders, including credit unions, to make sure that you find the lowest rates and best terms available. On LendEDU we allow users to get up to 9 quotes with only one application!
Credit Union Debt Student Loan Refinance & Consolidation
Student loan refinance is a popular subject in the news and media these days. If you haven't yet heard of student loan refinance or consolidation you need to crawl yourself out from under your rock. Student loan refinance and consolidation is a great option for borrowers looking to lower their interest rate on their student loans. Having a lower interest rate means having a lower monthly payment and significant savings over the long term.
Want to save on student loans? Check out Thrivent Student Loans!
| | |
| --- | --- |
| Variable Rates | 3.25% - 9.75% APR |
| Fixed Rates | 3.99% - 9.49% APR |
| Term Lengths | Up to 15 years |
| Minimum Amount | $10,000 |
| Maximum Aggregate | $120,000 |
| Fees | $0 application, origination or late fees |
| | at Thrivent's secure website |
As it sounds, student loan refinance and consolidation is the process of refinancing and consolidating old student loans into one, new student loan offered by a private lender. In recent months, more credit unions have started to get into the student loan refinance market.
The biggest, Lendkey (formerly custudentloans), is a group of over 275 credit unions who offer student debt refinance to everyone across the country. Lendkey is known for having some of the lowest rates in the industry, as low as 2.75%. Moreover, the company charges borrowers no origination or pre-payment fees. And cosigner release is even available after 12 months.
Most credit unions will allow you to refinance and consolidate federal and private student loans together. That being said, you can choose exactly which loans you would like to refinance. In order to get approved, you must have at least $25,000 in annual income, over a 680 FICO score, and a debt-to-income ratio below 40%! At LendEDU we work with a few credit unions including the Lendkey network!
What Are the Interest Rates on Credit Union Credit?
As we mentioned above, credit unions are known for having incredibly low interest rates in comparison to traditional banks. When it comes to student loans, the same is true. Credit unions have some great student loan and student loan refinance rates. In some cases, educational loans originated by credit unions may have interest rates as low as 3.25%! If you are qualified, you may be able to get rates even below federal student loan rates. Today, federal stafford loans have interest rates of 4.66% ... 3.25% is significantly lower. Please note, not all borrowers will receive the lowest rate offered. Depending on the creditworthiness of the primary borrower and cosigner, rates may vary dramatically. In general, expect rates between 3% and 8% on newly originated private student loans offered by credit unions.
On the student loan refinance side, the same story is true. Credit union college debt consolidation rates can start as low as 2.75% for qualified candidates. Interest rates on student loan refinance loans offered by credit unions usually range from 2.75% to 8.50%. That being said, most borrowers here at LendEDU are able to lock in their rate somewhere around 3% to 5%.
Negatives of Credit Union Education Financing
First off, not all people will qualify for membership within a credit union. To get a student loan from a credit union you must first become a member.
Secondly, in some cases credit unions may not be able to offer the lowest rates. If you are dealing with a network of credit unions, the rates will probably be pretty good. But if you are working with a small credit union in northern Nebraska you might not be able to get a lower rate due to a high cost of capital.
Third, some credit unions have very small customer service departments. Again, if you are working with a credit union network who offers student loans this shouldn't be a problem. But some smaller credit unions cannot afford to have large customer service teams. So you might find yourself waiting a little longer on the phone, or a couple extra days for email support.
©2015