LendKey Review: Private Student Loans and Refinancing Options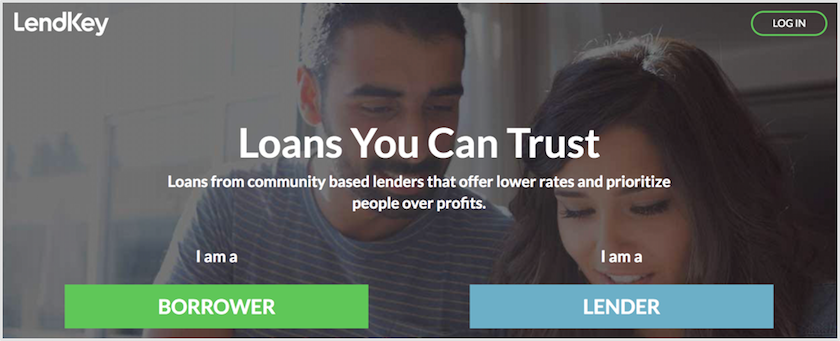 At a Glance:
LendKey is a national student loan company offering both private student loans to new students and refinancing options for graduates. Through Lendkey, borrowers have access to more than 13,000 community bank and credit union partners that offer affordable student loans.
Founded in 2009, LendKey entered the student loan market to offer a new way of shopping for, applying for, and selecting private and refinanced student loans. The financial services company works in a different way than most private student loan companies or student loan refinance companies.
Instead of acting as the bank or lender itself, LendKey connects borrowers with acceptable lenders through its network of community banks and credit unions that offer student loan solutions. Because of this difference, borrower's can often find student loan products that are a better fit for their specific loan or refinancing needs.
LendKey's partners are vetted through the company, with a focus on not-for-profit lenders like credit unions and those that offer the most competitive rates and streamlined application processes. LendKey's two loan options – private loans and refinanced loans – differ, so we have provided a full overview of each below.
On this page:
LendKey Student Loan Refinancing
What we like:
Low Variable Rates
LendKey student loan refinancing gives borrowers an opportunity to take out a new loan to pay off an existing federal or private student loan.
Borrowers can select from several lenders through LendKey's partnership network, some which offer variable interest rates, fixed interest rates, and repayment terms ranging from five to 20 years.
The interest rates offered on current LendKey student loan refinance options start as low as 2.51% APR for variable-rate loans and 3.49% APR for fixed-rate loans.
Borrowers who utilize LendKey's refinanced student loan pay no application or origination fees, and they may be able to add a cosigner to a loan application if their income or credit history is not strong enough.
This option is based on the lender offering the loan and the specific circumstances of the borrower's financial situation. LendKey makes the loan application process easy, as it is completed online in a matter of minutes. Individuals who are not sure if refinancing is best for their situation may use the company's refinance calculator on its website.
Pros of LendKey Loan Refinancing
For borrowers who want to get a lower interest rate or lower monthly payment, LendKey student loan refinancing offers several benefits. The first is the streamlined application process that takes minimal time to complete. Once a loan application is submitted, LendKey then connects borrowers with lenders that offer suitable refinanced loan options based on the information provided.
LendKey connects borrowers with multiple lenders that offer competitive rates, no origination or application fees, and in some cases, fast approval. You can check LendKey to see if you qualify for better rates using a soft credit pull rather than a full credit check, so it won't ding your credit.
Borrowers also have access to an autopay rate reduction of up to 0.25% when refinancing a student loan through LendKey. Several online resources are available to help borrowers understand if refinancing is the right solution for them, and how much they could save through a refinanced student loan.
Cons of LendKey Loan Refinancing
The biggest downside to refinancing a student loan with LendKey is the fact that not all borrowers will qualify. Lenders offering refinanced student loans want to know that the risk they take on with a new borrower is minimal, so borrowers need to have a high credit score, plus verifiable and steady income. While some lenders through LendKey may offer an option for a cosigner to help boost an applicant's approval chances, not all lenders make this available. Even if you do qualify, you'll still have to have a strong application to get the best rates.
Also, borrowers who plan to refinance federal student loans will lose valuable protections when doing so with a private lender through LendKey. This includes the loss of income-driven repayment plans, forbearance and deferment options, and loan forgiveness.
The Verdict
LendKey's student loan refinancing option may be a strong choice for borrowers who currently have federal or private student loans with a higher interest rate than what the lenders through LendKey have to offer. Because of the streamlined application process, access to multiple lenders, and variety of repayment term options, LendKey refinanced student loans may be a beneficial option for borrowers who can qualify.
LendKey Private Student Loan
What we like:
Great rates from a community of banks and credit unions
LendKey also offers private student loans to borrowers who are pursuing a degree at an accredited Title IV institution.
Borrowers have the option to select from variable or fixed interest rate loans through LendKey's partner network, and they can select repayment terms ranging from five to 15 years.
LendKey lenders offer several repayment options that allow for payments while in school, or deferred payments that do not start until leaving a degree program either by graduating or reducing attendance to below part-time status.
LendKey lenders also allow cosigners to be added to an application to strengthen the chance of approval for borrowers who have a minimal credit history or little to no income.
A private student loan from LendKey may offer more funding than is available through federal student loans.
---
Variable Rates
2.67% - 6.31%
Fixed Rates
3.25% - 7.26%
Terms
5, 7, 10, 15 or 20 years
Eligible Loan Balances
Minimum: $7,500
Maximum: $175,000
at LendKey's secure website
The loan maximums are based on the full cost of attendance, as well as the type of degree program the borrower is pursuing. Below is an overview of the main points for consideration with a LendKey private student loan.
Pros of LendKey Private Student Loans
The main advantage of using a LendKey private student loan is the access borrowers have to multiple lenders through a single platform. Based on credit history, co-signer availability, and income, borrowers may have several options for private student loans through LendKey's partner lender network.
Interest rates may be lower than on comparable private student loans, or federal loan options, because LendKey uses community banks and credit unions that often have lower interest charges. There are also no origination fees or application fees with LendKey Private student loans. Borrowers also have access to a 0.25% interest rate discount when they enroll in automatic payments.
Additionally, borrowers who do not have strong enough credit or income to qualify alone may add a co-signer to their application. Cosigners may be released with most lenders through LendKey after 24 or 36 months of consecutive monthly payments.
Cons of LendKey Private Student Loans
The most noticeable caveat to a LendKey private student loan is that LendKey requires a strong credit score and income to qualify. Without this, borrowers need to have a cosigner to get a private student loan with one of the platform's lenders.
Additionally, the interest rates on a LendKey private student loan may be higher than comparable lenders offering similar loan options, or federal student loan options. Depending on the lender you choose, you might have to pay a prepayment penalty if you pay your loans early. So be aware of any such fees before you choose a lender.
The Verdict
LendKey private student loans may be a good option for borrowers who can qualify either on their own or with the help of a cosigner. The interest rates on both the variable- and fixed-rate loans are competitive, so long as borrowers have strong credit and income.
Bottom Line
LendKey is a good choice for both refinanced student loans and private student loans for borrowers who want access to multiple lenders through a single platform. However, like other private student loan companies, LendKey's lenders require borrowers to have a strong financial foundation before they can qualify on their own.
Applying for a refinanced student loan or private student loan with LendKey is an easy process, done online, that takes only a few minutes to complete. Once the application is submitted, borrowers will know which lenders may be able to offer a loan, along with the interest rate, repayment term, and loan amount available to them.
Author: Melissa Horton
Melissa Horton has worked in financial services for the past 13 years, helping clients understand the often complex vehicles available for both lending and investment needs. She is passionate about financial literacy and strives to educate clients and the general public to empower them in making smart financial decisions.