Citizens Bank Student Loans Review: What You Should Know
November 7, 2018

Posted by:

Dave Rathmanner

Category:

Student Loans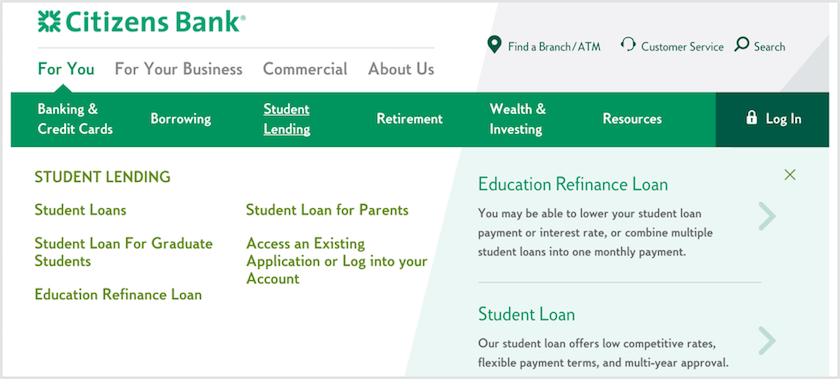 Like other major banks such as Discover, Wells Fargo, and SunTrust, Citizens Bank started to offer private student loans. Citizens Bank offers a variety of options for students who need help funding their education. In this Citizens Bank student loans review we will go over the different options they offer, their refinancing options, and the benefits of choosing Citizens Bank, also known as Citizens One.
Citizens Bank Private Student Loans
Citizens Bank has three main private student loans that they offer based on who is looking for help. They have student loans for undergraduate students, graduate/professional students, and parents of students going through college.
Each differs slightly and it is important to understand the difference before selecting which is right for you.
All of the following student loans can be used for any expense related to attending college including tuition, room and board, laptops, supplies, and much more.
The Citizens Bank Student Loan
Another great perk Citizens Bank offers is the option to reduce interest rate by 0.25% for enrolling in automatic payment and another 0.25% for those borrowers who have an existing account at the time of the student loan application.
Finally, Citizens Bank allows the borrower to choose whether they want to start paying their student loans back while in school or make interest-only payments. In the latter case, the student can pay back the principal after graduation.
The Citizens Bank Private Graduate Student Loan
Many graduate and professional schools are very expensive, leaving students with little money to put towards their student loans. Citizens Bank understands the struggle and is willing to work with students to help them best pay off their education debt.
The Citizens Bank Student Loan for Parents
In addition, when all interest rate reduction benefits are applied, Citizens Bank offers only fixed interest rates between 6.64% and 7.24%. The Federal Direct PLUS Loan has an interest rate of 6.84%. While this may not seem like much, when you are dealing with tens or even hundreds of thousands of dollars, it quickly adds up. Finally, the government requires parents to start making payments towards the loan immediately while Citizens Bank allows parents to make interest-only payments.
Am I Eligible for Citizens Bank Student Loans?
Like all other private student loans, Citizens Bank determines the borrower's eligibility based on his or her credit score and the credit score of the cosigner, if applicable. The better the applicant's credit history, the more trustworthy they are seen as, and the better interest rate they will be offered. Though Citizens Bank doesn't declare a minimum credit score that they require, typically private lenders require a minimum FICO credit score of 660.
If parents aren't approved for a Citizens Bank Student Loan for Parents loan, they are encouraged to apply their child for a Citizens Bank Student Loan with themselves as cosigners. This loan has less strict requirements and may still be a smart option for parents looking to support their child's higher education.
To apply for one of the above loans, simply visit the student loans section of Citizens Bank's website. The application is quick and easy and can be done completely online. The following information is needed for the application:
Name and contact information
​Date of birth
​Social Security Number
​Name a cost of school to be attended
​Any financial aid already received
Pay stub from the last 60 days or another proof of income
You can apply for a Citizens Bank private student loan on the company's website, but it's important to shop around first to find the lender that will offer you the lowest rate. Use our private student loan comparison tool to get rate estimates from Citizens Bank and other lenders all in one place.
Citizens Bank Student Loan Refinance
Citizens Bank has been able to set themselves apart from other lenders by offering student loan refinancing in the form of their Education Refinance Loan. By refinancing your student loans, you may be able to secure a lower monthly payment, a lower interest rate, a shorter term, and the chance to switch to a fixed interest rate.
You must have at least $5,000 in student debt to be eligible for refinancing with Citizens Bank. The maximum amount you can have to refinance is $90,000 if you have an undergraduate degree, $225,000 if you have a graduate or doctoral degree, and $300,000 if you have a medical, dental, or law degree.
You can apply for a Citizens Bank refinance loan on the company's website or use our student loan refinance comparison tool to see what interest rate and repayment term you're likely to receive from Citizens Bank and other lenders, all without affecting your credit score. Click the button below to begin comparing your personalized refinance options.
Final Thoughts
Citizens Bank has emerged as a leader in the private student loan industry. They offer a variety of options for students, such as student loans, refinancing, and have even gone as far as to offer a loan specifically for parents. In addition to their products, Citizens Bank truly has their customers' best interests in mind. On the Student Services section of their website, they offer many resources such as a Education Refinance Loan Calculator, a College Savings Goal Calculator, and a Student Loan Calendar. Finally, Citizens Bank offers unparalleled 24/7 customer support and are ready to answer your questions at any time.
Citizens Bank student loans are a great option to consider, but make sure to compare your options.
*see important Citizens Bank Private Student Loan Disclosures
*see important Citizens Bank Education Refinance Loan Disclosures
None
Citizen's Bank Refinance Student Loan
Author: Dave Rathmanner
As the VP of Content at LendEDU, Dave regularly plans and writes content to help consumers with their personal finances. Dave's work has been featured in the Chicago Tribune, Bloomberg, CNBC, US News, Yahoo Finance, NPR, and more.