This post was written by Yahya Mokhtarzada (@yahyamokh), mentor at 500 Startups and CEO at Truebill.
Student loan debt is at an all-time high with $1.2 trillion owed in the United States. According to LendEDU's student loan statistics, 69% of college graduates are under the burden of student loans, up 5% from less than a decade ago. Not only are more students graduating with debt, but the average loan size has also gone up, from $18,550 to $28,950. Additionally, the average loan size has more than doubled in the last twenty years, averaging $30,000.
Graduating college used to be a rite of passage, ushering in all the excitement and freedom of adult life. For today's graduates though, it more likely means looking forward to years of scrimping and scraping to make loan payments. Being stuck with loan debt upon graduation sucks. But what sucks even more is ponying up nearly double your original loan amount because of interest.
Let's face it, you're likely going to spend the already depressingly small budget you've set aside for beer or that concert you've been dying to go to, and you certainly don't have extra cash lying around.
So here are four tips and life hacks that will free up some extra cash flow without asking you to sacrifice any of life's finer things to get you to save on your student loans by paying them off faster.
1. Cancel Unwanted Subscriptions
Services like Boingo in-flight wifi, stamps.com and credit monitoring services can be super sneaky, so make sure you monitor your recurring payments, because even if you think you signed up for a 1-time purchase, you may still find yourself being billed monthly.
At Truebill, we created an easy-to-use tool that instantly shows you everything you're paying for on a recurring basis. Even better, we make it as easy as 1-click to cancel any subscription you don't want. 25% of our users cancel a subscription with our platform, ranging from a forgotten gym membership to a pesky in-flight wifi recurring bill, and, as a result, save an average of $512 per year.

2. Use Subscriptions to Save Money
A quick search for Gillette Fusion razors at CVS.com turned up 4 razors for $21.49… ouch. While we all love feeling silky smooth, that's over $5.35 for a single razor. Compare that with Dollar Shave Club, where razors can be had for anywhere between $1 (I know, how good a razor can it be if it costs $1) to $3 (I use these, they're great). Even if you're getting the premium, grade-A, "Executive" razors, you're still saving $120 per year with Dollar Shave Club.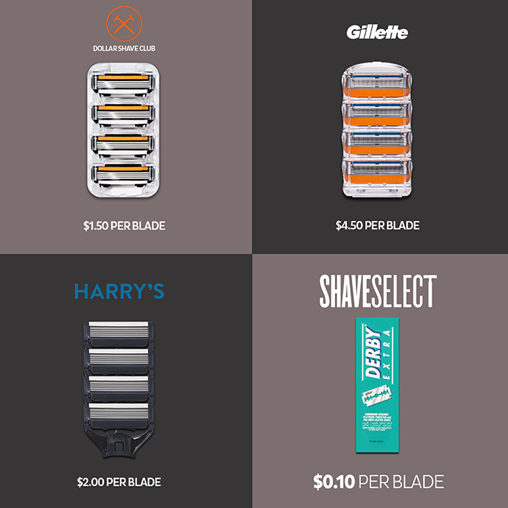 3) Sign Up for Amazon Prime
A box of Kleenex at CVS costs around $3.29, but you can score a 6-pack of those same tissues from Amazon for $9.99. If your nose is anything like mine during allergy season, you'll need all 3 boxes. You can get just about any household good at Amazon, usually for a fraction of the cost compared to a drug store. With free shipping from Prime, you have no reason not to have all your household goods shipped directly to your door.

4) Make Sure You're Paying the Lowest Amount Possible on Your Bills
The student loan you got in college may not be the best deal, so periodically check to see if you can do better – services like LendEDU can make this as easy as a few clicks. The same applies to your car insurance, cellular bill, cable bill and the sort. Often times there are promotional rates these companies will give you if you just ask.
How Much Can You Save?
Here's your typical $50,000 loan example, with 4.3% as the average student loan interest rate of calendar year 2015-2016. While there's no easy way out of student debt, paying off your loans early can really help. If you pay just an extra $20 each month, in the long run you'll save up to $1047 in interest that can be better spent elsewhere.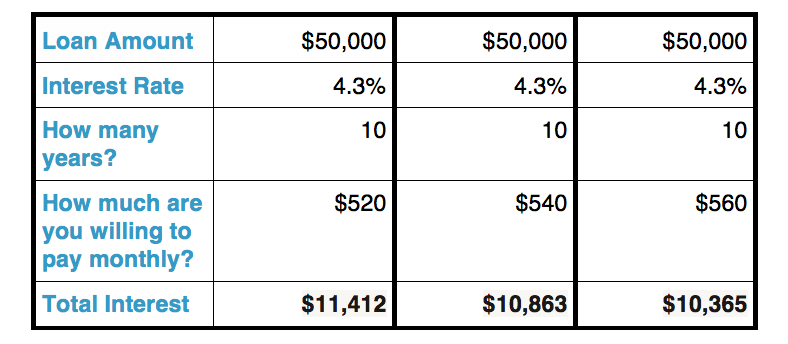 Author: Jeff Gitlen
Jeff Gitlen is a graduate of the University of Delaware. He writes about a wide range of financial topics including student loans, credit cards, small business financing, and more. His work has been featured on a number of sites including Bloomberg, CNBC, Forbes, Market Watch, and more.
Your Guide to Financial Freedom

Money tips, advice, and news once a week

Join the LendEDU newsletter!

Thanks for submitting!

Please Enter a valid email