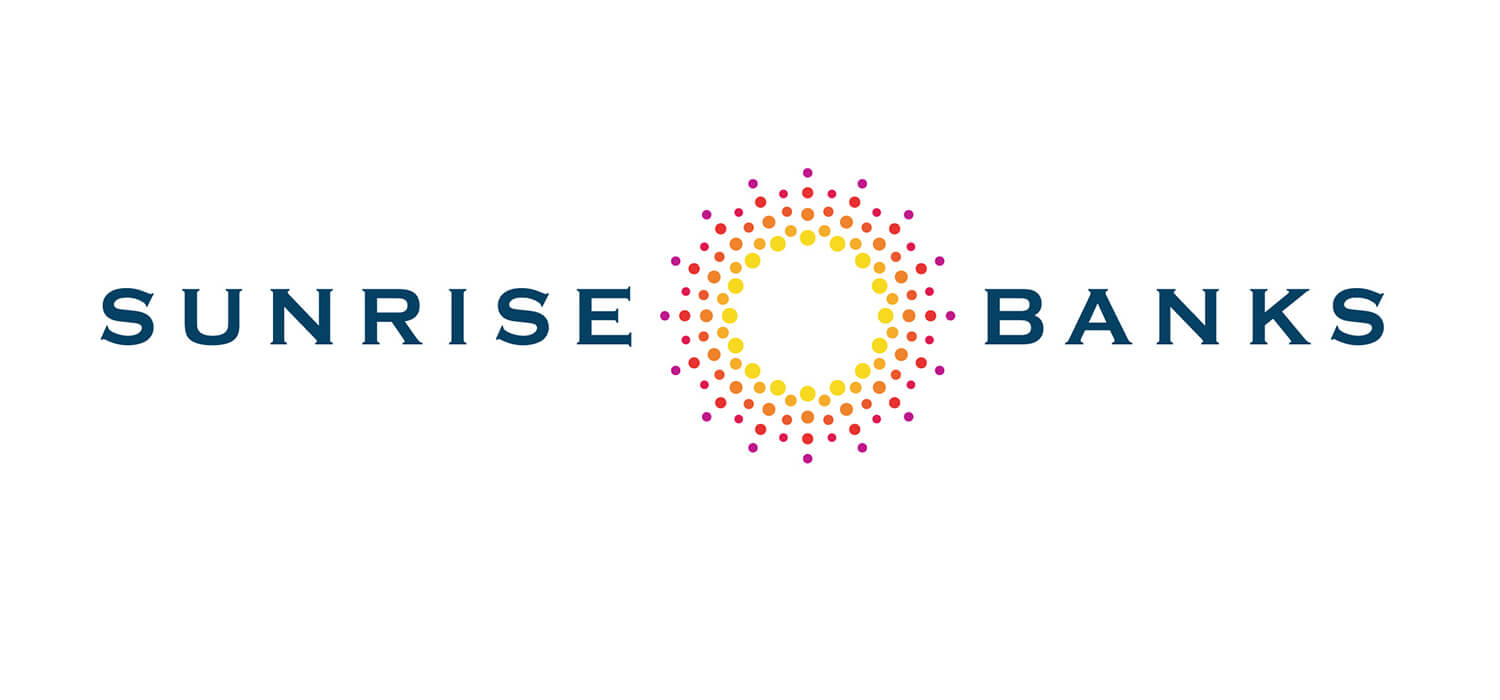 on Sunrise Banks' website
What we like:
Easy-to-understand loan terms and a simple repayment process.
| | |
| --- | --- |
| Rates (APR) | 15% or 21%, depending on the size of the loan |
| Dollar amount of payments | About $50 per month |
| Repayment terms | 12 or 18 months |
| Fees | None |
See how Sunrise Banks compares to other credit builder loans.
Founded in 1986 in Minneapolis, Sunrise Banks started as a local bank for Minnesota residents. Today, the company works with account holders nationwide and offers personal banking, commercial lending, and financial technology partnerships.
But what sets Sunrise Banks apart from other banks is that it's a certified B corporation and a member of the Global Alliance for Banking on Values. Companies must demonstrate a commitment to social, employment, and environmental best practices to meet certification requirements for these designations. As a company, Sunrise Banks focuses on sustainable economic growth.
Sunrise Banks might be a terrific option if you want a credit builder loan with no minimum credit score, reasonable interest rates, and a clear path to building better credit.
In this review:
How Sunrise Banks' credit builder loan works
The loan application process is straightforward and entirely digital. The bank lends to customers in all 50 states, and applying takes about 10 minutes.
The first step is to complete the online application. You'll pay no fees or other costs to apply. But as part of the decision process, Sunrise Banks pulls your credit report. It's standard practice for most lenders but can temporarily lower your score. After you submit your application, Sunrise often makes its loan decision by the next business day.
How Sunrise Banks helps build credit
Six primary factors affect your credit score:
Payment history
Current debt balance
Length of credit history
Credit utilization
Type of debt
New loan applications
TransUnion, one of the three major credit bureaus, states that payment history accounts for 40% of your credit score. So making your payments on time is essential. That's where a credit builder loan can help.
Sunrise offers two credit builder loan options.
| | | |
| --- | --- | --- |
| Sunrise Banks' credit builder loan options | | |
| Loan amount | $500 | $750 |
| Repayment term length | 12 months | 18 months |
| APR | 21% | 15% |
| Monthly payments | Around $50 | Around $50 |
You'll make payments toward the loan balance plus interest during the loan term.
For a $500 loan, your monthly payment would be about $46.89. You would pay $562.68 total, which equals $62.68 in interest fees over the life of the loan.
Sunrise keeps the loan funds in a certificate of deposit, allowing you to earn interest. You'll likely only make a few dollars in interest. Still, every dollar counts, and it can offset some of the interest charges you'll pay throughout the loan.
What happens after you pay your credit builder loan?
Once you complete all your payments, you'll get your funds in your Sunrise Banks savings or checking account. If you don't have a bank account with the company, you'll receive your funds in the mail via certified check.
Your credit score might increase if you make your payments on time throughout the loan repayment period. Sunrise reports every loan payment to the four credit bureaus:
Experian
Equifax
TransUnion
Innovis
To get the most out of your credit builder loan and ensure the highest likelihood of raising your score, make all payments in full and on time. Missed or late payments could harm your score, defeating the purpose of the loan.
Pros and cons of a Sunrise Banks credit builder loan
As with all financial products, Sunrise Banks' credit builder loan has pros and cons. Consider the following before you commit.
Low monthly payments:

When you apply for a loan with Sunrise Banks, you know your monthly payments will be about $50, regardless of your chosen loan. The standardized monthly payment makes it easy to plan and ensure your budget can accommodate the extra expense.

Transparent loan terms:

The loan terms are straightforward—a $500 loan with 21% APR for 12 months or a $750 loan with 15% APR for 18 months. There's no guesswork regarding loan terms or the application process. 

No fees to apply:

Sunrise does not charge fees to apply. The interest fees you'll pay throughout the loan are the only cost.
Credit report check in the application:

Certain credit builder loans don't require credit checks, but Sunrise does. The bank has no minimum credit score requirement, but a credit pull can lower your credit score. 

Only 2 loan options:

The loan terms are straightforward, but Sunrise only offers two loan amounts: $500 or $750. So if you're looking for a more personalized experience with additional options, Sunrise Banks might not be suitable. 

No option for prequalification:

The company doesn't offer prequalification, so you must complete the entire application, including a hard pull on your credit, to determine eligibility. 
Sunrise Banks' eligibility requirements and application process
No minimum credit score is required for approval.
The two most common reasons for denial are:
Bankruptcy
Expenses exceed 100% of your income
For example, if you earn $5,000 per month but your debt payments total $5,500 monthly, your expenses total over 100% of your income.
Sunrise Banks' application process is online. The company estimates it should take 10 minutes to apply. Before you begin, make sure you have the following information:
Driver's license, passport, military ID, or state ID
Social Security number
U.S. Citizenship or Resident Alien status
If you need help with your application or have questions, call Sunrise Banks at 651-265-5600, or email [email protected].
Sunrise pulls your credit report as part of the application process, which counts as a hard inquiry and could lower your credit score. After you apply, you'll learn the loan decision by the next business day.
Alternatives to Sunrise Banks' credit builder loan
You might consider other options if you want to build credit but are unsure whether a credit builder loan from Sunrise allows is best for you.
Secured credit card
Secured credit cards are the most common alternative to credit builder loans. The premise is similar but flipped. With a credit builder loan, you don't pay anything at first. Instead, you make monthly payments and get the lump sum at the end of the loan term.
With a secured credit card, you make a lump sum payment at the beginning and then access the money through a secured credit card and pay it off as you spend. You can spend up to that limit and use the card like a regular credit card.
Secured personal loans
Personal loans come in two forms: secured and unsecured. With a secured loan, you utilize an asset as collateral for the lender.
For example, an auto loan is a secured loan because the car you purchase with the loan is collateral. But that's just one type of secured loan.
Secured loans are less risky for lenders because the collateral can be a form of payment if the loan defaults. Secured loans might be an option if you have available collateral and prefer a traditional loan setup where you get a lump sum at the start.
Other credit builder loans
If Sunrise Banks' credit builder loan isn't a good fit but you are interested in a similar loan, you might consider other loans. Our team identified the best credit builder loans.
Different lenders, interest rates, repayment terms, and loan amounts are available. It's worth the effort to shop around and find an option that fits your needs.