Can You Take Out Student Loans for Living Expenses & Housing?
Many college students need help paying for housing and living expenses. Fortunately, both federal and private student loans can be used for things other than tuition and fees, like on- or off-campus room and board, personal supplies, groceries, and more.
Going to college is very expensive, with tuition and fees for most schools totaling tens of thousands of dollars annually. And unfortunately, it's not just tuition you have to worry about.
While you're attending college, you also need to be able to cover basic living expenses such as housing, food, and transportation. For many people who go to college straight out of high school, college is the first time they're responsible for these costs.
Most students, even those pursuing a graduate degree or professional certificate, don't have the income coming in to pay for all of their expenses.
The good news is student loans — both federal and private — don't have to be used solely for tuition. Student loans for living expenses can be a lifesaver, allowing you to pay for the things you need while you focus on getting your education.
On this page:
Find a Student Loan for Living Expenses
Get personalized private student loan rates and repayment options in 3 simple steps.
View Loan Options
What Student Loans Can Be Used For
Student loans are meant to be used for all expenses associated with higher education, including:
Tuition and fees
Books and other classroom supplies
Fees for licensing, certification, or professional testing
Housing (either on- and off-campus)
Groceries, toiletries, medications, and other personal items
Dependent care, provided you inform the school's financial aid office
You can't just borrow an infinite amount of money, though. Each school estimates the total annual cost to attend, including both required school fees and living expenses. This estimate is referred to as the Cost of Attendance (COA).
You're only permitted to borrow federal student loans up to their limits or the COA minus any other financial aid; whichever is lower.
When you take out student loans, the loan proceeds are distributed directly to your school by the lender. Your school deducts the cost of tuition and on-campus room and board, and you receive the remainder of the funds. If you're living off campus and the school isn't taking out money for a dorm room and meal plan, you'll get a larger refund check.
The money you get back comes in one lump sum you can use for whatever you like, but since it has to cover all your living expenses over the course of the entire semester, you should be careful to budget the cash so it lasts.
How to Use Student Loans for Off-Campus Housing
It's actually really easy to use student loan money for housing and other living expenses. Just be sure to spend the money on only the things that are absolutely necessary.
Here's how you do it:
Deposit Student Loan Refund Check: Once you receive the student loan refund check from your school, you can deposit the money into your bank account just like any other check.
Pay Rent or Other Housing Expenses: Simply write a check or make payments however you typically would from your bank account for rent as if it were your own money.
Monitor Account Balance: It's important to remember you won't get any more student loan funds until the next semester, so you should monitor your account balance to ensure you will have enough funds to afford rent for the whole semester.
Avoid Unnecessary Spending: Unfortunately, some students use student loan money for unnecessary expenses (like spring break). Be sure to reserve your student loan money on only those expenses that are absolutely necessary. Remember: you will have to repay all of the money, with interest.
Good money management practices can make your student loan funds stretch further so you can borrow smaller amounts or use some of what you borrowed to make optional loan interest payments while in school.
Advertisement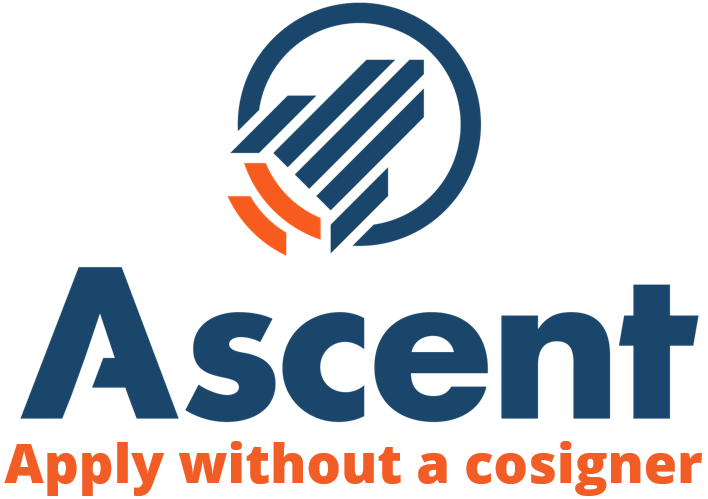 Cover In-School Living Expenses with Ascent
1% Cash Back at Graduation
No cosigner required
0.25% interest reduction for automatic payments
Federal Student Loans vs. Private Student Loans for Housing Expenses
You should be aware that federal student loan funds do not typically process until about four weeks after school starts. In order to be settled and ready for the first day of class, you may need the first month's rent and any necessary security deposits before your loan money comes in.
Private student loans are offered by banks and credit unions and are handled differently than their federal counterparts. Because approval for a private loan is based upon creditworthiness instead of financial need, the money is often disbursed directly to you to pay the expenses you need.
>> Read More: Best Private Student Loan Rates
Living Off Student Loans: Dos and Don'ts
Student loans may seem like free money, but the debt you take on can follow you for years to come. If you run out of student aid too soon, you could find yourself forced to rely on credit cards or personal loans to pay the bills — which could put you even further in debt.
Since most college and graduate students have little or no time to work and earn money while in school, it's even more important to be responsible with your spending to make sure your loan money doesn't run out and force you into this bad financial situation.
The key to keeping your borrowing costs at a minimum is to know what you should and shouldn't spend your student loan money on. Here are some things it's good to pay for with student loans:
Tuition costs and fees
School activities that enhance your resume or deepen your learning
Study abroad programs that give you exposure to different cultures and the chance to learn new things while living in a foreign country
Books and other supplies you need for classes
Essential living expenses, including reasonable rent, food, toiletries, and personal items
Tutoring or training you need to excel in your college career
Professional testing, certificates, or licensing
A computer you need to perform schoolwork
Some of the things you shouldn't use your loan funds to cover are:
Spring break trips
Nights out at bars
An expensive apartment
Designer clothing
Expensive electronics
Restaurants or takeout
Treating your friends
Buying a car you don't absolutely need to get to class (or buying a vehicle that's too expensive
Can I Get in Trouble for Misusing Student Loan Funds?
Your student loans are supposed to be used for educational expenditures and essential living expenses. If your student loan lender finds out you're misusing funds, such as by paying for spring break trips or bar-hopping, it's possible your loan could be terminated and you could be forced to pay back the full amount borrowed.
However, it's very unlikely lenders will look into what you're using the funds for or take any action if they find out you're having some fun with your student aid money.
Bottom Line
Although you want to borrow the minimum amount of money you need to attend school and have a reasonable standard of living, you need to avoid taking out too many student loans.
Student loans for living expenses are available, but it's important to use the money wisely so you don't run out of money and need to take on other consumer debt during the course of the academic year.
Author: Christy Rakoczy
Christy Rakoczy is an experienced personal finance and legal writer who has been writing full time since 2008. She earned her JD at UCLA and graduated from the University of Rochester with a degree in media and communications. Her work has been featured on CNN Money, MSN Money, Yahoo Finance, USA Today, and more.
Your Guide to Financial Freedom

Money tips, advice, and news once a week

Join the LendEDU newsletter!

Thanks for submitting!

Please Enter a valid email