ELFi Student Loan Refinancing Review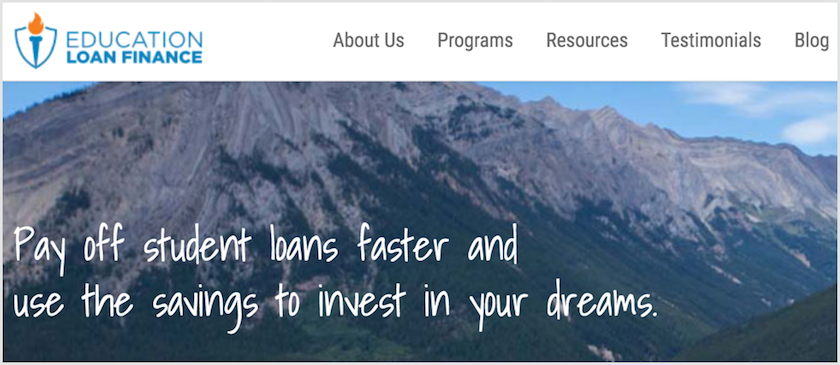 What we like:
$100 bonus for completing required paperwork within 30 days of application
ELFi is the newest company in the student loan refinancing industry. ELFi claims to be "a smarter way to refinance your student loans". In this ELFi student loan refinance review we will explain what this company does, the benefits of using them, and how they differ from other student loan refinance lenders such as SoFi, Wells Fargo, and PNC Student Loans.
ELFi is a division of SouthEast Bank, who is very respected and trusted in their local community and they hope to expand their prestige throughout the nation through the use of ELFi.
How Does ELFi Help With Student Loans?
ELFi Student Loan Refinance
As a student loan refinancer, ELFi helps borrowers repay their loans in a more cost-effective or efficient way. Student loan refinancing is the process of exchanging old federal or private loans for a new private loan, typically with a lower interest rate or lower monthly payments. Student loan refinancing is a great option for those who have graduated and have a solid job. Often, because these people are seen as more financially trustworthy, they are able to secure lower interest rates than they were initially given. Refinancing your student loans may save you thousands of dollars over the life of your loan.
Interest Rates
ELFi offers competitive student loan refinance rates for those who have over $15,000 in student loan debt and who qualify.
These rates start at 2.49% for variable interest and 3.19% for fixed interest. Fixed interest rates stay the same over the life of the loan while variable rates fluctuate with the market. Because fixed rates are safer for the borrower, they always have a higher rate.
Repayment Terms
ELFi also lets their users decide on their repayment term. The options include 5, 7, 10, 15, and 20 years.
A shorter term means a larger monthly payment but a lower interest rate, resulting in less paid over the life of the loan. A longer term may allow for a lower monthly payment, but you will pay much more overall as the interest rate will be much higher.
---
Variable Rates
2.49% - 6.01%
Fixed Rates
3.19% - 6.69%
Terms
5, 7, 10, 15, 20 years
Eligible Loan Balances
Minimum: $15,000
Maximum: No Max
at ELFI's secure website
ELFi Student Loan Consolidation
Besides refinancing, ELFi also offers consolidation. This means that if you have multiple student loans that you haven't paid off, you can combine these into one, easy to pay loan. This makes repaying your loans much more convenient as there is only one to worry about.
Unlike Federal loan consolidation, consolidating through a private lender still allows for the possibility of a lower interest rate. The government just takes a weighted average of your current loans, meaning that you won't save money in the long-run.
How Else Will ELFi Help Me?
Typically when you take out a student loan, the loan originator hands over your loan to a servicer, like Navient or AES, who will manage your payments and any issues you might have. Many people, however, aren't happy with their student loan servicers due to poor customer support of communication.
One of the main benefits of refinancing with ELFi is that they replace your old servicer with MOHELA. MOHELA is a student loan servicer with a great track record of helping their borrowers and providing them with the best customer service possible. Furthermore, ELFi has a team of student loan experts who are available to answer any questions that might arise.
The last benefit of refinancing with ELFi that we will go over is the ability to apply with or without a cosigner. If you originally obtained your student loans with a cosigner, but now are sure you can pay them off yourself and have a solid credit history, you may be able to receive your refinanced loan by yourself. Often this improves the cosigner's credit score, allowing them to pursue new lines of credit that may help them pursue large expenses such as a new car or home.
ElFi Student Loan Refinance: How Do I Apply?
ELFi has a simple 5-step application process for those looking to refinance their student loans. First, they simply request basic background information. Next, they ask a few more questions that allow them to run the your credit, resulting in a preliminary offer.
If you choose to move forward, ELFi then requests that you upload certain documents that allow them to confirm your income and other parts of your financial situation. Once they confirm your information, ELFi provides a definite loan offer. Finally, you have the option to accept the offer through an electronic signature and are able to move onto step 5—"Relax!".
Next Steps
You can apply for an ELFI refinance loan on the company's website or use our student loan refinance comparison tool to see what interest rate and repayment term you're likely to receive from multiple lenders, all without affecting your credit score.
Final Thoughts
Though ELFi is relatively new to the private student loan refinancing industry, they are backed by a reputable bank with a strong history of putting their customers first. It will be interesting to see how ELFi does in this growing market over the coming years and if they follow in the footsteps of their parent company, SouthEast Bank.
Author: Jeff Gitlen
Jeff Gitlen writes about a wide range of finance topics including everything from student loans to credit cards to small business financing. Jeff's work has been featured on a number of sites including Bloomberg, CNBC, Forbes, Market Watch, and more.