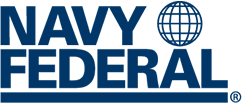 at Navy Federal's secure website
What we like:
Long/Flexible term length
Rates (APR)
6.99% – 18.00%
Loan Terms
1 – 15 years
Loan Amounts
$1,000 – $50,000
Fees
Origination fee: None

Prepayment penalty: None

Late fee: $29
See how Navy Federal's personal loan product stacks up with other options
Since starting up in 1933, the Navy Credit Union is now the largest retail credit union in the United States in terms of total members as well as total assets. Being a credit union, Navy Federal is a non-profit organization that provides financial products and services to its members.
One such service offered by Navy Federal is a personal loan. Members such as uniformed naval officers, other uniformed military members, all military veterans, Department of Defense personnel, Navy Federal employees, and family members have access to a Navy Federal personal loan. More information on this helpful service are found below.
Offers
A personal loan can be taken out for just about any reason, and a Navy Federal personal loan does not differ in this respect. There are plenty of reasons that fit into certain categories for personal loans. These reasons all come with different annual percentage rates (APR), payment plans, and loan amounts which are covered in the Rates & Terms section.
The first, foremost, and most common reason for a personal loan application is to consolidate debt. Navy Federal provides personal loans for precisely this reason. Loan applicants do this in order to save on total interest payments by opting for one loan with one interest rate versus multiple loans and rates (hence the term debt consolidation).
Navy Federal provides loans for other reasons as well, namely unexpected expenses or large purchases. If a member decides to take a big vacation, then they have the ability to take out a Navy Federal personal loan for that purpose. In addition to this, personal loans can be taken out for reasons such as medical expenses, home relocation expenses, home refurbishing expenses, and more. In reality, there are basically no limits as to what a personal loan can cover.
Rates & Terms
Before diving into personal loan amounts and APRs, the different payment plans need to be analyzed. There are several limitations and stipulations to consider when taking out a Navy Federal personal loan that are heavily dependent on the payment term.
The first payment plan milestone is 36 months. Any loan amount with a selected three year payment plan is eligible for a minimum APR of 6.99%. The maximum APR is up to 18.00%. Depending on creditworthiness, the APR on a loan can fall anywhere between this range. These rates are eligible for any loan amount most likely starting at $1,000 and above.
For loans with payment plans of 37 to 60 months, the minimum APR increases to 13.950%. The same maximum APR of 18.00% is still applicable. This APR range is applicable for any personal loan over $1,000.
Payment plans that exceed 60 months come with several requirements for approval. For payment terms between 61 and 84 months, a loan minimum of $25,000 is required. For payment terms between 85 and 180 months, the loan minimum is $30,000. The longest possible payment plan is 180 months. When exceeding 60 months, an APR of 14.45% is possible with the maximum still at 18.00%. Also, the maximum loan amount is $50,000.
Benefits
There are several good benefits to consider when applying for a personal loan from Navy Federal. The first benefit that needs mentioning is the active duty discount. Members with a personal loan out on active duty receive a 0.50% APR discount. This is an extremely beneficial deal to active members in the United States Military.
Navy Federal provides multiple other benefits that makes it much more convenient for potential borrowers. There is a monthly payment calculator that helps members understand the payment plan on a personal loan. This calculator has another feature that calculates monthly payments on an overdue credit card balance. This tool compares the differences between borrowing a personal loan and paying off a credit card balance which is helpful for members on the fence of a decision.
In the event of tragic loss of life, members do not have to worry about close family members or other liable parties getting slammed with personal loan debt. With the Payment Protection Plan option, a personal loan is cancelled and forgiven if the borrower suddenly loses his or her life.
Final Thoughts
There is much to be said about a Navy Federal personal loan. The website does not show all of its cards for this financial service, but it does reveal some important information.
The annual percentage rates are fairly decent compared to the market. While the absolute minimum is not low, the maximum is only 18.00% which is much lower than many other competitors. With that being said, Navy Federal borrowers are guaranteed to get a mediocre or decent APR on a personal loan, but they cannot get a terribly high APR or super-good low APR.
Since the Navy Federal Credit Union is a pretty exclusive group, it is impossible to borrow a personal loan without an affiliation with the military or Department of Defense. Potential borrowers who fall outside of this distinction would do well looking for a personal loan from another company such as Bank of America or Springleaf.
4.35
Navy Federal Credit Union Personal Loans
Author: Jeff Gitlen
Jeff Gitlen writes about a wide range of finance topics including everything from student loans to credit cards to small business financing. Jeff's work has been featured on a number of sites including Bloomberg, CNBC, Forbes, Market Watch, and more.
Personal Loans Information