Navy Federal Personal Loans Review
Navy Federal Credit Union offers personal loans with competitive rates and good benefits. However, there are requirements for becoming a Navy Federal member and specific ways to apply for the loan.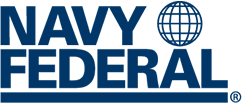 at Navy Federal's secure website
What we like:
Long and flexible term length options
Rates (APR)
8.19% – 18.00%
Loan Terms
1 – 15 years
Loan Amounts
$1,000 – $50,000
Fees
Origination fee: None

Prepayment penalty: None

Late fee: $29

See how Navy Federal's personal loan product stacks up with other options
Founded in 1933, the Navy Federal Credit Union is a nonprofit financial organization that provides financial products and services to more than 8 million members. Now, it's the largest retail credit union in the U.S.
To become a Navy Federal member, you must be associated with either the Department of Defense, National Guard, Army, Air Force, Marine Corps, Navy, or Coast Guard.
If you meet the membership requirements and are in need of financing, a Navy Federal Credit Union personal loan could be the right choice for you.
In this review:
Navy Federal Personal Loans Overview
If you want to consolidate credit card debt, finance a home improvement project, or need money for something else, you may want to consider taking out a personal loan.
If you meet the requirements, credit union personal loans, like those offered by Navy Federal, can be a good option because they tend to offer lower interest rates and less fees than other lenders.
For instance, Navy Federal caps interest rates on their personal loans at 18%. In comparison, many online lenders cap their interest rates at 36%.
Application Process & Eligibility Requirements
Before you can apply for a personal loan from Navy Federal, you have to become a member. Membership is open to the U.S. armed forces, U.S. Department of Defense, veterans, and their families.
When considering whether to approve members for a loan, Navy Federal looks at a borrower's credit history, their debt-to-income ratio, and their current employment status. However, they are sometimes willing to lend to borrowers with little-to-no credit history.
It's easy and fast to apply for a loan online. Navy Federal does have branches available in many states, though not everywhere.
Navy Federal Loan Rates, Terms, Fees, and Limits
Navy Federal Credit Union offers a variety of loan terms at competitive rates and with low fees. Here is some basic information about taking out a personal loan through Navy Federal:
Rates: Navy Federal offers personal loans with annual percentage rates from 8.19% to 18%.
Terms: Loan repayment terms are up to 180 months
Fees: There are no prepayment or origination fees.
Limits: There are no minimum qualifications to taking out a personal loan from Navy Federal. However, borrowers must membership requirements.
Pros & Cons of Navy Federal Personal Loans
Members who are either out on active duty or are retired military members will receive a 0.25% APR discount.
Navy Federal also provides useful tools to make it easier for members to repay their loans. For example, it offers a monthly payment calculator so members understand what their payments will look.
Although you may be able to find a lower rate elsewhere, Navy Federal caps its maximum APR at 18%, which is much lower than many of its competitors.
Unlike other lenders, Navy Federal will do a hard credit pull on all loan applications, so your credit score could temporarily go down as a result of applying.
You cannot take out a personal loan through Navy Federal unless you have ties to the U.S. military or the U.S. Department of Defense.
It's possible to find a lower rate with other lenders. Essentially, Navy Federal is a good option for borrowers with average credit and ties to the military — but borrowers with great credit may be able to find a better deal elsewhere.
Alternatives to Navy Federal Personal Loans
All companies seen in the table below are LendEDU
partners
who provide compensation to LendEDU. This compensation impacts where products appear within the table below.
Advertisement
Alternatives to Navy Federal Personal Loans
If you are not a military member or if you want to consider other options, there are three other lenders that you can consider. You can see our top picks for the best personal loans here or check out the following companies:
SoFi offers personal loans for borrowers with excellent credit starting at sofi-perl-36-fixlow% APR with autopay. Plus, SoFi offers flexible repayment terms and unemployment protection.
Discover is another good option. Its personal loan rates range from 6.99% to 24.99%, which is fairly typical. But Discover offers a 30-day money back guarantee on their personal loans. So, if you change your mind, you can return the money within 30 days without getting stuck paying any interest.
Wells Fargo offers unsecured personal loans with rates starting as low as 7.49% APR. Wells Fargo is a good choice because it offers repayment terms that are more flexible than what Navy Federal offers.
Bottom Line
If you need a personal loan, Navy Federal Credit Union could be the right lender for you.
It offers personal loans and other financial products for active military members, veterans, U.S. Department of Defense employees, and their family members. With the goal of serving members, Navy Federal can keep its rates low and its terms flexible.
However, you may be able to find a lower interest rate from another lender, so be sure to do your homework and consider all your options first.
4.31
Navy Federal Credit Union Personal Loans
Author: Jamie Johnson
Jamie Johnson writes about a variety of personal finance topics including student loans, credit scores, banking, investing, and personal loans. Her work has been featured on GOBankingRates, Yahoo Finance, and more.
Your Guide to Financial Freedom

Money tips, advice, and news once a week

Join the LendEDU newsletter!

Thanks for submitting!

Please Enter a valid email
Personal Loans Information