Going to college is a major step in anyone's life. Higher education can help you learn more about the world, and a degree can increase your career earning potential. The problem is that college is expensive, and borrowing money to pay for it can leave you saddled with debt.
However, alternatives like trade schools and coding boot camps can provide valuable education, but at a much lower cost than a traditional college degree.
Climb Credit bills itself as "another kind of student lender." Climb Credit partners with trade schools, coding boot camps, and other educators to help people pay for courses that will help them increase their income and start a career.
In this review:
Who's eligible for Climb Credit?
Climb Credit helps students pay for education outside of traditional colleges and universities. The problem with many trade schools or boot camps is that it can be hard to know which ones are legitimate and teach valuable skills.
The lender works directly with these programs to vet them and determine whether they are worth the money they charge. To be eligible for a loan through Climb Credit, you have to attend a partnered program.
Climb Credit uses a unique return on investment (ROI) formula to determine which programs are worth it. The formula looks at things like tuition, average increase in a graduate's salary, and how many graduates find jobs to determine the ROI. Climb only funds programs that offer a strong return.
This process is different from a traditional student lender, which looks primarily at your credit history and the credit of your cosigner. Few student lenders will consider your course of study and whether it will help you start a career.
To qualify for Climb Credit, you have to be a US citizen or resident and have good credit or a creditworthy cosigner.
Climb Credit loan details
Like with any student loan, it's important to make sure that you understand how Climb Credit's loans work before you apply. Though the company's lending philosophy is slightly different from the typical lender, its loans work just like any other loan.
| | |
| --- | --- |
| | Climb Credit loans |
| Rates | 0% – 26.47% |
| Discounts | None |
| Loan Amounts | Varies with program cost |
| Term Lengths | 24 – 60 months |
| Repayment Options | Interest-only for seven months for qualifying loans, then full principal plus interest |
| Fees | 5% origination fee |
| Cosigner | Not required, but allowed |
Pros and cons of the Climb Credit loan
Before applying for a loan from Climb Credit, consider these pros and cons.
Get assistance with paying for trade school or boot camp

Loans can pay for tuition and living expenses

No cosigner requirement

Climb Credit vets programs to make sure you will get a valuable education
Climb Credit does not approve loans for all programs

High origination fees add to the cost of the loan
How to apply with Climb Credit
Climb Credit makes it easy to apply for a loan directly from its website. Here are the steps:
Visit the Climb Credit website and click Apply Now
Search for the school you want to attend to see if it is a Climb Credit partner
Fill out some inputs asking for personal information
Enter more personal and financial information. Climb Credit will give you a list of loan options
Select the loan that you want and submit your application
The screenshot below is of the third step in applying for a Climb Credit loan.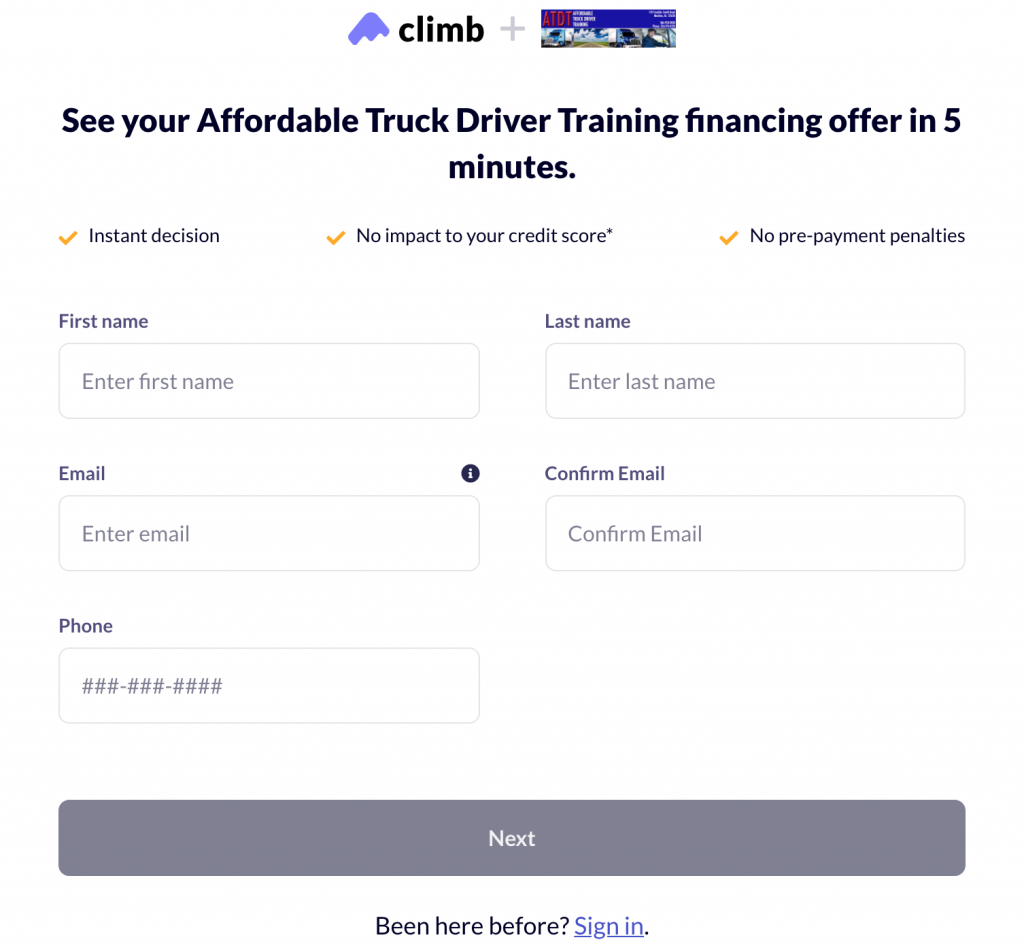 The screenshot below is of the fourth step in the Climb Credit application process.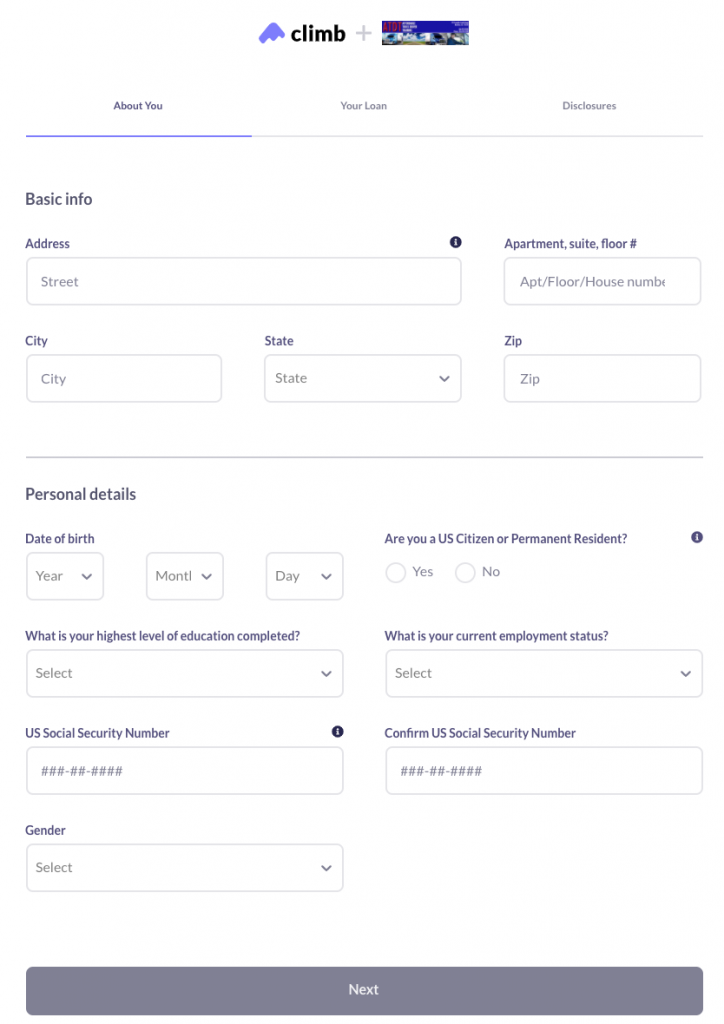 Repayment options
With a traditional student loan, you can typically defer payments until after you leave school. With Climb Credit, you don't have that option.
In most cases, Climb will start sending you monthly bills for full principal and interest payments one month from the day that your loan is funded. How long you have to repay your loan will depend on your program.
Typical loans from Climb Credit have a term of 36 months. Students pursuing a master's degree can choose a repayment term of either 24 months or 36 months. Those seeking a doctorate can choose a term of either 48 months or 60 months.
None of Climb Credit's loans charge an early repayment fee, so you have the freedom to pay the loan off early if you want to. If you attend certain eligible schools or programs on a full-time basis, you may qualify for an interest-only payment period while you're studying and looking for a job. This interest-only period can last for up to seven months. Part-time programs are not eligible for interest-only payments.
Where to find Climb Credit alternatives
Climb Credit is one option for people that need help paying for tuition. It has several good features, including the fact that it will offer loans for trade schools and boot camps. However, it isn't the only student loan company out there. Comparing your options may help you find a good deal and save you some money.
We have several other related resources that can help you find the financing you need. Here are some worth considering:
If you are attending a traditional college or university, traditional student loans, especially federal, are likely better than Climb Credit's loans. If you've already considered your federal options, you can check out our picks for the best private student loans.
To learn more about Climb Credit, check out our interview with its CEO Angela Ceresnie.