If you're a millennial with student loan debt and you're worried about your future – you're not alone. Studies show that the significant amount of student loan debt that millennials are graduating with, coupled with the bad job prospects that they face upon graduation, could potentially have long term effects.
On average, recent graduates are carrying around $35,000 worth of student loan debt. This level of debt is enough to make a big difference when it comes to the trajectory of millennials' lives but the fact that many millennials also graduated at a time when youth unemployment was soaring didn't help matters.
But unemployment isn't the only problem. Youth underemployment has also posed a problem with many millennials not able to get jobs in their chosen fields right out of college.
This is likely to have huge repercussions on future earnings for millennials. Many economists think that millennials won't be able to overcome the unemployment and underemployment that they are experiencing early in their careers.
Because of these challenges, many millennials' lives won't follow the same trajectory that other generations' did. So, how will student loan debt affect millennials lives over the next 50 years?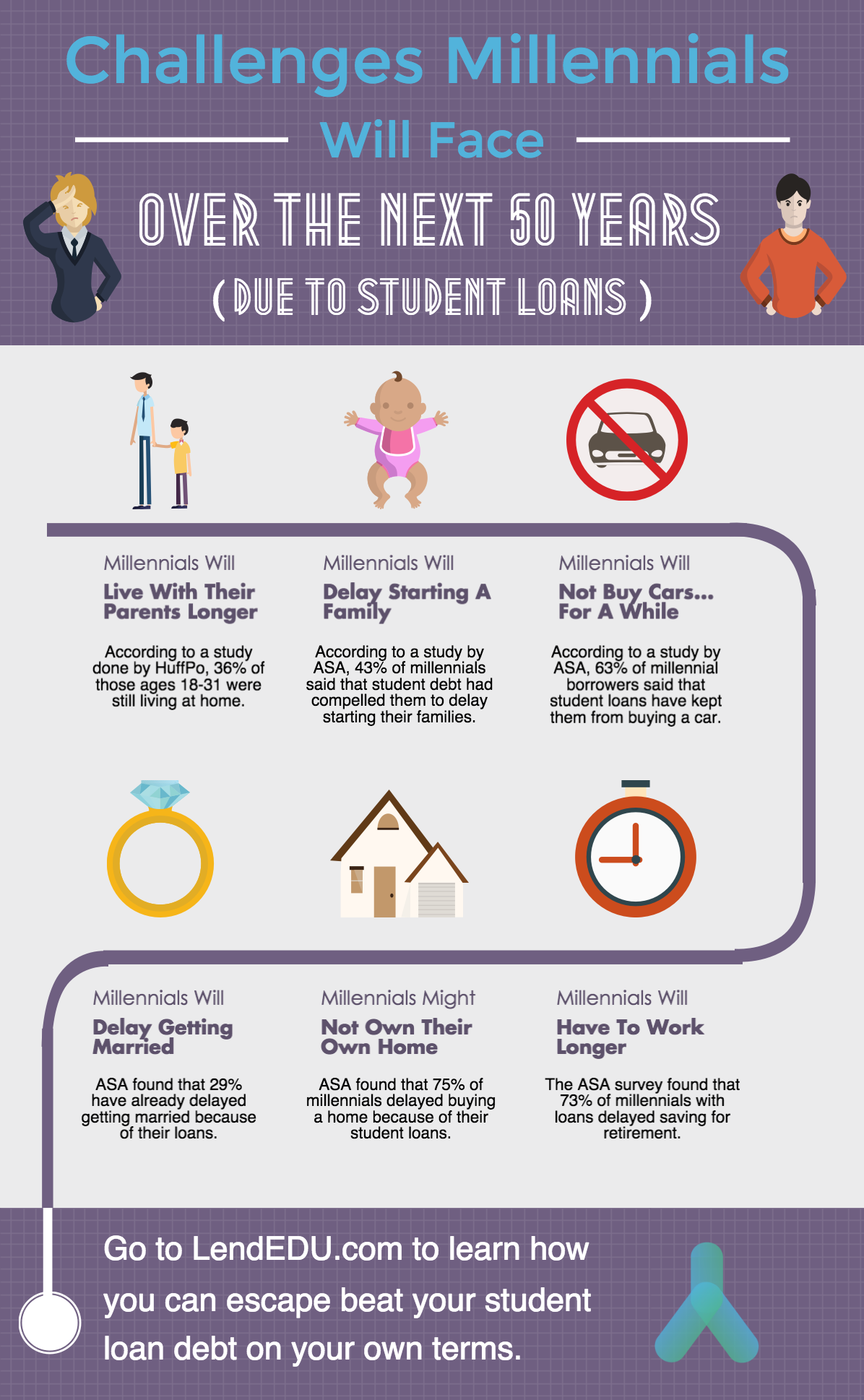 Millennials Will Live With Their Parents Longer​
Statistics are already showing that student loan debt has contributed to more millennials returning to live at home after college. In fact, a 2013 study showed that 36% of those who are age 18-31 were still living at home.
​This is likely because many millennials are unable to pay both their student loans and rent on their own apartments. Living at home might also be a way for some millennials to save some money in order to pay off their student loans more aggressively.
Millennials Will Delay Starting A Family​
Student loans will also likely affect millennials' ability to start a family. According to a 2013 study by American Student Assistance (ASA), 43% of millennials said that student debt had compelled them to delay starting their families.
Having children is expensive since there aren't just direct expenses like diapers, food and clothing but also indirect expenses like having to get a bigger apartment or a car. For many millennials, they just don't have the money.
As these student loan borrowers get older, some could even miss out on having their own children because they could delay it too long.
​Millennials Will Not Buy Cars… For A While
You often hear that millennials aren't buying cars because more of them are living in cities, but studies are showing that student loans are a huge factor in the decision for many millennials. The ASA study showed that 63% of millennial borrowers said that student loans have kept them from buying a car.
Compared to some of the other life milestones that student loans are affecting, not being able to buy a car is probably the least important. But car ownership can be critical to people who live far from public transit. Having a car in such situations is likely necessary to get around and get to work.
Millennials Will Delay Getting Married
Getting married is expensive and many millennials with student loan debt just can't afford a wedding. For that reason, some will delay getting married as they pay down their student loans. In fact, ASA found that 29% have already delayed getting married because of their loans.
Of those who are putting off marriage, many might hope to afford to pay for a wedding in the future once their student loans are paid off. Others might be waiting to get married because they don't want their partners to feel responsible for their debt. While a spouse is never legally responsible for repaying student loan debt accumulated prior to marriage, their income could affect their husband or wife's eligibility for income based repayment plans​.
Millennials Might Not Own Their Own Home
Of all the milestones that millennials might miss out on or have to delay because of student loans, buying a home is likely the one that will affect the largest number of millennials. ASA found that 75% of millennials delayed buying a home because of their student loans.​
Buying a home is the biggest purchase most people will ever make in your life, so it is not surprising that many millennials are having a hard time finding room in their budgets. One of the biggest barriers is likely the fact that millennials are having a hard time saving up for a down payment.
Millennials Will Have To Work Longer​
​The ASA study also showed that because of their loans, millennials might not have enough saved when they reach their retirement years. Their survey found that 73% of millennials with loans delayed saving for retirement.
Because of compound interest, money saved at an earlier age will end up being worth more upon retirement. By delaying saving for retirement, millennials will likely have to save more over their lives. They will also likely have to work longer and retire later than other generations.​
Avoid Being One Of The Statistics
If you're still in school, the first thing that you can do is to avoid student loans or to take out fewer loans over the course of your degree. To do this, you might need to attend a cheaper college or work while in school.
If you do already have student loans, it's important that you do what you can to pay them down as aggressively as possible. While saving money by living at home is a popular method for doing this, you can also look for ways to save money on your expenses or make more money to apply towards your loans. There are plenty of other ways to put yourself of the fast track to repayment.
You could consolidate private loans together for just one, new interest rate. Keep in mind that there are both federal and private options for loan consolidation, but there are some key differences between the two options to keep in mind. You also have the chance of signing up for an income-driven repayment plan which may actually leave you off the hook for a portion of your debt, but once again, keep in mind that there is certain criteria for qualifying for such a plan.
Author: Dave Rathmanner
As the VP of Content at LendEDU, Dave regularly plans and writes content to help consumers with their personal finances. Dave's work has been featured in the Chicago Tribune, Bloomberg, CNBC, US News, Yahoo Finance, NPR, and more.