How to Get Student Loans for Studying Abroad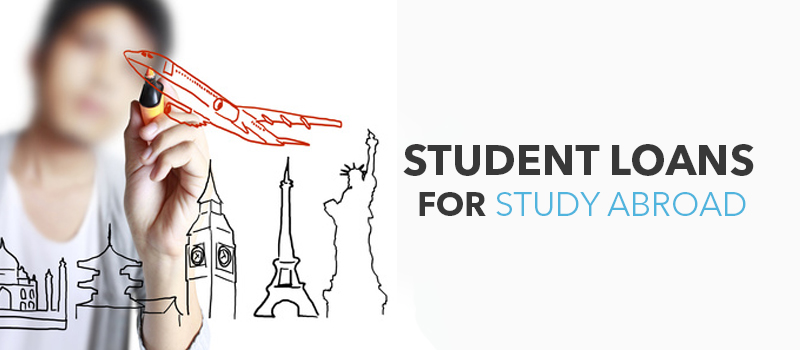 In the global education environment of today, more American students are choosing to complete part of their higher education at schools outside the United States. The U.S. government actually encourages students to do this.
If you're just beginning to think about schooling overseas, you may not know that there is more than one way to finance your overseas education. The plan you choose can affect your wallet and your degree. Two primary paths are often chosen, and they are enrolling full-time at a college overseas, or joining a study overseas program. Either one can be paid for with funds from student loans for studying abroad.
If you are looking for help paying for study abroad, you can compare rates and terms from the top lenders in the industry to get study abroad loans:​
Lender

Rates (APR)

Loan Types

Term (Years)

Variable Rates:

3.99% - 11.03%*

Fixed Rates:

6.26% - 12.99%*

Undergrad, Graduate, & Professional

Up to 15 

Variable Rates:

3.22% - 9.89%2

Fixed Rates:

5.24% - 11.76%2

Undergrad, Graduate, & Parent

8, 10, 12, or 15

Instantly Compare Private Student Loans

Find out what rates you are eligible for in 3 simple steps!

Variable Rates:

3.00% - 10.01%1

Fixed Rates:

5.74% - 11.85%1

Undergrad, Graduate, & Parent

5 - 15 1

Variable Rates:

2.751% - 9.589%

Fixed Rates:

4.751% - 11.044%

Undergrad & Graduate

7, 10, or 15

Variable Rates:

2.99% - 9.99%1

Fixed Rates:

5.25% - 11.75%1

Undergrad, Graduate, & Parent

5, 10, or 15

Fixed Rates:

3.63% - 8.93%

Undergrad & Graduate

10
How to Enroll in a Foreign Learning Institution
If you choose to obtain your degree from a foreign school, you are not alone. You may choose a foreign school because of its good reputation or a specific degree they offer that is not readily available in the US. Or, you may wish to immerse yourself in a new culture.
One common reason to choose studying abroad is that you can obtain the same degrees you can get here, but for a cost that is often much lower. Some schools abroad, like those in Canada, New Zealand, Australia and the United Kingdom, participate in the United States student loan program.
This means that if you enroll in foreign participating schools, you are eligible for Stafford, Graduate PLUS and Parent PLUS loans to finance your schooling abroad. You will probably not be eligible for state aid or federal grants. Many students supplement their scholarships with the best private student loans for study abroad trips, especially if they attend schools participating in the US loan program.
When you fill out your Free Application for Federal Student Aid (FAFSA), which you should do regardless of where you intend to attend school, you can see a list of schools that participate in the program.
Study Abroad Trips
If you just want an international experience, you can study for one semester overseas. Then you can obtain your degree at a school in the United States. In situations like this, your financial aid will be processed by your US school, which potentially makes you eligible for federal loans, state aid and grants.
Your US school can coordinate your financing with your overseas host school. Your credits will apply to the degree you pursue at your US college. If you wish to participate, your US school must have a mutual agreement with the overseas school you wish to attend.
Most universities and colleges that have partners overseas have pages on their websites that list the schools with which they partner. Sometimes partnerships can be created, so speak to your financial aid officer at your US college about a potential partnership. Then your student loans for study abroad can be used at these schools.
What Can You Do If You Want to Study Overseas?
You have multiple financial aid opportunities when you are interested in studying abroad. Lets review those options.
Ask your local college financial aid office. They may know of programs that can help if you want to study abroad.

Search websites for schools with overseas scholarships.
Enroll in a school in the United States first, one that has a study-abroad program. Then the school can help handle the financial hassles when you study overseas.
There are a few downsides to this plan. The school you are interested in overseas might not have a partner school in the US. In addition, you may be disappointed to learn that you typically will not be approved for study abroad for over a year. You can supplement the scholarships or grants that help your overseas study with student loans for studying abroad, to stretch the time allowed overseas.
Many students enjoy having American friends while overseas, but you may feel that American programs don't allow you to become as immersed in the culture of the host country as you would like.
Transferring Financial Aid for Study Abroad
There are many schools overseas that have been approved to receive US federal education loans. If your overseas school cannot help with your use of your study abroad loans, you can transfer to a college that is on the list of approved schools.
Persuading Schools to Become Approved
If there are many Americans at the school you attend overseas, or the school would like to attract more students from the United States, they will benefit by becoming approved by the US. There are many reams of paperwork to be filled out, of course, but it's easier than transferring your financial aid for learning abroad. Many other schools have gotten on the approved list in the United States. This may help future students more than you, since approval for overseas schools by the US government can be slow.
One Payment Method to Avoid
However tempting it might be to charge your overseas tuition and living cost to your credit card, don't do it. They charge high interest rates and demand payments every 20-25 days. Even if you're only a day late, you can be charged large penalties.
Most companies that issue credit cards will not loan students a large amount of money. While they may be helpful if you have some type of emergency, credit cards are not substitutes for student debt for study abroad.