How to Get Student Loans for Studying Abroad
There are options to get student loans for studying abroad, but it's important to compare these options and make a smart financial decision.
While most people who pursue an international education say it's an excellent experience, one of the biggest barriers for people considering it is the cost. The average cost of studying abroad is around $17,785 for a semester, according to the International Institute of Education.
So, how do you pay to study abroad? There are different options available, including study abroad loans, and students should explore them all to see which could be a good fit for their needs.
Jump to a section:
Using Federal Aid to Study Abroad
In some cases, a student might be able to use federal student aid to study abroad. The school at which they will study must be an approved school by their home university, however.
If a student is applying to a study abroad program, they should contact the financial aid office at their home school to determine what they might need to do to receive aid to study in another country.
If you are planning to use federal aid to study abroad, you will need to complete the Free Application for Federal Student Aid (FAFSA) if you haven't already.
Along with the school you attend in the United States and the school you want to attend overseas, there are other factors that play a role in whether or not you can use your federal aid.
These factors include the type of program you plan to participate in and whether you're an undergraduate or graduate student. You might want to find out whether you qualify for federal student loans to study abroad. Getting a student loan from the U.S. Department of Education can provide you with lower-interest funding—including PLUS loans or Direct loans.
Studying for a Semester or a Year
Whether you're planning to study abroad just for a semester or an entire year is a factor that can affect whether or not you might be able to get aid and how you can use it. You have to contact the financial aid office of your American school to figure out eligibility requirements.
It's a good idea to start this as soon as possible because you have to complete the necessary paperwork and requirements—not only at your U.S. school but also your school abroad.
Earning a Degree From an International School
If you plan to earn a degree from an international school, the process is different from just studying abroad there for a period of time. You will need to choose a school that participates in the U.S. federal student aid programs.
You won't have the financial aid office of a home school to help you in this case, so most of your communication will be with the school you plan to attend. The school will likely have an office that works with international students.
Private Student Loans for Study Abroad
Along with federal student loans, when you want to study abroad, you might consider private loans. However, this isn't always the right option for everyone. With private student loans, you can receive funding, but you might pay higher fees and interest rates than you would with federal loans. You have to weigh whether or not your loan options are a good long-term decision.
One type of private loan is a study abroad loan or foreign-enrolled loan. A foreign-enrolled loan is school-certified, which allows you to take out a loan amount up to the total cost of your education, less any financial aid. You typically must be a U.S. citizen or permanent resident to be eligible.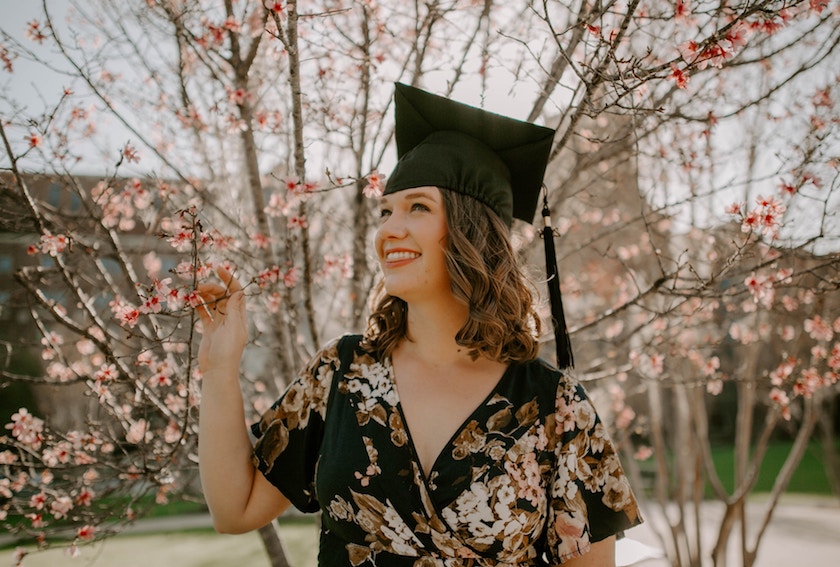 Find the Best Student Loans
Compare rates from 4.07% APR
Pros and Cons of Private Study Abroad Loans
One of the pros of using a private loan to study abroad is the fact that they're fairly easy to secure. You don't have to go through the student aid offices of your home school and the school abroad and deal with as many of the logistical elements as you do with federal aid. The application process can be fairly simple as well, and you may be able to complete it online.
As far as the cons, private student loans will usually require a cosigner unless you have good credit and enough credit history. They also can have higher interest rates than federal loans and fewer flexible repayment options.
Alternatives to Study Abroad Loans
You can find other options to help pay for studying abroad, but weigh your options carefully. Ideally, you might want to seek out the least costly way to pay for studying abroad, but you might need to use a combination of methods to fund your travels.
Credit Cards
Most financial experts will tell you that credit cards should be the last option you turn to if you want to study abroad. Credit cards often have very high interest rates, and they can be damaging to your credit. If you can find another way to achieve your study abroad goals, it's best to do that. You're also going to be responsible for paying credit card debt back while you're still studying, which may be very difficult.
International Student Scholarships
There are scholarship programs geared specifically toward international students and students who plan to study abroad. These programs can be an excellent option if you qualify because this is essentially free money you can use for your studies, and you don't have to pay it back.
International student scholarships work like domestic scholarship programs in most cases. Many are merit-based, and there might also be some need-based scholarships. Some may also be destination, program, and subject-specific.
A few examples of the many international and study abroad scholarships include:
The International WaterCentre (IWC) offers scholarships for international students who want to study for a Master of Integrated Water Management degree. This program covers tuition and full living expenses.
The GoEuro Scholarship is designed to help people experience Europe. There are 10 individual scholarships offered to students who are interested in studying abroad in Europe.
The Buddha Teas company offers the Buddha Teas Fair Trade Scholarship Program for students who are going to attend a fair-trade university or focus on international studies. The award is up to $1,000 that can be used for educational expenses.
ScholarTrips is a scholarship contest that gives away six $2,500 scholarships to students who want to volunteer abroad or study abroad. Applicants should submit a personal information form and a 500-word essay.
Find Sponsors or People Willing to Donate
Finally, another way to fund your studies abroad without accruing debt to do so is to find sponsors or people who will donate. You can hold a fundraiser, set up a GoFundMe, or ask family members to help you.
If you are going to be asking people you know, ask for small donations, and do so in a personal way. Also, let them know in detail what you plan to study and where you're going. Anyone who might be willing to donate is likely interested in the backstory and details of your plans.
Bottom Line
If you are eligible for federal student loans in the U.S., you may be able to use that funding to study abroad. You may also be able to fund your studies abroad using private loans for college.
However, there are other options to either eliminate the need for loans or supplement the funding you receive from loans. You can consider options such as scholarships, grants, or sponsorships if you'd like to make your dream of studying abroad happen without taking on too much debt.
Author: Jeff Gitlen
Jeff Gitlen is a graduate of the University of Delaware. He writes about a wide range of financial topics including student loans, credit cards, small business financing, and more. His work has been featured on a number of sites including Bloomberg, CNBC, Forbes, Market Watch, and more.
Your Guide to Financial Freedom

Money tips, advice, and news once a week

Join the LendEDU newsletter!

Thanks for submitting!

Please Enter a valid email