Student Loan Hero Review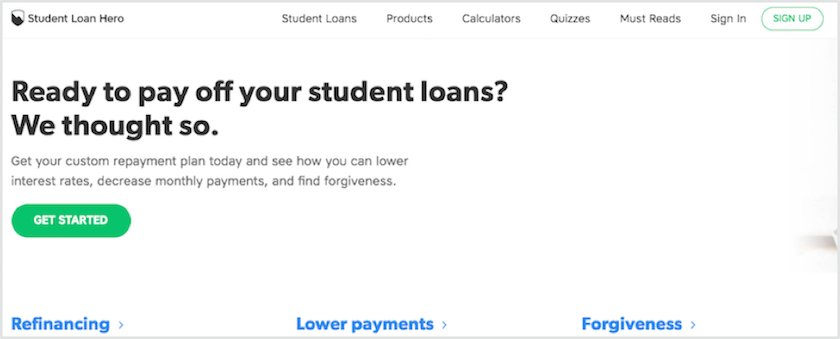 Student Loan Hero is a student loan aggregator tool that allows you to import and see all of your student loan information in one place. The platform also suggests strategies for how to best manage your student loan repayment. The company was started in 2012 by Andrew Josuweit and is based in Austin, Texas.
He started Student Loan Hero because he was struggling with his own repayment after graduating college with $74,000 in student debt. He had 16 student loans that were being managed by four different loan servicers. Three years after graduating, his student loans had ballooned to over $107,000. His goal in launching Student Loan Hero was to create a solution that would help students organize, manage, and repay their student loans easily by helping to simplify and explain complex student loan repayment options.
How Student Loan Hero Works
To get started, you set up an account and input your federal student aid ID and password so they can sync your Student Loan Hero account with your federal loans. Depending on your private student loan servicer, you can either sync your private loans with Student Loan Hero by inputting your password or upload your loan information manually.
The Student Loan Hero dashboard then organizes your loans based on their interest rates so that you can see how much you owe and the status of each of your loans. They will show you how much interest you're paying on a daily basis, and how much you'll pay over the life of your loan. The platform will also show how much of your monthly payment goes towards the principal and how much covers your interest charges.
Student Loans
Find the Best Private Student Loans.
Private student loans can help pay for school after you hit federal limits. Compare student loan rates without affecting your credit score.
View Loan Options
College Ave Student Loans
Student Loan Hero helps borrowers make choices and evaluate the options available when it comes to repaying their student loans. For example, it will show you the federal student loan payment plans that you qualify for and give you the background you need to choose which one is right for you. They also have calculators that show you how much you could potentially save if you refinance your private loans and whether or not you should be paying off your debt faster or investing your extra cash instead. They also have a calculator that allows you to see how much your debt would grow if you were to put your loans into deferment or forbearance.
Benefits and Drawbacks of Student Loan Hero
The company's easy to use platform allows you to quickly understand your student loans and what your options are. Their calculators and payment slider make it easy to see how you can potentially pay off your debt faster and whether paying off your debt faster is the best financial move in your situation.
Student Loan Hero makes money by recommending partnered lenders who are willing to help you refinance student loans. If you use Student Loan Hero, you might still want to shop around for the lender that's right for you rather than just going with ones that they recommend as you might be able to get a better deal.
There are also other options when it comes to student loan aggregators that offer slightly different services and tools than Student Loan Hero offers. Depending on what you're looking for, you might appreciate the information that you get via Student Loan Hero and the ability to make your own informed choice.
Customer Support at Student Loan Hero
Student Loan Hero has great customer support that you can access by filling out a form on their website. If the platform isn't working for you or if you have a question about repaying your student debt, you can easily contact them and get a speedy response.
Student Loan Hero Trustworthiness
Student Loan Hero has an A+ rating from the Better Business Bureau and no reviews of the business. They do not currently have a Trustpilot rating as they have zero reviews on the site.
Author: Jeff Gitlen
Jeff Gitlen writes about a wide range of finance topics including everything from student loans to credit cards to small business financing. Jeff's work has been featured on a number of sites including Bloomberg, CNBC, Forbes, Market Watch, and more.