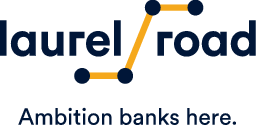 at Laurel Road's secure website
What we like:
Economic hardship support
| | |
| --- | --- |
| Fixed APR | 3.50% – 7.02% |
| Variable APR | 3.23% – 6.65% |
| Loan Terms | 5, 7, 10, 15, 20 years |
| Loan Amounts | $5,000 up to your total outstanding loan balance |
See how Laurel Road's student loan refinancing product stacks up with other options
Darien Rowayton Bank, now known as Laurel Road, is another popular student loan refinance lender. Laurel Road was founded in 2006 and is located out of Darien, CT. If you are considering refinancing your educational debt, you have likely heard of SoFi, Earnest, and Citizens Bank, but Laurel Road might be a better fit for you. This Laurel Road student loan refinancing review will discuss what this company offers and what it means for you.
Aside from student loan refinancing, Laurel Road offers a variety of banking services to individuals as well as businesses. They provide checking and savings accounts, debit cards, retirement products, mortgage products, investment options, and much more. Though Laurel Road mainly serves the Connecticut towns of Darien, Rowayton, and Southport, they offer student loan refinancing for the entire nation.
Laurel Road Student Loan Refinance
Student loan refinancing is the process of exchanging old student loans for a new one with different terms. The new loan may have a different interest rate, monthly payment, or repayment length. Laurel Road allows their customers to refinance both federal and private loans into a new private one. To learn more about student loan refinancing and consolidation, check out our refinance student loans guide.
Laurel Road (A Division of Darien Rowayton Bank) offers extremely competitive student loan interest rates to their customers. Variable interest rates start at 2.80% APR and fixed rates start at 3.37% APR. They explain that they believe their users have earned these rates due to their hard work in completing college and earning a job.
The minimum loan amount to refinance with Laurel Road is $5,000 but there is no maximum. Borrowers can refinance up to 100% of their outstanding student loans.
One perk of using Laurel Road for refinancing is that they allow their customers to choose between five different loans terms. All available terms are 5,7, 10, 15, and 20 years. Laurel Road lets the customers choose from whichever repayment terms they are approved for. A longer repayment term means lower monthly payments but also a higher interest rate. This means that choosing a longer term means you will pay more over the life of the loan, and vice-versa.
What Are the Benefits of Refinancing With Laurel Road?
There are many benefits of refinancing with Laurel Road. First off, like many other lenders, they charge no origination or prepayment fees.
Another benefit that Laurel Road offers, that many other lenders do not, is unemployment protection. If a borrower loses his or her job or face some other form of economic hardship, Laurel Road will allow for partial to full forbearance of payments for up to a year. Furthermore, Laurel Road will forgive the loans of borrowers who die or unexpectedly become permanently disabled.
The last benefit, that many lenders also provide, is a discount for automatic payments. Laurel Road calls it automatic electronic fund transfer, or EFT. Laurel Road will provide you with a 0.25% if you automatically make your payments each month through any type of checking account.
Am I Eligible?
U.S. citizens who have a bachelors, graduate, or professional degree and a job and parents who took out student loans for their children are eligible to refinance with Laurel Road. In addition, the individual must have at least $5,000 in educational debt.
To determine if you are eligible for refinancing, and to determine your personal interest rate, Laurel Road will run a credit check. In addition, having a decent income and a debt-to-income of no more than 30% both increase your chances of being approved.
If you do not have good credit or have little credit history, you may still be approved for Laurel Road's refinancing if you have someone cosign on your loan. A cosigner shares the repayment responsibilities of the main borrower, lessening the risk for Laurel Road and making them more likely to work with you. Typically, a cosigner is a parent, guardian, or another close adult.
How Do I Apply?
The process for refinancing with Laurel Road is quite simple. There are four main steps:
Fill out a quick, 10-minute application and authorize the credit check
Provide photo identification, recent pay stubs, proof of graduation, and a student loan statement
Accept the loans of the term that Laurel Road provides and sign the promissory note
Laurel Road enables you to set up automatic payments with any checking account​
If you have any trouble with your application, Laurel Road is standing by ready to help. To contact Laurel Road, call (855) 245-0989.
Final Thoughts
If you are tired of spending so much on your student loans, refinancing may be a great option for you. Lowering your interest rate could save you thousands over the life of your student loans. Laurel Road offers some unique benefits and has competitive interest rates.
4.44
Laurel Road
Author: Jeff Gitlen
Jeff Gitlen writes about a wide range of finance topics including everything from student loans to credit cards to small business financing. Jeff's work has been featured on a number of sites including Bloomberg, CNBC, Forbes, Market Watch, and more.