Bank of North Dakota Student Loans Review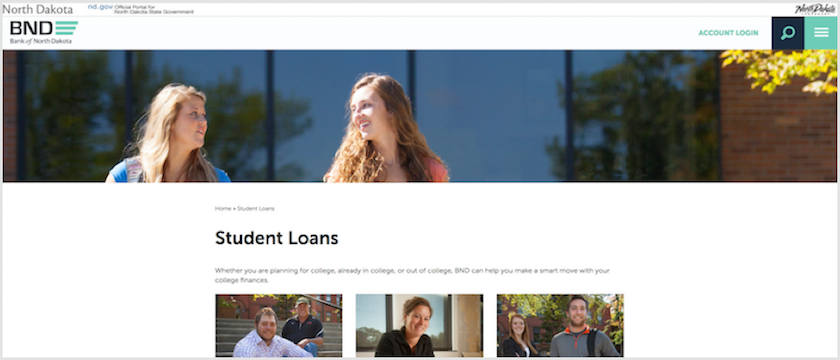 In 1919, the North Dakota government set up the nation's first publicly owned state bank—the Bank of North Dakota, or BND. The bank functions mostly by working with other local financial institutions. When someone needs a loan, a local credit union or bank will originate it and BND will help fund it.
BND's funding allows these local institutions to compete with the larger national banks, like Citizens Bank and Wells Fargo, which have become so popular lately. Because BND supports local banks and credit unions, North Dakota has the more banks per capita than any other state.
BND offers a variety of loans to its customers, including business loans (40% of total portfolio), student loans (31%), home mortgages (17%), and farm loans (11%). All of these loans are disbursed with the help of local institutions besides student loans—in which BND directly loans to students.
For mortgages, BND acts as a secondary market for local residents, refinancing mortgages originally started with other banks.
BND has generated over $1 billion in the past 20 years, donating just under half of that, or around $400 million, to the state.
This money is used to improve education and public services while reducing taxes. BND has a very unique approach to banking and the state of North Dakota has surely benefited.
Student Loans
Find the Best Private Student Loans.
Private student loans can help pay for school after you hit federal limits. Compare student loan rates without affecting your credit score.
View Loan Options
College Ave Student Loans
Bank of North Dakota Student Loan Offerings
Bank of North Dakota offers both new private student loans and student loan refinancing to its customers. Only those who are from the eligible states or those who plan to attend college in one of the eligible states are eligible for the new loans. Furthermore, only those who are residents of an eligible state or those who already have a BND student loan are eligible for refinancing through BND.
Private BND Student Loans
BND offers the DEAL Student Loan for those looking for additional help funding their college. When federal loans other forms of financial aid aren't enough, BND can help. The DEAL Student Loan can be used for any expenses related to college; including tuition, room and board, books, and anything else you may need. The minimum loan amount is $500 and the maximum is $50,000.
The DEAL Student Loan has rates that start at 2.75% for variable interest and 4.83% for fixed interest. It is important to keep in mind that though the variable rate is much lower, it will fluctuate over time based on the market. Fixed interest rates, on the other hand, are guaranteed to stay the same over the life of the loan.
The DEAL Student Loans have a 3.75% administration fee but BND covers this for North Dakota residents and those attending a school in North Dakota. In addition, there is a fee for late payments of 6% of the payment amount. The late fee cannot exceed $15.00.
Like most private student loans originated today, there three repayment plans for the DEAL Student Loan. Borrowers can choose to make full payments while in school, make interest only payments while in school, or deter payments until after graduation. Though each has the repayment term of the same length, if you choose to make payments while in school, you will save a lot over the life of the loan.
Finally, there are a few benefits that BND offers on their DEAL Student Loan. First, borrowers will receive a 0.25% discount for signing up for automatic payments. In addition, borrowers can choose which day of the month they want their repayment to be due. BND will also help you if you struggle with your repayment through a variety of plans. Lastly, BND allows a cosigner release after 24 consecutive, on-time payments are made.
Who is Eligible for the DEAL Student Loan?
In order to be eligible for the DEAL Student Loan you must meet the following requirements:
Must be an existing BND student loan borrower OR be a resident of, or attend an eligible school in, one of the following states: North Dakota, South Dakota, Minnesota, Montana, Wyoming, or Wisconsin
​Must be a U.S. citizen
​Must not have any student loans in default
​Must complete the FAFSA
​Must have certification of your enrollment and eligibility at your school
You, or an eligible cosigner, meet the cosigner requirements
How Do I Apply for the DEAL Student Loan?
After completing the FAFSA and receiving your financial aid information, you may apply for a DEAL Student Loan here. If you are using a cosigner, which most will need to, he or she will be sent an email asking them to complete his or her portion of the application.
After you have applied, BND will send a certification request to your school to confirm your status. If the school confirms, BND will send you a Loan Approval Disclosure and a Borrower Self Certification. Once they receive these back, BND will send the Loan Final Disclosure. If you still want the loan, then no further action is required. If you decide you do not, you can cancel by using the Loan Final Disclosure. If you do not cancel, the funds will be sent to your school.
BND Student Loan Refinancing
Aside from new student loans, BND also offers student loan refinancing in the form of the DEAL One Loan. For more information about this, check out our complete guide on the best student loan refinance options. In short, refinancing is the process of trading in your old loans for a new one with either a new interest rate or repayment term. Often, creditworthy borrowers can obtain much lower interest rates, saving them thousands over the life of their loans.
Click here see what refinancing options you are eligible for with one, free application that doesn't hurt your credit!
Borrowers can refinance both federal and private student loans and the rates are the same as the DEAL Student Loan—2.01% for variable interest and 5.02% for fixed interest. A 0.25% interest rate reduction is available for those who sign up for auto-pay. Furthermore, there are no limits on how much in student loan debt is eligible to be refinanced.
Who is Eligible for the DEAL One Loan?
In order to be eligible for the DEAL One Loan, you must meet the following requirements:
You must have a DEAL Student Loan or be a resident of an eligible state (see above)
​You, or your cosigner, must meet the credit criteria
​You must be a U.S. citizen
Your loans must be in grace period of repayment status
Your loans cannot be delinquent or in default
How Do I Apply for the DEAL One Loan?
You can apply for the DEAL One Loan here. Like the DEAL Student Loan, if you need a cosigner, they will be sent a separate email to complete the application. After this, you will need BND will review your application and send you the Loan Approval Disclosure and Federal Student Loan Benefits Waiver. After you submit these, BND will send you a Loan Final Disclosure, which only requires action if you plan to cancel your application for the DEAL One Loan. Finally, BND will send a payment to your old lender to pay off your previous loan.
Final Thoughts
Though the Bank of North Dakota only has student loans and refinancing for those in select states, they offer competitive interest rates and appealing benefits. Furthermore, BND will be your servicer if you choose either of the above options—an advantage over some of the larger student loan companies who use third-party servicers, like Navient or AES.
If you are from one of the eligible states, definitely consider BND as your choice for new student loans and refinancing old ones. We give our stamp of approval here at LendEDU!
4
Author: Jeff Gitlen
Jeff Gitlen writes about a wide range of finance topics including everything from student loans to credit cards to small business financing. Jeff's work has been featured on a number of sites including Bloomberg, CNBC, Forbes, Market Watch, and more.