We recommend Unlock for buy-out flexibility as it is the only company that offers partial buy out payments. Keep in mind it is only available in Arizona, California, Colorado, Florida, Michigan, Minnesota, Nevada, New Jersey, North Carolina, Oregon, South Carolina, Utah, Tennessee, Virginia, and Washington

on Unlock's secure website
What we like:
Best for buy-out flexibility
| | |
| --- | --- |
| State eligibility | Arizona, California, Colorado, Florida, Michigan, Minnesota, Nevada, New Jersey, North Carolina, Oregon, South Carolina, Utah, Tennessee, Virginia, and Washington |
| Minimum credit score | 550 |
| Investment amount | $30,000 – $500,000 |
| Term length | Up to 10 years |
See how Unlock compares to other home equity sharing companies
Founded in 2020 and based out of San Francisco, California, Unlock is on a mission to allow homeowners to access their home equity without taking on debt or monthly payments.
Unlock is currently operating in Arizona, California, Colorado, Florida, Michigan, Minnesota, Nevada, New Jersey, North Carolina, Oregon, South Carolina, Utah, Tennessee, Virginia, and Washington, but plans to expand into other states soon.
In this Unlock review, we'll walk you through how the company works and how it compares to other companies to determine if it's right for you.
In this review:
How does Unlock work?
Unlock isn't a home equity lender. Instead, it's a real estate investor that pays you a lump sum of cash in exchange for a percentage of your home's equity. Unlock is paying you today for the right to share in the future value of your home.
Since this is an investment and not a loan, homeowners gain access to much-needed cash without taking on debt. And don't worry, you'll still own and live in the home just as you had before. The only difference on the property itself is that Unlock will place a lien to secure its investment.
Existing customers have used Unlock to pay off existing debt, make home improvements, and pay for a child's education.
How does Unlock determine how much to invest?
Unlock investments are capped at $500,000, or up to 43.5% of your home's market value. There's also a maximum loan to value (LTV) of 85%. These caps are part of the company's Total Home Finance calculation to determine the maximum cash offer it can make to someone.
Here's an example of the Total Home Finance calculation in action:
Let's say you have a home valued at $500,000 with outstanding mortgage debt of $300,000. You submit a request to Unlock to receive an investment of $50,000. If Unlock sets an exchange rate of 1.6x (meaning you receive 10% of your home's value in cash while Unlock gets 16% equity in your home), then your Total Home Finance equals 76%. This 76% is calculated by adding your LTV of 60% ($300,000/$500,000) and your Unlock investment of 16%.
In addition to the limits discussed, Unlock lists four other things that can influence the amount of cash you can receive. These include:
Your home's current value (a higher-valued home will have more cash available)
Pre-existing housing debt (the less debt you have, the more cash available)
Creditworthiness (a good credit history can qualify you for more cash)
Use of property (owner-occupants may be able to receive more cash)
The easiest way to determine how much cash you can get from Unlock is to visit its website and fill out its online quote tool, which can be completed in just 60 seconds. You can also use the calculator pictured below on its website to experiment with different scenarios.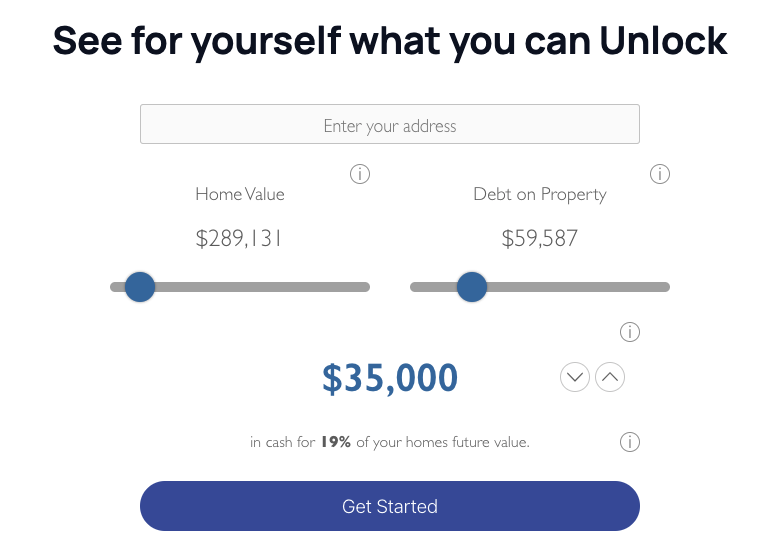 A screenshot from a calculator on Unlock's website from September 22nd, 2021.
How does the term of the agreement work?
When you accept a home equity sharing agreement with Unlock, you agree to receive cash now in exchange for equity in your home. However, this doesn't mean Unlock will hold on to that equity forever. Instead, it gives you 10 years to buy out its position, or you'll need to sell your home at the end of the term.
Here's a breakdown of how each repayment option works:
Buying out Unlock
You can start buying out Unlock's position at any time following the six-month anniversary of the agreement's effective date. This buy-out can be done with a lump sum payment or through partial payments throughout the term. As of February 2nd, 2022, Unlock is the only home equity sharing company that allows partial payments.
An independent third-party appraisal will be needed since there is no sale price to determine how much Unlock's share is worth. Once this valuation is calculated, a settlement statement will be created outlining the amount you'll need to pay to buy out Unlock.
When the final buy-out payment is made, the lien on your home will be released, and your agreement with Unlock will end.
There is no prepayment penalty for buying out Unlock before the end of the 10-year term.
Selling your home to repay Unlock
If, at the end of your 10-year term, you have not bought out Unlock's position, you will be required to sell your home to settle the agreement. In this event, you'll receive your share of the sale price, minus Unlock's equity share and any outstanding mortgage debt.
Once the sale is completed and Unlock has received its share, the agreement will end.
Does an Unlock investment come with any costs?
According to Unlock, a typical agreement can exchange 10% of your current home value (cash you receive) for 16% of the home's future value (Unlock's share). While this annualized cost can never exceed 18%, you're still receiving less cash today than the appraised value of the equity you're giving up. So, it's important to consider this exchange in calculating the overall cost of receiving cash from Unlock.
While there are no monthly payments or accrued interest, there are some other expenses you'll be responsible for. These include a 3% origination fee of Unlock's investment, plus any required third-party costs to appraise, inspect, and record your transaction.
Pros and cons of an Unlock home equity shared agreement
No monthly payments or accrued interest
Large investments are available
Funds can be used for anything
An easy online form allows you to get a cash estimate in just 60 seconds
A hard credit check is not needed to check your eligibility
Added value through home improvements are not included in the amount Unlock shares
No income requirement
Poor credit is accepted
Cons
Currently only available in 15 states
The percentage of equity Unlock receives is larger than the cash value you receive
May need to sell your home at the end of the term if you can't afford to buy out Unlock
Customer ratings and reviews
With customer reviews playing an increasingly larger role in the decision-making process, several platforms have emerged to help consumers compare financial services companies. Two such platforms include the Better Business Bureau (BBB) and Trustpilot.
The BBB collects reviews and complaints from customers to assign a rating representing the BBB's opinion of how likely the business is to interact with its customers. Trustpilot gives each company a rating that represents the average rating of all existing reviews on the platform for that company.
Here are Unlock's ratings from the BBB and Trustpilot as of February 2nd, 2022:
| | |
| --- | --- |
| Source | Rating |
| BBB | A- |
| Trustpilot | 4.6 out of 5 (95 reviews) |
Unlock eligibility requirements
Unlock's eligibility requirements are much more inclusive than a home equity lender. The reason for this is simple: Unlock is paid back when you sell your home, or you choose to buy out its position in the house, not by earning interest through monthly payments. Since Unlock doesn't need to evaluate your ability to meet repayment obligations, it can extend its services to more homeowners, including those with low income or poor credit.
Here are some of Unlock's eligibility requirements:
| | |
| --- | --- |
| Eligibility requirements | |
| Minimum equity in the home | Typically at least 20% |
| Minimum credit score | 550 |
| Minimum age | 18 |
| Maximum LTV | 70% |
| Citizenship | U.S. citizen or permanent resident |
| Properties | Residential, including owner and non-owner occupied |
| States | Arizona, California, Colorado, Florida, Michigan, Minnesota, Nevada, New Jersey, North Carolina, Oregon, South Carolina, Utah, Tennessee, Virginia, and Washington |
How do I apply with Unlock?
Applying for an Unlock investment can be started online by filling out a short form that will display your preliminary terms.
In general, the application process will look like this:
Fill out the online form to determine how much cash you are eligible to receive in minutes.
If you like the terms, create an account and upload the required documents. These can include things like a government-issued ID, a mortgage statement, and more.
Once you set up your account, Unlock will verify your information and provide an Investment Estimate.
Schedule a call with an Unlock representative to discuss your Investment Estimate and any questions you may have.
Once you voice your intent to proceed, an appraisal and insepection of your home will be conducted.
If everything looks good, you'll be issued an Investment Closing Statement with your final terms.
Sign the Investment Closing Statement with a notary and receive a wire with your funds.
From start to finish, the application process typically takes 30 days. In some cases, it can be completed in as little as 10 days.
How Unlock compares to other companies
While Unlock is a new company, its team includes some of the most experienced in the home equity sharing space. This experience has allowed the company to create a product that consists of all of the expected features of a home equity sharing agreement, plus some features not yet seen in the industry.
We compared Unlock to the other home equity sharing companies in the industry to determine the best. Our analysis focused on seven categories: eligibility requirements, investment amount, fees, the application process, buyout options, benefits, and customer reviews.
In the table below, we'll break down how Unlock performed in each category. If Unlock didn't receive the highest score in a given category, we've included an alternative company that scored equally or higher to help you compare your options.
| | | |
| --- | --- | --- |
| Product category | How it compares | Alternative |
| Eligibility requirements | Excellent | |
| Investment amount | Excellent | |
| Fees | Average | Hometap |
| Application process | Excellent | |
| Buyout options | Excellent | |
| Benefits | Excellent | |
| Customer reviews | Great | Hometap |
For a more direct comparison, check out our Unlock vs Unison, Unlock vs Hometap, Unlock vs Noah, or Unlock vs Point comparisons. Or, check out a few Unlock competitors and alternatives.