---

on Sproutt's website
What we like:
A unique Quality of Life Index that can lead to savings on your policy
| | |
| --- | --- |
| Type of Life Insurance | Term life insurance is available online. Whole life, universal life, and guaranteed life insurance are available over the phone. |
| Coverage | $50,000 – $5 million |
| Age Limits | 18 – 100 |
| Term Lengths | 5, 10, 15, 20, 25, or 30 years |
See how Sproutt compares to our top-rated life insurance companies
Sproutt, founded in 2018, is an online life insurance marketplace based in Hartford, Connecticut. The company doesn't write policies but uses data and artificial intelligence to assess customers' needs and match them with well-established life insurers.
This review will discuss how Sproutt works, what it offers, the pros and cons, and more. Read on to find out whether Sproutt can help you get the life insurance you need.
In this review:
Reputation & customer ratings
A young company, Sproutt has yet to receive many customer reviews. However, the company has strong Trustpilot and Better Business Bureau ratings.
Accurate as of May 31, 2023.
In addition to these ratings, Sproutt is backed by Guardian Life Insurance, one of the largest life insurance companies. Guardian Life has an A+ BBB rating and an A++ (Superior) rating from A.M. Best Company.
Who are Sproutt's partners?
As a marketplace, Sproutt partners with many top life insurers to offer the best rates. Before you apply, it could be helpful to know who these partners are. The available carriers include:
| | |
| --- | --- |
| Carrier | A.M. Best Rating |
| AIG | A (Excellent) |
| American National | A (Excellent) |
| Assurity Life Insurance | A- (Excellent) |
| Banner Life | A+ (Superior) |
| John Hancock | A+ (Superior) |
| Lincoln Financial | A+ (Superior) |
| Mass Mutual | A++ (Superior) |
| Minnesota Life | A+ (Superior) |
| Nationwide | A+ (Superior) |
| Penn Mutual | A+ (Superior) |
| Principal | A+ (Superior) |
| Prudential | A+ (Superior) |
How much does Sproutt cost?
The costs of life insurance coverage vary based on many factors, including:
Policy type
Where you live
Age
Health status
Amount of coverage
Insurance provider
The example below is for a healthy 26-year-old man living in New Jersey who does not smoke: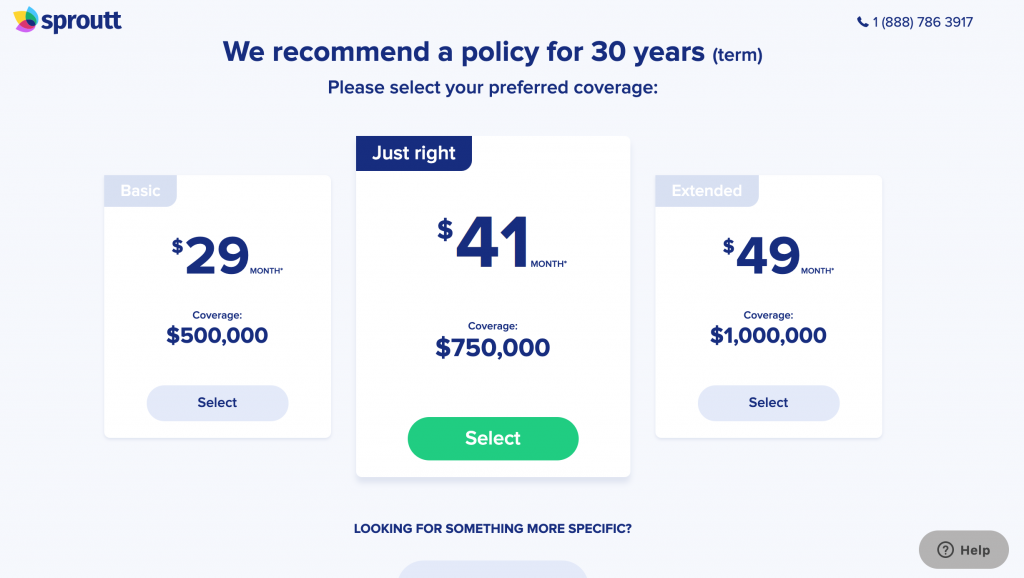 How to apply
Get a personalized quote online from Sproutt after answering 12 basic questions. We have included screenshots from our application. As you apply, expect to answer the following questions.
Step 1: Who can we help you protect?
Step 1 asks who you plan to protect with your life insurance policy. The options include your kids, your spouse, or others. You can select multiple options.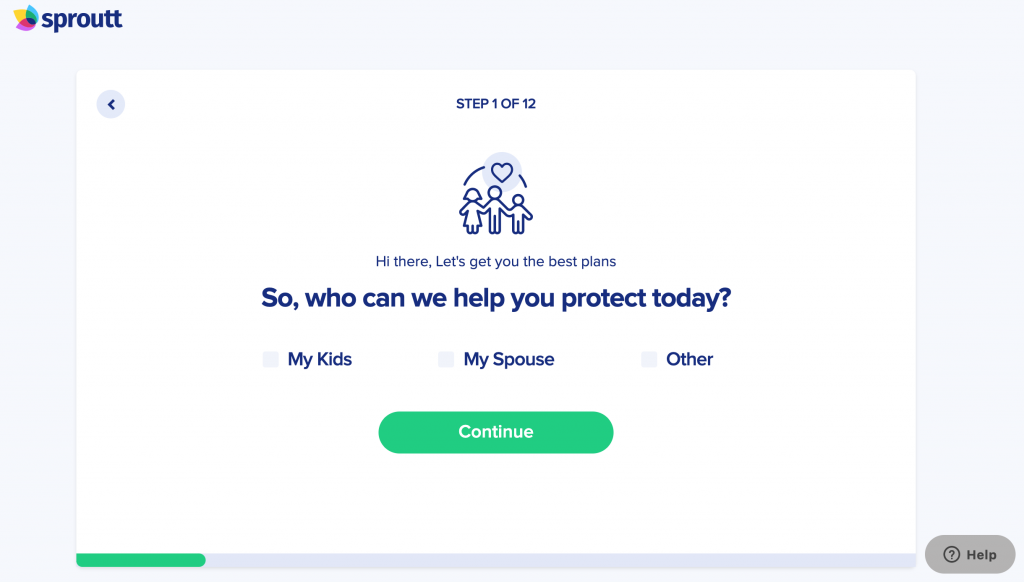 ---
Step 2: Where do you live?
Step 2 asks where you live. This will help Sproutt determine which policies to consider when finding you a match.

---
Step 3: What's your gender?
Step 3 asks for your gender. As it states below the question, gender might affect your rates.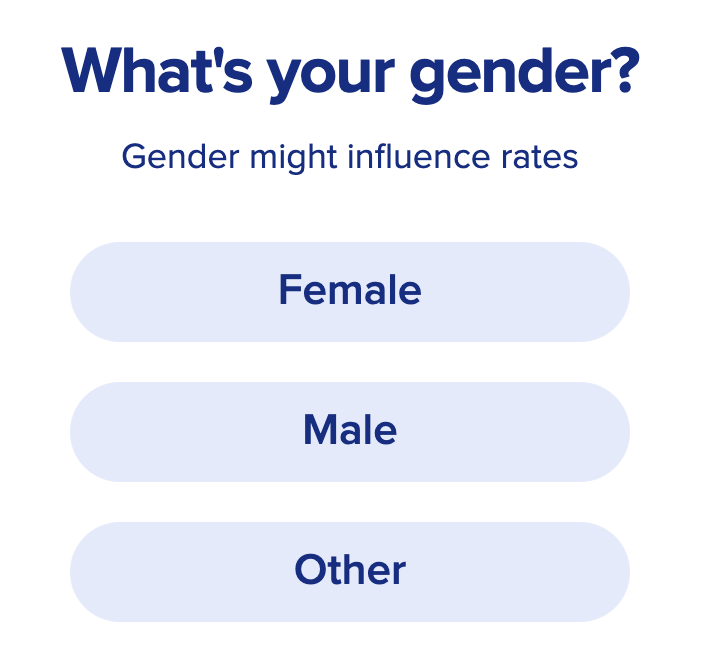 ---
Step 4: When were you born?
Step 4 asks when you were born. This allows Sproutt to confirm you are between the required ages of 18 and 100. In addition to determining eligibility, age can influence the rates you'll pay. Typically, the older you are, the higher your rates.

---
Step 5: Are you a smoker or nicotine user?
Step 5 asks whether you smoke or use nicotine. This is a common question on life insurance policies. Smoking can mean higher rates.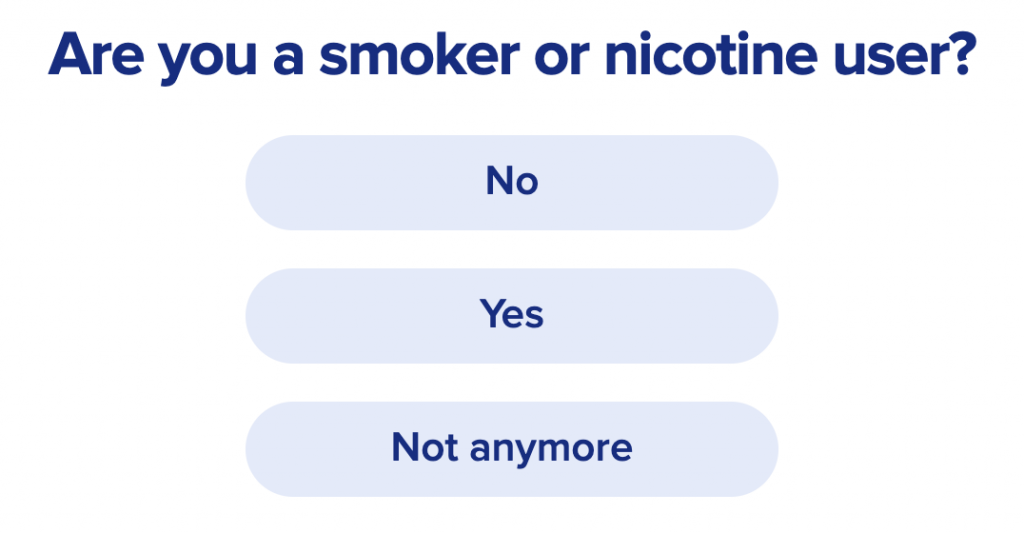 ---
Step 6: How would you describe yourself?
Step 6 asks whether you would consider yourself healthy or average. Being active and healthy is important to Sproutt, and the company wants it to be important to you too. If you're healthy and active, you might score lower rates.

---
Step 7: What's your height and weight?
Step 7 asks for your height and weight. This helps Sproutt determine your overall health.

---
Step 8: What's your annual income?
Step 8 asks for your annual income so the company can match you with an affordable policy.

---
Step 9: How is your credit rating?
Step 9 asks about your credit rating. Your credit rating can help determine your financial strength.

---
Step 10: What is more important to you?
Step 10 asks whether your monthly payment amount or insurance coverage amount is more important. Your answer will help Sproutt pick a policy you're more likely to approve.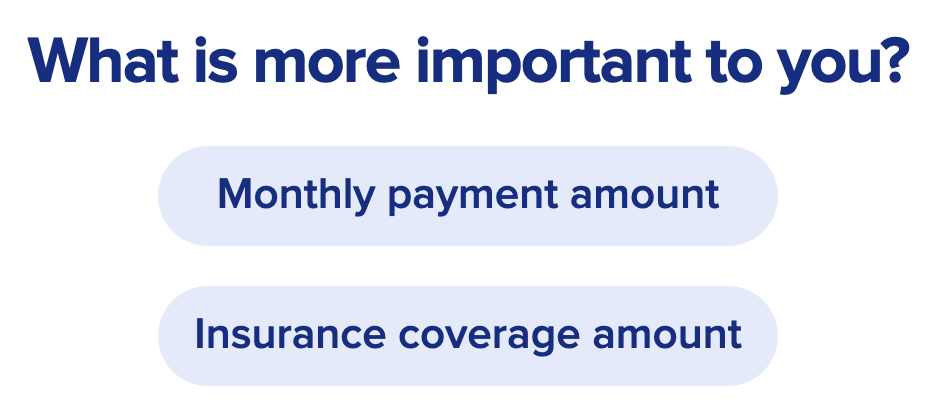 ---
Step 11: Have you been taking prescription medication in the last two years?
Step 11 asks about prescription drugs you've taken in the last two years. Prescription drugs are important to life insurance providers because they can signal a current condition or have long-term side effects.
---
Step 12: Will you be willing to take a medical exam?
Step 12 asks whether you're willing to take a medical exam when applying for life insurance. If you're healthy, an exam can lead to lower rates. If you prefer not to take an exam, regardless of the reason, Sproutt will match you with a provider that doesn't require it.

---
See your match or customize your policy
Once you complete the application, Sproutt will analyze your results and match you with the policy offering you the best rate. You can choose between one of three policies based on Sproutt's recommendation.
If you want to customize the policy further, click the "customize" button at the bottom of the page and make changes to the coverage and term.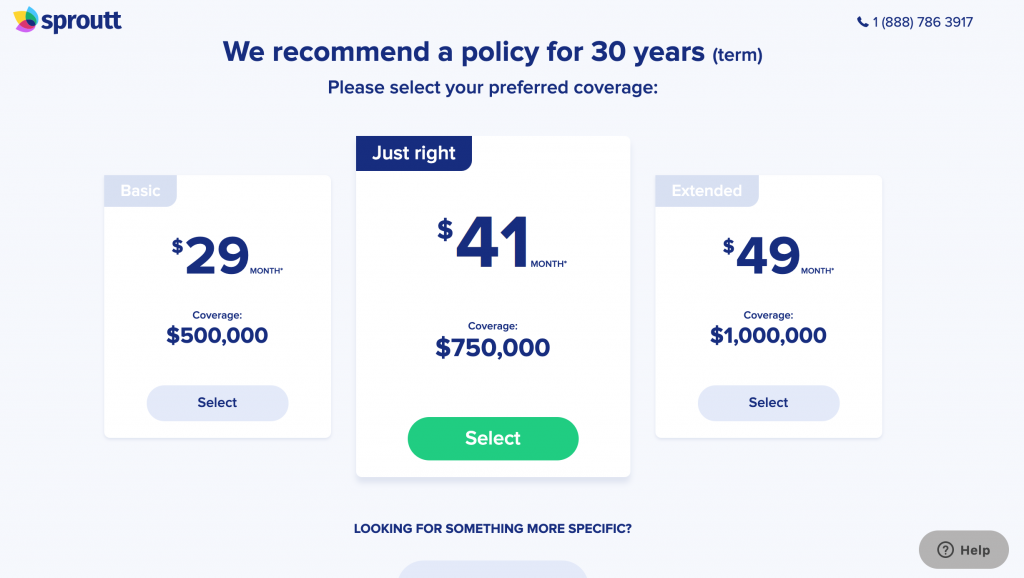 Once matched with an insurer, complete that insurer's application process and fulfill its requirements to get covered.
Pros & cons of Sproutt insurance
Strong customer support

Advisers will walk you through the process of buying insurance coverage.

Insurance coverage matched to your needs

Answer a few simple questions and get feedback on what type of policy is right for you and the amount of coverage you need.

Access to multiple insurers

Because Sproutt is an insurance broker, it helps you discover how much insurance would cost from multiple trusted life insurance providers.

Available in all 50 states

You can apply through Sproutt from anywhere in the country.
Sproutt doesn't provide direct insurance

You must apply and qualify for coverage from the insurer you're matched with.

Sproutt is a newer company

It has fewer customer reviews than many competitors.
Sproutt customer service
Sproutt provides online support via chat or email. You can also contact Sproutt via phone to get help exploring coverage options:
Where to find Sproutt alternatives
Many life insurance providers and brokers can help you get coverage to protect your family. One alternative to Sproutt is Fiona, a life insurance search engine showing personalized quotes based on a form you fill out.
To compare other options, check out LendEDU's top picks for the best life insurance companies or the best term life insurance providers.
---
Ready to fill out Sproutt's life insurance application?
Coverage: $50,000 – $5 million
Term lengths: 5 – 30 years
Age limits: 18 – 100 years