on Fiona's website
What we like:
Compare some of the highest rated carriers with one application
| | |
| --- | --- |
| Types of Life Insurance | Term life insurance |
| Age Limits | 18 – 75 |
| State Availability | Available in all 50 states |
| Ways to Apply | Online or chat with a licensed life insurance specialist |
Compare Fiona to other providers
Fiona and LeapLife were launched with a belief that "regardless of age, health, status or credit standing, all people deserve access to good insurance." With that, the agency claims to offer the fastest and most comprehensive way to search for life insurance.
This Fiona review will discuss what this life insurance search engine offers, the pros and cons, how to submit an application, and more.
In this review:
How Fiona works
Fiona and LeapLife are a life insurance search engine that matches you with personalized life insurance policy quotes at the lowest possible price. Fiona and LeapLife connect you to many top national life insurance carriers all at once.
Fiona and LeapLife have pioneered an all-digital multi-carrier life insurance comparison and application experience, including no exam or medical records if you qualify.
The form takes less than 60 seconds and doesn't require you to submit any contact information to see your results. Fiona and LeapLife work together to collect and ultimately complete your application with the carriers.
If you prefer an alternative option to the online form, the licensed life insurance specialists from Fiona and LeapLife can help. These specialists are available to chat, free of charge, to help you find a policy that meets your needs.
Eligibility requirements
To be eligible for coverage through Fiona and LeapLife, you must be a U.S. citizen or permanent resident who has been in the country for more than two years. In addition, you must be between the ages of 18 and 75 at the time of application.
How to apply through Fiona and LeapLife
Here are the steps to follow to apply for coverage:
Visit Fiona's website here.
Enter some personal information through their quick and easy form.
Once you finish the quote, you'll be taken to a page that shows you your personalized policy quotes.
Either accept your match and customize your policy or click view more options to compare other carriers.
Once you decide on a policy you like, your application will be submitted and completed via Fiona's LeapLife service directly with the carrier. Coverage can be made available within weeks, or even days.
What the application process looks like
Application Basic Information
The first page of the application asks you to fill out some basic information about your date of birth, height, weight, gender, state of residence, and whether you use nicotine.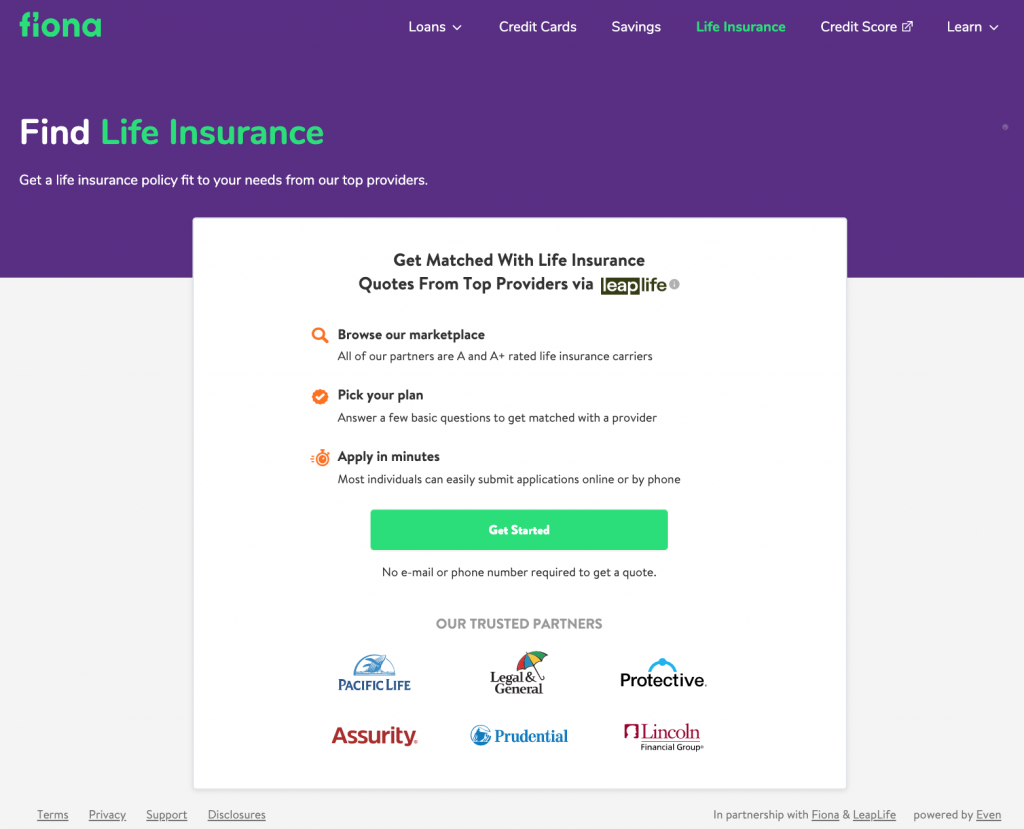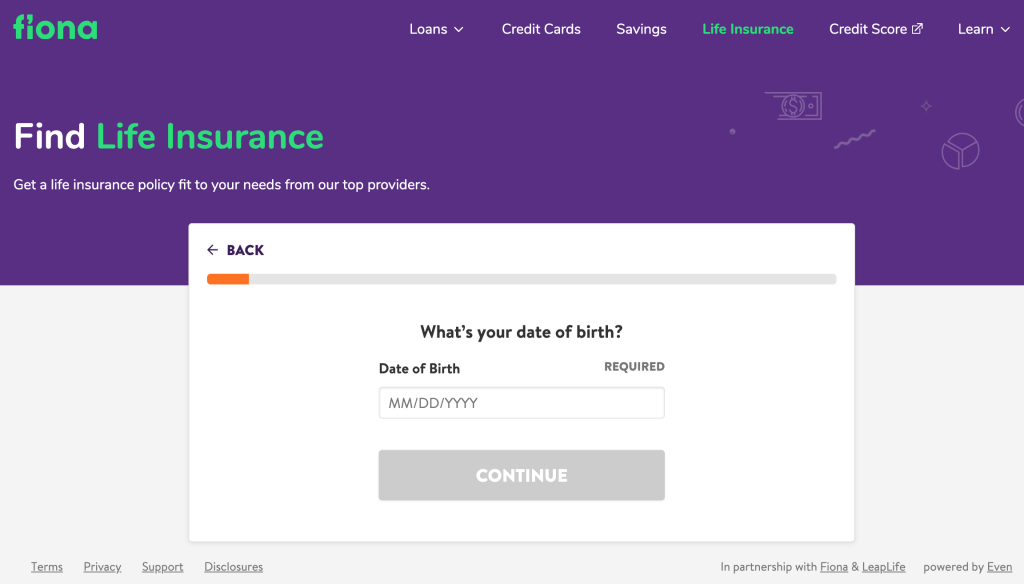 ---
Application Heath and Citizenship
The second page of the application asks if you are the policyholder, a U.S. citizen or green card holder, and whether you have any of the conditions listed.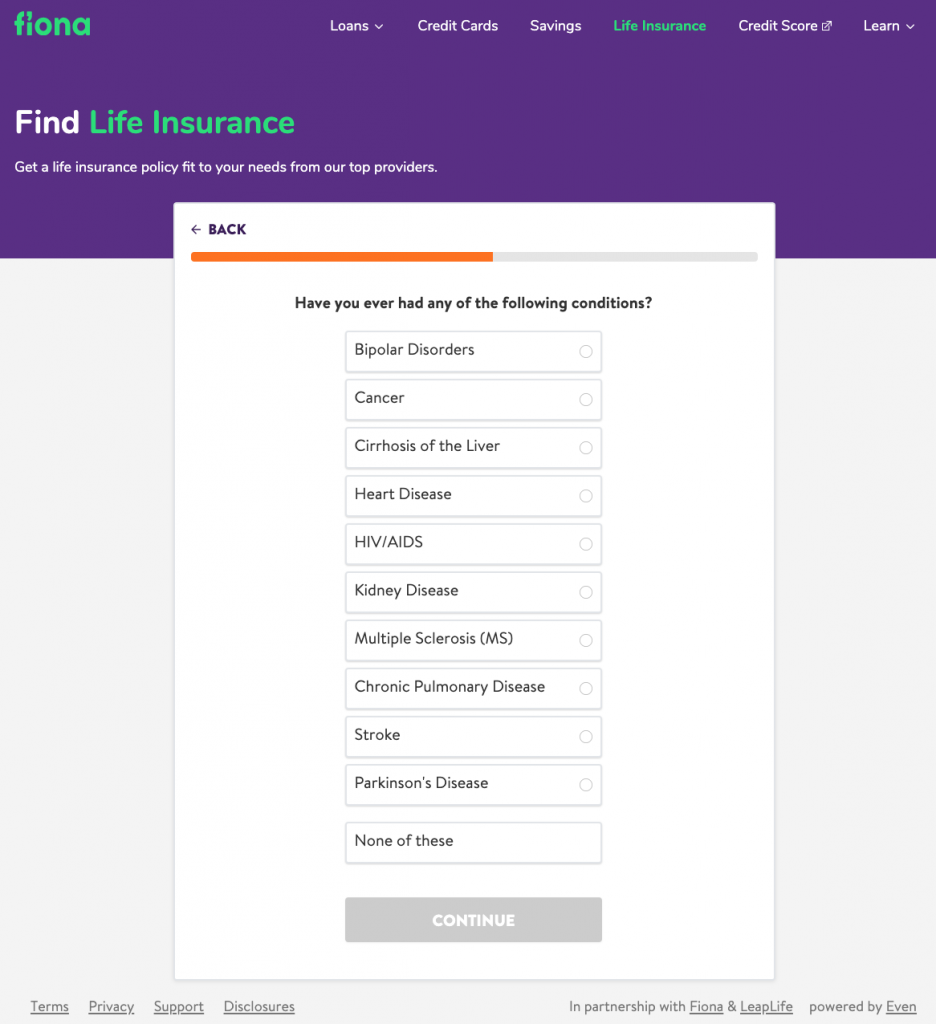 ---
Application Unlawful Actions, Financial Wellness, and Medication
The third and final page asks questions about some unlawful actions you may have committed, financial mishaps that may have occurred, and whether or not you take prescription medications.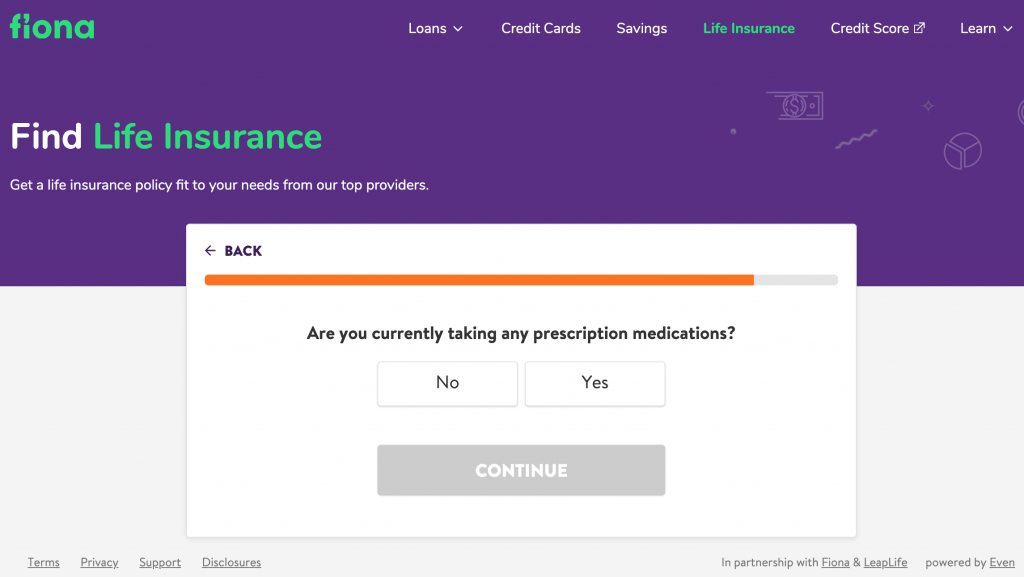 ---
Application Carrier Match
Once you complete the pages above, you will be matched with personalized life insurance policy quotes. You can choose to customize one of the policies of which you've been matched with or you can choose to view more options.
Below are the matches we received when filling out the application.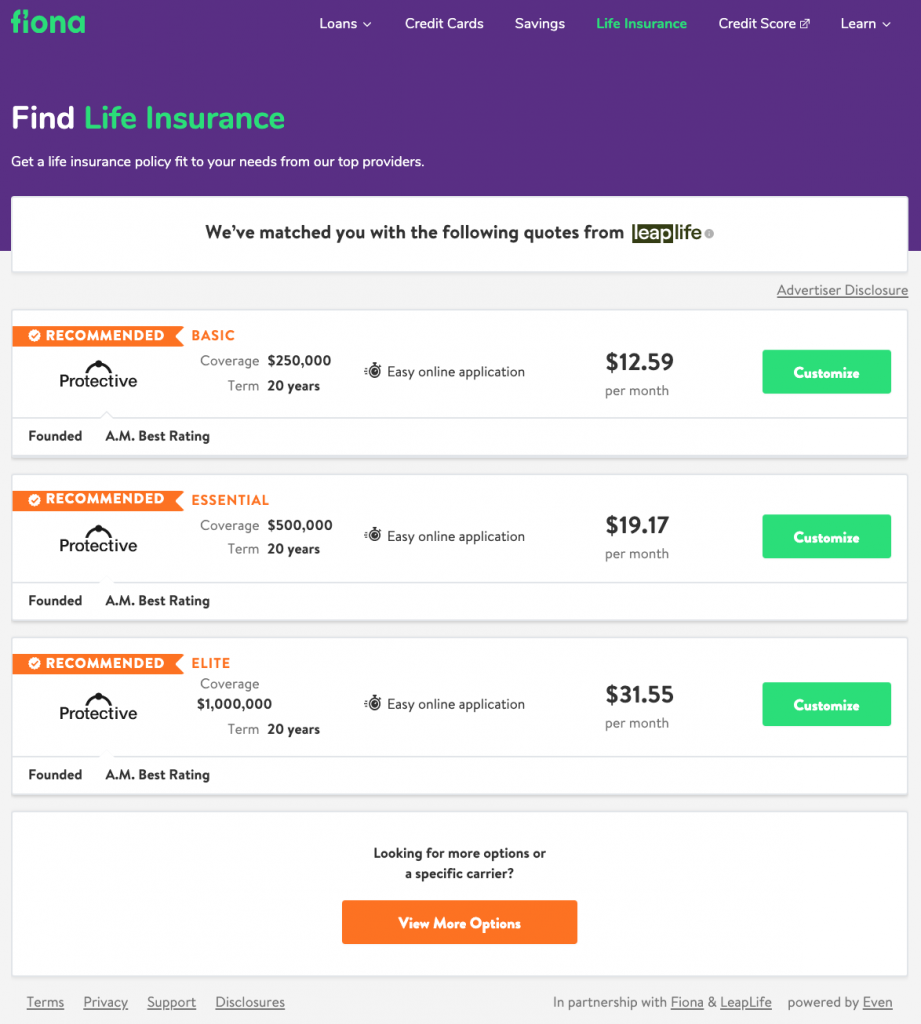 ---
Application Comparison Option
If you choose to view more options, more options will populate the offer table. You can adjust your coverage amount and duration to see what your monthly premium would be with each carrier. Once you find a match, you can apply online.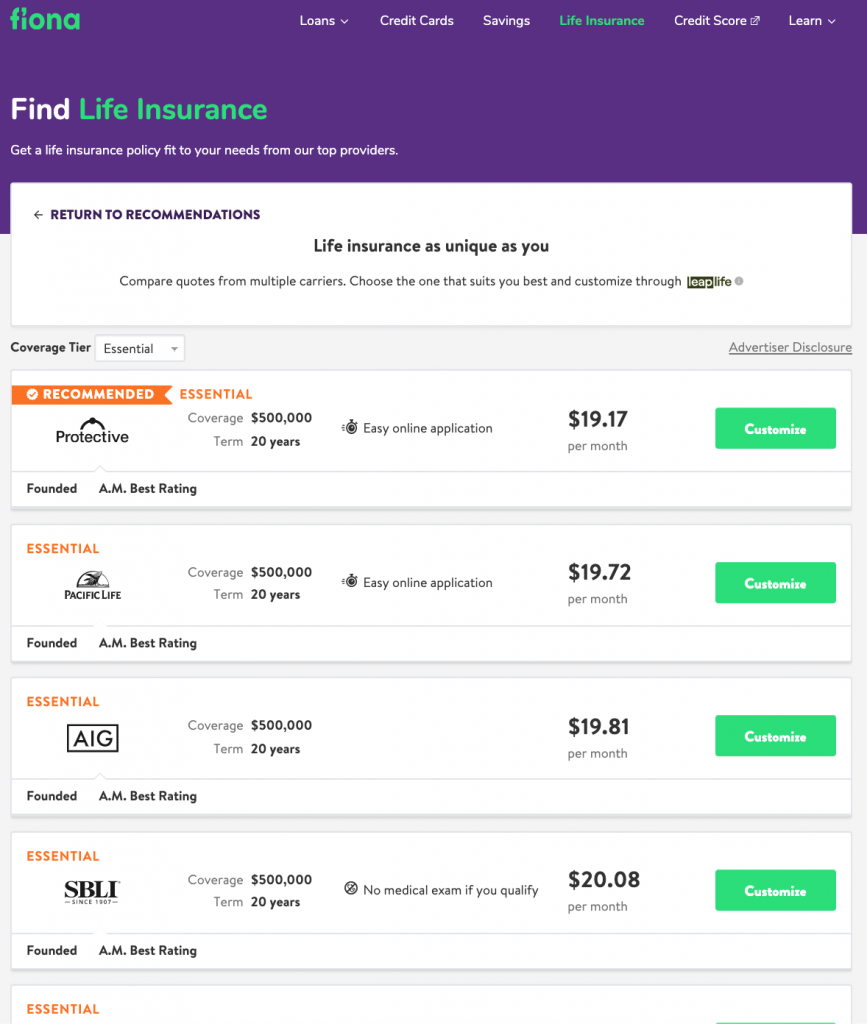 ---
Finishing the Process With LeapLife
Once you select the life insurance policy quote that works best for your needs, you'll finish your application process for your chosen life insurance carrier with Fiona's LeapLife service.
Many policies enable you to finish the application digitally on LeapLife's website, where you'll finalize some remaining information needed for the carrier to approve your policy. Others may require a quick bit of confirmation over the phone, and a Fiona and LeapLife life insurance specialist will give you a quick call to complete your application.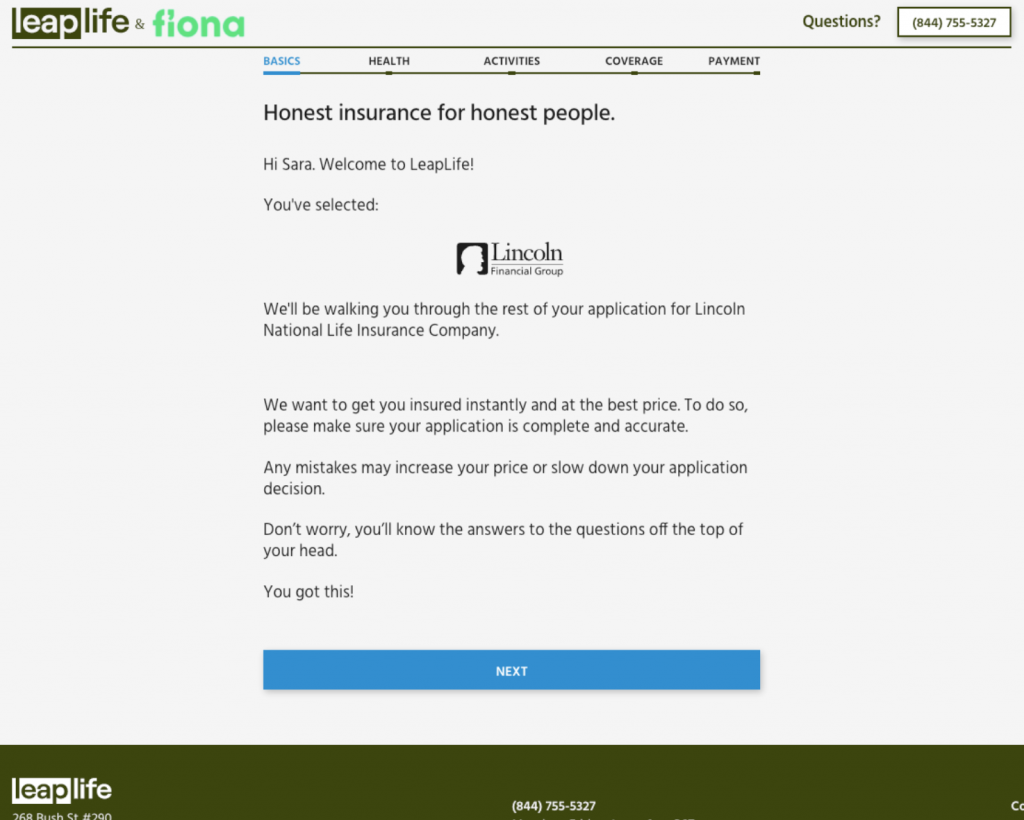 Which carriers does Fiona work with?
| | |
| --- | --- |
| Carrier | A.M. Best Rating |
| American General Life Insurance Company | A (Excellent) |
| Assurity Life Insurance Company | A- (Excellent) |
| American National | A (Excellent) |
| Fidelity Life | A- (Excellent) |
| Foresters Financial | A (Excellent) |
| Legal & General | A+ (Superior) |
| Lincoln Financial Group | A+ (Superior) |
| Mutual of Omaha Life Insurance | A+ (Superior) |
| Pacific Life | A+ (Superior) |
| Principal | A+ (Superior) |
| Protective | A+ (Superior) |
| Prudential | A+ (Superior) |
| Sagicor Life | A- (Excellent) |
| SBLI of Massachusetts | A (Excellent) |
| Transamerica Life Insurance Company | A+ (Superior) |
Pros and cons of Fiona and LeapLife
In many cases, you can get covered in minutes

Term life policies from the nation's top providers including AIG, Prudential, Transamerica, and more.

You don't need to enter your contact information in order to see your quotes

Many of the carriers allow you to receive a policy without taking a medical exam

BBB rating of A+
You have to call a live agent to get offers and complete your application for certain types of insurance, such as whole life insurance

Some carriers you may be looking for may not be a part of the Fiona & LeapLife life insurance search engine
Alternatives to Fiona and LeapLife
Fiona and LeapLife are not an insurance carrier. If you would prefer to apply directly with a specific carrier, you can compare multiple options with our guides to the best life insurance and best term life insurance.
---
To learn more about Fiona, check out its website.
Compare highly-rated carriers with one simple application
Must be a U.S. citizen or permanent resident
Must be between the ages of 18 and 75