Navy Federal Credit Union Small Business Loans Review
Navy Federal Credit Union offers businesses a variety of financial products including term business loans, vehicle secured loans, lines of credit, and credit cards. Competitive rates are available and there are no prepayment penalties.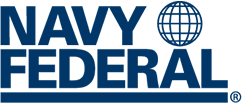 on Navy Federal's secure website
What we like:
No minimum business age requirement
| | |
| --- | --- |
| Estimated APR | 11.00% – 18.00% |
| Loan Amounts | $2,500 – $50,000 |
| Term Lengths | 1 – 5 years |
| Origination Fee | Credit union membership |
See how this loan stacks up against our top rated small business loans
The rating in the box above covers all of Navy Federal's small business financing products. The product information in the box above is only about the term loan product.

Navy Federal Credit Union, founded in 1933, is the world's largest not-for-profit, member-owned credit unions in the world. The financial institution is headquartered in Merrifield, Virginia, but serves members throughout the United States and overseas through a network of more than 300 branch locations and 30,000 co-op ATMs.
Members of Navy Federal Credit Union have access to several options for deposit accounts, lending products, mortgage solutions, and small business financing. It also offers wealth management and insurance services to individual and business members.
A Look Into Navy Federal Business Loans
For business owners, Navy Federal Credit Union offers a variety of lending products to help with financing needs. Navy Federal provides term business loans, business checking lines of credit, business vehicle loans, and business credit cards to qualified borrowers.
Eligibility requirements vary depending on the type of financing applied for, as well as the financial track record and current financial picture of the business.
Navy Federal Credit Union business loan specialists evaluate the five C's when determining if a loan or line of credit can be approved:
Capacity
Collateral
Capital on hand
Conditions of the loan
Character of the business or business owner
Applicants must have strong personal and business credit to qualify, steady revenue and cash flow, and in some cases, assets to pledge as collateral for a new business loan.
Navy Federal Credit Union small business loans are designed to meet the needs of small business owners who are current or eligible members. This means that an individual wanting a business loan from Navy Federal must be an active duty, retired, or reservist member of the military, work or be retired from the Department of Defense, or be an immediate family member or household member of a current or eligible member. All business loan applicants must also have a business membership with the credit union to qualify for a new loan.
Basic Information: Rates, Terms, Fees, and Limits
Small business loans from Navy Federal have fixed interest rates and a predictable repayment term. Business owners have access to competitive rates, similar to those offered on consumer loans and individual vehicle loans.
Repayment terms vary depending on the reason for the financing as well as the capacity to pay back principal and interest. Business loans are available for up to $50,000 for most small business owners. Loans may also be available for higher than $50,000 depending on the financials of the company and the credit history. For business lines of credit, the maximum credit line is $15,000.
Advertisement

Compare small business loans
Fill out one simple application and browse offers from multiple lenders
Receive funding in as little as 24 hours after approval
Line of credit, equipment financing, term loan, commercial mortgage, credit card, startup loan options available
The Benefits
One of the biggest advantages with getting a small business loan with Navy Federal Credit Union is the access to business service specialists. These dedicated member support teams offer valuable information to business owners about the type and amount of financing available, as well as assistance with determining which loan option makes the most sense for the company's needs.
Additionally, you can apply for Navy Federal business loans online, so long as the total loan amount is less than $50,000.
Navy Federal offers business specialists and loan specialists in each of its physical branch locations, as well as via a chat feature online, and over the phone. Small business owners also have access to easy-to-use calculators, educational resources, and other tools designed to help in understanding business funding needs.
The Downsides
One caveat to small business loans with Navy Federal Credit Union is the fact that small business owners must have a solid history of business operations as well as strong financials and credit history. Without these key credentials, the credit union is unlikely to approve a loan or line of credit request.
Additionally, small business owners must first be eligible for membership with the credit union, and then establish a business account. This requires a deposit of $100. Business loans offered through Navy Federal Credit Union may also have higher interest rates than non-bank, alternative, or online lenders.
Bottom Line
Navy Federal Credit Union may offer value to small business owners in need of financing when they qualify for membership and have a healthy credit and business history. The application process is simple for loans under $50,000, and funding may be approved in as little as two business days. Overall, Navy Federal Credit Union is a viable option for some small business owners who qualify.
4.03
Navy Federal Small Business Financing

Melissa Horton has an MBA in Finance and has worked as a financial professional for the past 13 years, helping clients understand the often complex vehicles available for both lending and investment needs. She is passionate about financial literacy and strives to educate clients and the general public to empower them in making smart financial decisions. Her work has been featured on Investopedia, iGrad, APRFinder, and more.