If you ever need to send money abroad, you know what a nightmare it can be. There used to be few ways to do it, and it was complicated and could only be done at banks or Western Union. Plus, the only way to get it done fast was to pay a ton of fees…on top of the fees you were already paying.
With Internet services popping up left and right in the financial industry, it was only a matter of time before new companies offered ways to send money abroad. And the self-proclaimed "best way to send money abroad" is Moneytis.
Is their claim accurate? Let's find out.
How Moneytis Works
Moneytis is an online platform (in other words, a website) where you can find the best exchange rates for the different services that send money internationally. They don't actually perform the transfers; instead, they show you all the options so you can decide where to do your transfer.
They review more than 300 transfer services and provide you a real-time comparison of exactly what you'll be paying for the specific transfer you need, how the funds are received, and how quickly they'll get there.
One of the great things about Moneytis is that they will include all the fees associated with your transaction, including the fees that are typically hidden until it's too late. The overall picture you get is an accurate reflection of exactly what you'll be paying.
Great Moneytis Features
What I love about the site is that it's designed with the user in mind. Moneytis is easy to navigate, and getting started isn't complicated. You don't even have to create a profile to use the site.
One thing you'll be able to take advantage of as a user is their discount programs. Not every service is discounted, but Moneytis is able to offer you special rates that you won't find anywhere else.
I especially love how their results are designed for transparency. They eliminate any of the nasty surprises that typically pop up with international money transfers. They'll even tell you how easy a given provider is to use!
I also love their smart notification feature, which can send you an alert when something interesting happens with an exchange rate. If you're interested in capitalizing on exchange rates to maximize the bang for your buck on the other end, these real-time notifications are extremely helpful — they'll show you when your exchange rate is more favorable, so you'll know when it's the right time to do the transfer.
Using Moneytis
For this review, I did a sample search doing a transfer of $1,000 USD to Fiji.
To get started, visit the Moneytis homepage, type your parameters in the boxes, and click the green Compare Now button.
From there, you'll be prompted with a couple of simple questions to help filter your results. The questions are specific to the purpose of the transaction:
Are you sending as an individual or a company?
​Is this a one-time transaction or a recurring one?
Which is most important to you out of savings, speed, or ease-of-use?
You'll also be given the option of registering an account, but I chose not to — which means it's entirely possible to use Moneytis without giving them any personal information.
After answering the questions, you're taken to the results page. Here's how mine looked after saying I'm an individual doing a one-time transaction and savings is most important to me: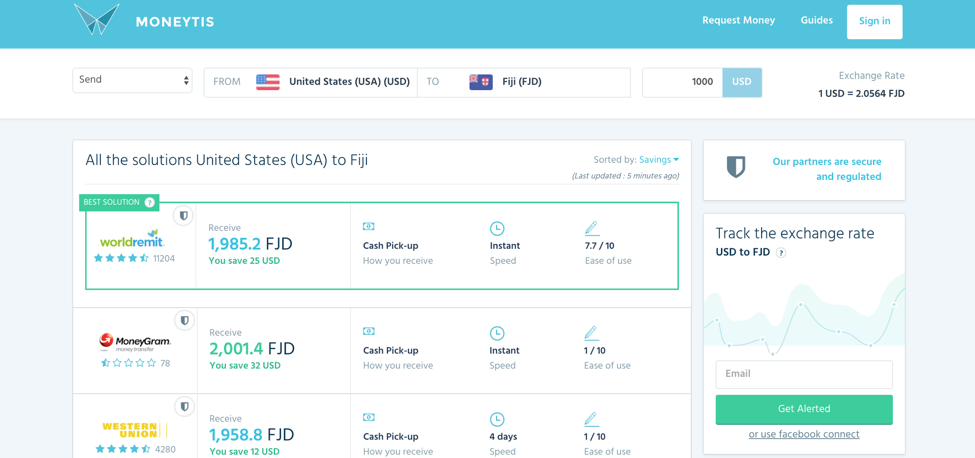 What I love about the results grid is that it shows me everything I need to know, right there. I can see the ease-of-use rating, how quickly the transaction will be complete, and even how the recipient will need to retrieve the transfer. There's also an up-to-the-minute exchange rate on the top right, and I can look for a new country or amount right from this window if I'm comparing different options.
Interpreting the Moneytis Search Results
On the results page, Moneytis has highlighted what it thinks is the best solution for me up at the top, but I can evaluate all of the options and pick the one that's right for me.
Up in the top-right corner of the grid, I can choose whether to sort these results by a different parameter than Savings, namely by Recommendation or Speed. (I'd selected Savings as the priority during the set-up.)
Down toward the bottom, I can see how a bank transfer might look in comparison. This is another layer of knowledge that helps me make the right decision.
Ultimately you'll be able to choose the right service provider based on what's most important for this transaction — ease-of-use, total amount of money received, how fast it's delivered (e.g. instant vs. a number of days), and how the recipient will access the funds (e.g. cash pick-up vs. bank transfer).
Once you've made your choice, click on it and you'll be taken to a new window. That window will be where you'll actually do the money transfer — it's the money transfer company's site, and no longer Moneytis. You'll need to set up an account with the new company and do the actual transfer there.
Tips to Use Moneytis
The best way to make the absolute most of your money transfers with Moneytis is to build in as much flexibility on the timeframe as possible. There are two main reasons for this:
First, you can set smart alerts (during the question-and-answer process) to notify you when the exchange rate changes favorably. If you've got some time before you need to do your transfer, you can set this alert and use it to capitalize on the amount of money that will actually make it to the other side.
Note: For small transactions it might not be worth the hassle of waiting, but for large transactions your savings could really add up and make a big difference.
Second, the discounts that Moneytis has available change constantly and there's not an easy way to predict which operators will be offering discounts at any given time. That said, many operators will offer discounts on what can be called "festive days" — things like the New Year or major public holidays.
If there's a big holiday coming up and your transfer can wait until then, you may be able to find a special discount at that time — thus reducing your fees and boosting your savings even further.
Final Thoughts on International Transfers with Moneytis
Moneytis is a platform — a search engine of sorts — that compares all the different international money transfer companies online. Their site is extremely easy to use and their customer service is friendly and helpful.
Moneytis helps you figure out which transfer company is the best one for your specific transactions. There are even the occasional discounts that you won't find anywhere else, which can save you even more money. You can set up searches based on your priorities (like savings or speed of delivery), which helps you find the best option for your situation.
It's a terrific tool to use when you're sending money abroad, but it's important to keep in mind that you aren't actually conducting the transfers on Moneytis. Instead, you're researching all of your options quickly and easily to find the best one for you.
That said, there's absolutely no reason not to use Moneytis. I've never found anything like it, and they've created a fantastic tool for anyone who needs to send money abroad.

Andrew writes engaging and informative content for readers looking to find information about topics such as mortgages, student loans, credit cards, personal loans, and small business financing. Andrew graduated from the University of Delaware and his work has been featured in Market Watch, Bankrate, The Penny Hoarder, Lacrosse Tribune, and more.